In the medium to long term, Apple (AAPL) should get substantial revenue growth simply as a reflection of economic and population growth in Asia. There are, of course, product areas which offer strong growth in themselves. Some of these are existing products, some will no doubt be new products of which we are not yet aware.
However, the economies of the world's largest continent are growing strongly. Their middle-classes are growing and becoming increasingly affluent. These factors in themselves offer a clear path to substantial revenue growth for the company. Bringing on more retail stores and Apple's strong brand should ensure market share continues to expand.
Q4 Results
Once again, Asia was a bright spot for the company. The extract from the earnings is reproduced below: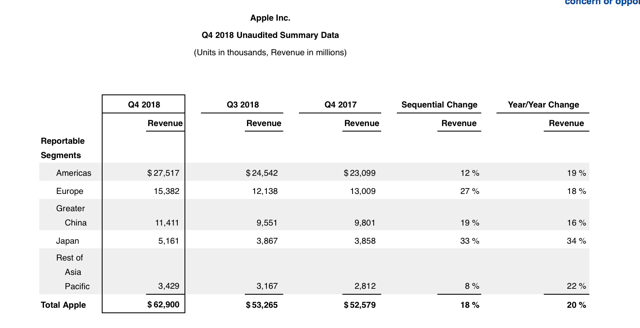 Year-on-year revenue growth showed:
Americas + 19%
Europe +18%
Greater China +16%
Japan +34%
Rest of Asia Pacific +22%.
Asia now represents 31.8% of company revenues. The growth figure of 34% for Japan was stunning. The country was already Apple's best performing in terms of market share. Greater China did well considering the trade war stance of the Trump administration and some domestic economic slowdown.
At the earnings call, comments from executives emphasised Asia is not just about China and India.
CFO Luca Maestri emphasised the "especially strong growth in Japan and Korea" with revenue growth of over 25%. Revenue in Japan and Rest of Asia Pacific was at a record level. iPhone sales were up more than 20% in Japan, Australia, New Zealand and Vietnam. India saw strong growth of Macs and iPads even if the phones have well-reported problems there. iPads did particularly well in both South Asia and Japan.
CEO Tim Cook reasoned that the strong dollar caused problems in emerging markets in general. This applied to India in particular. Despite these currency headwinds, strong growth in Asia was achieved. As for China, Cook emphasised:
"Our business in China was very strong last quarter. We grew 16% which we are very happy with."
The figure in China would have been even better if not for a slowdown in the App Store. This was the result of the Chinese government's moratorium on gaming. That should be a temporary factor.
As for India, Cook said that discussions with the Indian government were still continuing on the retail regulations. He affirmed:
"I am a big believer in India.... I can't wait for the future there."
Cook has been incredibly successful in China. A few years ago, there were numerous sceptics who doubted Apple could ever be successful there. They were very wrong. The arguments they cited then are similar to those being cited now for India. Sceptics point to lower GDP per capita which results in problems with the affordability of Apple products. They also point to government regulations and widespread corruption.
Asia
The population of over 4 billion people in Asia tells its own story for the future: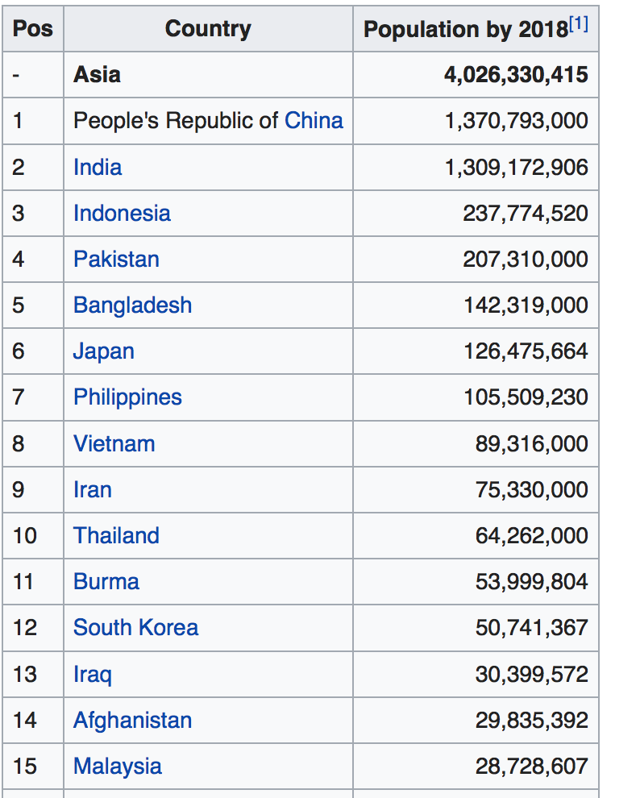 Source: Wikipedia
Increasingly young and well-educated populations are more important than the sheer numbers. These populations live in countries with growth rates superior to the rest of the world. They live in countries where broadband is expanding rapidly. Smartphone sales always boom on the back of increased access to broadband.
As detailed in the Inquirer, those growth rates are projected by the World Bank as follows: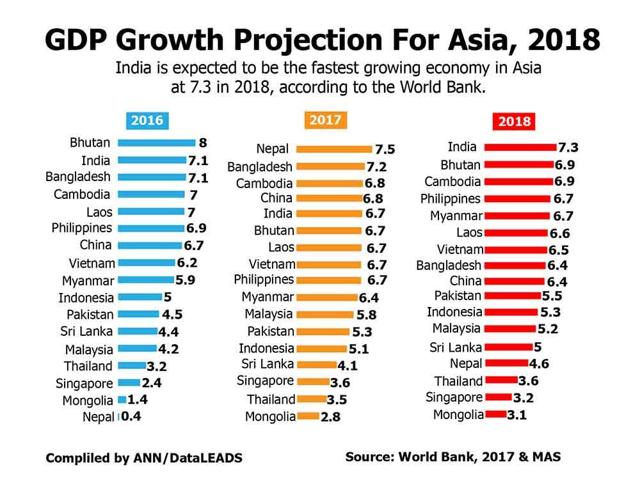 Source: Inquirer.net
These are far in advance of growth rates for other areas of the world.
Last week saw the ten-nation ASEAN (Association of South-Eastern Nations) meeting in Singapore. Along with six trade partners, they are setting up the RCEP (Regional Comprehensive Economic Partnership). This should be operational in 2109. It will comprise 45% of the world's population and 40% of global trade. This is where opportunities for companies like Apple are likely to lie as these growth nations get more organised in their joint economic interests.
Apple's target market of the middle-classes increases as the economies boom. As published by Statista, the highly respected Brookings Institute forecast as follows: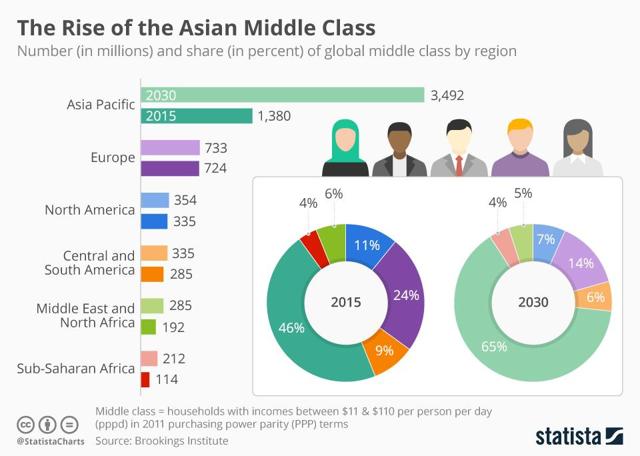 Source: Statista
As I pointed out in a previous article, the over 4 billion people of Asia represent 34% of world GDP. This is already larger in total than North America or Europe. The GDP per capita gap between Asia and developed economies is gradually narrowing.
Asia has been Apple's fastest-growing market in the short to medium term. If Apple's market share in Asia just remains the same, then its revenue will increase substantially. On past performance, it is more than likely that Apple's market share will in fact increase. By 2030, the size of the middle-classes in Asia will have increased by 2.1 billion. Asia's share of the world's middle-class will have risen from the current 46% to 65%.
Of course, there are different ways to define "middle-class". Asia's rising middle-class though have shown a greater propensity to spend a higher proportion of their income on branded luxury products.
Asian Markets
My article in August detailed developments in China and India as of that date.
* China continues to do better than the sceptics have predicted. All the analysts who predicted the iPhone X would be too costly for the Chinese market were proved wrong. In fact, the opposite is true. Previously, Apple tried out the iPhone 5C and SE as cheaper models for the China market. They did not sell well.
The expensive iPhone X sold very well upon release in the country. The new range of phones with dual SIMs are catered particularly to appeal to the Chinese consumer. Apple is not chasing market share, but market profitability. The majority of smartphone profits in the world belong to Apple. The research below from Counterpoint and published by AppleInsider illustrates this: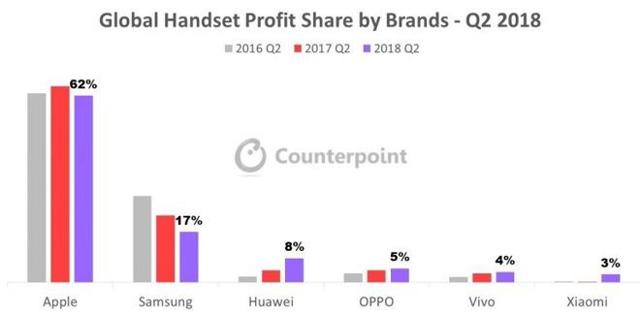 Source: AppleInsider
Samsung (OTC:SSNLF) also targets the high end in China. It has seen its market share decline rapidly as per the illustration below: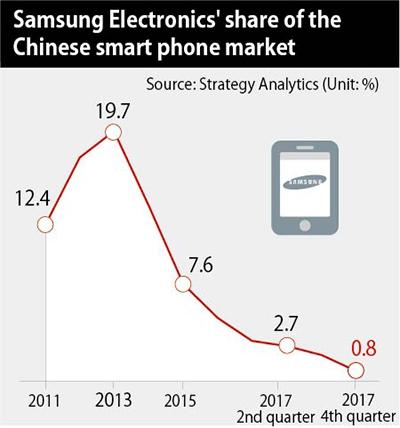 Source: ExtremeTech
There is talk of Samsung closing their Tianjin factory as a result of this falling demand. Their largest phone factory in the region is now in Vietnam. The all-encompassing ecosystem and brand value of Apple give it the edge over Samsung.
The threat to Apple in the country is not so much the Chinese consumer as the trade war instituted by the company's own government.
App store revenues were down temporarily in the quarter mainly because of the slowdown in gaming ordered by the government. The figures below referenced by AppleInsider are from Morgan Stanley: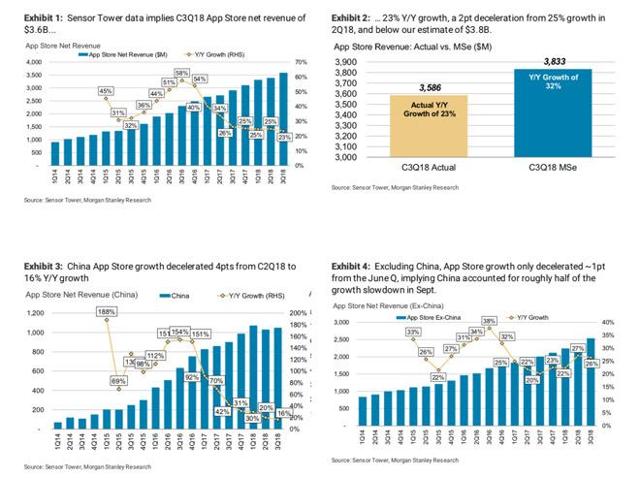 Source: AppleInsider
They show the importance of China to the ecosystem of Apple. App store revenues for Apple in China are greater than they are in the USA.
* India has remained problematical. My article in March detailed the opportunities and the problems. Since then, not much progress has been made.
Apple has not yet been allowed to proceed with a direct retail strategy in the country. Negotiations with the government continue. The company is manufacturing the SE and 6S through Wistron in Bangalore. This is to save costs and import duties. The take-up seems to be less than anticipated. Samsung and Chinese brand OnePlus continue to flourish in the market segment where Apple would like to be. It is reported that Apple has only 9 million users compared to 436 million for Android. A substantial number of iPhones do, however, get bought overseas and smuggled into India, often from Singapore. By the nature of the trade, it is difficult to know the exact extent of this.
The amount of tax breaks allowed by the Indian government in return for manufacturing commitment remains a complex issue. The situation may get even trickier. There are apparently plans by the government to impose further import taxes on luxury items. In the first instance, these would be imposed on jewellery and footwear. They could easily be expanded to mobile phones, computers and watches. This ties in with the government's "Make in India" campaign.
Some observers have criticised Apple for effectively not buying market share in India. They could do this by slashing prices and margins. This is effectively what Samsung seems to have done to get market share. However, this is never Apple's strategy, and it is unlikely they will do that in India anytime soon.
In a sign that Tim Cook may be less than happy with progress in India, the company has announced the hiring of a new country manager. Ashish Choudhary will move over from Nokia and head up Apple's operations in the country as of January 2019.
* Japan is the market where Apple has its highest market penetration. Yet, in Q4, revenue increased once again by a stunning 34%. Over half of all smartphones sold in Japan are iPhones. 46% of tablets are iPads. iOS has a market share of 66.2%. This is a sign of what Apple could achieve in other Asian countries. This is especially so in the more affluent ones such as Singapore, Hong Kong, and South Korea. The potential is huge.
One commonality throughout Asia is the appeal of Western branded products. Apple is generally considered the most valuable brand in the world. That provides a key advantage. This has been reflected by the attraction of the Apple Watch and other wearables in the continent.
Apple may be dominant in Japan. Throughout the continent, Apple sales are also increasing strongly. For instance, in Singapore, Apple is the dominant player, followed by Samsung. In this country of only 5.6 million people, 3 million smartphones are sold annually. 70% of those are high-end phones from Apple or Samsung.
There is plenty of room for Apple to grow strongly in the larger but poorer countries of Asia. The iPhone is reported to have 5% market share in Vietnam and 8% in Thailand. It has only 1% in Indonesia.
Observers often predict doom for Apple because of the latest threat from a low-cost manufacturer. They have been proved wrong time and again over the years. The latest dire warnings come because of the rise of Huawei, as illustrated below: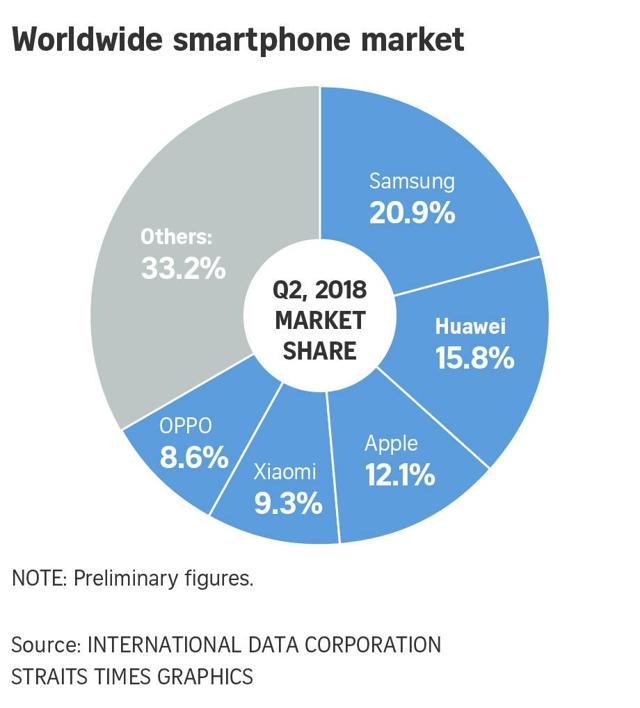 Source: Straits Times
The same warnings were made when Xiaomi and Oppo first appeared. They were made when Apple first tried to compete against Samsung.
Some Asian countries already have high GDP per capita. For instance:
Macau US$55,936.
Singapore US$55,235.
Japan US$48,556.
Hong Kong US$37,927.
South Korea US$26,157.
However, even in Thailand with a GDP per capita of only US$6125, the iPhone has an 8% market share. This shows just how much of an aspirational brand Apple represents in Asia. Many observers under-estimate this aspirational factor. In addition, the greater income inequality in Asia means middle-class people are relatively wealthier than they would be in a comparable Western country.
Retail
The retail experience is at the core of the Apple experience. The stores are not so much outlets to sell products and accrue revenue. They aim to attract the public to savour the Apple experience. In Singapore, the opening of the first store there last year led to the consequent closing down of numerous Apple re-sellers. They could not compete as people flocked to the Apple store even though there was no price difference.
Apple has been somewhat slow to develop sufficient stores in Asia. For instance, Japan represents 8.2% of company revenues. Yet it has only 9 stores, representing under 2% of stores worldwide. The first Apple store outside the USA was in fact in Tokyo.
The company has a new 5 year retail initiative for Japan. We can expect further store openings there. A new store opened in Kyoto in Japan recently. This tied in specifically with the architectural heritage of Japan's old imperial capital as can be seen from the pictures here. The store will have a particular emphasis on "Today at Apple" programming. The revamped store at Shibuya recently re-opened.
In China, Apple has had a quite rapid opening up of stores in the last couple of years. There are now 50 stores there. This still numbers under 10% of total stores worldwide in a market producing over 18% of revenue.
The pace of store openings is now ramping up throughout Asia. Just some examples illustrate this.
The first store opened in Thailand in November. A second store is rumoured. In China, a new store has recently opened in Suzhou. The buzz for that is illustrated by the photo below: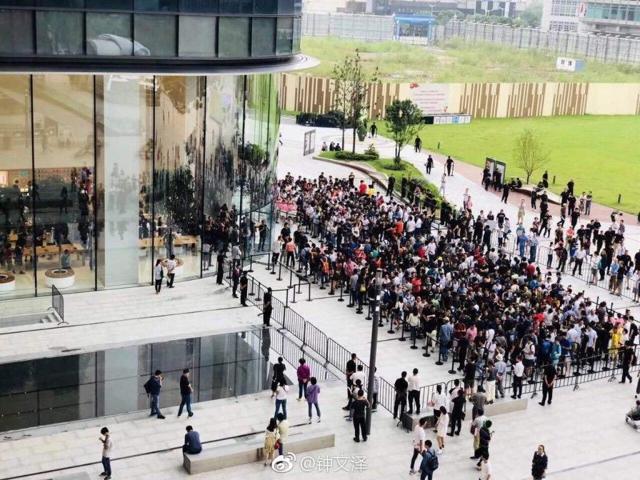 Source: Abacus
A second store in Macau is opening.
A first store was opened in Seoul, South Korea this year. South Korea is a market where Apple sales are expanding rapidly. This is despite the country being the home territory of Samsung. The first store in Taiwan's capital Taipei opened late last year. In the latest quarter, revenues were up over 30% in Taiwan. A second store in Singapore is planned. A "global flagship" store in Melbourne is coming soon.
The company wants to open its first flagship stores in India. These would be in New Delhi, Bangalore, and Mumbai. Those plans are however currently mired in Indian bureaucracy.
Conclusion
Analysts tend to focus on product areas when projecting future Apple revenues. However, a growth in total addressable market is very relevant. The continuing growth of economies all around Asia is a strong growth factor for the company. This is especially so as the company tends to increase market share as populations become more affluent. Apple should get a growing share of a growing pie. The continent's burgeoning middle-classes should provide a significant revenue boost for Apple for years to come.
Disclosure: I am/we are long AAPL. I wrote this article myself, and it expresses my own opinions. I am not receiving compensation for it (other than from Seeking Alpha). I have no business relationship with any company whose stock is mentioned in this article.