Ever since the Brexit referendum happened in June 2016, two years ago, I have taken the stance that the resultant political and economic turmoil which the referendum has caused provides opportunities for investors to take advantage of the weakened pound and cheaper shares of British multinationals. I did not think that Brexit itself would actually occur, and there still seems a chance that this may be the case, but my stance remains that the U.K. market is an 'investable' one.
This is not the view taken by the venerable analysts at Sanford C. Bernstein & Co., LLC., one of Wall Street's most respected research houses. Indeed, according to Bloomberg, the Bernstein team led by Inigo Fraser-Jenkins told their clients on Friday:
We think that the UK market might be 'uninvestable' in the specific sense that the near term movement is likely to be dominated by political forces that, bluntly, are very hard to model.
Such a statement has particular resonance given the upheaval that the U.K. political landscape experience over the past week. The British Prime Minister Theresa May announced on November 14 that her Cabinet had backed a draft withdrawal agreement between the U.K. and the European Union after what was, in her own words, a "long, detailed, and impassioned debate" that lasted five hours.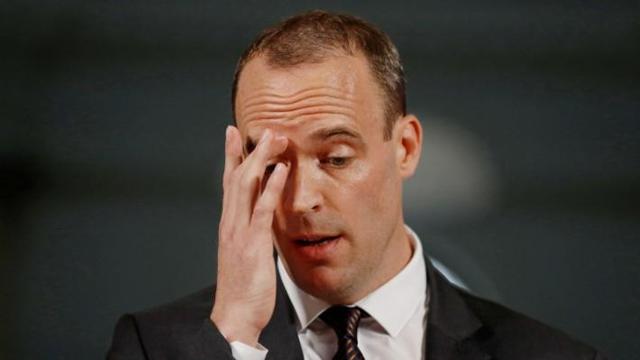 Former Brexit Secretary Dominic Raab. Image from The Week.
Barely 24 hours had passed before this unanimity cracked. Brexit Secretary Dominic Raab resigned on the grounds that he could not accept the deal - a deal which political commentator Ian Dunt wryly noted he "ostensibly negotiated." Not long after Raab's announcement, the Work and Pensions Secretary Esther McVey also resigned in opposition to the deal.
In addition to defections, May is also contending with threats to her position. A secretive panel known as the 1922 Committee has been in receipt of letters from members of May's own Conservative Party which state they no longer have confidence in her. If the 1922 Committee receive forty-eight of these letters, a no-confidence vote can be triggered which could depose May as Prime Minister.
And now, momentum has gathered for a second referendum on being able to remain in the EU, a move that seems more likely than ever according to Tom Watson, the deputy leader of the opposition Labour Party. In an interview with The House magazine, Watson opined:
It seems to me that it is more likely given the weakness of Theresa May's position. She leads a government without a majority, it now looks like she leads a Cabinet without a majority as well. Given the weakness of her own government, I think it is more likely that we could get there.
Given all of this tumult, it's hard not to agree with Fraser-Jenkins' assessment that, with the rest of Europe, Japan, and the U.S. showing more upside: "why take the risk of buying such a market?" However, there is sense in investors seeking to capitalize on the uncertainty surrounding the U.K. by investing in U.K. firms that are multinationals and thus not reliant on the U.K. alone for their profits, making them safer bets.
The U.K. healthcare sector alone shows several such opportunities. AstraZeneca Group plc (AZN) recently reported their Q3 earnings, and while revenue of $5.34 billion missed estimates by $340 million, earnings per share of $0.34 beat estimates by $0.07. Furthermore, CEO Pascal Soriot stated that the next few years will be marked by "a period of sustained growth." In addition, AstraZeneca currently sports a nice 3.44% dividend yield, which the anticipated growth should support going forward.
GlaxoSmithKline (GSK) has a great dividend too, of 4.86%. The healthcare behemoth had a good Q3 as well, with earnings per share of 28.8p ($0.37) and revenue of £8.09 billion ($10.4 billion) both beating estimates. Over the course of the past year, GlaxoSmithKline has gained 15.28% on a year-to-date basis compared to the medical sector average gain of 1.45% and to the large cap pharmaceuticals average of 9.85% on a year-to-date basis. In spite of those gains, GlaxoSmithKline is still undervalued, trading in the $40 range with a forward P/E of 13.46, making it worth considering at this time.
It may seem callous to look at starting cheap positions in large companies due to the political and economic turmoil that the home country of said companies is experiencing, but to point out these opportunities is not to condone the ill-effects of Brexit. To the contrary: I hope that sanity eventually prevails in Britain, and that Watson's judgement regarding the second referendum is heeded. At this stage, the folly of Brexit is clear in terms of how much worse off the U.K. will be.
It is increasingly clear that British political commentators such as Dunt, James O'Brien and Nick Cohen have been right from the start - the campaign for the U.K. to leave the E.U. should never should have been pursued in the first place in light of how damaging to the U.K. it is proving to be, and the growing evidence that Russian subversion was behind the leave campaign's momentum - much like it seems to have been behind the Trump campaign's momentum - suggests that a second referendum is essential for a truly democratic outcome. On the issue of subversive influences on the Brexit referendum, the tireless work of the British journalist Carole Cadwalladr is required reading.
However, such matters are entirely out of my hands. The best one can do as an investor is to try and find some value in the chaos that has been engendered. Britain's healthcare sector shows a couple of potential opportunities with AstraZeneca and GlaxoSmithKline, but a consumer goods company like Associated British Foods (OTCPK:ASBFF) (OTCPK:ASBFY) and a utility like National Grid (NGG) are also worth looking at too. And for those who view such a stance as cynical, there is a notable precedent.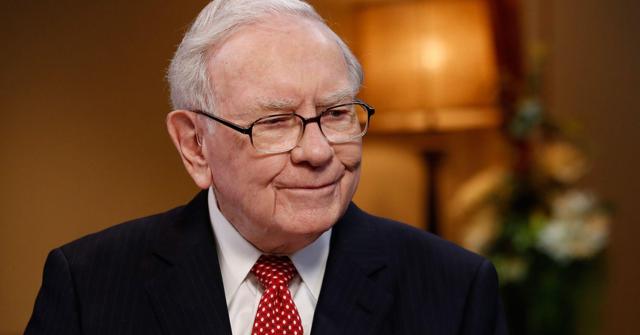 Warren Buffett's approach to the 2008 financial crisis is one that would work regarding the Brexit fiasco. Image taken from CNBC.
My view of the matter is analogous to that of Warren Buffett in the midst of the financial crisis. In an October 2008 op-ed for The New York Times entitled 'Buy American. I Am,' Buffett explained why, during the worst economic maelstrom since the 1929 Wall Street Crash, he was buying American stocks:
A simple rule dictates my buying: Be fearful when others are greedy, and be greedy when others are fearful. And most certainly, fear is now widespread, gripping even seasoned investors. To be sure, investors are right to be wary of highly leveraged entities or businesses in weak competitive positions. But fears regarding the long-term prosperity of the nation's many sound companies make no sense. These businesses will indeed suffer earnings hiccups, as they always have. But most major companies will be setting new profit records 5, 10 and 20 years from now.
The British companies caught up in the Brexit mess are in an analogous position to the U.S. companies that Buffett was buying positions in a decade ago, as U.K. equities have seen $22 billion of outflows since 2016. However, companies such as Associated British Foods, AstraZeneca, GlaxoSmithKline, and National Grid are unlikely to go out of business because of Brexit. For a long-term value investor, it makes sense to follow Buffett's lead and to "be greedy when others are fearful."
In summary, the U.K. market remains home to companies that are worth keeping an eye on while the Brexit drama staggers on to its inevitable conclusion, and it makes sense to take advantage of the situation in advance of that conclusion - which one can only hope will be a beneficial one for the U.K.
DISCLAIMER: The author is not a financial professional and accepts no responsibility for any investment decisions a reader makes. This article is presented for information purposes only. Furthermore, the figures cited are the product of the author's own research and may differ from those of other analysts. Always do your own due diligence when researching prospective investments.
Disclosure: I/we have no positions in any stocks mentioned, and no plans to initiate any positions within the next 72 hours. I wrote this article myself, and it expresses my own opinions. I am not receiving compensation for it (other than from Seeking Alpha). I have no business relationship with any company whose stock is mentioned in this article.
Editor's Note: This article discusses one or more securities that do not trade on a major U.S. exchange. Please be aware of the risks associated with these stocks.