Background
I am currently building a portfolio for my retirement. I am 37, and plan to do so by 45 through what some might call an extreme form of frugal living paired with investing to build up a sizable nest egg, which is then converted into a second portfolio meant for distribution yield to cover daily expenses. This lifestyle is commonly called FIRE, or Financial Independence Retire Early.
This FIRE Portfolio has two objectives depending on the stage you are in your FIRE lifestyle and your risk profile. The first portfolio, which is the one I am building currently, is coined as FIRE Building Portfolio and is constructed to reinvest my savings while I work and build my FIRE asset base.
This portfolio has to maximize total investment yield and to grow as quick as possible. In terms of risk, one has to decide if the investment portfolio should be conservative, moderate or high-risk. At the same time, the savings rate from your annual income would be deployed into the FIRE Building Portfolio.
The second portfolio would be focused on maximizing distributions but at as low a risk as possible, and have portfolio asset value keep in pace with inflation, which is important and to be discussed later. I shall call this the FIRE Lifestyle Portfolio.
More thoughts on this portfolio and lifestyle was published in my article here, for reference.
Building Ideas for Growth or Themes
Current shortlists include BMW (OTCPK:BMWYY) and Bright House Financial preferred shares (BHFAL), which I find to have speculative high yield. I am investing in the future of 5G in Qualcomm (NASDAQ:QCOM), beaten-up bank stocks like Deutsche Bank (NYSE:DB) and a low-P/E bank stock in China (one of the largest by market cap), ICBC (OTCPK:IDCBF), which is trading just above 5x P/E.
I also try to get market exposure in countries that I believe are having a difficult time, such as Russia, through the Russia ETF (RSX). RSX yields 4.3% and has an expense ratio of 0.7%. At the same time, given the company's economic and political risks, the RSX is currently valued at 7.1x historical P/E and priced at 0.8x PB.
I was looking at Yoma Strategic Holdings (OTCPK:YMAIF) as a proxy to Myanmar as well, and I found it to be too uncertain at this stage. For those interested in future developing frontier markets, do take a look at my article on Yoma.
The portfolio horizon is 7-8 years, but there is a need to actively manage as I try to intensify the hunt for growth stocks and higher portfolio returns through buying in dips. I thus uncovered an interesting screen on the Financial Times, which is called the "Growth at a reasonable price" screen. The metrics are simple - pick a country, and the 7 equity attributes are as follows: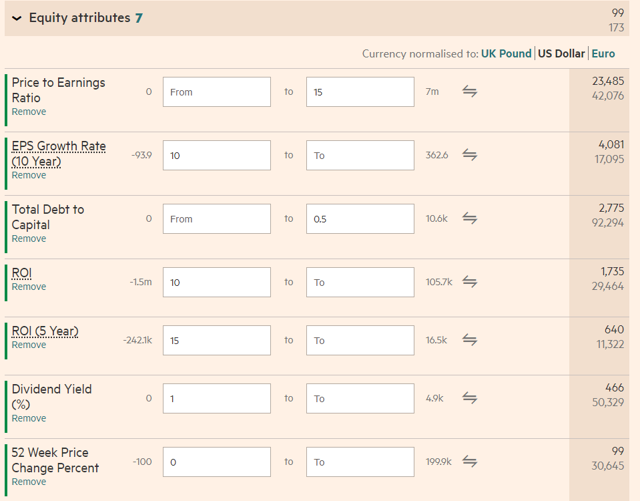 I ran a screen for the US and found that Healthcare ETFs had low P/E, which is clearly wrong, so please do take note and do your own deeper dive. However, I found an interest stock that popped up in the US called Gentex Corp. (GNTX), which supplies advanced mirrors, cameras and equipment for the auto industry and for smart homes of the future (which is already here and now). Trading at less than 14x P/E, the company has grown earnings by over 80% over the past 5 years, 9 months into September, and earnings have grown 20% against the previous year, and this despite auto sales stagnating in the US.
Including those other healthcare ETFs, I had 7 stocks in the US having a higher than 15% ROI (5 years), with dividend of at least 1% and 10-year EPS growth over 10%, having virtually little or no debt and which trade at under 15x P/E.
Looking further out into 8 European countries, Japan, Hong Kong, Singapore, Australia, the screen generated 101 such companies! A good start for building a screen and shortlisting ideas for my portfolio creation.
Here are the top 10 companies by value (based on lowest P/E):
Hanison Construction Holdings Ltd (2.37x)
Sabvest Ltd. (2.57x)
Build King Holdings Ltd. (OTC:BKHOF) (3.3x)
Link Real Estate Investment Trust (3.56x)
China Sunsine Chemical Holdings (4.67x)
Pzena Investment Management Inc. (NYSE:PZN) (4.9x)
Seikitokyu Kogyo Co. Ltd. (5.26x)
Nakano Corp. (5.39x)
Tokyu Construction Co. Ltd. (6.56x)
Indo Tambangraya Megah Tbk PT (OTC:PTIZF) (6.8x)
Here are the top 10 companies by ROI growth:
Pzena Investment Management Inc. (111.6%)
Howden Joinery Group PLC (OTCPK:HWDJF) (35.8%)
Kumba Iron Ore Ltd. (OTCPK:KUMBF) (33.8%)
Polar Capital Holdings PLC (OTC:PLRRF) (31%)
Hitech Group Australia Ltd. (31%)
Briscoe Group Ltd. (28%)
Estore Corp. (OTC:ESRCF) (27.7%)
M Winkworth PLC (27.3%)
Mermeren Kombinat AD Prilep (25.4%)
T. Rowe Price Group Inc. (NASDAQ:TROW) (25.4%)
It is interesting to see construction companies and mining companies like Kumba Iron Ore and Indo Tambangraya Megah Tbk up there on the list, and many of these are from companies based in China which I am unfamiliar with.
I was also curious to see investment management company T. Rowe Price up there on that list. TROW is currently trading near 52-week lows with the market turning and AUM declining. Its latest October AUMs declined 6.6% month on month.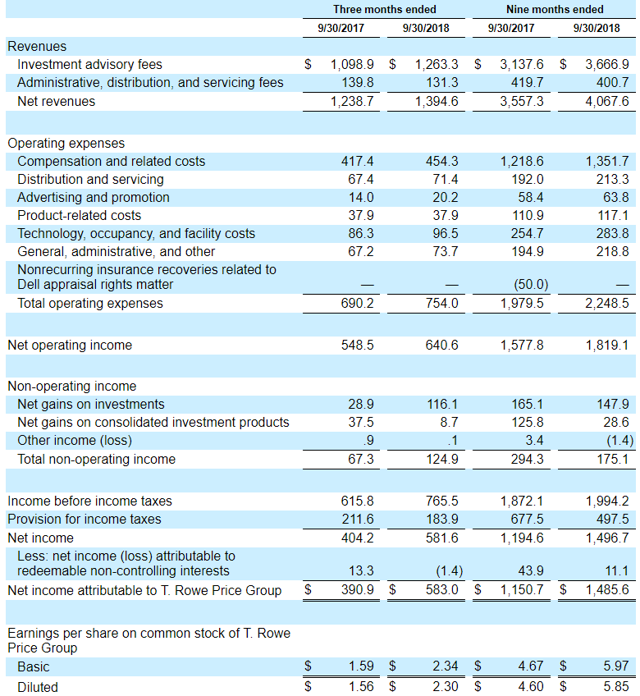 TROW's earnings have declined along with general market sentiments and there is a risk of further declines. Competition from ETFs and auto-invest bot and AI technology may also disrupt traditional investment managers like TROW. As such, I am not inclined to invest unless a severe market correction occurs.
Top of the list, interestingly, again is an American counter, Pzena Investment Management, in both P/E and ROI, according to the Financial Times equity screener. PZN is a small-cap under-$200 million investment management company that has a forward P/E of 12.6x and dividend yield of 1.1%. As at September 30 2018, Pzena had AUM of $39 billion, which grew from $35 billion in September 2017.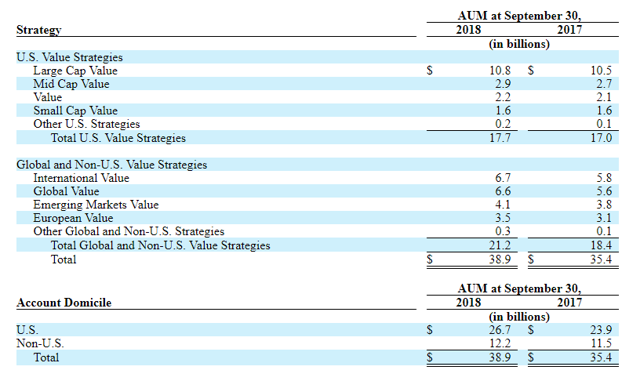 While AUM has grown, I am striking this out from the FIRE Building Portfolio as well simply because of similar reasons as T. Rowe Price. Performance for Pzena's funds are equally susceptible to market conditions fluctuating, good and bad, and that is amplified when redemption of funds occur in a downtrend.
Pzena Investment Management - Performance up to October 31, 2018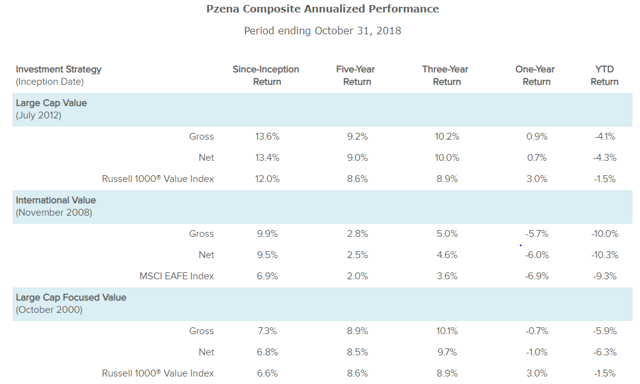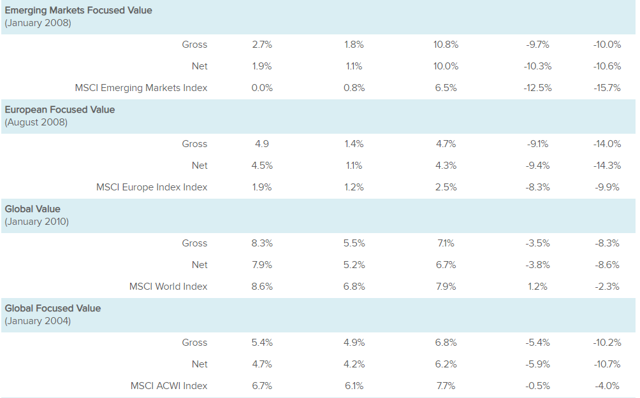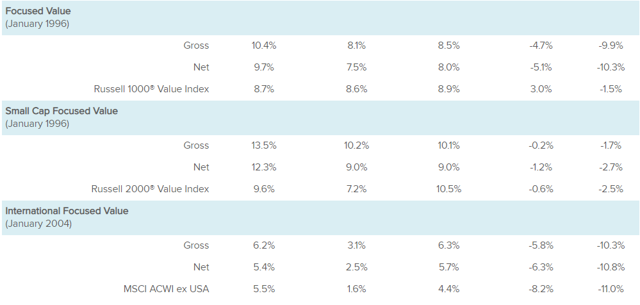 Estore Corp. has not been covered by any contributor on Seeking Alpha. As the name suggests, Estore supports e-commerce in Japan. While the sector is interesting, the business seems to be stagnant.
Annual and Quarterly Sales Figures in JPY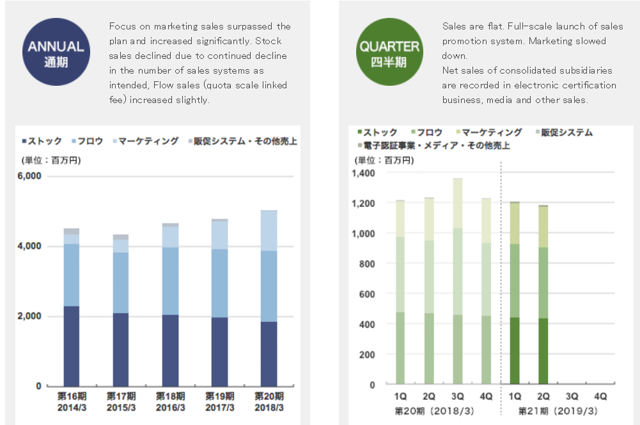 Annual and Quarterly Operating and Net Profit Figures in JPY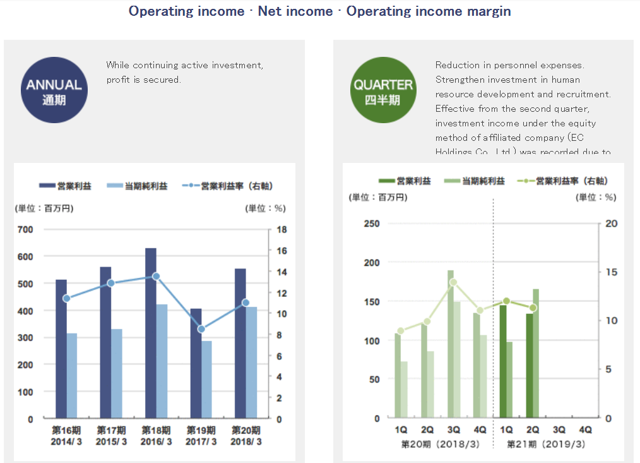 Out of this list, what I am interested in researching further, and for similar reasons as my interest in the Russia ETF, is Tatneft (OTCPK:OAOFY).

For reasons above, very clearly over a 5-year period, this stock - depending on when bought - could have yielded a multi-bagger. Currently trading at a P/E of 8.3x, this crude oil producer, refiner and exporter and gas station operator yields 4% and is under-covered on Seeking Alpha. However, this smells like an opportunity to understand the company better. Further, despite falling oil prices until recently, Tatneft continued to grow its bottom line and profitability.
This article on Reuters demonstrates the company's management of costs during supply curbs. At the same time, Tatneft has visualized a road map to 2030 with an intention to drive market capitalization up by 44% to $36 billion (currently $25 billion) through expanding production and refining capabilities (company presentation here).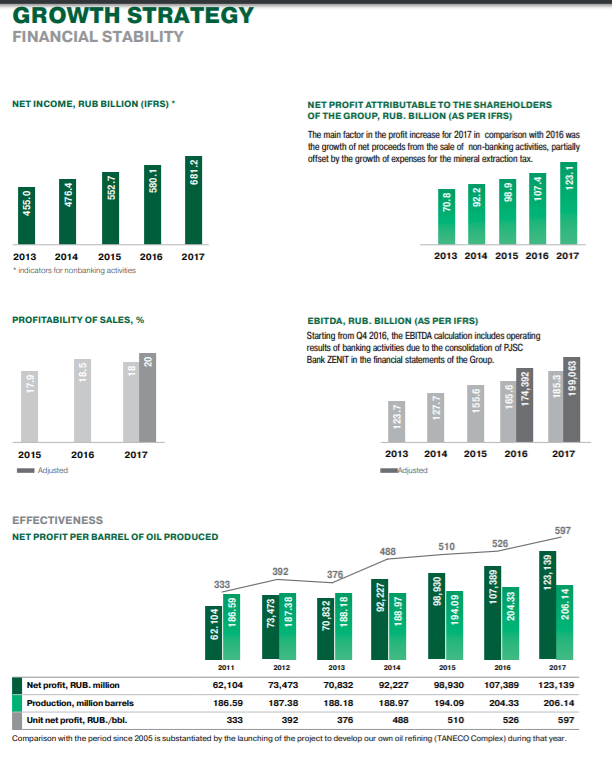 (Source: Tatneft Annual Report 2017)
The risk when investing in Tatneft would be political, especially if US sanctions impact the business dramatically.
Conclusion
This screen generated about 100 listed companies, but many were repeated names listed on several exchanges. However, it was not entirely futile. Besides Gentex, I am now seeking to look deeper at Tatneft as well.
Disclosure: I/we have no positions in any stocks mentioned, and no plans to initiate any positions within the next 72 hours. I wrote this article myself, and it expresses my own opinions. I am not receiving compensation for it (other than from Seeking Alpha). I have no business relationship with any company whose stock is mentioned in this article.
Editor's Note: This article covers one or more microcap stocks. Please be aware of the risks associated with these stocks.