Editor's note: Seeking Alpha is proud to welcome Daniel Maday as a new contributor. It's easy to become a Seeking Alpha contributor and earn money for your best investment ideas. Active contributors also get free access to the SA PRO archive. Click here to find out more »
Investors should begin liquidating their equities and transferring those funds into all things gold. Right now gold is cheap, and while the Fed is slamming the breaks on the economy with rate hikes, a pending recession looms on the horizon. Time and time again, gold has performed extremely well during recessions, and been the only outlet for large returns in those uneasy times. Back in August, gold prices sank to $1,167 per ounce which was the lowest price since January of 2017. Coming off of that low, gold prices have been on a rally since October 8, recently hitting $1236 per oz. Investors should not expect instant returns in the short term, but in the long term the ROI on gold will be huge. Monetary policy is currently strengthening the dollar while fiscal policy is weakening it. If the Fed overtightens rates, leading the country into a recession, then a bull rally in gold would ensue. This outlook is projected to take place as early as the beginning of 2019.
The bull market is slowing down, interest rates are rising, and emerging markets are selling off. Major concerns such as trade wars and slowing global economic growth should be scaring investors. The usual outlets for safety are no longer viable. The 10-year U.S. Treasury yield has jumped up to 3.19%, during a time of falling stocks, and cryptocurrencies like Bitcoin are down drastically on the year. This "goldilocks era" of low rates and low inflation is over after many years, and the Fed has begun tightening monetary policy. This rise in the cost of capital should be a warning sign to investors. While traditionally gold and the U.S. dollar have a fairly inverse relationship, monetary tightening is a potentially optimistic sign for a gold rally.
The Fed is expected to raise rates in this upcoming December, and potentially three to four more times before the end of 2020. Recently, the probability of the December rate hike has been decreasing, which has investors questioning the future rate hike schedule as well. The problem with the Fed strengthening the U.S. dollar is debt. Many foreign governments around the world are promoting inflation to combat the massive sovereign debt. This is especially troublesome for countries that possess U.S. bonds or other dollar-related securities. If the Fed were to hold off on the December rate hike, the dollar would most likely drop in value, which ultimately could lead to a gold rally. The potential recession looming on the horizon also bodes well for gold.
The U.S. economy reports strong jobs growth and historically low unemployment, but the underlying success of the economy is due to massive debt. We cannot kick the can down the road forever. Eventually, all of that debt will catch up with borrowers, and the end result will not be pretty. While gold has not rallied significantly during this most recent sell-off, it would not only provide a safe haven, but a great investment during a time of recession. This has been the case in multiple recessions. Gold rallied 17% through the bottoming of the market back in 2009, and continued to hit record highs of nearly $1800 an oz. This same story played out back in the mid-'70s when inflation was high and rates soared.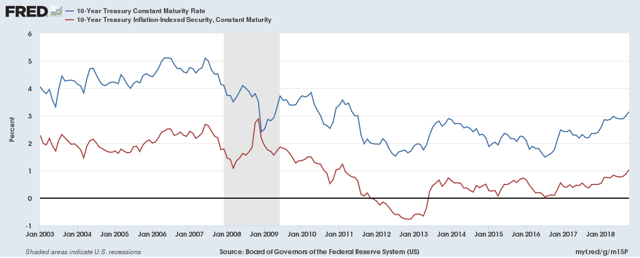 This graph shows the 10-year Treasury yield and the 10-year yield adjusted for inflation. The difference between these two yields is what the market projects for inflation. Since 2013, the expectation of inflation has been increasing, ultimately leading up to the Fed raising rates. While the expected inflation is only around 2% which is in line with the Fed's target, it is on a trajectory to travel much higher. Especially, with debt fueling virtually all of the economic growth within the country, borrowers want to cheapen the currency as much as possible. The likelihood of the Fed giving in to investor pressure of keeping rates low is very feasible to occur, as it has for nearly a decade.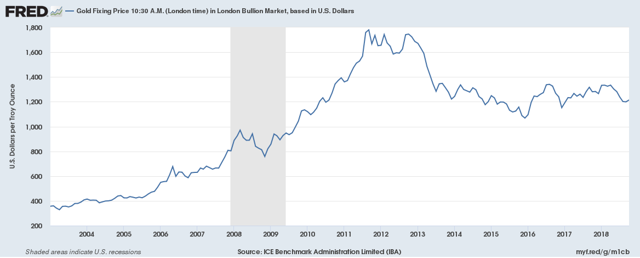 This second graph shows the price of gold starting in 2003, and highlights the historic run from 2009-2011. While gold and the expected inflation do not have a perfectly inverse relationship, it is very close. Gold prices have been on a relatively steady decline since 2013. While that may not look good in a chart, it means that investors are buying gold for cheap. Historically gold has traded at much lower prices, but $1200 per oz. is a reasonable price considering where the economy could go in the near future. If the Fed does in fact slow down with their rate hikes, the dollar will be much weaker and we will see expected inflation continue on its upward trajectory. Combine the slowing rate hikes with a pending recession, and gold prices could reach levels seen back in 2011. They could soar even higher given the narrower price gap of today's $1200 per oz. versus the sub $1000 per oz. back in 2010. The conditions are perfect for a gold rally which is why investors need to be proactive about purchasing gold. Now is the perfect time to buy gold at a discount, and be prepared for economic distress.
Investors have several options when it comes to investing in gold. The most obvious is purchasing the physical metal. This does present issues such as storage and safety of the investment. That is why investing in gold ETFs is the best course of action. Investors can currently purchase a share of the SPDR Gold Trust (GLD) for $114.47. With the 52-week low at $111.06, investors have plenty of upside with minimal risk. With decent options volumes, investors also have the opportunity to hedge and increase their cash flow in the short term. Other potential stocks to buy are IAMGOLD Corporation (IAG) for exposure to the mining sector and a higher volume options market, or the Vaneck Vectors Gold Miners ETF (GDX) which mimics the AMEX gold miners index. GDX recently hit a 52-week low in September at about $17.50, but has rallied back to $19.04/share. Those looking to invest in a single company should look to Barrick Gold Corporation (ABX). While Barrick is one of the Vaneck Vectors Gold Miners ETF holdings, it is still a great standalone investment. Barrick is a turnaround story, having cut their debt by $10 billion and better managing their cash flows. Barrick and many other gold mining companies are looking to U.S. soil to conduct business due to the corporate tax rate cut and safe locations for mining. Higher gold prices mean higher profits for gold mining companies which will boost their stock prices. Ultimately GLD, GDX, and ABX are just some of the gold stocks investors can buy. The important thing is not which gold stock or ETF to invest in, but to invest in gold as soon as possible. This is a very promising time for gold stocks, and now it is time to seize the opportunity.