A reopening auction of a 10-year Treasury Inflation-Protected Security generated a real (after-inflation) yield to maturity of 1.109%, the highest for any auction of this term since January 2011.
This reopened TIPS - CUSIP 912828Y38 - carries a coupon rate of 0.750% from the originating auction on July 19. It has a term of 9 years, 8 months.
Because the auctioned real yield is much higher than the coupon rate, buyers at today's auction got this TIPS at a discount, with an adjusted price of about $97.28 for about $100.56 of value, after accrued inflation is added in.
Real yields have been climbing substantially in 2018, reaching levels investors haven't seen since before the Federal Reserve began accelerating quantitive easing in the summer of 2011. This chart shows the climb in 10-year real yields since the drastically low levels of 2011 to 2013: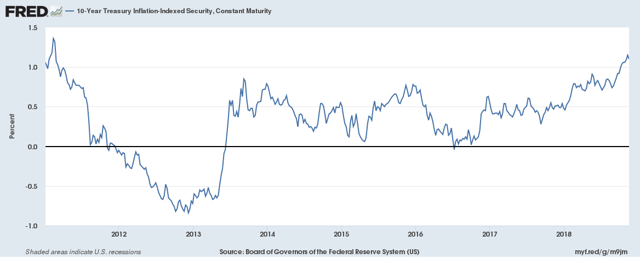 Real yields have now returned to more "normal" levels, maybe not by long-term historical standards, but at least comparable to pre-2011.
Inflation breakeven rate
It should be noted that real yields climb in tandem - more or less - with nominal Treasury yields. When nominal yields climb, so do real yields, more or less. The difference in yields is the inflation breakeven rate, which rises and falls with inflation expectations.
With a 10-year nominal Treasury trading today with a yield of 3.08%, this TIPS gets an inflation breakeven rate of 1.99%, which is attractive. It means this TIPS will out-perform a nominal Treasury if inflation averages higher than 1.99% over the next 9 years, 8 months. Even it it doesn't, the difference in performance is likely to be minimal, making the TIPS attractive because of its inflation "insurance."
Here is a chart showing the 10-year breakeven rate over the last eight years, showing that today's rate of 1.99% is solidly midstream against more extremely levels - high and low - over that time period:

Inflation breakeven rates have been sliding lower in recent months, indicating less fear of future inflation, partly because of of investor worries about weakening global economic growth and sagging oil prices. Inflation in the United States is currently running at 2.5%, well above today's breakeven of 1.99%.
Reaction to the auction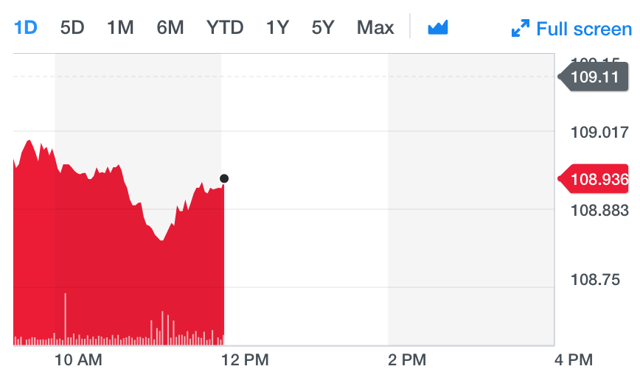 A real yield of 1.109% was a solid result for investors, but is slightly below the 1.11% that this TIPS was attracting on the secondary market just before the auction close. That would indicate strong demand. The TIP ETF was trading slightly lower Thursday morning, indicating higher yields, but after the auction close at 11:30 a.m. it got a bit of boost, indicating the auction was greeted positively.
Investors in TIPS will get a chance at another attractive auction in December, with a 5-year reopening coming on December 20. That will be a week after the Federal Reserve announces a rate-hike decision. That TIPS is currently trading on the secondary market with a real yield of 1.06%, very close to today's 10-year result.
In addition, a new 10-year TIPS will be auctioned on January 17.
Today's auction closes out the history of CUSIP 912828Y38. Here is a summary of those auctions:

Disclosure: I/we have no positions in any stocks mentioned, and no plans to initiate any positions within the next 72 hours. I wrote this article myself, and it expresses my own opinions. I am not receiving compensation for it (other than from Seeking Alpha). I have no business relationship with any company whose stock is mentioned in this article.