Investment highlights
Shares in Korea's Meere Company have been declining due to a sell-off triggered by foreign institutional investor profit-taking. Testing on its ToF camera (Cube Eye) on school buses in Canada has proven successful. Meere Company plans to start larger scale tests of its cameras in the US. Meere generates 90% of its revenues from display equipment, which has a favorable outlook.
Meere has three business units: Display Equipment, Sensors, and Surgical Robots. The stock price has been declining since a bout of profit-taking by institutional investors earlier this year. From 2017, the stock enjoyed a considerable run-up due largely to expectations leading up to the approval by the KFDA and subsequent commercial launch of Revo-i, its surgical robot. Following a surge in the stock price with the announcement of approval by the KFDA in August 2017, the company has since sold one of its robots to a mid-sized private hospital in Korea.
At present, Intuitive Surgical's (ISRG) da Vinci line of surgical robots remain the market leader in terms of sales, procedures done, and installations. The company recently launched several low-priced surgical robots, including the da Vinci SP, an economically priced single-port surgical robot, as a preemptive move to stave off potential competitor systems such as Meere's Revo-i. Although the surgical robot market is long overdue due for a shakeup, other players such as Medtronic (MDT) and Johnson & Johnson (JNJ) backed Verb both have systems on the horizon and will likely be in direct competition with the da Vinci and Revo-i.
Major issues and earnings outlook
Display equipment: Meere is well-positioned to benefit from the design-driven changes across differing devices such as mobile phones, monitors, and televisions. As Korean companies LG Electronics (OTC:LGEAF) and Samsung Electronics (OTC:SSNLF) are the undisputed global leaders in these areas, we believe Meere will continue to benefit from this leadership as a supplier of state-of-the-art display equipment. Sensors: If Meere's U.S. field tests are successful and if it can secure global clients in the logistics space, especially ones with active robotics programs, then it could benefit greatly in the near term. However, the segment is crowded with deep-pocketed competitors and is growing more so with agile startup competitors.
The company has successfully started supplying a large domestic tech company for its golf game, which bodes well for the potential application to other areas. Surgical robot: The company is in talks with 30-40 hospitals in Korea. The hospitals are not currently equipped with surgical robots and conduct the types of procedures for which Revo-i is designed. For privately-owned hospitals in Korea, making a sale is much faster due to fewer bureaucratic layers - smaller hospitals have shorter decision times than do the general hospitals or university hospitals. The company is in talks with potential customers in other countries as well for the sale of its surgical robot. We believe the announcement of an order will act as a catalyst for the stock price. We are monitoring its progress and will update accordingly.

Sensors
Meere just completed field tests with school buses in Canada and will likely begin testing in the U.S. soon. Although this represents a relatively small market opportunity, the longer-term goal is to supply sensors to the more lucrative auto industry. At present, the sensor business makes up only 10% of the company's sales. According to the company, the fastest growth for its sensors is currently in the systems integration business where it makes custom adoption products. The majority of its customers are based outside of Korea. The company does customization work for its end users, most of which are also based outside of Korea.
For the optics portion of its cameras, it conducts all of the work in-house. The company's sensors are being adopted by physical retailers for big-data applications. The company is also looking into adopting its sensor for logistics companies for the purpose of sensing boxes. The company has also recently started supplying its sensors to a large tech company in Korea for a hugely popular golf game. The preciseness of Meere's sensor technology is demonstrated in the application because it requires high accuracy to ensure that the golfing experience is as realistic as possible.
Meere's main competitor in its sensor business is large U.S.-based semiconductor company that manufactures a similar line of products and is currently the market leader. According to Meere, the U.S. company's solutions are not as attractive as their offerings due to some limitations inherent in the technologies used in them. However, even with technical superiority over the U.S. rival company, the space is already quite crowded and continues to see more market entrants that can produce comparable technologies. Some of the players currently in the space include other large companies such as Microsoft (MSFT) and AsusTek (OTC:ASUUY) and an even greater number of small companies and startups.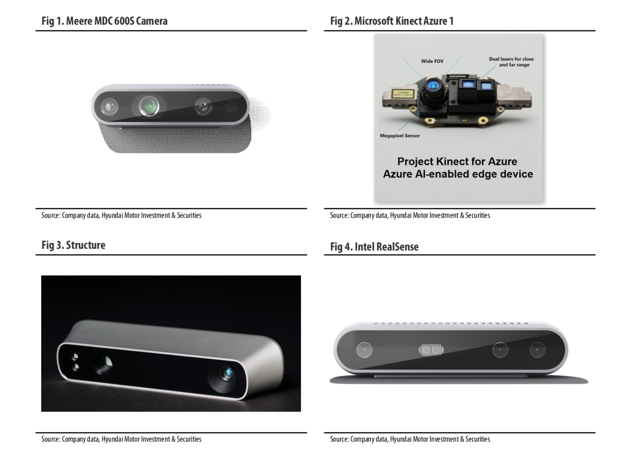 Surgical robot
According to Meere, Revo-i is focused on laparoscopic surgeries and can conduct more surgery types and with fewer incisions compared to the recently launched da Vinci SP from Intuitive. Meere is currently in talks with several small to midsize hospitals in Korea to which it hopes to sell its surgical robots. As hospitals usually spend on capex, the company believes most of its sales will be direct to leasing companies. The company won its first contract in August 2018 and is now in talks with several other hospitals domestically and internationally.
Revo-i's tools are designed to be replaced after 10 uses, which addresses the cost issue of Intuitive's one-time use tools, ostensibly making it more attractive to hospitals from an operational cost perspective. The company plans to generate sales from maintenance contracts but did not disclose any information on current or expected operating revenue, operating profit, or the operating profit margin from Revo-i maintenance or any of the other related businesses.
To make Revo-i more attractive to a larger number of hospitals, Meere plans to use a "dynamic pricing" model. To lower the cost of its latest surgical robot, Intuitive reduced the number of arms to a single unit design with four instruments on it which are deployed inside the body after the incision. Intuitive's system uses the patient's umbilicus as the point of entry for surgeries, reducing the types of surgeries to narrow-access types, only those which target organs in the belly button area. Some surgeons are already facing challenges from the design due to the need to access other parts of the body for other kinds of common procedures such as prostate surgeries. Meere's four-arm system offers more flexibility, overcoming such limitations.
Meere offers its users an "open platform" with its Revo-i in contrast to Intuitive's closed platform for da Vinci. This means that Meere is willing to work with other companies in the development of accessories and other components for the robot which we view as a sound strategic move by the company as it incentivizes developers. At present, Intuitive works only with Johnson and Johnson. The current price of Revo-i is approximately 42% lower than the da Vinci SP which sells for an estimated USD3mn for the base unit and for which the tools cost more. Beyond the cost differences between the competing systems and their accessories, the market size for multiport surgeries is substantially larger than for single-port surgeries, which creates a potentially large opportunity for Revo-i.
There are many players realizing that the technologies required to build surgical robots are more accessible than they have been in the past decade. What this means is that a large portion of the required pieces is now available to form a company to build a robot that does not cost hundreds of millions of dollars. This is why there are so many companies entering the medical robotics space. It is widely known that Medtronic and Verb Surgical have functional robots. Recently at Verb, Google's (GOOGL) co-founder Sergey Brin used its robot to test a procedure. Despite the lack of photographs, it was made public as a way to show that their robot was functional enough to actually perform some procedures.
In the near term, Meere faces challenges from not only Intuitive but also others as well. In October 2017, US-based TransEnterix (TRXC) received FDA clearance for its Senhance Surgical Robotic System, which is used in gynecologic, colorectal, hernia repair, and cholecystectomy procedures. That said, there remains ample opportunity for Meere to sell its solution if it can execute quickly. Up-and-comers Medtronic and Verb are now targeting the space and we believe the existing pool of surgical robot companies may soon face strong competitors that possess robust technology and are very well financed.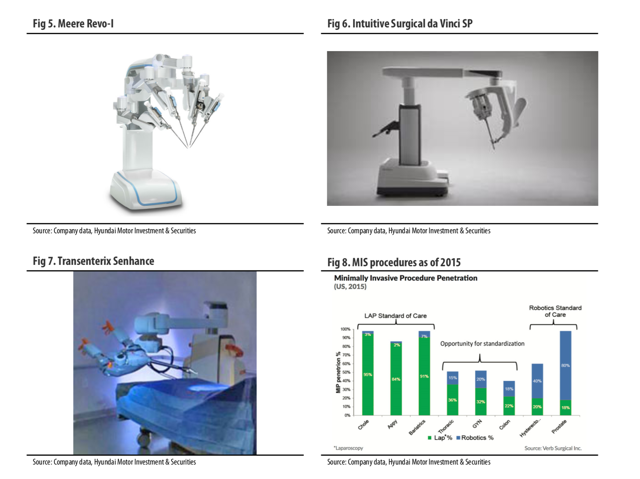 Display equipment
The display equipment division which makes up 90% of Meere's sales is strong and continues to grow. The company is well-positioned to benefit from the design-driven changes across differing devices such as mobile phones, monitors, and televisions. As Korean companies, LG Electronics and Samsung Electronics, are the undisputed leaders in these areas, we believe Meere will continue to benefit from its dominant position as a supplier of state-of-the-art display equipment.
The company's key value proposition in this space is its ability to converge its technology portfolio to create 'all-in-one' manufacturing equipment for flexible displays which combine, processing technology, laser technology, and inspection technology. This, it believes, gives it a competitive edge over its competitors in the display equipment market. According to IHS, the market until end-2017 posted a CAGR of 16%. The current design-driven trend for new display panels is creating new growth opportunities for equipment manufacturers such as Meere. The company is benefitting from sales of flexible displays that are needed in a variety of shapes for a growing number of applications and its edge grinder equipment is the global market leader in its category.

Disclosure: I/we have no positions in any stocks mentioned, and no plans to initiate any positions within the next 72 hours.
I wrote this article myself, and it expresses my own opinions. I am not receiving compensation for it (other than from Seeking Alpha). I have no business relationship with any company whose stock is mentioned in this article.
Editor's Note: This article covers one or more microcap stocks. Please be aware of the risks associated with these stocks.