The E-Mini S&P 500 chopped higher Thursday as traders rolled from March to June and the Greek debt swap added more participants to qualify for the bailout. Thursday, the US Initial Jobless Claims showed filings for state unemployment aid increased by 8,000 to 362,000 last week. Expectations were for 355,000. Friday, expectations for the US Unemployment report are for 210,000 new jobs created last month while January had 243,000.
The unemployment rate is viewed as steady at 8.3%. Better employment numbers are considered to dampen any possible stimulus by the Federal Reserve, but the Wall Street Journal reported Wednesday that the US Federal Reserve may be considering a mortgage related bond-buying program to hold rates low and perhaps that may be considered some sort of stimulus. The US Federal Reserve just bought $1.969 billion of long-term treasuries as part of the "Operation Twist" program which concludes in June. The central bank is further supposed to buy longer-term treasuries today and to sell shorter-term securities today. It will be a matter of perception in how the data is viewed. It is likely that the knee jerk initial reaction may be to buy the indices and favor the risk products and later in the day to perhaps sell.
The Greek debt swap was near a 95% participation as the deadline lapsed. They needed 90% participation to follow the guidelines. Progress seemed to take place as 32 major bondholders of the Greek debt, representing 39.3 + % of the debt, agreed to participate in the swap. That represents about $84 billion euros while a few of the banks holding about $11 billion euros may also participate. The Greek social security and other state funds holding about $23 billion euros of the debt may also participate.
The pension funds that have refused the conditions of the debt swap were for journalists, hotel, police and self-employed workers that control about $2 billion euros worth of the debt. The German banks holding about $8 billion euros of the Greek bonds should also participate. Some of the German funds have not been able to participate as the union workers, or recipients of the fund have not agreed to the terms. Austrian and Portuguese banks with about $1 billion euros may also participate. There is also talk of a possible legal battle to ensue from the opposition of the terms of the debt swap.
The risk of a disorderly default has been taken out of the marketplace. The European Central Bank has kept interest rates on hold for now as anticipated. European Central Bank President Mario Draghi has confirmed that there are signs of stabilization in the Euro Zone. Inflation rates are thought to stay above 2% in 2012 and the economy may contract by about 0.5%. The European Central Bank has authorized over a trillion euros of three-year funds into the banking system in the last 6 months, but expectations for any further cheap loans are null.
While stabilization is confirmed, there are still potential downside risks as well. The International Monetary Fund is to further discuss Greece's bailout on March 15th. They also anticipate a visit to Italy in the spring for an economic review. There may be stricter monitoring of the indebted countries in-line with the fiscal compact to prevent any further crisis situations. The debt situation will take time to turn-around, but the containment should make it more manageable.
The supreme leader of Iran, Ayatollah Ali Khamenei had stated to the IRNA news agency that he viewed the potential talks with the US as a window of opportunity. There is still a great deal of doubt about the intentions of Iran and whether they will allow international inspectors to visit a military installation where the nuclear arms are thought to be held. Some think that the talks are simply buying time in which the nuclear threats may be completed. There is still a great deal of tension when it comes to the nuclear arms that threaten global peace. Israel has been the most auditory as there geographical position is most vulnerable perhaps. Sanctions have been imposed on Iran constricting import/export of products as financing must be strategic with the financial constraints. Bartering with gold, oil and using Rupees has made transacting business costly and difficult.
On the stock side: JP Morgan Chase and Co. (NYSE:JPM) was up 1.23 % to $40.44. Citigroup Inc. (NYSE:C) was up 2.35 % to $34.02. Bank of America (NYSE:BAC) was up 0.50 % to $8.07. Alcoa Inc. (NYSE:AA) was up 2.30 % to $9.77. Boeing Co. (NYSE:BA) was up 0.88 % to $74.17. Caterpillar Inc. (NYSE:CAT) was up 1.44 % to $109.84. General Electric Co. (NYSE:GE) was up 1.39 % to $19.03. Halliburton Co. (NYSE:HAL) was up 1.46 % to $34.71. Hewlett Packard Co. (NYSE:HPQ) was up 1.44 % to $24.71. SPDR Select Sector Fund - Financial (NYSEARCA:XLF) was up 0.96 % to $14.77.
E-Mini S&P 500 Chart.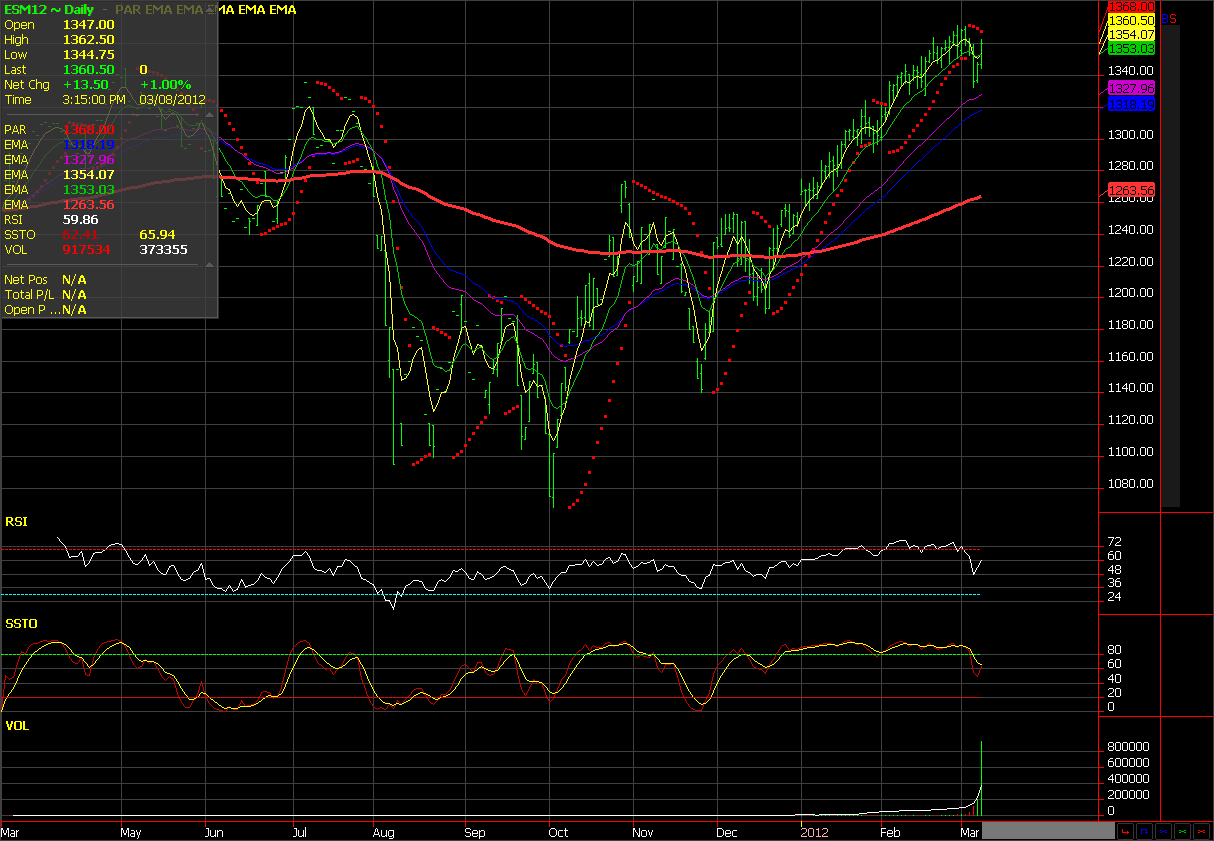 Friday, what to expect: We maintain a bearish bias unless the E-Mini S&P 500 penetrates $1368.00. Today, we anticipate an inside to higher day. Thursday's range was $1362.50 - $1344.75. The market settled at $1360.50. Our comfort zone or point of control for this market is $1355.50. Our anticipated range for today is $1365.50 - $1345.50.
Disclosure: I have no positions in any stocks mentioned, and no plans to initiate any positions within the next 72 hours.