Think of the retiree portfolio hand-off as "from self-directed hands to no-directed hands". Those of us who self-direct our stock, or stock and ETF portfolio, might feel that everything has to be watched and massaged, and it has to be under constant scrutiny. Nothing could be further from the truth, in my opinion, and from my observations. I find so much evidence that a sensible portfolio needs little attention in the accumulation stage, or in the retirement funding stage (decumulation).
The best action to take is often no action. Guess work and reaction can take us to some bad places. Poor investor behaviour is at the root of most losses and is the greatest contributor to opportunity costs. We might listen to Warren Buffett; his favourite holding period is forever. He suggests sloth-like behaviour.
Now the key of course is that definition of a sensible portfolio and that creation of a sensible portfolio. Cruise around the retirement articles and comment sections on Seeking Alpha and you'll discover that many retirees are drawn to higher-quality names that can populate the Dividend Aristocrats (NOBL) and Dividend Kings and Dividend Achievers (VIG) Indices. That meaningful dividend growth history can work as a divining rod that finds long-term business success, profitability and the potential for greater fiscal and dividend health compared to a broad market ETF such as the S&P 500 (IVV). In fact the Achievers Index applies proprietary financial screens in the attempt to strengthen that search for long-term quality and dividend sustainability.
Many retirees will also hold the names that would populate the lower volatility indices (SPLV).
The self-directed investors (retirees) might use those lists as an initial screen and certainly many investors will have the ability to apply additional criteria with the goal of finding even greater long-term fiscal health.
Retirees might even pay attention to their sector allocation, concentrating more on the sectors that typically offer greater stability and that are less cyclical in nature. Here's my article The Lowest Volatility Sectors For Retirees. That article looks at the performance of sectors through the last two recessions. From that article, showing the index drawdowns in each correction.
| | | | | |
| --- | --- | --- | --- | --- |
| Sector | 2008-2009 | Rank | 2000-2004 | Rank |
| Staples | -28.12% | 1 | -32.61% | 5 |
| Discretionary | -55.09% | 6 | -26.64% | 3 |
| Energy | -53.13% | 5 | -35.68% | 6 |
| Financials | -78.68% | 10 | -27.87% | 4 |
| Healthcare | -35.50% | 2 | -23.83% | 2 |
| Industrials | -57.16% | 8 | -37.38% | 7 |
| Materials | -55.49% | 7 | -37.73% | 8 |
| Real Estate | -68.30% | 9 | -14.35% | 1 |
| Technology | -49.46% | 4 | -80.47% | 10 |
| Utilities | -38.50% | 3 | -43.51% | 9 |
From there, the retiree might have the confidence to let the portfolio Keep On Keeping On, even after they are no longer Keeping On the right side of the grass themselves. That portfolio might be able to stand on its own "two feet" for many, many years and decades. Now those two feet might be the sensible stocks on one foot and a bond component on the other foot.
I'd suggest the sequence of returns risk be managed with that bond component. On that I'll often turn to this article that shows (by way of two Vanguard Balanced Portfolios) How Retirees Made It Through The Last Two Recessions. We see a Balanced Growth and Balanced Income Model at work that would typically point to a range of 30% stocks to 70% stocks with the risk managed by that 70% to 30% bond component. Of course, those portfolios also offer a modest international stock component to manage that home bias risk.
One can certainly and mostly replicate those managed portfolios solutions by way of copying the Vanguard asset allocation and with the use of ETFs such as VIG, AGG, and EFA for International.
In the world of individual stock portfolio creation, have a read of this article - The Original Dividend Achievers Top 10 - This Should Not Have Worked.
The time period is from May of 2006, and the original top 10 Achievers included some "scary" names such as GE, AIG, and IBM.
Here's how the top 10 Achievers held up in a decumulation setting. The spend rate is 4.5% of portfolio value, not inflation adjusted. Portfolio 1 is those original top 10 Achievers, Portfolio 2 is the VIG Index fund. We see the top 10 held up "even better" than the total index, for many years. The 10-year time period is January of 2007 to end of 2016.
Of course, many of those names would go on to get the boot from the index. This strategy is buy and hold and ignore the index, even under what we might think is the worst of conditions, entering a financial crisis and recession with 2 financials, some cyclical energy names and a stinker such as IBM.
Full disclosure. That top 10 portfolio has now recently gone into the "you know what" from 2017 to present. There simply are not enough stocks in the portfolio. Obviously 10 is not enough. Many writers and portfolio modellers would suggest 25-30 companies. While those 10 stocks did prove a point, we want to protect ourselves from concentration risks.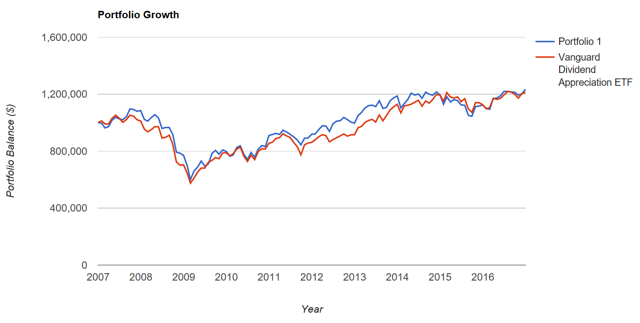 Back in late 2006, the Dividend Achievers Retiree skimmer would have found many more names that would offer greater diversification and stability - including Colgate-Palmolive (CL), McDonald's (MCD), 3M (MMM), Lowe's (LOW), United Technologies (UTX), Abbott Labs (ABT) and more. Yes, we're grabbing some Dividend Achievers that also populate the Dividend Aristocrats list.
Let's add those names for a top 16 Achievers (still too concentrated?) and add a 25% bond component by way of the broad based AGG. Each of the 16 stocks is 4.7% of the portfolio. We see it match the total VIG to date (with no bonds), and beat VIG for most of the period. So much for having to watch your stock portfolio.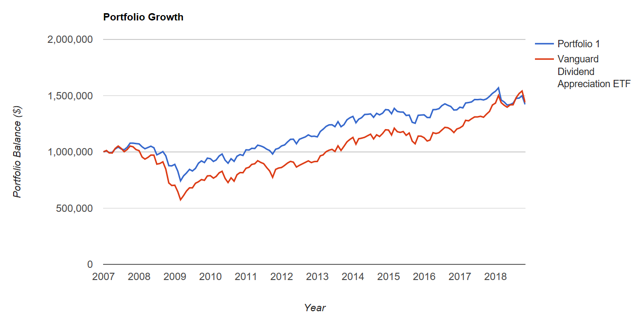 Here's that portfolio of 16.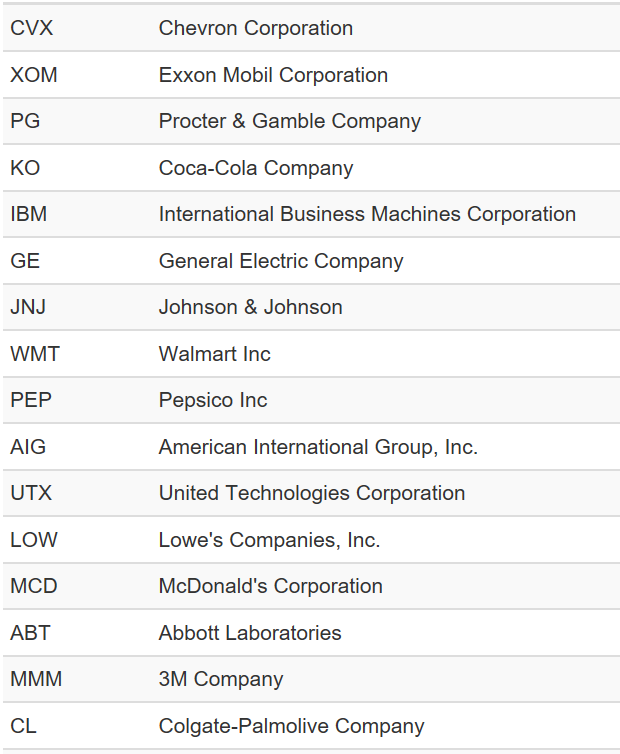 And you may wonder about portfolio drift. The first demonstration of the 75/25 portfolio was rebalanced annually. What happens when we let it run without rebalancing?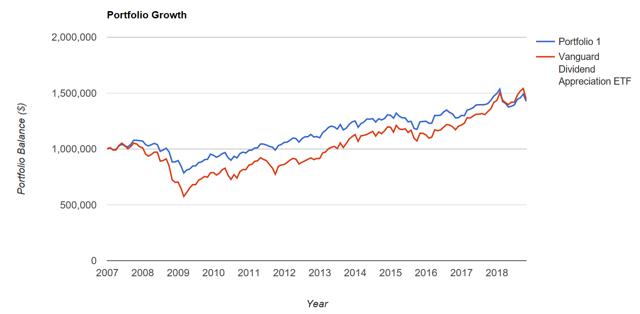 What happens to the portfolio asset allocation drift? Well, lots, but not much when it comes to retirement funding. Apologies for the grainy image.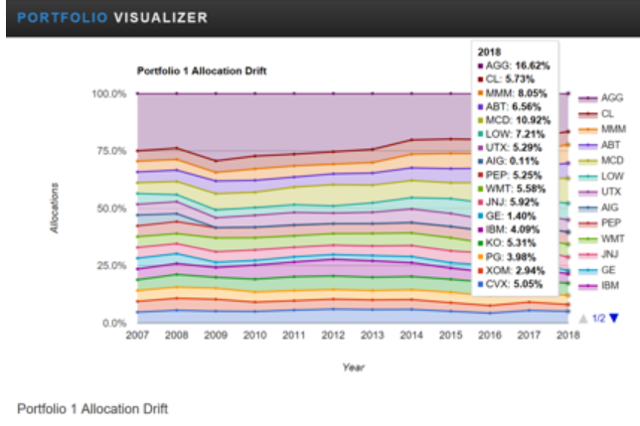 We see that the bond component AGG drifted from 25% down to 16.7%. Darwin and natural selection and share harvesting essentially removed AIG and GE from your portfolio. Your higher-quality names are now leading the show. But the portfolio really only has 2 Big Losers. The rest of 'em are somewhat carrying their weight. So much for having to manage your portfolio, eh?
The above asset allocation and asset drift demonstration might suggest that when you start with a classic Balanced Portfolio model of 60% stocks and 40% bonds, your 40% bond component might get clipped down to the 25% area after 10-15 years. You're still in a Balanced or Balanced Growth Model - ideal for the retiree. And perhaps your heirs have the confidence to simply trim the stocks when they are doing well and attempt to leave the bonds as close as possible to their original allocation. Conversely, they'll trim the bonds if the bonds are doing well when the stocks are in the tank. All said, some drift does not appear to be an issue.
I'll leave the last words to Curtis Mayfield who sang:
Never worry too long

About what goes on

Today it's sorrow

Look like joy tomorrow

Keep on keeping on
Who knew that Curtis was an investment guru?
Author's note: Thanks for reading. Please always know and invest within your risk tolerance level. Always know all tax implications and consequences. If you liked this article, please hit that "Like" button. If you'd like notices of future articles, click the "Follow" button.
Disclosure: I am/we are long BNS, TD, RY, AAPL, NKE, BCE, TU, ENB, TRP, CVS, WBA, MSFT, MMM, CL, JNJ, QCOM, MDT, BRK.B, ABT, PEP, TXN, WMT, UTX, BLK. I wrote this article myself, and it expresses my own opinions. I am not receiving compensation for it (other than from Seeking Alpha). I have no business relationship with any company whose stock is mentioned in this article.