Buy Krystal Biotech With Conviction In STAR-D Technology
Summary
A KB103 deep-dive suggests that the therapy is overwhelmingly safe and effective at treating dystrophic epidermolysis bullosa.
DEB costs $200,000 - 400,000 per year to maintain, paving the way for extremely favorable rare disease pricing based on this economic precedence.
Validating data in DEB implies future success in treating a number of dermatological genetic conditions using the company's proprietary STAR-D platform.
Shares of Krystal Biotech appear to be significantly undervalued on the basis of the commercial opportunity in DEB, as well as the value of Krystal's technology platform.
Introduction
In my last article, I outlined the broader investment opportunity in Krystal Biotech (NASDAQ:KRYS), a unique gene therapy company focused on dermatological conditions. In that article, I gave a surface level overview of their STAR-D (Skin TARgeted Delivery) gene therapy platform and the company's commercial opportunity in DEB. This article will serve as a "deep dive" piece where I explain, in detail, why I have such high conviction in this investment despite its early stage. I'll be reviewing the science behind KB103 in detail, and why this investment opportunity may be overlooked simply because of the early current stage of development.
This article will be fairly lengthy, so I'll begin with my "elevator pitch". Krystal Biotech is an emerging gene therapy company with a technology platform, STAR-D, based on their proprietary HSV-1 viral vector, that is able to treat nearly any dermatological genetic disease. Unlike other dermatological gene therapies, it does not require the extraction, engineering, and re-injection of individual patient cells to be effective. Instead, their gene therapies can be administered in the form of a universal topical gel. While this might sound too good to be true, the company has convincing preliminary data in dystrophic epidermolysis bullosa (DEB) that serves to validate its technology platform, paving the way for this method to be used to treat any number of genetic skin diseases.
I believe the company is being overlooked due to its early stage of development, despite the fact that they benefit from an accelerated approval pathway and will be conducting pivotal phase III trials in DEB by mid-late 2019. Insiders seem to agree, as they have been purchasing stock on the open market hand over fist, with the CEO and COO also purchasing large blocks of shares from the firm's IPO and secondary offering. To date, insiders have sold zero shares on the open market. While Krystal's commercial opportunity in DEB warrants purchasing the stock, the exciting technology underlying the company's pipeline has the potential to be worth multiples of what it is worth today, and for these reasons, Krystal has earned a spot as one of my highest conviction investment ideas.
STAR-D Platform
Patients with genetic diseases are typically missing a necessary gene sequence, or have a mutated sequence, which prevents cells from translating and transcribing a functional protein or enzyme. Viruses have been evolutionarily engineered to insert DNA sequences into their host cells, allowing them to use those host cells to replicate and amplify their effect. By harnessing and controlling this ability, recent developments in the field of gene therapy have paved the way for engineered viral vectors to be safely used to deliver missing genes to patients with genetic disorders.
Krystal Biotech's entire dermatological gene therapy pipeline is based on its proprietary herpes simplex virus (HSV-1). HSV-1 is an extremely common virus (common herpes) and has the ability to affect a wide variety of cell types. Researchers at Krystal Biotech have engineered their proprietary HSV-1 virus to have a unique affinity for skin cells, allowing the virus to transduce these cells and insert a corrected gene sequence. With the correct gene sequence, these patients would be able to produce missing proteins and correct their genetic disorder. Effectively curing diseases by replacing genes is one of the holy grails of genetic disease research, and Krystal Biotech is making it easier for this approach to be used to treat genetic skin disorders.
Krystal Biotech's approach to gene therapy is fundamentally different than methods used by other companies in this space. Fibrocell Science (FCSC), for example, are also developing dermatological gene therapy treatments, however, their manufacturing and delivery method is very complicated and time intensive. They must first extract fibroblasts from each individual patient, allow those cells to grow and expand in a lab, then treat those cells with a viral vector that inserts the corrected DNA sequence. Then, these cells are re-injected into the affected area, allowing the missing gene to be expressed. This personalized approach to therapy is an incredible feat of science, however, it is a time sensitive and costly procedure that could lead to exorbitant pricing. It will also inevitably extend the period of time between when a specialist decides a patient needs the therapy, and when the patient can actually get it.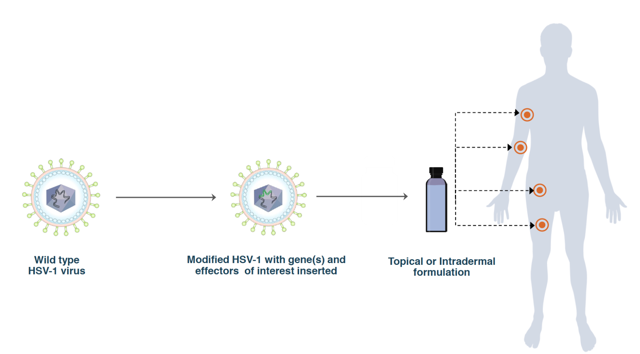 (Source: Krystal Biotech STAR-D Platform)
What makes Krystal's method unique? Using their specially engineered HSV-1 viral vector, Krystal is able to manufacture gels containing the live virus (with the corrected gene sequence), which can be applied topically to the affected area of the skin. Then, the viruses can insert the corrected gene sequence and the skin will begin to express the missing protein. The best part of this method is the fact that patient cells do not need to be harvested, and the therapy is completely universal. This not only lowers manufacturing costs but it also significantly reduces the time lag between when the patient needs the treatment, and when they can get it.
When this method was introduced, many investors (myself included) were skeptical as to how effective a topical, universal gel could be compared to therapies that are developed specifically for individual patients. Additionally, using a live virus to treat these blisters carries the risk of triggering an immune response. If the immune system were to develop antibodies to the virus, the treatment would be rendered useless as they would be destroyed upon contact, in addition to any cells the virus infects. Krystal hypothesized that by using a non-replicating, non-integrating viral vector with very little innate immunity, it would nearly eliminate the chances of an immune response. The non-replicating nature of this vector means the treatment can be properly localized to the affected area, which significantly diminishes the chance of an immune response. This is equally as important for maintaining consistent efficacy as it is for preventing immune responses. The HSV-1 vector does not integrate into the cell's genome, which would cause infected cells to express foreign antigens on their surface and would possibly become targeted by the immune system.
Another benefit of using this specific HSV-1 vector is its large payload capacity. Specific genes, like files on a computer, can greatly vary in size. This makes developing gene therapies for polygenic (affecting multiple genes) and certain monogenic (affecting a single gene) diseases very difficult if the gene is too large to be inserted into the viral vector for delivery. Krystal's vector has a large genome capacity of ~150Kb, which will eventually allow it to treat more complex polygenic diseases, such as atopic dermatitis (more on this later).
KB103 Phase I/II Deep Dive
KB103 is an investigative "off the shelf" topical gene therapy gel, developed with Krystal's STAR-D technology, for the treatment of dystrophic epidermolysis bullosa. DEB patients suffer from chronic blistering and wounding caused by a mutated collagen VII ("COL7") gene, preventing the formation of key structural proteins. These protein structures are called anchoring fibrils, and they serve the purpose of connecting the inner and outer layers of the skin. Without anchoring fibrils, the skin easily separates into painful and long lasting blisters that can take months to heal on their own.
I primarily study companies developing therapies for rare diseases, and DEB is one of the most horrific diseases I've researched. These blistering wounds can cover a patient's entire body, and many children with this disease live their life covered in specialized bandages designed to minimize pain and risk of infection. Due to the graphic nature of wounds of DEB patients, I won't be including photos in this article. But for those that wish to gain a better understanding of the severity of DEB, you can view photos here.

(Source: Krystal Biotech Investor Presentation)
I'll start by giving a general overview of the results of the recent interim data readout of Krystal's phase I/II trial before taking a deeper look at the data and its implications. Both patients in the study were evaluated on the basis of two wounds, each of similar size and severity. One wound was given KB103 topical gel, and the second wound was treated with an inactive placebo gel. Primary endpoints measured safety and inflammatory responses, while secondary endpoints measured wound healing, COL7 expression, and anchoring fibril presence.
The results were very impressive, with both patients reaching 100% wound closure in just two weeks time. Both patients were given a second dose after one month, and the wounds remained fully closed after 4.5 and 3.5 months respectively. Patient 2's placebo wound saw little to no wound closure, and remained open and required bandaging. Patient 1's wound nearly fully closed, though this took 8 extra weeks compared to the treated wound, and it still did not close fully. Krystal recently reported that this placebo wound, which had partially healed, has begun to re-open. Unfortunately for DEB patients, many wounds have a tendency to go through cycles of blistering, healing, and blistering again. This implies that the healing seen in this placebo-treated blister was not durable, and relapse is likely. As for the KB103 treated wound, the patient had previously been using specialized bandaging, which he opted to remove shortly after the treatment proved effective and demonstrated a durable response.
Collagen VII Function and Form
DEB patients tend to go through cycles of wound formation and slow healing, only for the site to relapse. This is simply the nature of the disease, as wounding tends to occur in areas of the skin that are more prone to irritation and stress, such as on elbows and knees. This is precisely why a durable response is the single most important endpoint for any DEB therapy, and why Krystal's results to date have been very impressive.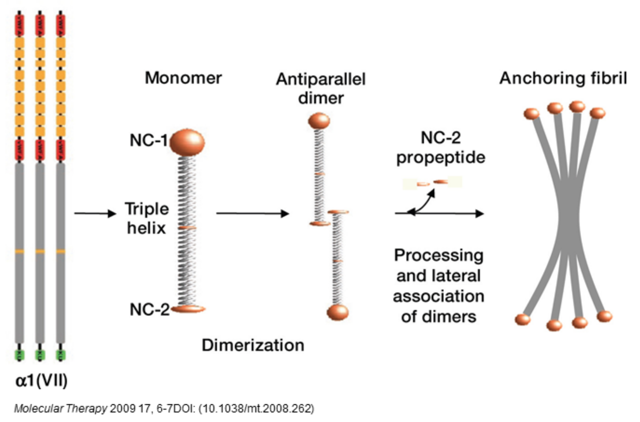 (Source: Cell, 2009)
Collagen VII proteins are comprised of two separate domains at separate ends, NC-1, and NC-2, both of which are needed to maintain the structural integrity of anchoring fibrils. NC-1 is responsible for binding to the lamina densa, which is found in the basement membrane of the skin between the dermis and epidermis. Two collagen VII monomers then form an antiparallel dimer, removing NC-2 and forming a fully functional anchoring fibril (Cell, 2009). Therefore, being able to identify both NC-1 and NC-2 domains via immunofluorescence staining following application of the therapy is key to determining whether the therapy was effective at delivering the full-length, fully functional collagen VII gene. Krystal used two different screening methods that tested for expression of full-length anchoring fibrils, and both NC-1 and NC-2 domains.
Patient 1 - Immunofluorescence Staining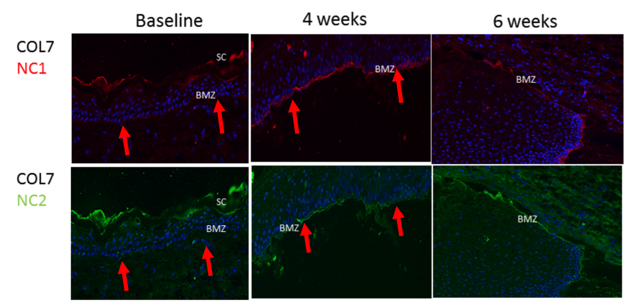 Patient 2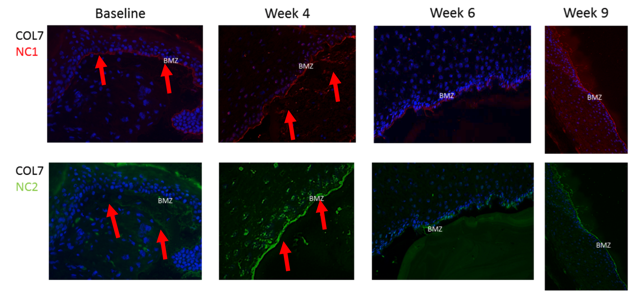 (Source: Krystal Biotech Interim Data Conference Call)
The first method used to test for NC-1 and NC-2 domains is called immunofluorescence staining. When analyzing the phase Ib results in the first two patients dosed with KB103, it becomes very clear that this therapy was effective at inducing expression. The basement membrane zone (BMZ) is the location that we would be looking to observe both domains, as it is where the anchoring fibrils are formed and "anchored" to the inner layer of the skin.
In the baseline stains, it's clear that there is no domain expression in either patient, evidenced by a lack of bright red and green staining. However, when looking to data at four weeks and beyond, it becomes very clear that linear expression of both the NC-1 and NC-2 domain is robust and amplified from baseline. At baseline when the patient biopsies were originally stained, neither domain was detectable (which was an inclusion criterion for the trial).
Patient 1 - Immunoelectron Microscopy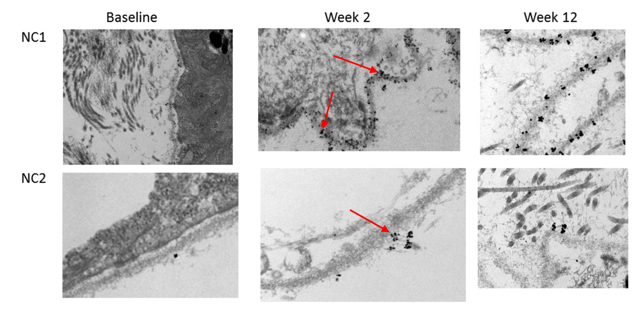 Patient 2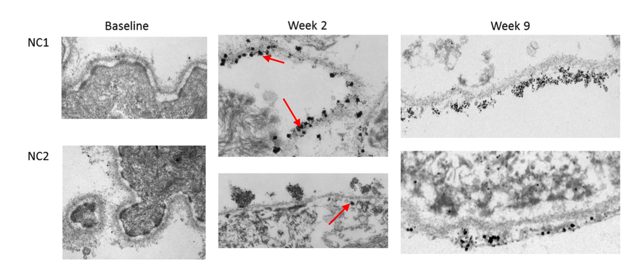 (Source: Krystal Biotech Interim Data Conference Call)
The next key test of efficacy is screening for anchoring fibrils using a method called immunoelectron microscopy, which screens for functional NC-1 and NC-2 forming anchoring fibrils. Again, we see a complete lack of both in at baseline in both of these patients. Then at two weeks, when both wounds had fully closed, the expression is robust for both domains (displayed as small black dots). The presence of both NC-1 and NC-2 domains is important to see, and it demonstrates the robust expression of fully functionally COL7.
For reference, Fibrocell Science is developing an intradermal autologous gene therapy for the recessive subtype of DEB. In their interim data readout, they only screened for NC-1 domains in their microscopy. That isn't to say their treatment doesn't work (it does), but a more comprehensive screening approach is a great addition to this proof of concept data.
Assessing Autoimmunity Risk
Based on this data, it's clear that KB103 is effective at delivering a functional COL7 gene to skin cells. However, anchoring fibrils only have a half-life of approximately 2 months and must be regenerated to keep the wounds healed and intact. Theoretically, the gene therapy treated skin cells should continue to produce COL7 until they die. However, to ensure long last durability of treatment, Krystal must be able to prove that its therapy can be re-applied chronically to treat DEB wounds.
Because Krystal is delivering its therapy in a viral HSV-1 vector, it's entirely possible that this therapy could induce an immune response from the mast or dendritic cells in the interstitial fluid. These are part of our innate, or non-specific immune system, and will attack any foreign "invader" regardless of identity. If the virus were to be recognized and destroyed by innate immune cells, it would trigger a B and T-cell reaction in the lymph nodes that can build a specific immunity to the virus by producing antibodies and multiplying/specifying into memory cells and effector cells, which remember and attack the virus, respectively. The body would then reject the virus each time it was applied, recognizing specific proteins expressed and triggering an inflammatory response, rendering KB103 ineffective. While these risks are very real, I'll explain why this is very unlikely to happen, and what the phase I data tells us to back up my thought process. Researchers at Krystal also took careful steps when engineering the vector to minimize the risk of an immune response.
Wild-type HSV-1 virus (common herpes) is able to penetrate skin cells and replicate rapidly, amplifying its effect, but also increasing the likelihood that it will be recognized by the immune system, which would develop antibodies against it. Krystal thought of this, and as was mentioned earlier, the virus was engineered to be non-replicating. Therefore, the risk of such an immune response is significantly lower than it would otherwise be. The virus was also engineered to be non-integrating, meaning the genome of the cell remains intact, and should not be targeted for destruction due to DNA disruption.
If the virus were to be destroyed by innate immune cells, phagocytes would present pieces of the virus's DNA (antigens) on their surface for B and T-cells to activate and form antibodies in response to (to put it simply). Because the DNA of these viruses contains functional COL7, the body would be forming antibodies to COL7, possibly inhibiting the efficacy of future treatments and could even develop into a rare autoimmune form of DEB. To be clear, this should theoretically be an extremely rare occurrence. This is because the body would need to separately produce both B and T-cells that are reactive to collagen VII.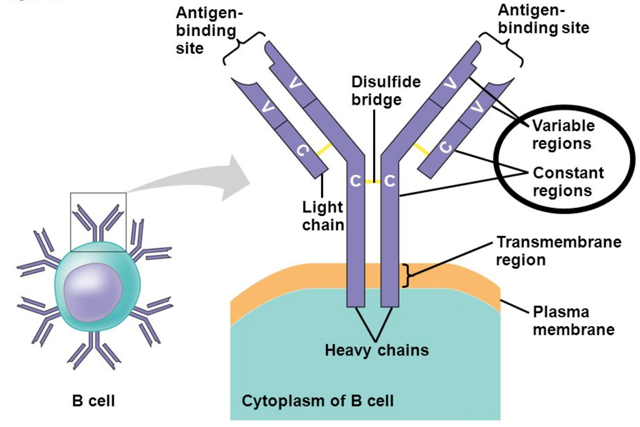 (B-cell Antigen Binding Site: Pearson Education)
Nearly every B and T-cell produced in the bone marrow and thymus, respectively, contain unique antigen binding sites. These sites recognize specific antigens presented by phagocytes from the DNA of the organism that is consumed by these immune cells. Therefore, the body would need to produce both B and T-cells that recognize and bind to COL7. Both need to be produced because B cells only become "active" (being able to replicate and differentiate) and continue with a proper immune response if they are activated by a complementary T-cell which is also reactive to COL7.
This unfortunate combination of B and T-cells occurs in an extremely small number of patients and manifests in the form of Epidermolysis Bullosa Acquisita (EBA). These patients form antibodies to collagen VII at varying points in their life, and the disease is phenotypically very similar to DEB. It can be more severe, however, as it must be treated with immunosuppressant agents that can inhibit a proper immune response should an open wound become infected. It's a more difficult disease to manage, and this acquired immunity would be the worst possible side effect of treatment with KB103. However, due to the rarity of this occurring, I'm fairly confident that the lack of an immune response recorded in early data will persist in larger and longer trials observing the drug.
Though this gene therapy is only applied topically, another fear was that the HSV-1 virus could shed into the bloodstream (these are open wounds, after all). This would be negative for two reasons. There would be a risk of off-target gene insertion, as collagen VII expression elsewhere in the body could be dangerous or even deadly. This would also elevate the risk of triggering an immune response due to systemic exposure to the virus. Fortunately, for the two patients tested thus far, no viral shedding has been observed. The small sample size must be kept in mind, so I'll be watching for further confirmation of this data in larger studies, but this is very encouraging.
Because phase I trials are designed to test for safety, the study was designed to primarily screen for an immune response to the virus. Neither patient had any observable immune response, inflammation (indicating an innate immune response), or COL7 antibody formation following administration. The second patient was even given the therapy at two-week intervals with no immune response, boding well for long-term use. Based on the half-life of anchoring fibrils and management's commentary, it seems reasonable that dosing every 2 months (give or take a few weeks depending on the severity of the wound and individual response) would prove to be safe and effective over a longer period of time.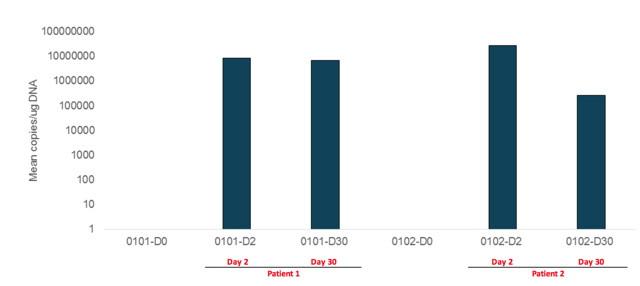 (Source: Krystal Biotech Investor Presentation, labeled)
The chart above shows viral DNA copies measured two days after the first and second dose (at day 0 and 28, respectively) in both patients. If an immune response was triggered by the virus, this would first be evidenced by an inflammatory response, which did not occur. Had an immune response had occurred, there would also be little to no evidence of viral DNA copies in the days following administration. This further strengthens the evidence that KB103 is not being targeted by the immune system.
I want to commend management for providing this comprehensive set of data from the trial, despite the data being early stage. The main concerns of an immune response and lack of full-length anchoring fibril production were addressed to the best of management's ability. In my opinion, efficacy and durability should not be a primary focus for investors given the robust expression of NC-1 and NC-2 domains in patient cells. Instead, the focus will be on adverse events such as inflammation and immunity to COL7, though preliminary data would suggest that this isn't something investors need to worry about.
KB103 Pricing and Market Share
Because there are currently no effective treatments available for DEB patients, wounds must be treated with antibiotics and specialized bandages that typically run anywhere from $200 - 400k per year. Additionally, patients are at a very high risk of developing skin cancer due to the constant damage and scarring. This is an expensive and difficult disease to treat, and costs can be much greater depending on the frequency of hospitalization and severity of the disease.
Because of these factors, I've determined that $500,000 per year is an appropriate treatment cost. Of course, some patients will require more frequent treatment and end up above this range, and some will require fewer applications and fall below this range. This also falls into the price range of many ultra-rare chronic disease drugs, such as eculizumab, eteplirsen, kanuma, and elaprase.
In the EU, I've modeled for a 25% discount to this price to account for Europe's ability to pay for medicine. The company indicated in their most recent conference call that they intend to commence clinical trials for KB105 in Europe early next year, and the clinical development for this program will lag development in the US by approximately 6 months.
While I haven't modeled for ROW (rest of world, ex-US & EU) sales, the drug will likely be priced significantly lower in these regions. This would be offset by the much larger worldwide patient population and could contribute significantly to sales. The fact that this is an off-the-shelf gel makes it a far more accessible treatment option when compared with autologous competitors, and is likely to dominate the addressable patients in developing markets.
Due to the fact that this disease is easily diagnosed and is heavily underserved, we believe the drug can penetrate these markets and take significant share. We've modeled for 50% peak market share over a 5 year launch period in core markets (US + EU) to represent this underserved need. Realistically, this could be much higher, however, it's important to provide this buffer to account for any potential competitors that may emerge over time.
Pipeline Opportunities and Technology Platform
While Krystal Biotech's prospects in DEB are exciting and lucrative, there is a significant amount of value in the STAR-D platform which is not reflected in the current market valuation. Preliminary validating data in DEB opens up Krystal's proprietary HSV-1 vector for use in "off the shelf" gene therapy treatments across a wide range of skin disorders. Before phase I data was revealed in October, it was risky to move into new indications without knowing whether the drug would trigger an immune response, or even work properly.
With these concerns set aside, the company has decided to target another rare monogenic skin disorder for their next therapy, TGM1-deficient autosomal recessive congenital ichthyosis (ARCI). This genetic disease is caused by defective protein expression on the skin of newborn babies, due to a mutation in the TGM1 gene. Due to this mutation, the skin is unable to produce transglutaminase-1, which is a crucial enzyme needed for the formation of the outer protective layer of the skin. Without this, patients develop dry, scaly skin over their entire body. This predisposes patients to a greater risk of infection, dehydration, and even respiratory diseases. Overgrowth of skin on the hands and feet can make everyday tasks difficult, and dark scaly skin can lead patients to stay inside and avoid everyday social interactions.
While the disease is not typically fatal (aside from occasional complications due to infections), treatment is limited to frequent moisturizing with specialized lotions and frequent monitoring for the development of common complications. KB105, indicated to treat this disease, would insert a functional TGM1 gene into patient cells. In theory, this should allow skin cells to express the transglutaminase-1 enzyme and the outer protective layer of the skin could be restored to its normal function. This is another ultra-rare disease, with approximately 1,800 US patients, and 3,200 EU patients (data found in Krystal Biotech's investor presentation). Krystal is targeting independent commercialization due to the small salesforce needed to penetrate markets. It's also likely that the drug will effectively market itself, as specialists and patients tend to keep a close eye on the clinical development of emerging treatments.
It remains to be seen how KB105 will be priced, though I've opted for an annual price of $150,000 (with a 25% discount to this price in the EU). This is on the low end of ultra-rare orphan drug pricing, which I believe to be appropriate due to the fact that this disease isn't nearly as expensive to treat as DEB and lacks economic precedent for a higher price. Due to the unavailability of treatments for this disease, I've modeled for 40% market penetration over a 5 year launch ramp period. Based on these inputs, I estimate that this indication could be worth $306 million in peak sales by 2027.
It's a little too early to model sales for any discovery programs due to how uncertain their timeline is, however, it's encouraging to see the company pursuing additional programs in Netherton Syndrome and Junctional EB. These are both extremely small indications, (each with 50-200 reported cases) so they likely won't contribute too meaningfully to revenues. However, because of this these indications could end up only requiring small proof-of-concept trials to serve as a basis for approval, making the risk/reward worthy of the investment. Junctional EB, for example, is very similar to DEB with the exception of minor alterations to the mutated gene. Should KB103 be approved, management believes they could work with the FDA to approve KB107 on the basis of a small confirmatory trial. These indications would also serve to further validate the platform, potentially attracting partners for larger indications or even M&A interest.
Looking Beyond Rare Diseases
Outside of these ultra-rare orphan disease indications, Krystal thinks that their STAR-D technology could also be used to treat more common diseases, such as atopic dermatitis. This is a polygenic disorder, and although it remains to be seen how Krystal's approach works when delivering multiple genes, having access to these markets would be extremely lucrative. Approximately 31.6 million people in the US alone are diagnosed with atopic dermatitis, and thousands are newly diagnosed each year. Atopic Dermatitis is just one example, but it goes to show that Krystal's STAR-D technology has far-reaching implications across a number of lucrative indications.
Krystal could eventually work with a partner to commercialize a STAR-D based treatment for these more common indications. They could still be cost-effective due to the universal nature of their off the shelf therapies, in addition to economies of scale in manufacturing. Krystal will likely run small proof of concept trials in indications with large patient populations before leveraging any positive data in partnership discussions. After several successful proof of concept studies, they could also monetize their research and drug discovery capabilities. If, for example, Pfizer (PFE) came to them with a disease target, Krystal could develop and optimize the drug, while Pfizer would foot the bill for research, clinical trials, and commercialization. Though Krystal would only receive smaller single to low double-digit royalties on a deal like this, it would be a great way to monetize their patent estate.
Financial Health and Catalysts

(Source: Company SEC Filings)
Krystal Biotech is only burning ~10-12 million per year with $122 million in cash after a recent $69 million secondary offering and is in excellent financial condition. The only dilution that I would expect would be in the form of smaller private placements for prominent healthcare funds looking to take larger positions without having to purchase on the less liquid open market (KRYS typically trades ~30,000 shares per day). The first firm to organize a private transaction was Frazier Healthcare Partners, which purchased $10 million worth of shares directly from Krystal at a price of $16.00 per share, before any data had even been released on KB103. These transactions are typically very bullish, as it implies the fund performed extensive due diligence and wanted to take a large enough position that they could negotiate with the firm directly.

(Krystal Biotech Clinical Timeline - WCM Equity Research LLC Estimates)
The financial flexibility afforded from this year's secondary offering gives Krystal the ability to initiate a phase I/II clinical trial for KB103 in Europe while pursuing phase II and III development in the US over the course of 2019 and into early 2020. They will also be initiating a phase I/II trial for KB105 earlier next year, expanding their gene therapy platform to new indications. What is most exciting is that a pivotal trial for KB103 is on track to begin in Q3 of 2019 (per management's timeline), a trial with a primary efficacy endpoint at just 6 months. I believe that the short 1 1/2 year period from phase I data to phase III data is underappreciated by the market, as Krystal is being valued as if it had the typical 5-6 year regulatory timeframe of many other young biotechs.
To put it into perspective, by this time next year Krystal Biotech will have initiated a phase III trial in DEB, with KB105 and at least one other aesthetic skin condition in phase I/II clinical trials with multiple interim data readouts throughout the year. Krystal will also likely receive a Regenerative Medicine Advanced Therapy (RMAT) designation from the FDA, which entitles them to an accelerated review period for approval. 2019 is setting up to be an exciting and catalyst-rich year for Krystal Biotech, and these catalysts have the potential to propel Krystal to much higher valuations.
Part of the cash raised in 2017 and 2018 will be used to complete the construction and development of Krystal's GMP gene therapy manufacturing facility. They plan to have enough capacity to supply all clinical trials by next year, and the final phase of the project would be complete in 2020. When complete, Krystal will be able to produce large enough quantities to satisfy their commercial operations in their lead disease indications.

(Insider Transactions: SEC Form 3/4 filings, compiled in Excel)
One key thing to watch for with biotech IPO's is insider selling. Selling is not always a definitive red flag, but being publicly traded is the first opportunity for many insiders to cash out on shares they've held for years as a private company. In the case of Krystal Biotech, insiders not only have resisted selling shares, but they have been consistently buying shares on the open market. Key executives, CEO Krish Krishnan, and COO Suma Krishnan purchased shares in the firm's IPO and secondary offering, in addition to multiple other open market purchases. This kind of insider buying and ownership is unprecedented at this stage of development and signals to the market just how confident insiders are in Krystal's success and the STAR-D platform.
Valuation

(Discounted Cash Flow Analysis: WCM Equity Research LLC)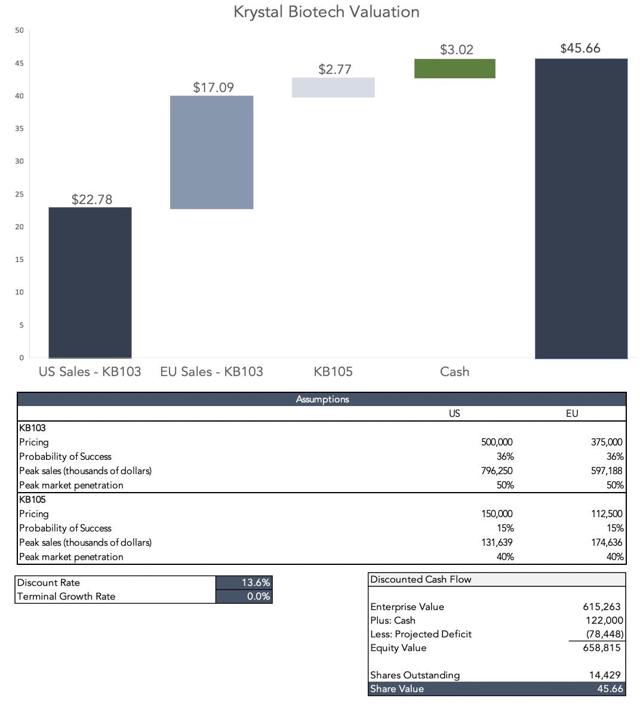 (Sum of Parts Price Target and Assumptions: WCM Equity Research LLC)
My valuation of Krystal Biotech is primarily based on US and EU sales of KB103 for the treatment of DEB, both generalized and recessive subtypes. I assigned a relatively conservative 13.6% discount rate, 0% terminal growth rate, 36% probability of success to the DEB program, and a 15% probability of success to KB105. The 36% probability of success assigned to the DEB program is simply based on the statistical probability of positive phase I data translating to an approved product. KB105's probability of success is based on validating data in DEB using an identical viral vector, but is kept at a very low 15% because this indication has no clinical data. Calculating WACC as a discount rate for early stage biotech stocks can easily distort results, due to the fact that these companies do not typically carry debt on their balance sheet, leaving the discount rate very sensitive to beta. Instead, I'm using a blended average of discount rates used by finance executives at 186 public clinical stage biotech firms to value internal projects at the clinical stage of development. This survey found the appropriate discounting range to be 13.3-13.6%, and I've opted to use the high end of this range, 13.6%.
Krystal Biotech's composition of matter patent covering their STAR-D platform was issued in January of 2018, meaning that the company should have market exclusivity until 2038 based on a 20 year patent life. Aside from these patents, trade secrets and manufacturing expertise will make replicating Krystal's viral vector a difficult task for a biosimilar company. Because my model only includes 10 year projections, I've opted to include a terminal value to account for sales beyond this period. My 0% terminal growth rate assumes that the company does not pursue a strategy of price hikes, or grow its share of the market.
Cash is calculated using the company's current cash balance ($122 million) subtracting out projected cash burn until the company is able to turn a profit ($78.4 million). Using this method, effective net cash per share used to value the company comes out to $3.02.
It's difficult to justify that a stock that is already up 97% from its IPO just over a year ago is still undervalued by 50%, but I really believe this opportunity is being overlooked by investors. I could be more conservative with market share projections, however, it would also be unrealistic (in my opinion, of course) that the first effective therapy for one of the worst adolescent genetic conditions isn't rapidly adopted. There already exists a massive economic burden for payers, and if the drug proves to have a durable effect with no immune response I see little to no reason why this wouldn't become the standard of care treatment.
Anti-Thesis Considerations and Conclusion
While Krystal is a high-conviction investment, nearly all biotech investments carry some level of risk. Krystal is still at an early stage of development. It's entirely possible that an immune response could be observed after long-term repeat dosing, no matter how unlikely this scenario may be. Additionally, should the therapy not prove to be durable, the investment thesis would be derailed.
Additionally, the biotech sector, as evidenced by the pullback in the SPDR Biotech Index (XBI) during October and November, may be out of favor and could see further downside. With that being said, shares of Krystal Biotech seem relatively unaffected by this market swing, as the XBI has lost 20% over the past three months, while KRYS has gained 28% over the same period. This relative strength is comforting to see in tough market conditions and should continue with further positive business developments. Anyone looking to take a position in Krystal Biotech should be accustomed to heightened levels of relative volatility that are intrinsic to biotech investing.
All in all, Krystal Biotech has become one of my highest conviction biotech investments. I've doubled my position since the last article I posted, and I plan to continue to purchase shares as opportunities arise. I look forward to closely following the clinical development of KB103 and KB105, and I'll be sharing my thoughts an opinions along the way.
This article was written by
WCM Equity Research is a coterie of university students with an academic background in finance, economics, mathematics, and biology. We have had experience at bulge bracket banks, managed individual credit and equity portfolios, and have built upon a  track record of discoursing shoptalk with biopharma or industry-specific management. We research and write methodically on the topics of macroeconomics, geopolitical events, biotechnology and pharmaceuticals, and novel investment vehicles and asset classes.
Analyst's Disclosure: I am/we are long KRYS. I wrote this article myself, and it expresses my own opinions. I am not receiving compensation for it (other than from Seeking Alpha). I have no business relationship with any company whose stock is mentioned in this article.
Seeking Alpha's Disclosure: Past performance is no guarantee of future results. No recommendation or advice is being given as to whether any investment is suitable for a particular investor. Any views or opinions expressed above may not reflect those of Seeking Alpha as a whole. Seeking Alpha is not a licensed securities dealer, broker or US investment adviser or investment bank. Our analysts are third party authors that include both professional investors and individual investors who may not be licensed or certified by any institute or regulatory body.