The stock has increased six-fold in a couple of months while there is absolutely nothing in the business development that even remotely warrants this. For starters, ponder over the following statement from their latest 10-Q SEC filing:
As of September 30, 2011, we had an accumulated deficit of approximately $1.2 billion.
However, let's first look at some fundamentals. BroadVision (NASDAQ:BVSN) is a company that develops so called business portal software for businesses:
BroadVision, Inc. develops, markets, and supports enterprise portal applications. The company's applications enable companies to unify their e-business infrastructure and conduct interactions and transactions with employees, partners, and customers through a personalized self-service model.
This is software that provides each user with a customized view of the company, (supposedly) all the info that his 'role' needs to know in order to function well. Although useful, this is pretty old hat and the sales are declining.
Two years ago, they developed Clearvale, a business social media platform, but in the two years since, this hasn't gotten much traction either (see below).
Some metrics (Yahoo):
Market capitalization of $230M on 4.52M shares outstanding
Revenue $17.55M
Cash $54.41M with zero debt
While they have a lot of cash (3x revenue, no less), cash flow from operations has been negative all year
Now, our attention was simply attracted by the chart. In December, this was an $8 stock, it has increased six-fold in just over two months. It is now a 50+ stock. Really remarkable, as there hasn't been a single positive morsel of info from the business side, quite the contrary.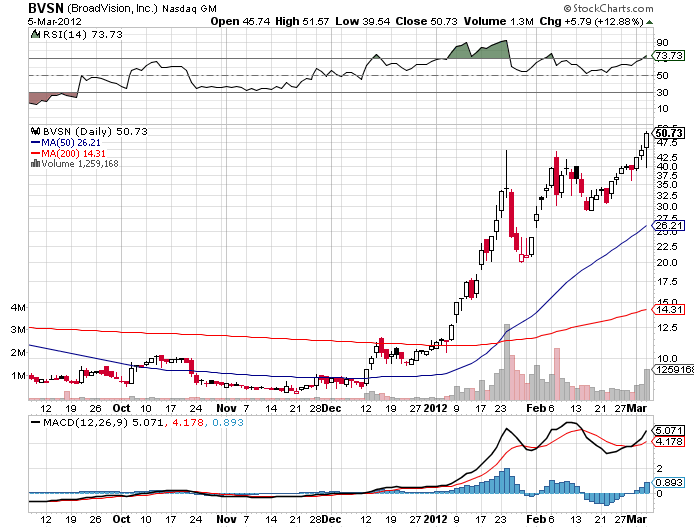 Is this six-fold rise in the share price warranted?
We're afraid we have to answer that question with a rather emphatic no. When revenue is shrinking and losses are increasing, we can't see any reason to warrant this dramatic rise in price. Absolutely nothing. In fact, insofar there is news out it's all bad.
Revenues have been shrinking from $50M in 2007 to $17.5M last year
The company has two consecutive losses (52 cents and $1.08 per share in 2010 and 2011)
In fact, in the last 10 years, the stock is down 98% and revenues have shrunk from $416M in 2000 to $17.5M last year. Sealing the deal is the fact that even CEO Chen seems at a loss to explain the sudden dramatic change in the fortunes of the stock price:
The Company noted that, during the past few weeks, there has been an unusually large amount of trading activity and price movement in its stock. The Company is not aware of any corporate developments that it believes would explain this unusual activity. ... Looking ahead at 2012, we will continue to execute our two-prong go-to-market strategy of focusing on channel partners via our Clearvale PaasPort program and on driving adoption via our Clearvale Social Enterprise Transformation (SET) program.
Maintenance revenue on existing software deals are declining fast:
2007: $29M
2008: $24M
2009: $20M
2010: $15M
2011: $12M
And this isn't made up by new license sales, rather the contrary:
2007: $21M
2008: $12M
2009: $11M
2010: $6M
2011: $5M
So their business is bad. Very bad. While their revenues are plunging, they're eating up their cash. Their new software platform, Clearvale (a business social enterprise platform) has been around since April 2009. It is supposed to provide new impetus, but after two years it obviously hasn't been close to being able to turn things around. Quite the contrary.
It gained one notable win with Softbank in November 2010 (not such a surprise, considering CEO Chen sits on the board), but that hasn't made any financial, nor market impact.
This isn't a surprise because entry barriers to the social enterprise system software are low and there are many better placed competitors, like Jive, and Lithium. One can find detailed analysis of how Clearvale unfavorably compares to the competition elsewhere on the web. Unlike Broadvision, the competition is growing strongly. Revenues at Jive, for instance, were up 67% for the year, not down.
There was an announcement by Chief Marketing Officer Giovanni Rodriguez to 'relaunch' Clearvale, also on November 9 2010, but apparently nothing has come of that and Rodriguez is long gone from the company.
The hard conclusion is that we couldn't detect anything remotely in the development of the business that would warrant any rise in the share price (and plenty that warrants a falling one). Instead, it has increased six-fold in a couple of months. So what's going on?
Enter the promo people
We don't have to look far for a reason to explain the sudden rise. With the low float (2.4 out of 4.5M shares) and the possibility for making all kinds of fantastic claims on the basis of vague similarities to business models like Facebook (NASDAQ:FB) and Jive (NASDAQ:JIVE), there is plenty of room to attract the gullible. And this is what seems to have been happening, as the 'National Inflation Association' (NIA) has been promoting the stock rather heavily with a barrage of daily emails.
And it looks like they are sitting on huge profits, which can trigger selling at any time, the disclaimer from their promotional article:
NIA currently owns 148,400 shares of BVSN. NIA intends to sell these shares and can sell them at any time. NIA may also choose to buy more shares of BVSN and add to its position at any time. NIA's co-founders have also been referred business in the past from somebody who has filed as a large BVSN shareholder. Past performance is not an indicator of future returns.
In that article, the NIA article simply compares BroadVision to Jive, but that is basically saying nothing. Unlike BroadVision, which has falling revenues, Jive's revenues are growing at 70%+ a year. It's comparing apples an pears.
BroadVision might have an impressive client list, at least according to the NIA. The BroadVision website mentions only a few of these but it just could be that the website is out of date. But even if they did have an impressive client list, this should cause alarm. If they can't grow or make a profit with such good clients, perhaps their products aren't that good. Jive's client list is a lot better, by the way, and so is that of Lithium, another competitor with which the NIA likes to compare BroadVision.
Apart from comparing BroadVision favorably to its competitors (which is entirely unwarranted), the promotion is extremely light on facts or any remote appreciation of the risks. One will also look in vain for any revenue or profit guidance (and considering the track record of the company, there seems to be a good reason for that) or any valuation calculation.
Analysts aren't likely to help either, as the last one gave up in 2005 (a pretty bad sign in itself), which gives the field entirely to touters like NIA.
If one really uses a lot of imagination, one could argue that their shift from perpetual licenses and related maintenance contracts (their present business model) to a cloud based SaaS (software as a service) model might offer the opportunity for somewhat higher margins. However, from the latest 10-Q filing:
BroadVision does not have significant prior experience in operating Cloud hosting. We may be unable to timely provide adequate computing capacity to keep up with business growth and performance requirements. Our hosted operation may fail due to hardware problems, software problems, power problems, network problems, scalability problems, human errors, hacker attacks, disasters, third-party data center problems and other reasons. The failures may cause us to compromise security, lose customer data or identity, endure prolonged downtime, etc., all of which will harm our business and limit our growth. BroadVision does not have significant prior experience in estimating the costs of Cloud hosting. If we underestimate the costs or under-charge customers, we may not have adequate margins to sustain the Cloud hosting operation. Clearvale offers customers to use basic functions for free, a business practice gaining popularity in our industry. If we do not have enough customers upgrading to for-fee premium packages, we may be unable to sustain our Cloud hosting operation economically.
To some extent this is the usual filing blurb, but it nevertheless inspires little confidence. We simply can't see any reason why this company should be valued substantially above cash per share, unless they manage to turn their business around anytime soon. In fact, there is every reason to value them below cash per share, as they're bleeding cash without an end in sight.
And there is nothing indicating that they will be able to pull that off. Once again, the latest 10-Q:
The market for our products is intensely competitive. We expect competition in this market to persist and increase in the future.
The last company interested to take over BroadVision was Vector Capital (in July 2005):
Vector will pay shareholders 84 cents a share in cash, a 36 percent discount from Monday's closing price of $1.32.
Yes, that is indeed a steep discount to the market price.
Fun and games
The NIA wrote this article in December when the stock was at just over $8. Look at the volume increase since. Could the start of the stock promotion have something to do with that volume increase? If not, what else? Basically, there isn't any other explanation available.
They have been trading the stock themselves though:
On January 12, the NIA had 150,000 shares, 122,000 was their initial position (for which a lock-up expired at February 12). They had added 28,000, for which no lock-up applies (according to the disclaimer to their email that day)
On January 22, their position had increased to 188,700 (again according to their email), so by then, they had bought 66,700 shares
On January 26, their position had shrunk to 135,000 shares On March 2, they held 160,100 shares, which they can sell at any moment
You might want to check what the stock price did between January 22 and January 26. From a high of $44.75 on January 24, the price slumped to a close of $22.03 just two days later (and when we're writing this on Monday, there is another $9 plunge in minutes, followed by a Phoenix like rise to close above $50). This is what happens if these people sell even a small part of their holdings. You might want to keep that in mind before you take a long position. The rug can be pulled from underneath you at any moment.
You also might want to check something else. In the article on the NIA website there is a disclaimer underneath, stating their position. It's not clear whether this is their current position or the position they took when writing that article. Here is the thing. In an earlier version of writing this article, that disclaimer said they hold 148,400 shares. We copy/pasted that quote on Friday morning, March 2 literally (see quote above).
However, when adding new info to the article on Sunday morning, March 4, the same disclaimer now says that they hold 172,300 shares. Could Friday's stock price gain be a result of the NIA buying an additional 23,900 shares?
There are several preliminary conclusions:
There is a discrepancy between their fluctuating trading positions and their bullish articles.
We think we're can discern the outlines of a strategy. The newsletter drums up the underlying support whilst they trade to profit and reload.
But in fact, that doesn't really matter all that much, there are several other insiders that probably can't believe their luck and have every incentive to sell at these hugely inflated prices and we won't know until well after the fact (or not at all).
Who is the National Inflation Association?
This is an outfit that tapped into the libertarian crowd. It has produced slick videos (which must have cost a considerable degree to produce) warning about the coming hyperinflation. It's already quite noteworthy (to put it mildly) that they double as stock touters.
According to Peter Schiff (see video links below), the well known fund manager and broker who even has his own YouTube channel, the NIA has used much of the same analysis as he did, but started to denounce him personally to create attention for themselves.
So it's an organization that is tapping into the libertarian crowd (Ron Paul supporters and hyper-inflationistas), gaining trust, attention, and, more importantly, email addresses. Who is behind the NIA? Well, the site is registered to a certain Gerard Adams. This Gerard Adams is a known pennystock promotor and has another website called WallstreetGrand.com where he promotes dozens of pennystocks (note the first one, the National Bank of Greece!). One also might want to be careful with that website, because pretty soon we got the following warning.
However, the real person behind the NIA is stock promotor Jonathan Lebed. He was the 15 year old guy that gained notoriety for using Yahoo (YHOO) as a forum for his pump and dumps and had to settle with the SEC as a consequence. Watch how Peter Schiff is accusing him of the BroadVision pump (and, after a reaction from the NIA, here is a follow up from Schiff).
But more damaging still is the interview Peter Schiff has with the NIA co-founder George Hemminger. In this interview, the latter makes several very damaging claims:
Lebed is the NIA mastermind
For a $1000 fee, "premium" NIA subscribers get the early heads up of stock pumping campaigns. Schiff notes that this amounts to one part of NIA subscribers paying for the privilege to scam the non-paying members.
The people behind NIA (Jonathan Lebed, George Adams) lead a jet-set life style, flying here, there, everywhere, with a particular interest in boxing matches (which is an interesting piece of info, see below)
Jonathan Lebed told George personally not to invest in their stock picks
Hedge fund connection?
On October 4 of last year, the SEC filed a 5.5% holding (248,771 shares) by Marlin Capital Investments, a hedge fund run by Barry Honig and Michael Brauser. But in fact, that filing mentions the following:
As previously reported on a Schedule 13G which was filed with the Securities and Exchange Commission on September 21, 2011, Marlin Capital acquired beneficial ownership of the shares as part of its investment activities. Marlin Capital acquired 248,771 shares and paid $8.50 per share.
And indeed, here is that previous filing. Now, apart from the NIA, Lebed is also pumping BVSN on his personal website. When did Jonathan Lebed start his BroadVision promotion campaign? Exactly, on September 21, according to his blog:
2:55PM I just posted BVSN as my new stock to watch with a speculative rating of 1, my highest level of confidence!
That could just be a coincidence, albeit quite a noteworthy one. Lebed's personal promotion starts in earnest on the 9th of October, just a couple of days after the second Marlin filing.
According to the filing, "As of October 4, 2011, Marlin Capital sent the Company a letter detailing its desire to acquire the Company either directly or through an acquisition. Marlin Capital's acquisition of the Company is conditioned on the satisfactory completion of due diligence, obtaining all necessary financing commitments, consents and approvals,
waiver of any anti-takeover provisions and statutes, acceptable merger agreement and other customary conditions. There can be no assurance that Marlin Capital will acquire the Company."
However, a subsequent filing shows a much reduce position (150,621 shares or 3.34%) as their take-over bid was refused:
On October 20, 2011, Marlin Capital received a definitive answer from the Company that they had unanimously decided to decline the offer. With this ultimate response Marlin Capital began to reduce its position, which has brought them to their current ownership position of less than 5% of the Company's outstanding Common Stock.
The coming crunch
Here is a list of insiders that have every incentive to sell as they know the shares aren't worth anywhere near what they quote today.
The CEO, Pehong Chen (who has a 36% stake, 5% direct and another 31% through Honu Holdings)
The referrer mentioned by Lebed
The client mentioned by Lebed
The NIA
The two hedge funds that bought large stakes recently (Marlin Capital with 5.5% and Palo Alto Investments with 6.3%, but one of these might be the same as the referrer or client mentioned by Lebed's disclaimer)
While Lebed and the NIA claim to be transparent about their holdings, what any of these other people and institutions do is up to them. All of them have rather strong incentives to sell sooner rather than later.
The owners of Marlin Capital are somewhat controversial themselves, having been involved in numerous lawsuits (see here, here, here, here, here and here, for instance).
Palo Alto Capital, which bought on September 30 last year is tied to Micro Cap Partners L.P. (see filing). This is a curious outfit, it pumped Absolute Health & Fitness (OTC:AHFI) unauthorized and received a cease and desist order for that.
More to the point, why would both these two hedge funds take a position in BroadVision in September last year? As we've explained above, there isn't anything to even remotely suggest the business is about to turn around, and the subsequent quarterly figures have emphasized this once again (see the SEC filing).
Is it a coincidence that Lebed started his tout on the exact day Marlin filed? Somewhat unusual for a stock promoter, Lebed argues he is not compensated for his BroadVision campaign (again from his blog):
I have not been compensated for BVSN but the person who told me to look at BVSN is a shareholder of BVSN who has referred me investor relations business in the past and will likely continue to refer me investor relations business in the future. Another firm that is owned by a client of mine who refers investor relations business to me owns 139,950
shares of BVSN that it purchased in the open market. This is a potential conflict of interest. BVSN's share price could decline when this firm decides to sell their BVSN shares.
So he's just doing this referrer (and/or the client) a favor, but both are shareholders. What's more, the NIA site has a noteworthy item on the bottom of the BVSN article:
NIA's co-founders have also been referred business in the past from somebody who has filed as a large BVSN shareholder.
This basically reduces the referrer to either Marlin or Palo Alto Investors. Both took large positions in the company when absolutely nothing in the business development seems to warrant such a position, and did so just before (or on the exact day) Lebed and the NIA started their promotion campaign for the stock.
Five months later, the case for taking such a large position hasn't changed at all, the quarterly figures out on Jan 26 showed that the decline of the last 10 years in sales continues.
In the interview with George Hemminger above you can listen to how Lebed tours the country with clients to see boxing matches. Could these clients b be Barry Honig, a boxing promotor in his spare time, and used to be a Golden Gloves boxer himself?
The curious thing is that neither of these have filed (they have up to ten days after selling to file). They can't possibly have expected this kind of bonanza, unless they are in on the promotion.
What we do know is this. There is an increasing number of investors sitting on large paper profits. The number of email addresses that the NIA can exploit must be dwindling, and before that happens, there are likely to be a few big holders wanting to take advantage of this bonanza.
Sooner rather than later, the rug will be pulled from underneath the gullible or daring investors that bought at these levels, and when that happens, the decline will be swift.
Disclosure: I have no positions in any stocks mentioned, but may initiate a short position in BVSN over the next 72 hours.