Summary
Florida allows 30 dispensaries per licensee - a total that is set to rise to 35 very soon.
Florida's patient count is exploding: It sat at 193,083 in November 2018, up 280% from one year ago.
There are 74 dispensaries in Florida today, including 22 from state-leader Trulieve with Curaleaf in second with 17 dispensaries.
Two huge new competitors are entering as well: Both Medmen and Green Thumb have signed leases (five and nine, respectively) to open dispensaries in Florida.
Note: All dollar figures herein, unless otherwise noted, are in US dollars. Most of these companies are traded on Canadian stock exchanges (with US OTC tickers) but file in US dollars.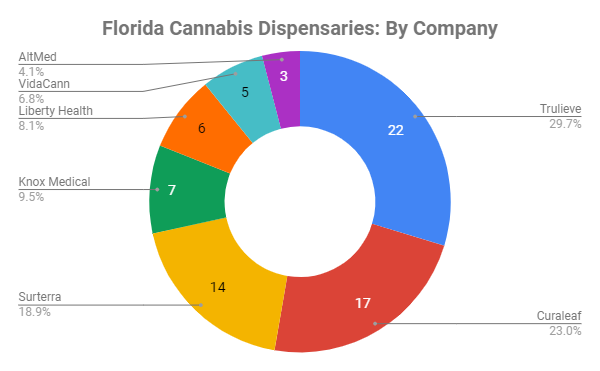 (Author based on data from Florida Health, as of 11/20)
Summary
This is a brief summary of the Florida cannabis market and the players in that market.
Florida's medical cannabis market is young and expanding, after a November 2016 vote legalized medical cannabis. Over the past year, Florida's registered patient total rose 280% YoY to 193,083 patients and Florida added ~550 patients/day during the week of November 15.
Each company that is licensed in Florida is permitted to operate 25 dispensaries plus an additional 5 dispensaries for every 100,000 patients. Given current patient counts, companies can operate 30 dispensaries today, and that figure will expand to 35 soon.
Trulieve (OTCQX:TCNNF) is the top cannabis company in Florida today, with 22 dispensaries and perhaps two-thirds of cannabis sales by volume. Despite that lead, there are strong challengers in Curaleaf (LDVTF), Surterra, Liberty Health (OTCQX:LHSIF), and others.
New competitors are also coming: Medmen (OTCQB:MMNFF) is poised to enter the Florida market, acquiring five key retail locations in September 2018. Green Thumb (OTCQX:GTBIF) is also looking to launch in Florida, with nine dispensaries coming soon after closing on a purchase of a Florida licensee on November 8.
Based on my previous research on the growth of legalized cannabis markets, I expect Florida to grow rapidly for three-to-four years before reaching maturity. This implies that Florida's rapid growth will continue until perhaps 2020 or 2021. Each of the companies herein is likely to benefit from that growth, although that growth will be spread unevenly between them.
Legal Landscape and Patient Growth
Florida legalized medical cannabis by vote in November 2016, with the roll-out occurring in 2017.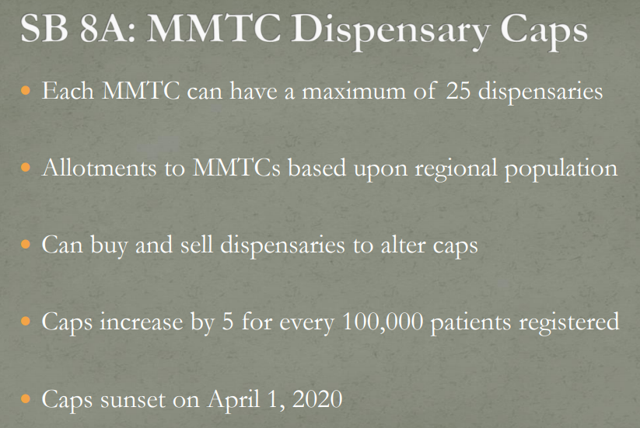 ("Medical Marijuana Update", Feb. 7, 2018)
Today, each licensee in Florida is allowed 30 dispensaries given current patient counts. This maximum limit is tied to the number of registered medical patients in Florida and Trulieve has challenged that limit. But patient count is increasing rapidly: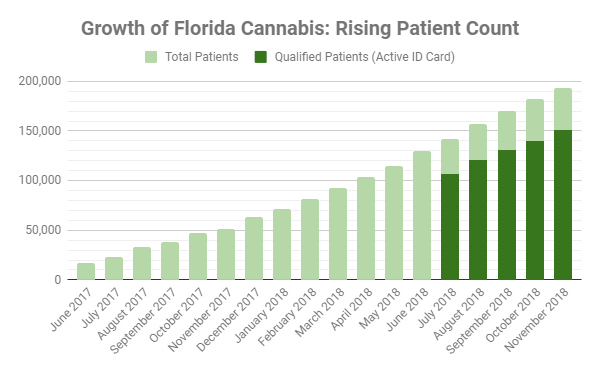 (Author based on data from Florida Office of Medical Marijuana Use)
Based on the current rate of new patient additions, Florida will pass 200,000 patients around the end of November. This would increase the dispensary limit to 35. At the current rate of patient additions (and extrapolating data out this far is prone to errors), Florida could hit 300,000 patients in ~Q2/19 (late May or early June), which would allow licensees to open 40 dispensaries.
"'There's no smoking allowed as of yet, so with the exception of these little vape cups, these K-cups that have the flower in them, every product requires processing,' said Ben Pollara, who helped spearhead the constitutional amendment that approved medical marijuana in 2016."
Florida's medical cannabis laws are a bit backwards. For example, Florida does not allow sale of dried cannabis for smoking. Instead, dried cannabis must be sold inside a "tamper-proof" vaping container, designed to ensure that consumer vape cannabis instead of smoking it. While paternalistic, it still beats cannabis being illegal. If these laws are liberalized - much less recreational cannabis being allowed - all licensees in Florida are likely to benefit.
Cannabis Companies Operating in Florida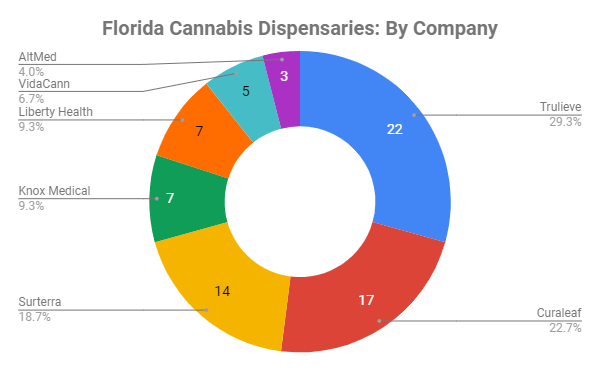 (Author based on data from Florida Health, as of 11/20, and company filings)
There are 74 dispensaries in Florida, after the opening of Curaleaf's 17th dispensary on November 20 and including Liberty Health Palm Harbor. There are also several companies that do not have dispensaries (or "MMTCs" - medical marijuana treatment centers) in Florida but which have licenses to cultivate and/or which sell cannabis by delivery:
| | |
| --- | --- |
| MMTC Name | Dispensing Locations |
| Trulieve | Boynton Beach, Bradenton, Clearwater, Dania Beach, Deerfield Beach, Edgewater, Fort Myers, Gainesville, Jacksonville, Lady Lake, Miami (1), Miami (2), New Port Richey, Orlando, Palm Coast, Pensacola, Sarasota, St. Petersburg, Tallahassee, Tampa, Vero Beach, West Palm Beach, delivery |
| Surterra Wellness | Deltona, Jacksonville, Largo, Miami Beach, North Port, Orange Park, Orlando, Palm Bay, Palm Beach, Pensacola, Port Orange, Tallahassee, Tampa, St. Petersburg, delivery |
| Curaleaf | Daytona, Deerfield Beach, Ft. Myers, Fort Pierce, Jacksonville, Kendall, Lakeland, Lake Worth, Miami (1), Miami (2), Orlando (1), Orlando (2), Palm Bay, Palm Harbor, St. Petersburg, Tallahassee, delivery |
| Knox Medical | Fort Walton Beach, Gainesville, Jacksonville, Lake Worth, Orlando, St. Petersburg, Tallahassee, delivery |
| Liberty Health Sciences | Merritt Island, Port St. Lucie, St. Petersburg, Summerfield, Tampa, Winter Haven, Palm Harbor, delivery |
| Vidacann | Bradenton, Deerfield Beach, Holly Hill, Palm Bay, Tampa, delivery |
| AltMed Florida (MüV) | Apollo Beach, Sarasota, Tampa, delivery |
| San Felasco Nurseries | Dispensing via delivery |
| GrowHealthy | Dispensing via delivery |
| Columbia Care Florida | Dispensing via delivery |
| 3 Boys Farm | Cultivation Authorization only |
| Medmen | Cultivation Authorization only |
| KSGNF | Dispensing via delivery; Note: KSGNF was acquired by Green Thumb on Nov. 9th. |
| Green Owl Pharms | N/A |
(Data from Florida Health)
With this market in mind, here are the players in Florida cannabis:
Trulieve

(Trulieve investor presentation, November 2018)
Trulieve is the largest medical cannabis provider in Florida, opening their 22nd dispensary on November 19. This was their fifth new dispensary this quarter, having opened their 18th dispensary on October 3. Trulieve plans to have 30 dispensaries open by January 2019 - suggesting eight new dispensaries in the next two months. Trulieve does not have dispensaries outside Florida, although they purchased licensed operators in California and Massachusetts on Nov. 8.
Trulieve has a dominant position in Florida, with 94,000+ patients in a state with 193,083 medical cannabis patients. That implies that ~49% of Florida medical cannabis patients have shopped at a Trulieve dispensary. Trulieve also accounts for two-thirds of cannabis sales volume, according to management:
"Trulieve's patient-centric approach has led to a highly loyal and repeat patient base. Trulieve dispenses on average 67% of all milligrams of cannabis dispensed in Florida per the Department of Health. By comparison, the next closest competitor dispenses on average 9.7% of dispensed cannabis milligrams."
Trulieve is a profitable company, recording record revenue of $28.3 million in Q3/18 (ending Sept. 30, 2018) with $12.6 million in adjusted EBITDA and $17.5 million in net income. After declines today (Nov. 20), Trulieve has an enterprise value of ~$1 billion, implying an annualized run-rate EV/Adjusted EBITDA of ~22x.
I own shares of Trulieve, and have covered Trulieve in-depth on The Growth Operation in "Trulieve: Growth Continues With Another Quarter In The Books" (published on Nov. 19).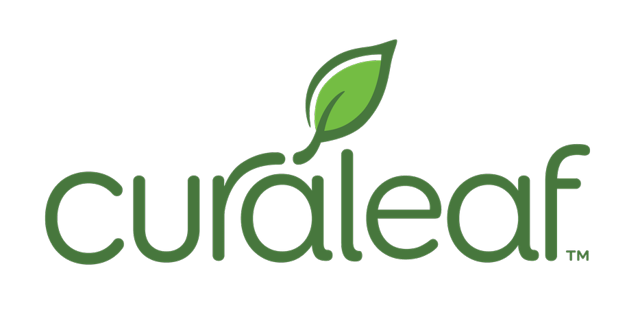 Curaleaf
Curaleaf is the second-largest cannabis producer in Florida. Unlike Trulieve, Curaleaf is already a multi-state operator, with operations across the country including Florida, the northeast, and the west coast: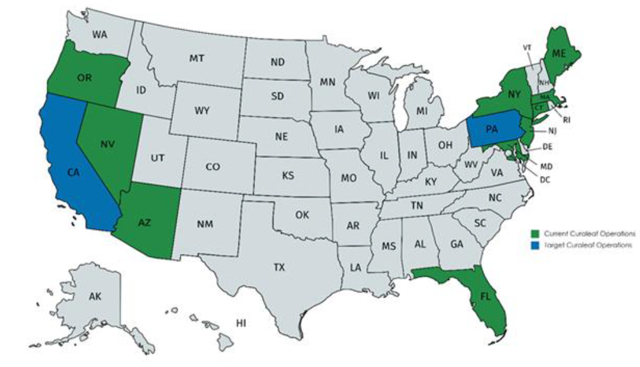 (Curaleaf company filing; poor quality image in the original)
Curaleaf has 17 dispensaries in Florida and 33 dispensaries around the country. Curaleaf went public in September 2018 and has a market cap of ~$2.4 billion, based on 474 million diluted shares. Unlike Trulieve, Curaleaf is not yet profitable. In Q2/18 (ending June 30), Curaleaf generated $14.6 million in revenue and $4.9 million in gross profits. These gross profits were offset by $14.6 million in operating costs, resulting in a net loss to Curaleaf's then-parent (Curaleaf wasn't public in June 2018) of $4.9 million.
Curaleaf will report Q3/18 earnings (ending Sept. 30) on November 26, after hours. This will be Curaleaf's first earnings release since they went public.
I covered Curaleaf in-depth on The Growth Operation in "Curaleaf: One Of America's Largest Cannabis Companies" (published on Nov. 22).

Surterra Wellness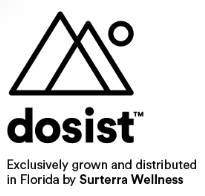 Surterra Wellness is the third-largest cannabis company in Florida. Unlike Curaleaf and Trulieve, Surterra Wellness is not a publicly-traded company. In August 2018, Surterra raised $65 million including an investment from William Wrigley Jr, who is now Chairman of the Board.
Currently, Surterra is promoting Dosist products. According to Crunchbase, "Dosist is a developer of proprietary vaporizing dose-pens created to provide safe, targeted and effective cannabis." Dosist is also privately-owned but has a partnership with Hiku Brands (now a Canopy Growth (CGC) company) in Canada. Because of that partnership, Canopy Growth investors may be interested to track the success of Dosist in Florida and elsewhere. Vapes are not yet legal in Canada but should be legalized during 2019.
Knox Medical
Knox Medical operates seven cannabis dispensaries in Florida, placing in fourth in the state. Knox Medical is a fully-owned subsidiary of Cansortium, which states they are "the largest US Based, international, vertically integrated medical cannabis company in the world." Given a dearth of information on Cansortium's website, it is unclear to me if this assertion is correct.
Cansortium is a private company. They also have operations in, at least, Texas and Pennsylvania.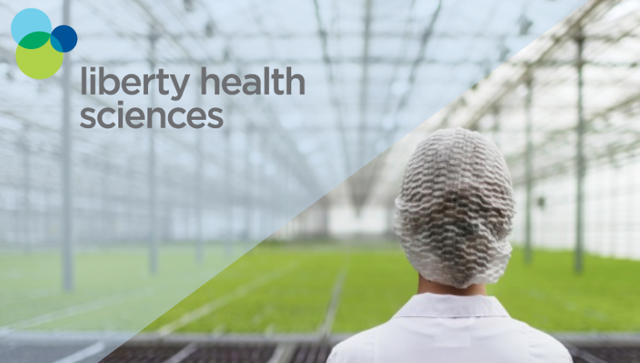 (Liberty Health Investor presentation)
Liberty Health Sciences
Back in the land of companies relevant to public investors, Liberty Health Sciences also operates seven dispensaries in Florida - and aims to open five new dispensaries before the end of the year. Liberty Health is perhaps most-known for its former (and perhaps future) affiliation with Aphria (APHA). Aphria was forced to divest its stake in Liberty Health in September to be eligible for a listing on the New York Stock Exchange (see my coverage in "After Aurora Comes Aphria: Canadian Cannabis On The NYSE") and to comply with requirements of the Toronto Stock Exchange. While Aphria divested its stake in Liberty Health, they retain the right to repurchase that stake:
"As part of the transaction, Aphria retains an irrevocable option to repurchase the Shares or any replacement securities from the buyers for a period of up to five years, subject to the satisfaction of certain conditions as further described below. As a result of the transaction, Aphria has divested its remaining U.S. cannabis assets from its balance sheet in accordance with the staff notice and requirements of the Toronto Stock Exchange ('TSX')."
In its most recent quarter (ending August 31), Liberty Health earned C$2.2 million in revenue, C$800,000 in gross profits, and spent C$5.8 million in operating expenses. Liberty Health has an enterprise value of ~C$500 million. I have covered Liberty Health Sciences in depth on The Growth Operation in "Liberty Health: An Aphria-Linked Competitor To Trulieve".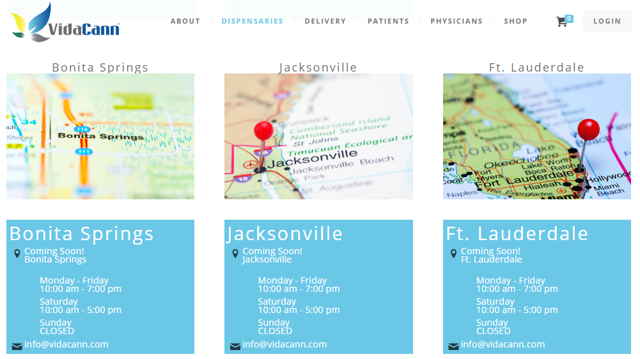 (Vidacann: more dispensaries coming soon)
Vidacann
Vidacann operates five dispensaries in Florida. However, like many of the smaller producers on this list, they are a private company.
Vidacann has big expansion plans: their dispensaries page lists their five open dispensaries but also includes 12 additional dispensaries as "Coming Soon!". That would increase Vidacann's dispensary count to 17, placing them tied for second on the list of providers - assuming everyone else stands still. That assumption, however, is unlikely to be a good one given the rapid growth of Florida's patient count.

AltMed Florida
AltMed Florida produces products under the "MÜV" brand name and has three dispensaries in Florida, clustered around Tampa. AltMed - short for Alternative Medical Enterprises - has raised $35 million to fund its operations in Florida and Arizona.
As with Vidacann and others, AltMed is a private company.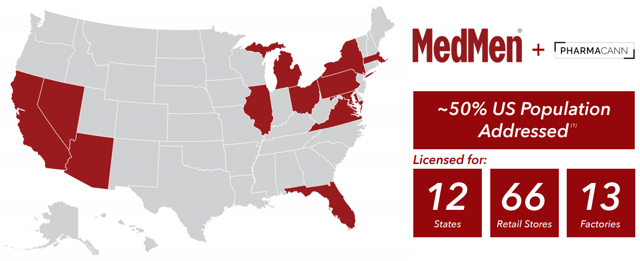 (Medmen investor presentation)
Medmen
The most notable of the companies that do not have dispensaries in Florida, Medmen is targeting an entrance to Florida as well. In September, Medmen closed on an acquisition of five retail locations in Florida:
"MedMen Enterprises Inc., announced today it has secured prime retail locations with long term leases in Ft. Lauderdale, Miami Beach, West Palm Beach, St. Petersburg and Key West. The company continues to expand its footprint in premium retail districts with high visibility and heavy foot traffic."
This move comes after Medmen acquired Florida licensee Treadwell, in a $53 million (half cash, half equity) deal announced in June 2018.
Medmen has operations in 12 states and licenses for 66 retail stores, although their open store count is much lower: Medmen's Stores page shows 15 retail stores, with 8 in California, 3 in Nevada, and 4 in New York.
Last quarter, Medmen generated $21 million in revenue and $6 million in gross profit ex-bio. This gross profit was offset by $73 million in operating expenses. Medmen has a market cap of ~$2.1 billion.
Medmen will release results for their Q1/19 (ending Sept. 30, 2018) after-hours on November 29, 2018. I have written about Medmen several times on this platform, most recently in "Bad News Bears: MedMen Drops Bad News At Midnight On The Weekend".
Green Thumb (via KSGNF)

On November 8th, Green Thumb closed their acquisition of KSGNF. Green Thumb does not yet have any dispensaries in Florida, but they plan to open at least nine dispensaries soon:
"GTI has been harvesting and building inventory over the last several months at its Homestead facility as it scales its wholesale branded products business. Expanding the retail business, GTI has signed nine leases for RISE retail stores in attractive, high-traffic locations throughout the state including West Palm Beach, Port St. Lucie, Deerfield Beach, Hallandale Beach, Delray Beach, Bonita Springs, Pinellas Park, Oakland Park and Kendall."
In the June 30, 2018 quarter, Green Thumb generated $13.6 million in revenue, with gross profits (ex-bio) of $6.3 million. Those gross profits were offset by $12.1 million in operating expenses. Green Thumb has an enterprise value of ~$1.4 billion, based on ~153 million outstanding shares.
Green Thumb will announce their Q3/18 (September quarter) earnings on Tuesday, November 27, 2018. I have covered Green Thumb in depth on The Growth Operation in "Green Thumb Industries: Rapidly-Expanding American Cannabis Producer".
Takeaways
Florida's cannabis market is booming. Patient counts are up 280% YoY, from 50,775 in November 2017 to 193,083 today.
Florida only legalized cannabis in late 2016, so Florida is likely to be a rapidly-growing market until 2020 or 2021. Based on my previous analysis of Colorado and Washington state sales trends, it takes ~three to four years for a newly-legalized cannabis market to reach maturity and stable/low levels of growth. This would imply that Florida still has another year or two of high growth in front of it - and more than that if cannabis laws are changed (e.g., allowing smokable flower or legalizing recreational cannabis).
That growth will benefit each of the cannabis companies in Florida: A rising tide lifts all boats. However, gains are likely to be spread out unevenly. Today, Trulieve dominates an over-sized portion of cannabis sales: ~half of patients have shopped at a Trulieve dispensary and Trulieve dispenses ~two-thirds of the cannabis (by weight) in Florida.
Whether Trulieve can retain that market positioning remains to be seen: Competition in Florida is intensifying with the imminent entry of Medmen and Green Thumb into the state and the rapid expansion of smaller players like Vidacann and Liberty Health, as well as the continued growth of Curaleaf.
Happy investing!

Members of The Growth Operation, my cannabis newsletter community, receive:
Daily run-downs of breaking cannabis news - including news on both U.S. and Canadian cannabis producers.
Exclusive access to my in-depth research articles on smaller cannabis companies.
Access to my Model Cannabis Portfolio and my current portfolio.
Access all my past Seeking Alpha articles - even back-articles that are no longer free.
Try it out for free for two weeks with a free trial.
Disclosure: I am/we are long TCNNF, CGC, APHA. I wrote this article myself, and it expresses my own opinions. I am not receiving compensation for it (other than from Seeking Alpha). I have no business relationship with any company whose stock is mentioned in this article.
Additional disclosure: I also own other cannabis stocks that are not mentioned here.
Editor's Note: This article discusses one or more securities that do not trade on a major U.S. exchange. Please be aware of the risks associated with these stocks.