Welcome to the November 2018 edition of the lithium miner news. This past month saw China lithium spot prices rise slightly after falling for most of the past year. Given they are now below global prices and demand continues to surprise to the upside prices, we should now start to rally back towards global contract prices ~14-17,0000/t LCE (hydroxide being higher than carbonate).
The big news for the month was Albemarle (NYSE:ALB) freezing Chile expansion plans, and paying US$1.15bn for 50% of the Wodinga lithium spodumene mine owned by Mineral Resources.
Lithium spot and contract price news
During November, 99% lithium carbonate China spot prices were up 0.65%. The chart below shows China lithium carbonate prices have stabilized at $US11,612/t, and China lithium hydroxide prices also steady at US$15,749/t. Global Lithium Carbonate Equivalent contract prices are steady, with SQM now expecting prices to remain flat in H2 2018 (previously they were expecting a slight fall). Spodumene (6% LiO2) prices (as reported recently by MIN are US$930.80/dmt [CIF].
Lithium China Spot prices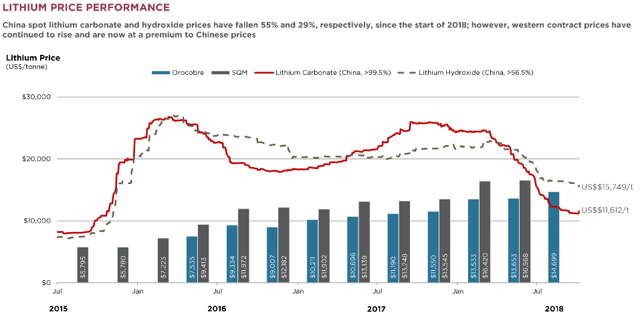 Source: Lithium Americas company presentation
Lithium demand versus supply outlook
On November 22, Seeking Alpha reported SQM's Q3 earnings report stating:
The market in which we participate remains strong. We reiterate that 2018 lithium market demand is exceeded the expectations. I believe this will surpass 35% growth this year. Along with the stronger demand, various lithium projects have seen delays in recent months... Some of your more contract-focused lithium peers have guided to both flat pricing in 2019.
Reading the full report and looking at the industry movements as a whole, it is clear that there is more demand for lithium hydroxide as this is the preferred lithium type for lithium-ion batteries.
In their November Company investor presentation, Orocobre (OTCPK:OROCF) produced an excellent slide highlighting all the difficulties in ramping up lithium supply. See below.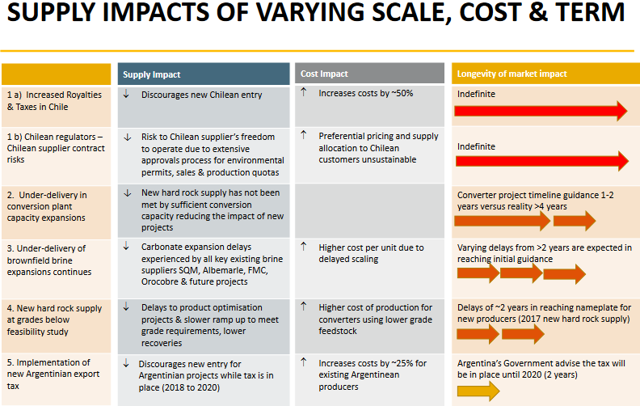 Orocobre's latest lithium demand vs. supply chart showing supply to struggle to keep up with demand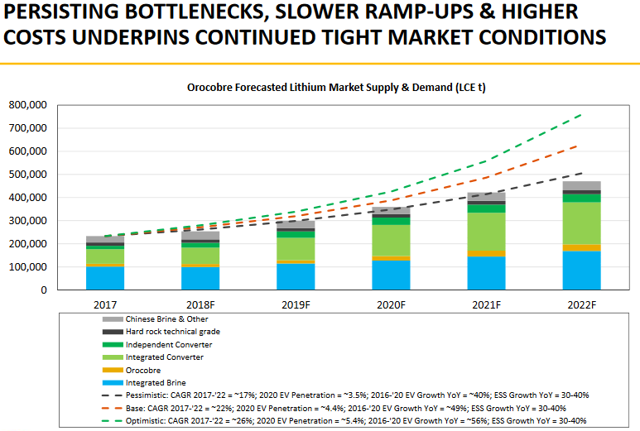 Lithium market and battery news
On November 9, Utility Dive reported:
Storage will replace 3 California gas plants as PG&E nabs approval for world's largest batteries. The CPUC granted approval for a total of 567.5 MW / 2,270 MWh of storage, including a 300 MW / 1,200 MWh project from Vistra Energy and a 182.5 MW / 730 MWh project from Tesla that the utility would own. Those batteries, once completed, would be the two largest in service. Approval of PG&E's landmark energy storage solicitation is the most significant example to date of batteries taking the place of fossil fuel generation on the power grid.
On November 15, Bloomberg reported:
China is leading the world to an electric car future. The world's biggest market for electric vehicles wants to get even bigger, so it's giving automakers what amounts to an ultimatum. Starting in January, all major manufacturers operating in China—from global giants Toyota Motor and General Motors to domestic players BYD and BAIC Motor—have to meet minimum requirements there for producing new-energy vehicles, or NEVs (plug-in hybrids, pure-battery electrics, and fuel-cell autos). A complex government equation requires that a sizable portion of their production or imports must be green in 2019, with escalating goals thereafter. China is dead serious about leading the way to an electrified future. Given the size of the Chinese market, the largest for cars overall and for EVs, auto companies will have to rapidly accelerate their development and manufacturing efforts to meet the targets. By 2025, China's leaders want 7 million cars sold every year, or about 20 percent of the total, to be plug-in hybrids or battery-powered. "This is probably the single most important piece of EV legislation in the world", Bloomberg NEF said in May.
On November 21, Metal Bulletin reported:
Strong EV numbers bode well for battery raw materials demand. Year to date, sales of 852,890 NEV s are up 116% from 394,759 units. Battery-only vehicles (BEVs) accounted for 80.4% of the sales, with plug-in hybrid (PHEV) sales making up 19.6% of NEV sales. NEV sales tend to pick up in the final quarter of the year – (in 2017, 49% of the year's sales were made in the fourth quarter. If this trend continues, Fastmarkets estimates total sales for 2018 could reach around 1.4 million NEVs.
Note that is a total China sales forecast.
Lithium miner news
Albemarle
On November 7, Albemarle announced:
Albemarle delivers revenue growth for the 11th consecutive quarter. Third quarter net sales were $777.7 million, an increase of 3% over the prior year; earnings were $129.7 million, or $1.20 per diluted share, an increase of 13% over the prior year. Third quarter adjusted EBITDA was $235.1 million, an increase of 12% over the prior year; adjusted diluted earnings per share was $1.31, an increase of 21% over the prior year. Completed our May 2018 accelerated share repurchase ("ASR") program and initiated an additional $250 million ASR program, retiring approximately 4.7 million shares during the first nine months of 2018. Luke Kissam, Albemarle's CEO: "Pricing in lithium continued as expected with prices up versus prior year. We also continue to make meaningful progress on extending our long-term lithium supply agreements. While unexpected shut downs at three of our lithium manufacturing sites resulted in volume shortfalls during the quarter, all facilities are now back on line and operating at forecasted rates."
On November 8, Reuters reported:
Albemarle freezes Chile expansion plans in wake of lithium tech scrutiny.....Albemarle said it will stop engineering work on its planned La Negra V and VI expansion projects. The company had said last year it developed a process that would more than triple its lithium output in Chile without using more water, an announcement that drew scrutiny from regulators.
On October 9, Argus Media reported:
US-based lithium and speciality chemicals producer Albermarle has received environmental approval for the development of a lithium hydroxide plant near Bunbury in the southwest of Western Australia (WA). While the company is still awaiting some other approvals before making a final investment decision on the plant, which is allowed to produce up to 100,000 t/yr, approval by WA's Environmental Protection Authority is seen as a major step forward for the proposed project, estimated to cost around A$1bn ($723mn). It is expected that Albermarle will develop five lithium hydroxide "trains", each with a capacity of 20,000 t/yr in a staged development over a few years.
On November 21, Financial Times reported:
Lithium producer Albemarle takes $1.15bn stake in Australian mine. Please use the sharing tools found via the share button at the top or side of articles. Albemarle, the world's largest producer of battery raw material lithium, has agreed to buy a 50 per cent stake in an Australian lithium mine for $1.15bn, as it looks to grow its supply to meet rising demand from electric cars. The company will set up a joint-venture with Australia's Mineral Resources to develop its Wodgina hard rock lithium mine and build a plant to produce lithium hydroxide for batteries. The deal comes as North Carolina-based Albemarle is facing greater government scrutiny over its business in Chile, where it is looking to expand production from the Atacama Desert.....The two companies will fund and build a plant at the mine site to produce lithium hydroxide for batteries, the company said. Albemarle will have the right to market and sell all of the lithium. The first stage of the project will produce around 50,000 tonnes per year of lithium hydroxide for batteries, rising to 100,000 tonnes in the second phase.
Subscribers of Trend Investing can view an interview I did with CEO Luke Kissam here.
Sociedad Quimica y Minera S.A. (NYSE:SQM)
On November 21, SQM released:
SQM reports earnings for the Third Quarter of 2018. Sociedad Química y Minera de Chile S.A. reported today earnings for the nine months ended September 30, 2018 of US$331.2 million (US$1.26 per ADR), an increase from US$317.2 million (US$1.21 per ADR) for the nine months ended September 30, 2017. Gross profit reached US$580.7 million (34.1% of revenues) for the nine months ended September 30, 2018, higher than US$546.4 million (34.5% of revenues) recorded for the nine months ended September 30, 2017. Revenues totaled US$1,700.6 million for the nine months ended September 30, 2018, representing an increase of 7.5% compared to US$1,582.5 million reported for the nine months ended September 30, 2017. The Company also announced earnings for the third quarter of 2018, reporting net income of US$83.5 million (US$0.32 per ADR) compared to US$112.9 million (US$0.43 per ADR) for the third quarter of 2017.
Note: SQM explained the weaker Q3 (as above) was in part due to a "ramp-up delay" of their Antofagasta plant. And that "Lithium sales volumes this year should be around 45,000 MT."
Investors can read the company's latest presentation here.
Livent Corp. (LTHM)[GR:8LV] - Recently spun out from FMC Corp. (NYSE:FMC)
On November 5, Livent announced: "Livent Corporation (NYSE: LTHM) announces Third Quarter 2018 results above prior guidance and reaffirms full year guidance for 2018. Revenue of $112 million, and net income of $30 million. Pro Forma EBITDA up 25 percent versus Q3 '17. "
(Chengdu) Tianqi Lithium Industries Inc. [SHE:002466]
No news for the month.
Construction is ongoing at their Kwinana lithium hydroxide plant in Western Australia, and is expected to be finished in late 2018.
Jiangxi Ganfeng Lithium [SHE:002460], Mineral Resources [ASX:MIN], Neometals (OTC:RRSSF) (Nasdaq:RDRUY) [ASX:NMT], International Lithium Corp. [TSXV:ILC] (OTCPK:ILHMF)
On October 29, Neometals announced:
Mt Marion maiden profit distribution. Neometals Ltd is pleased to announce that it has received A$6.21 million as a fully franked dividend from Reed Industrial Minerals Pty Ltd, owner of the Mt Marion project. With all joint venture shareholder loans repaid and the Mt Marion Project operating at steady state, Neometals welcomes the commencement of profit distributions (dividends) going forward.
On November 22, Mineral Resources announced:
Execution of Wodgina exclusivity agreement with Albemarle....and formation of a 50:50 joint venture that will produce spodumene concentrate and lithium hydroxide (Wodgina JV). ....Purchase price for the Sale Interest of US$1.15B in cash (based on a US$2.3B enterprise value for the Wodgina Lithium Project on a 100% basis.....The Wodgina JV is expected to produce up to 750Ktpa of 6% spodumene concentrate from Wodgina which is ultimately intended to be used as feedstock for the lithium hydroxide plant (outlined below) once constructed.
Note: The above deal excludes the rights for iron ore and tantalum.
The Wodinga spodumene mine in Western Australia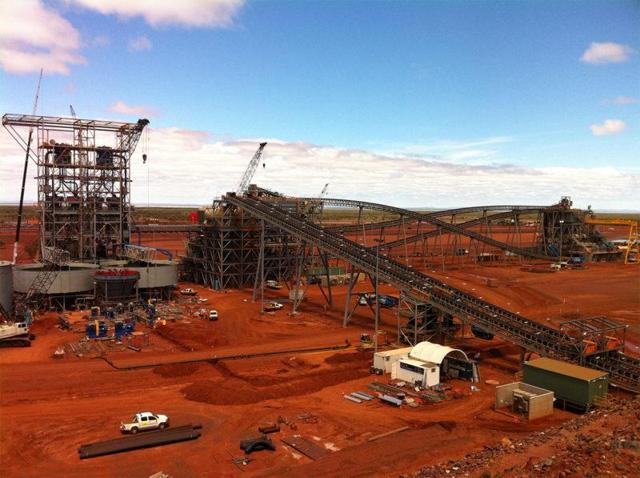 Investors can also read my recent article, "Ganfeng Lithium Looks To Be A Great Buy."
Regarding Neometals investors can read my recent article, "An Update On Neometals", and my CEO interview here.
Investors can also read my article on International Lithium here.
Orocobre [ASX:ORE] [TSX:ORL] (OTCPK:OROCF)
On October 30, Orocobre released their "Quarterly Activities Report - September 2018."
A summary of Orocobre's fully funded growth plans are:
Olaroz expanding to 42,500tpa, work underway.
10,000 tpa lithium hydroxide plant to be built in Japan (FIDs expected this quarter with finalization of EPC contract for the Naraha lithium hydroxide plant).
Upcoming catalysts include:
H2 2020 - Olaroz Stage 2 (42.5ktpa) commissioning.
H2 2020 - Naraha lithium hydroxide plant (10ktpa) commissioning.
You can read the latest investor presentation here., or an "Orocobre market update online briefing". Subscribers of Trend Investing can view an interview I did with ex-CEO Richard Seville here. Investors can read my recent article "An Update On Orocobre."
Galaxy Resources [ASX:GXY] (OTCPK:GALXF)
No news for the month.
Upcoming catalysts include:
H2 2018 - POSCO deal should complete (bringing in US$280m to Galaxy)
2018/19 - Mt Cattlin resource upgrade. James Bay Feasibility Study.
2018/19 - Announcements to commence construction of Sal De Vida.
2021 - Sal De Vida production may begin.
Investors can read my article "Galaxy Resources Sal De Vida Project Is About To Be De-Risked After A Huge Cash Sale To POSCO, and my recent CEO interview here, and the latest company presentation here.
Alliance Mineral Assets Limited ("AMAL") [SP:AMS]/Tawana Resources (subsidiary Lithco) [ASX:TAW] (OTCPK:TWNAF)
On November 7, Tawana announced: "Merger Update. Tawana and Alliance have agreed to reinstate the condition precedent to the Merger that Alliance be admitted to the Official List of the ASX (ASX Listing Condition). The reinstatement of the ASX Listing Condition means that the Merger will only proceed if Alliance is admitted to the Official List of the ASX."
On November 8, Tawana announced: "Supplementary Scheme Booklet Registered with ASIC. The Merger is to be effected by way of a members scheme of arrangement whereby Tawana Shareholders will receive 1.1 new Alliance Shares for every 1 Tawana Share held."
Investors can read the Tawana company presentation here or a CEO interview here. Tawana/Alliance has a binding five-year off-take agreement with Burwill Commodity Limited.
Altura Mining [ASX:AJM] (OTC:ALTAF)
On November 9, Altura Mining announced:
Long term offtake agreement secured with leading global lithium producer. Binding Offtake Agreement with GFL International Co., Limited (a wholly owned subsidiary of Ganfeng Lithium) a leading global battery materials producer. Supply to commence in 2018; with a minimum of 70,000 tonnes per annum from 2019 until the end of 2021 with potential extensions for up to a further 10 years. Variations agreed to existing offtake arrangements with Shaanxi J&R. Optimum Energy. The new agreement provides Altura with a more diverse customer base and locks in 100% of planned production from the recently commissioned flagship Altura Lithium operation located at Pilgangoora in Western Australia.
Note: The Shaanxi J&R Optimum Energy off-take reduced from 100,000tpa spodumene concentrate to 50,000tpa from 2019 and onwards.
Upcoming catalysts:
2018 - Production ramp up.
Investors can read my latest article "An Update On Altura Mining". Investors can also read a company presentation here.
Pilbara Minerals [ASX:PLS] (OTC:PILBF)
On November 12, Pilbara Minerals announced: "Pilbara Minerals announces board approval for Pilgangoora Stage 2 expansion. Final Investment Decision [FID] paves way for the continued expansion of the Pilgangoora Lithium-Tantalum Project, with production capacity set to grow beyond 800ktpa of high quality spodumene concentrate. 100% of Stage 2 offtake is already placed with high-quality customers POSCO, Ganfeng Lithium and Great Wall Motor Company."
Upcoming catalysts:
2018/2019 - Production ramp up.
Q4 2019 - Stage 2 commissioning planned.
Investors can read my recent article "An Update On Pilbara Minerals", and a recent interview here.
AMG Advanced Metallurgical Group NV [NA:AMG] [GR:ADG] (OTCPK:AMVMF)
On November 1, AMG announced Q3 results. "Revenue increased by 27% to $328.1 million in the third quarter 2018 from $258.9 million in the third quarter 2017. Gross profit was $79.6 million in the third quarter 2018, an increase of $28.3 million, or 55%, over the same period in 2017. EPS, on a fully diluted basis, increased by 111% to $0.93 in the third quarter 2018 from $0.44 in the third quarter 2017.
On November 16, AMG announced: "AMG Advanced Metallurgical Group N.V. Announces a Memorandum of Understanding for the Long-Term Sale of Lithium Chemicals to Ecopro."
Upcoming catalysts:
H2 2018 - Production to begin at the Mibra mine in Brazil (initially 90ktpa).
End 2019 - Stage 2 production (additional 90ktpa) to begin.
Lithium Americas [TSX:LAC] (OTCQX:LACDF) (LAC) (LACDF)
On October 31, Lithium Americas announced: "Closing of transaction with Ganfeng Lithium and SQM."
On November 14, Lithium Americas announced: "Lithium Americas reports Third Quarter 2018 financial and operating results." Highlights include:
Cauchari-Olaroz:
"Lithium Americas increased its interest in Minera Exar S.A. ("Minera Exar"), the holding company for Cauchari-Olaroz, to 62.5% from 50% with Ganfeng holding the remaining 37.5%.
Development activities are on schedule with the advancement of detailed engineering, ponds construction, production wells drilling, camp construction, plant design and supply purchases to support the start of Stage 1 production in 2020. No delay is anticipated to the production schedule as a result of the Transaction. The first evaporation pond was completed and commenced filling with brine in October 2018."
Lithium Nevada:
"The permitting process for Thacker Pass is underway, with environmental baseline data collection substantially complete and a conceptual Mine Plan of Operations submitted to the Bureau of Land Management ("BLM")."
Lithium Americas continues to collaborate with Ganfeng on the development of the pilot plant testing programs for Thacker Pass. A pilot plant and laboratory is being constructed in Reno, Nevada to optimize the process (predominantly to reduce the consumption of sulfuric acid) and to provide feed samples to crystallizer vendors who will design the equipment and provide performance guarantees.
The Company is evaluating potential partnership and financing scenarios for Thacker Pass."
Investors can read my LAC articles:
Upcoming catalysts:
2019 - Cauchari-Olaroz plant construction.
2020 - Stage 1 Cauchari-Olaroz lithium production of 25ktpa.
2022 - Possible 2022 lithium clay producer from Thacker Pass Nevada (full ramp by 2025).
NB: LAC now owns 62.5% of the Cauchari-Olaroz project.
Investors can read my recent article "An Update On Lithium Americas."
Nemaska Lithium [TSX:NMX] [GR:NOT] (OTCQX:NMKEF)
On November 19, Nemaska Lithium announced: "Nemaska Lithium provides project construction update." Highlights include:
"Project construction at both sites is currently on track.
Concentrate production is expected to start in H2 2019 with lithium salts production expected in H2 2020"
You can read more on my article on Nemaska Lithium here, and the latest company presentation here.
Upcoming catalysts include:
2018 - Possible further off-take agreements.
2019 - Project construction.
Q3, 2019 - Commence production and sale of spodumene.
Q3 2020 - Plan to start lithium carbonate and hydroxide production.
Lithium hydroxide plants planned or under construction
Kwinana WA (2 x 24ktpa stages) - Tianqi Lithium - Under construction, start 2019.
Shawinigan near Montreal Canada (23ktpa) - Nemaska Lithium. Likely to start 2020.
Kalgoorlie WA (initially 10ktpa) - Neometals/Mineral Resources - Feasibility stage, may start by 2021.
Kwinana WA (45ktpa) - SQM/Kidman Resources - In planning.
Bunbury WA (5 x 20ktpa stages) - Albemarle. In planning.
Other lithium juniors
Other juniors include AIS Resources [TSXV:AIS] (OTCQB:AISSF), American Lithium Corp. [TSX-V: LI] (OTCQB:LIACF), Argentina Lithium and Energy Corp. [TSXV:LIT] (OTCQB:PNXLF), Argosy Minerals [ASX:AGY] (OTC:ARYMF), AVZ Minerals [ASX:AVZ] (OTC:AZZVF), Bacanora Minerals [TSXV:BCN] [AIM:BCN] [GR:1BQ] (OTC:BCRMF), Birimian Ltd [ASX:BGS] (OTC:EEYMF), Critical Elements [TSXV:CRE] [GR:F12] (OTCQX:CRECF), Dajin Resources [TSXV:DJI] (OTCPK:DJIFF), Enigri (private), Eramet (EN Paris:ERA) (OTCPK:ERMAY), European Metals Holdings [ASX:EMH] [AIM:EMH] [GR:E861] (OTC:ERPNF), Far Resources [CSE:FAT] (OTCPK:FRRSF), Force Commodities [ASX:4CE], Kidman Resources [ASX:KDR] [GR:6KR], Latin Resources Ltd [ASX: LRS] (OTC:LAXXF), Lithium Australia [ASX:LIT] (OTC:LMMFF), Lithium Power International [ASX:LPI] (OTC:LTHHF), LSC Lithium [TSXV:LSC] (OTC:LSSCF), MetalsTech [ASX:MTC], MGX Minerals [CSE:XMG] (OTC:MGXMF), Millennial Lithium Corp. [TSXV:ML] (OTCQB:MLNLF), Neo Lithium [TSXV:NLC] (OTC:NTTHF), NRG Metals Inc. [TSXV:NGZ] (OTCQB:NRGMF), Nemaska Lithium [TSX:NMX] [GR:NOT] (OTCQX:NMKEF), North American Lithium (private), Piedmont Lithium [ASX:PLL] (OTC:PLLLY), Prospect Resources [ASX:PSC], Rock Tech Lithium [CVE:RCK], Sayona Mining [ASX:SYA] (OTCPK:DMNXF), Savannah Resources [LSE:SAV], Standard Lithium [TSXV:SLL] (OTC:STLHF), Sigma Lithium Resources, and Wealth Minerals [TSXV:WML] (OTCQB:WMLLF).
Global X Lithium & Battery Tech ETF (NYSEARCA:LIT) - Price = US$30.30.
The LIT fund moved up slightly for the month of November. The current P/E is 19.24. Given lithium demand should rise 3-6 fold between now and 2025 the lithium sector P/E of ~19 looks very attractive.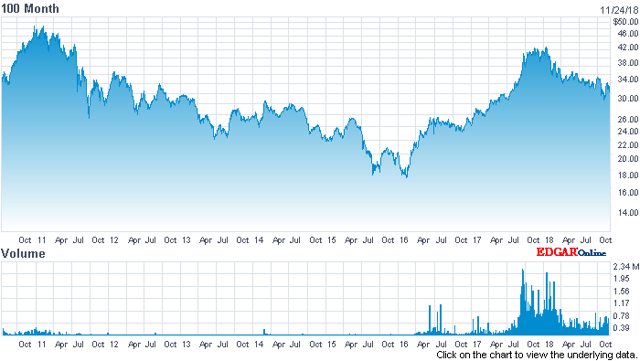 (Source: Nasdaq)
Lithium & electric metals fund (ISIN DE000LS9L822) - Access via the Stuttgart stock exchange or wikifolio.com
The portfolio gives investors broad exposure across the EV metals miners covering lithium, cobalt, nickel, rare earths, and graphite. I help as an analyst for the fund. The certificate is endless (open fund) and listed on the Stuttgart Stock Exchange, so it can be bought via a broker that carries the ISIN or via Wikifolio. The ticker is DE000LS9L822 listed on the Stuttgart stock exchange and accessible from any German exchange.
Investors can view the portfolio holdings and learn more by accessing here.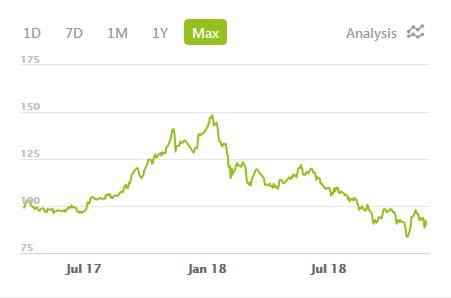 Conclusion
November has seen some signs of recovery in the lithium sector despite the general market downturn. The producers and near-term producers are progressing very well despite a few ramp-up delays of the majors.
My highlights for November were:
The top tier lithium producers confirm strong global contract prices and outlook due to strong demand and difficulty ramping up new supply.
Metal Bulletin - "Strong EV numbers bode well for battery raw materials demand."
Albemarle freezes Chile expansion plans, and pays US$1.15bn for 50% of the Wodinga lithium spodumene mine owned by Mineral Resources.
SQM ramp up at their Antofagasta plant delayed thereby delaying their expansion plan to 2019.
Altura Mining signs a binding off-take agreement with Ganfeng Lithium to supply a minimum of 70ktpa of lithium spodumene from 2019 until the end of 2021 with potential extensions for up to a further 10 years.
Pilbara Minerals board approves Pilgangoora Stage 2 expansion (800ktpa).
Lithium Americas and Nemaska Lithium making good progress with construction and both on track for 2020 commissioning.
As usual all comments are welcome.
Trend Investing
Thanks for reading the article. If you want to go to the next level, sign up for Trend Investing, my Marketplace service. I share my best investing ideas, latest trends, exclusive CEO interviews, chat room access to me, and to other sophisticated investors. You can benefit from the work I've done, especially in the electric vehicle and EV metals sector. You can learn more by reading "The Trend Investing Difference", "Recent Subscriber Feedback On Trend Investing", or sign up here.
My latest Trend Investing articles are:
Disclosure: I am/we are long NYSE:ALB, GANFENG LITHIUM [SHE: 2460], NYSE:SQM, ASX:ORE, ASX:GXY, ASX:PLS, ASX:AJM, TSX:LAC, TSXV:NLC, TSXV:ILC, ASX:AVZ, ASX:NMT, ASX:SYA., TSXV:AIS, TSXV:WML, ASX:CXO, TSXV:PLU, TSXV:CYP. I wrote this article myself, and it expresses my own opinions. I am not receiving compensation for it (other than from Seeking Alpha). I have no business relationship with any company whose stock is mentioned in this article.
Additional disclosure: The information in this article is general in nature and should not be relied upon as personal financial advice. I may receive 50% of the profit from the Lithium & electric metals fund's (ISIN DE000LS9L822) management fee, due to providing analyst services to the fund.
Editor's Note: This article covers one or more microcap stocks. Please be aware of the risks associated with these stocks.