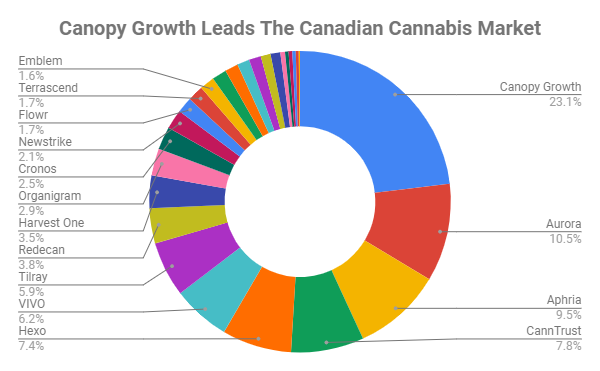 (Author based on data from Nov 24)
Summary
As was widely-expected, there is a shortage of legally-grown recreational cannabis in Canada. Pundits with political axes to grind have been quick to point fingers. Rather than pointing fingers or assigning blame, this article seeks to find which companies are best weathering these shortages.
Here, I look at a snapshot of what strains are in stock across Canada's four largest provinces and Newfoundland - a combined 88% of Canadians live in these five provinces. While this data isn't perfect, it's the best information we have available to predict future recreational cannabis sales.
I analyze each of Canada's four largest provinces and Newfoundland individually, and then combine that data to estimate a total recreational market share. That total market share can then be compared to each company's value - and their percentage of value compared to the overall market.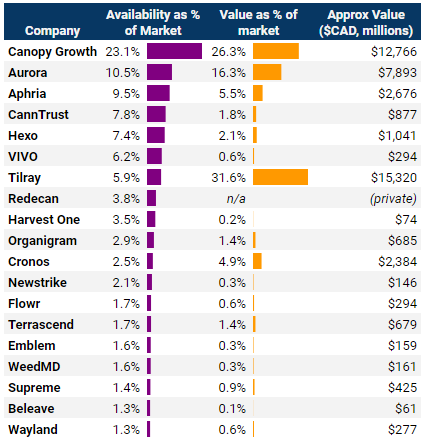 (Author based on the above; value is based on author's estimates and data from both Google and Yahoo Finance; percentage is value divided by the total value of all Canadian cannabis companies I track - including many not on the list)
After this analysis, Canopy Growth (CGC) stands atop cannabis with the most products in stock. Canopy Growth is followed by Aurora Cannabis (ACB) and Aphria (APHA) - which is also their order of market values. The biggest disappointment - to the surprise of few - is that Tilray's (TLRY) products are not nearly as ubiquitous as one might expect given then premium valuation.
Meanwhile, each of CannTrust (CNTTF), VIVO Cannabis (OTCQB:VVCIF), Hexo (HYYDF), and Aphria look potentially cheap here. Each company has a larger share of virtual shelf space than their valuations might suggest - perhaps suggesting that these companies could deliver strong recreational sales figures in a few months.
Why This Matters
Data on strain availability is not the best possible data. Far better data would be actual sales information. However, aside from a listing of the top 20 strains sold in the past 24 hours in Ontario (here), recreational sales data is not available. If others have better data sources, please send me a message or put a link in the comments - I'd love to see them.
However, given that I don't have access to sales data, I believe that strain availability is the best proxy we have for recreational cannabis sales until we get earnings reports from post-legalization quarters (which will begin in ~two-to-three months).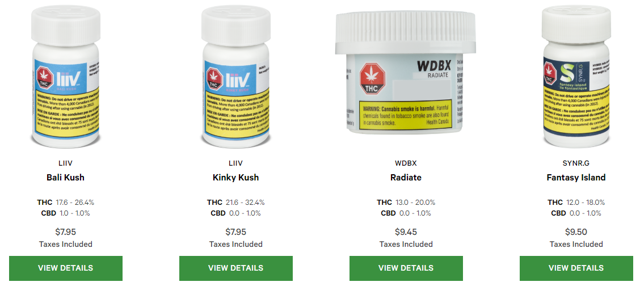 (OCS.ca: Cannabis products are listed by strain on the main cannabis page)
The reason for counting by strain here is because that is how products are displayed on the websites of provincial cannabis sites: Products are displayed by strain rather than, e.g., by brand or by SKU. Because of this display, it's likely that unique strains in stock provides the best proxy for sales.
The Driver of Cannabis Sales Depends on UX Design Decisions
As shown above, the main menu includes relatively little information - you are told a cannabis brand (e.g., Liiv, which is a CannTrust brand), a strain name, potencies by THC and CBD levels, and a price for the lowest-priced product available.
(Ontario sales data analysis from TheWiz323, via Reddit)
According to the work of a user on Reddit, the most important factors for sales in Ontario, in order, are product availability, size options (3.5-gram and 7-gram particularly), THC percentage, and price:
"​The most important factor driving sales of a strain is product availability. No surprise there. Second most important factor is availability of 3.5g and 7g options. 3.5g has the most revenue, followed closely by 7g, then 1g, then 15g. Third is availability of a specific THC range. While interesting, these factors are about product availability. Over time, these will become less important when all products are available.

​Which brings us to the next factors driving sales, which are not related to product availability. It's not about an LP or specific brand… it's price. Price is the single most important factor. Next is the THC content (CBD is a little lower on the list of importance). This basically means if two similar products have the same THC content, consumers are generally using price to decide which to buy. Likewise, if a strain has a higher THC content, people can be persuaded on price and pay a bit more."
Notably, brand is not a significant factor in Ontario. However, this may be Ontario-specific, for user-interface reasons. Particularly, Ontario's cannabis website does not allow users to filter by brand:

(OCS.ca)
Brand makes a huge difference in sales in provinces where users can filter by brand. For example, consider Newfoundland's Cannabis NL site layout: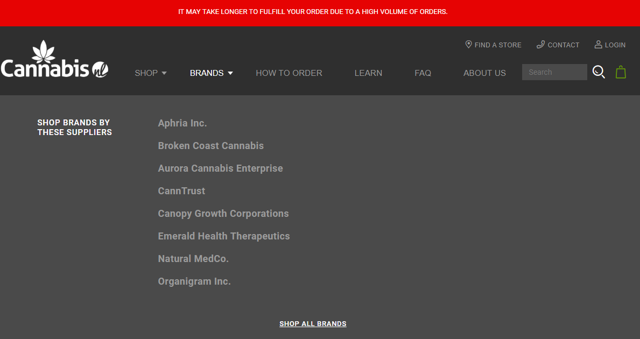 Here, brands are not only a possible filter, they are a main menu option. In Ontario, brand was trivially important for cannabis sales, according to Reddit user TheWiz323. This is not true in Newfoundland.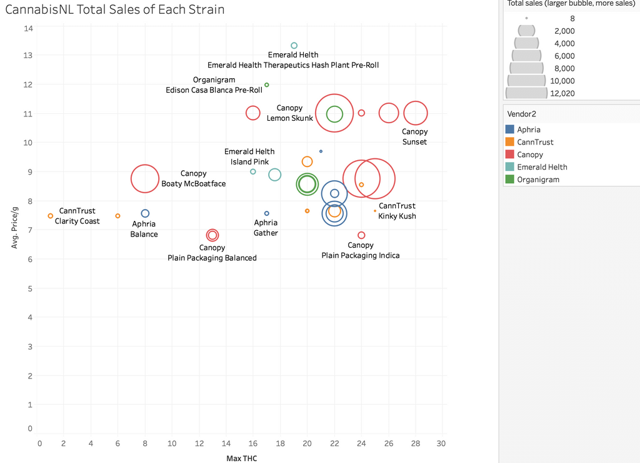 (Newfoundland sales data analysis from TheWiz323, via Reddit)
Brand is the most important factor driving sales in Newfoundland - and Canopy Growth is the most popular brand:
"The number one factor driving sales at CannabisNL is the producer and Canopy is their preference, followed by Aphria and Organigram (OGRMF). Second most important factor is THC content. Price is the third most important factor. This is such a contrast to Ontario and appears to be from the web site design. This basically means if Canopy and another LP have a similar product, people are buying the Canopy one far more often, just because it's Canopy and not because of price.

​Branding is clearly winning in N&L, which will hopefully be the case with stores in Ontario and the rest of Canada, so price isn't the main factor driving sales. That will hopefully avoid a price war for the top producers. As an investor, this is the best news I could have hoped for. Now all we need is a new web site for the OCS (please just copy BC) and we can flip the story in Ontario from price to the products."
Sales data for other provinces is not available, and thus, there's no similar statistical analysis for those provinces. However, interested investors could review the websites for each of Canada's largest provinces to determine the levels of sorting available in each province - those user interface decisions will have a significant impact on which products sell the best and on which characteristics are most important for sales.
Product Availability By Province
With the idea that product availability will be a driver for sales, this is a brief look at Canada's four most populous provinces, in order, and also Newfoundland. All data herein is from either CanStats.info or Budbudbud.ca.
Note that all the data discussed herein only includes dried cannabis, and not other products like cannabis oil.
Aurora Leads Cannabis Availability in Ontario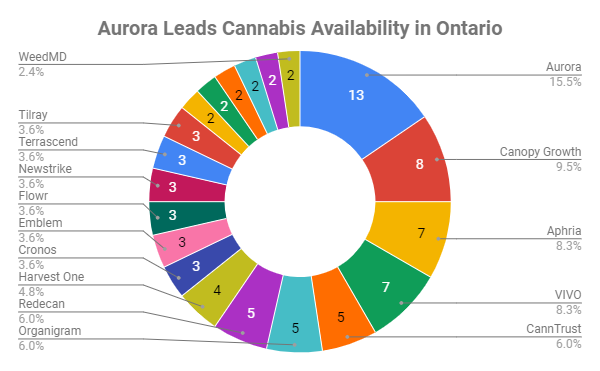 (Author based on data from Nov 24)
Ontario is Canada's largest province and is home to 14.2 million people or 39% of Canadians. As of November 24th, Ontario's cannabis site had 84 unique cannabis strains in stock - a very healthy total. These strains are from a wide variety of producers, with 20 different companies having in-stock products.
The number of cannabis companies selling in Ontario is directly related to Ontario's supply agreement count. Ontario signed at least 32 different supply agreements, so they have cannabis from a lot of different producers.
The top suppliers in Ontario include:
1. Aurora Cannabis (ACB) - 13 unique strains2. Canopy Growth (CGC) - 8 unique strains 3. (Tied) Aphria (APHA) - 7 unique strains 3. (Tied) VIVO (OTCQB:VVCIF) - 7 unique strains5. (Tied) CannTrust (CNTTF) - 5 unique strains 5. (Tied) Organigram (OGRMF) - 5 unique strains 5. (Tied) Redecan (private) - 5 unique strains 8. Harvest One (OTCPK:HRVOF) - 4 unique strains9. (Tied) Cronos (CRON) - 3 unique strains 9. (Tied) Tilray (TLRY) - 3 unique strains 9. (Tied) Newstrike (OTCPK:NWKRF) - 3 unique strains 9. (Tied) Flowr (OTCPK:FLWPF) - 3 unique strains 9. (Tied) Terrascend (OTCQX:TRSSF) - 3 unique strains 9. (Tied) Emblem (OTCQX:EMMBF) - 3 unique strains
Notably, Redecan totals here are artificially low - much lower than I saw in "The Top Cannabis Brands In Canada - An Analysis Of Sales Data". This is due to a recent recall of Redecan products due to mold and fear of insects. I discussed those issues in my recent blog post, "This Week In Cannabis: Thanksgiving Edition - Trulieve, Curaleaf, Redecan". While Redecan is private, similar issues could potentially be a problem for publicly-traded companies as well - perhaps again suggesting the value of diversifying your investments within the sector to minimize potential negative impacts of such problems.
Canopy Growth Leads in Supply-Constrained Quebec Market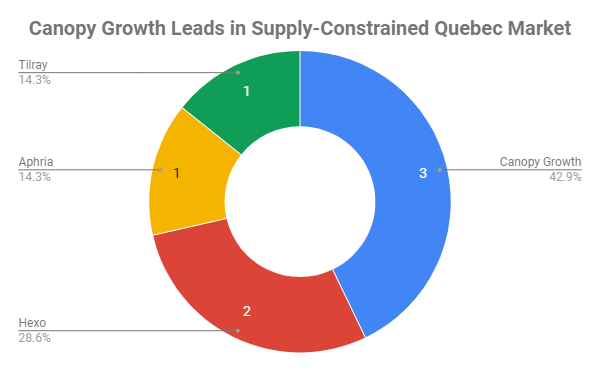 (Author based on data from Nov 24)
Moving from Ontario to Quebec feels a bit like going from the land of the haves to the land of the have-nots. Quebec is Canada's second-largest province, home to a population of 8.4 million people or 23% of Canadians.
While Ontario has a plethora of supply deals, Quebec signed only five supply agreements (it was six, but dropped to an effective five after Aurora purchased MedReleaf - see my discussion in "Aurora Cannabis: The Good, The Bad And The Ugly"). Those deals are with the four companies above and also Aphria.
Quebec has had perhaps the worst roll-out of recreational cannabis in Canada, alongside Alberta. The province has had to close cannabis stores due to shortage. Frankly, this shortage was very predictable. In February 2018, I wrote:
"Quebec's initial cannabis order may prove much too small. On a per capita basis, Quebec's cannabis order is smaller than other provinces which have signed MOUs. Because of this, THCX and the other suppliers may see their Quebec sales grow substantially, possibly even in the first year of availability.

| Province | Population | Cannabis Orders | Per Capita |
| --- | --- | --- | --- |
| Newfoundland and Labrador | 519,716 | 8,000 kg | 15.4 grams/year |
| Prince Edward Island | 142,907 | 3,000 kg | 21.0 grams/year |
| New Brunswick | 747,101 | 15,500 kg1234 | 20.7 grams/year |
| Quebec | 8,164,361 | 62,000 kg | 7.6 grams/year |

While the provinces of Atlantic Canada have each ordered 15-21 grams/year, Quebec has ordered only a meager 7.6 grams/year. This low order might just be intended to slowly ramp up legal sales in Quebec, but it almost surely underestimates long-term demand."

Cannabis Winners And Losers In Manitoba And Quebec, February 17, 2018 (emphasis in the original)
It is not difficult to see the factors at play here. Quebec underestimated demand for cannabis. They did not order enough cannabis from producers. When they realized their blunder, it was too late - cannabis producers did not have enough surplus cannabis to sell the province, because it was already earmarked for other provinces.
This was Quebec's fault and was entirely predictable.
Aphria and Aurora Lead in Diverse British Columbia Market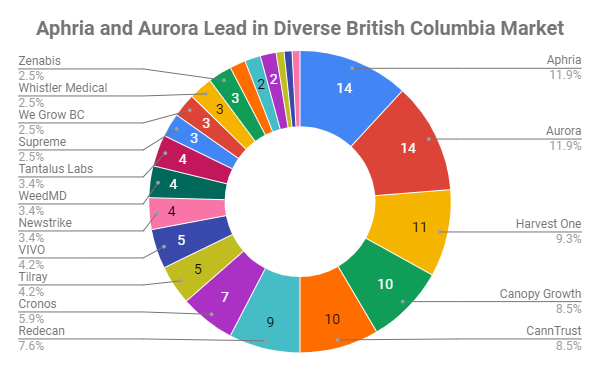 (Author based on data from Nov 24)
Moving from the failures of Quebec to the success of British Columbia, we are presented with the richest cannabis selection among the provinces. As with Ontario, the richness of this selection is due to having a multitude of supply agreements.
British Columbia, with a population of 4.8 million people (13% of Canadians) initially signed 31 supply agreements. This has paid dividends for cannabis consumers on Canada's west coast.
British Columbia's cannabis marketplace is diverse and includes a mixture of huge cannabis companies (with Aphria, Aurora, and Canopy Growth all making the top five) and smaller players also appearing, like BC-based Harvest One Cannabis (OTCPK:HRVOF) having a great selection of cannabis in British Columbia, especially in light of their relatively small C$74 million market cap (listed as U$40 million on Seeking Alpha).
Top suppliers in British Columbia include:
1. (Tied) Aphria - 14 unique strains1. (Tied) Aurora - 14 unique strains 3. Harvest One - 11 unique strains 4. Canopy Growth - 10 unique strains 5. CannTrust - 10 unique strains 6. Redecan - 9 unique strains 7. Cronos - 7 unique strains 8. (Tied) Tilray - 5 unique strains 8. (Tied) VIVO - 5 unique strains 10. (Tied) Newstrike - 4 unique strains 10. (Tied) WeedMD (OTCPK:WDDMF) - 4 unique strains 10. (Tied) Tantalus Labs (private) - 4 unique strains
Canopy Growth Leads in Supply-Constrained Alberta Market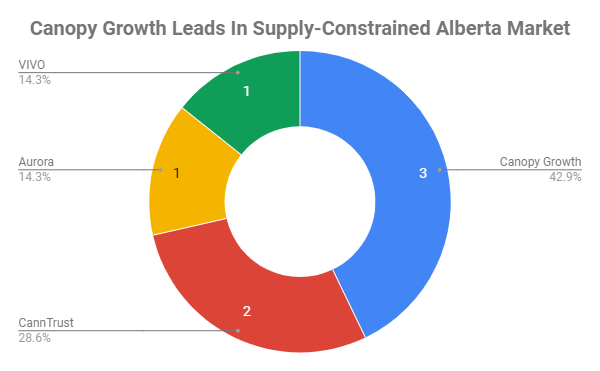 (Author based on data from Nov 24)
Again, from the haves to the have-nots, we move to Alberta - Canada's fourth-largest province with 4.3 million residents (12% of Canadians). Unlike Quebec, Alberta had a reasonable level of supply agreements (at least 13) and a reasonable quantity of cannabis ordered (about 22 grams/resident). Despite that, Alberta's cannabis store online is not a pretty picture: There are seven strains in stock. The province is blaming producers.
"Alain Maisonneuve, president and CEO of AGLC, said a nationwide shortage of recreational marijuana has affected Alberta stores that they had hoped would have enough supply to last for months.

'AGLC ordered enough product to support up to 250 retail stores in the first six months of legalization; however, as of November 17 we have only received approximately 20 per cent of what we had ordered,' he said in a statement."

Pot cupboard is almost bare: AGLC stops taking new cannabis applications, Nov 23, 2018
Canopy Growth leads in the supply-constrained market, with a grand total of three strains in stock. Given this terrible supply situation, it's little surprise to see Alberta - like Quebec - having to change their rules to deal with having no cannabis.

On Nov 15th, Alberta had to change their rules for how cannabis was allocated to retail outlets:
"Alberta Gaming, Liquor and Cannabis has introduced a manual ordering system for retail store owners.

On Mondays, all shops receive an updated sheet showing which cannabis products the province has in stock. They place their order within 24 hours and receive it on a specific day.

This replaces the first-come, first-served online system. Retailers previously had to constantly monitor the AGLC's website."

Cannabis shortages lead to new distribution rules for Alberta pot shops, Nov 15, 2018
Further, on Nov 23rd, Alberta stopped taking new applications for cannabis shops entirely - there isn't enough cannabis to open new cannabis stores.
"On Wednesday, the provincial agency responsible for overseeing Alberta's fledgling legal cannabis industry said ongoing supply shortages have prompted the temporary halt to approving more retailers until supply lines are stabilized."

Pot cupboard is almost bare: AGLC stops taking new cannabis applications, Nov 23, 2018
Canopy Growth Dominates Newfoundland's Cannabis Market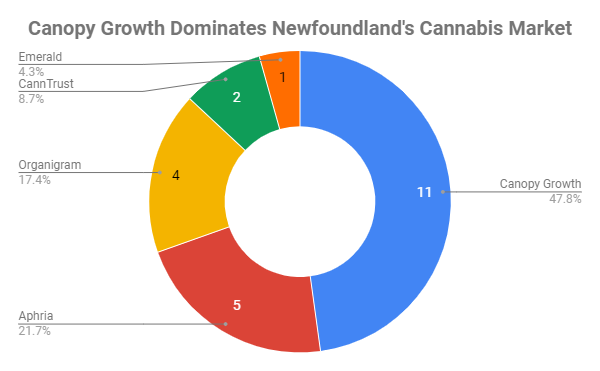 (Author based on data from Nov 24)
Newfoundland is much smaller than the other provinces listed here and is only being included because their data is also available on CanStats.info. Newfoundland has 530,000 residents, for 1.4% of Canada's population.
Based on current availability, Canopy Growth is dominating the Newfoundland online marketplace, offering 11 unique strains under four different brands: Tweed, Plain Packaging, LBS (Leafs by Snoop, but celebrity endorsements are banned), and DNA Genetics. Canopy Growth provides 48% of the 23 strains that are currently in-stock on Cannabis NL's website.
As shown, Aphria, Organigram, CannTrust, and Emerald Health (OTCQX:EMHTF) also have products offered in Newfoundland.
Canopy Growth Leads the Canadian Cannabis Market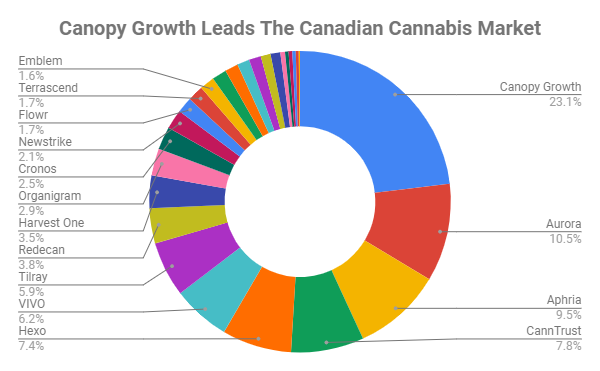 (Author based on data from Nov 24)
Combining all the data above, Canopy Growth is the leader in the Canadian cannabis marketplace. The above chart is based on weightings for both province size and provincial product availability. (That is, e.g., if a province had two cannabis strains available and had 10% of the population of Canada, each company would get 5% market share shown above.)
That is, if consumers picked cannabis strains randomly, equally-likely to choose any strain, and if users in every province ordered the same amount of cannabis-per-capita, the above chart would reflect cannabis market share. Of course, those assumptions are blatantly incorrect - but due to averages and error working in both directions, they're probably less incorrect than readers might initially think.
As shown above, the leaders in market share are Canopy Growth followed by Aurora followed by Aphria. Interestingly, and ignoring the Tilray bubble (see "Tilray: Disaster Waiting To Happen"), the top three companies here are also the top three companies by market cap/enterprise value - and in the correct order.
We can also compare this data to market caps/enterprise value to get a rough approximation of "value" for recreational cannabis sales alone - although there are a lot of other drivers for value for many of these companies, especially the larger companies with extensive international cannabis sales.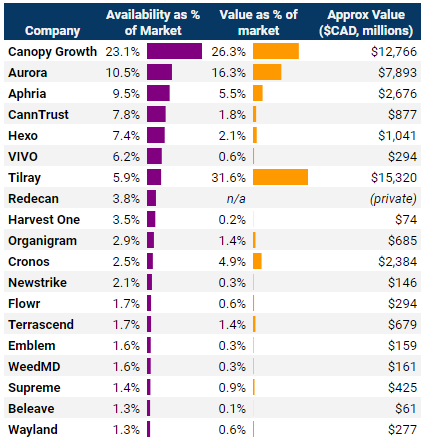 (Author based on the above; value is based on author's estimates and data from both Google and Yahoo Finance; percentage is value divided by the total value of all Canadian cannabis companies I track - including many not on the list)
The table above is rough but may be useful as a tool to demonstrate disparities between how widely available a company's products are and how costly a company is.
The largest standout here - on the negative side - is Tilray. As with nearly any indicia of value, Tilray looks really costly. I have written about Tilray at length on this platform - see "Tilray: Disaster Waiting To Happen" and "Avoid Tilray And Buy Literally Anything Else Instead" - so I won't repeat that discussion here. Suffice to say, it isn't a surprise to see Tilray as an outlier in this chart.
Other standouts here - notable for their absence (or presence lower on this list) - include The Green Organic Dutchman (OTCQX:TGODF), Emerald Health, and Aleafia (OTCQX:ALEAF). Each of those companies has valuations which would otherwise suggest they make this list - but they aren't here. Emerald Health has products in stock, but appears lower on this list than I've cut off (they have 0.3% share). Both TGOD and Aleafia don't appear at all - both have relatively little production today but are ramping up for much higher production later, and neither have any provincial supply agreements.
On the positive side, the companies with a biggest gap between their high product availability and the lowest valuation are (in order) CannTrust, VIVO Cannabis, Hexo, and Aphria. I own shares in three of those companies (excluding VIVO) and have covered them in-depth on Seeking Alpha and in The Growth Operation.
Takeaways
Time will tell how well this data correlates with actual recreational sales. This is merely a snapshot of what is in stock on a single day. Real sales data will be impacted by pricing, branding, potency, and each company's ability to maintain stock of their products all quarter. Due to limited data availability, we're forced to do the best we can with the data that we have.
In my view this data is useful, but it's only a single data point. I would not make investing decisions based solely on this data - but it could be a point in favor of or against particular investments. As a shareholder in each of CannTrust, Hexo, and Aphria, I like that companies I own represent an over-sized portion of product availability compared to their market caps and enterprise values. That said, I own all three companies for reasons other than these values: I have written about each recently, in "CannTrust Is Up 25% Today - And For Good Reason" (via The Growth Operation), "Hexo: The Strongest Buy And The King Of Quebec Cannabis", and "Aphria: Firing On All Cylinders Headed Into Legalization On Wednesday". My rationale for ownership of all three are discussed in detail in those articles - and none of it relates to this data.
Nonetheless, it's great to see that companies I own are able to put their products on the shelves and in front of consumers.
Now, we just have to wait to find out which of those products consumers are actually purchasing.
Happy investing!

Members of The Growth Operation, my cannabis newsletter community, receive:
Daily run-downs of breaking cannabis news - including news on both U.S. and Canadian cannabis producers.
Exclusive access to my in-depth research articles on smaller cannabis companies.
Access to my Model Cannabis Portfolio and my current portfolio.
Access all my past Seeking Alpha articles - even back-articles that are no longer free.
Try it out for free for two weeks - no risk; no cost for two weeks. :-)
Disclosure: I am/we are long HEXO, CANOPY GROWTH, CANNTRUST HOLDINGS, APHRIA, ORGANIGRAM. I wrote this article myself, and it expresses my own opinions. I am not receiving compensation for it (other than from Seeking Alpha). I have no business relationship with any company whose stock is mentioned in this article.
Additional disclosure: I also own other cannabis stocks that are not mentioned in this article.
Editor's Note: This article covers one or more microcap stocks. Please be aware of the risks associated with these stocks.