About once per quarter, I like to publish an analysis to this site discussing the macroeconomic conditions in the dry bulk shipping industry so that investors in the space can make better decisions about putting their money to work in either Ship Finance International (SFL) or Golden Ocean Group (GOGL), which are two companies that I follow in the space. Fortunately, as we saw in Golden Ocean Group's third quarter 2018 earnings results, the dry bulk shipping industry has proven to be quite strong, despite escalation of trade tensions between the United States and various other countries around the world.
One of the most important metrics to watch when it comes to monitoring the strength in the industry is the utilization rate. This is quite simply the percentage of the global fleet that is actually employed during a given period. Thus, it tells us the overall demand for vessels to ship goods. We see some positive trends here. During the third quarter, global fleet utilization increased by 2.1%, going from 85.1% in the second quarter to 87.2% in the most recent one. This continues a generally positive trend that we have seen here over the past two years.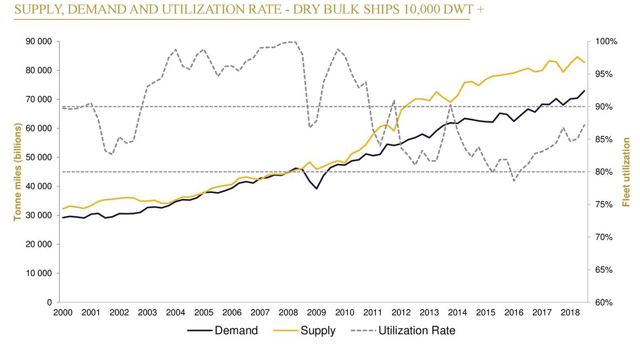 Source: Golden Ocean Group
As is the usual case, the main driver of this increase was an increase in the demand for transportation services. According to Maritime Analytics, total seaborne transportation of dry bulk goods was 1,173 mt in the third quarter of 2018, which compares positively to 1,138 mt and 1,140 mt in the second and year-ago quarters, respectively. All of these points to an increasing demand for vessels.
When I reviewed the conditions in the industry a few months ago, I stated that rising demand for dry bulk transportation has been having a positive effect on the spot rate for these ships on the Baltic Exchange, which determines the price that someone must pay to send a vessel on a single voyage with their goods. This trend continued in the most recent quarter, with the average spot rate during the quarter increasing across the board.

Source: Golden Ocean Group
We can see here that there was a very noticeable increase in the spot rate for Capesize vessels, which are by far the largest dry bulk carriers. As these ships are far too large to use the Panama Canal and until the deepening of the Suez Canal in 2009 were unable to use that one either, Capesize vessels are generally used to transport large bulk commodities that have no need to be moved quickly. The most common goods transported by these ships today are iron ore and coal. As such, we might expect that a growing volume of these goods was transported during the quarter.
This was indeed the case. As we can see here, importers of coal generally increased their imports during the quarter. China, in particular, saw its imports of coal surge.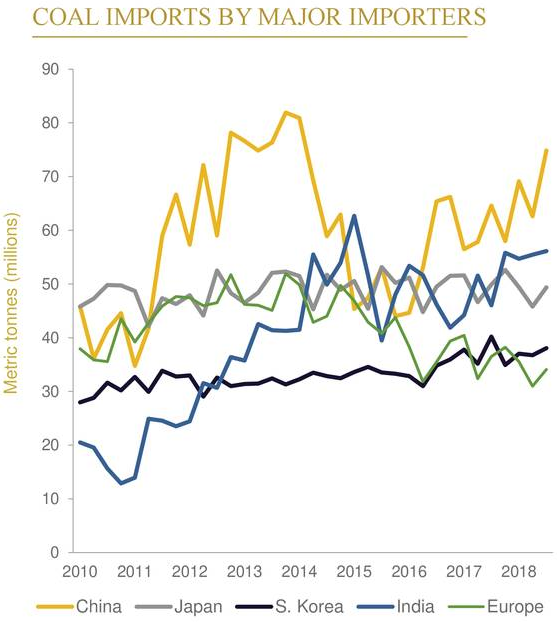 Source: Golden Ocean Group
The major factor driving these imports higher was growing demand for coal-generated electricity in India and China that domestic production of coal was not able to satisfy. This comes despite the efforts of the Chinese government to migrate the country towards renewables and other cleaner sources of power. In actuality, demand for electricity from all sources in China remains strong and the nation has not been able to build up its renewable infrastructure at a quick enough pace to keep up with total power demand. We may not see this trend continue though as China has built up its stockpiles of coal and recently imposed an import ban on the product. This could cause the demand for Capesize vessels, and by extension, their spot rates to decline somewhat over the next few quarters.
It has been well covered in the news media that one of the retaliatory tariffs that the Chinese imposed on the United States was on agricultural products, which was clearly a move meant to hurt President Trump's popularity in rural areas. This might be expected to hurt the transportation of agricultural products but, in fact, this did not happen. Globally, transportation of agribulks increased by 2.1% year-over-year. This growth was concentrated in corn and similar products as wheat and soybean volumes were flat year-over-year. With that said though, China is increasing the volumes of the products that it increases from Brazil just as it reduces its volumes from the United States. This actually results in longer voyages for the ships transporting these goods, which results in greater revenue for the shipping companies.
Another commodity that is often transported by dry bulk shipping companies is iron ore, which is most often used in the production of steel. Here we do see some weakness out of China, although Australia and Brazil continue to export near-record quantities of the commodity, indicating that overall global demand remains strong: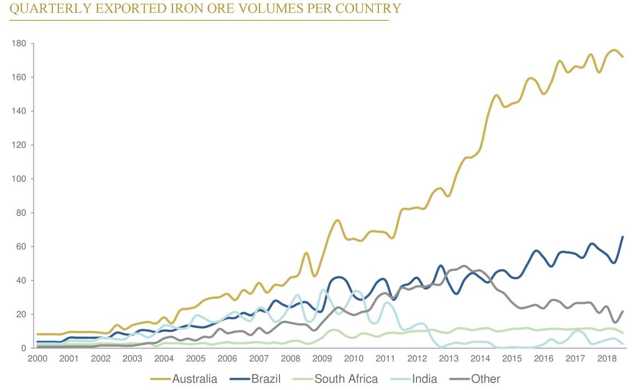 Source: Golden Ocean Group
The main reason for this is that steel production continued to increase globally, as has been the case for quite some time now. China, which was once a major importer of iron ore, has seen its steel mills switch over to lower quality iron ore that is produced domestically in China, which is partly a move meant to preserve their margins as the renminbi has been declining against the U.S. dollar. However, the country's stockpiles of steel are still quite low, which indicate that the country is still consuming its domestic production of the metal. This may be due to the Chinese government increasing its consumption through infrastructure projects as it works to support the domestic economy in the fact of the trade war fears. Overall, iron ore imports have remained flat year-to-date even though production of steel has been increasing. While the United States is not a major supplier of iron ore to the country, there is still the possibility that a trade war would reduce the country's imports of iron ore, particularly if exports of steel products decline.
Overall, the dry bulk shipping industry remains quite strong and fears of a trade war have, at least so far, had minimal impact on the industry as a whole. This is likely due to the industry being a global one and not overly dependent on the United States. Of course, there does remain a possibility that the trade war will escalate and other countries will begin to implement measures of their own to restrict trade but thus far that does not appear to be likely to happen. At least for now, conditions in the industry remain strong.
Disclosure: I am/we are long SFL. I wrote this article myself, and it expresses my own opinions. I am not receiving compensation for it (other than from Seeking Alpha). I have no business relationship with any company whose stock is mentioned in this article.