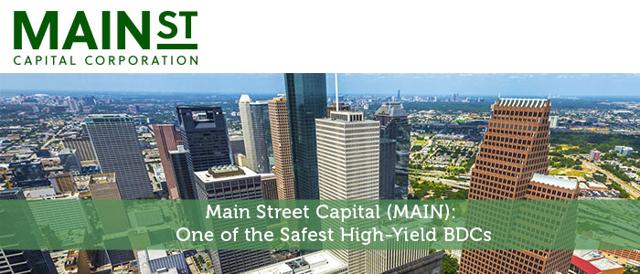 What did I think last time?
I last wrote about Main Street Capital (MAIN) back in September when a lot of people were overly concerned about the premium to NAV that shares were selling at. It has long been my opinion that Main Street's performance both in increasing NAV (Net Asset Value) and DNII (Distributable Net Investment Income) warrants a sizable premium. So does its history of dividend increases and the total dividends paid out. On top of that, since Main Street sells shares to fund growth, the premium to NAV enhances its ability to grow both NAV and DNII. There is no need to worry that the premium will disappear even if it might fluctuate some over time.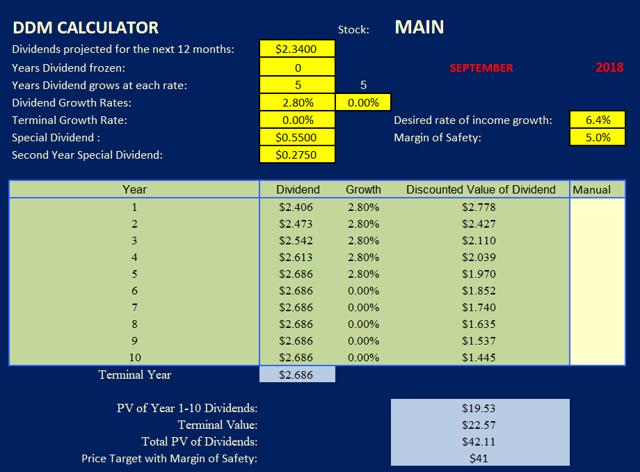 Figure 1
Given that the NPV (Net Present Value) of the dividends set my buy price at $41, at the time MAIN was trading at a very attractive value. Note I was not predicting where I though the price would go, but rather what the value of the dividends was. My goal is to pay less for shares then the NPV of the dividends I expect.
What new information do we have now?
Main reported Q3 earnings on November 1. GAAP NII was $0.63 a share while non-GAAP DNII was $0.66 a share. While that was a 10% YoY increase in DNII, it was also 4 cents higher than analysts' expectations. Total Investment Income was $58.3 million, a 12.6% increase from Q3 2017. While this was $250K below analysts' expectations (which were set by higher YoY increases earlier in the year) , it is still an very good increase.. This was generally a pretty good quarter for Main Street Capital.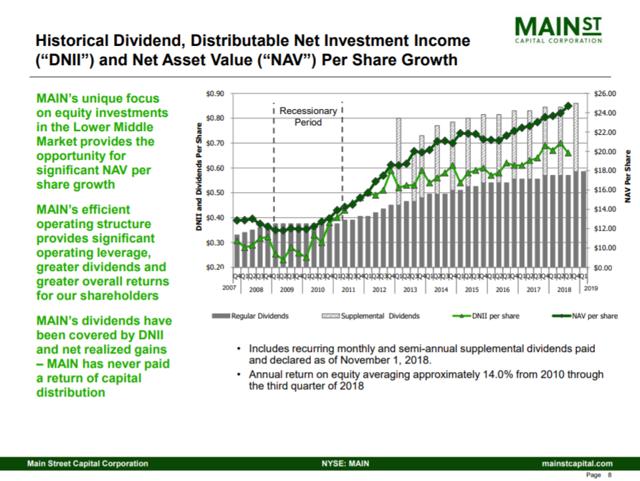 Figure 2 Source Q3 Earnings Presentation
The slide above, from the latest earnings presentation, is one I include in every article I write about Main Street. In one slide it very succinctly sums up why I buy Main and why it has been such a good investment. All in one place, you can see the growth in NAV, DNII and dividends.
One thing to note this time is the response of NAV to payment of the special dividend. Often such a large payment can push NAV down, as the funds to pay the dividend come out of funds that would buy assets to replace those whose sale generated the realized gains used to pay the special dividend. With the last 2 special dividend payments NAV continued to rise over the 23 quarters centered around the special dividend payment.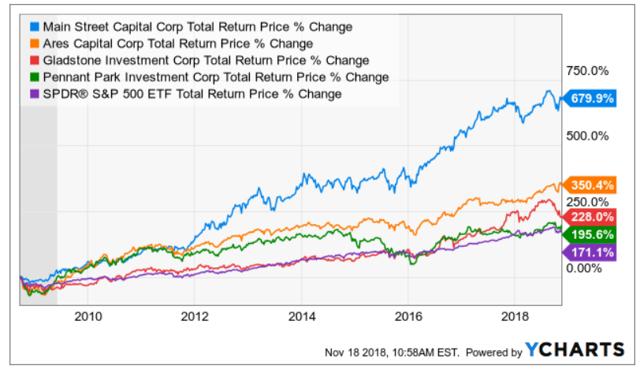 Figure 3
In my last article about Main Street, I compared the performance of the stock to the stocks of several other BDCs that were trading at a lower premium to book value than MAIN. The purpose of the YChart® above is to show, just like the adage saws, you get what you pay for. MAIN easily outperformed both Pennant Park (PNNT) and Gladstone Investment (GLAD). It also out-performed the S&P500 (SPY) on a total return basis. On a total return basis, MAIN even outperformed Ares Capital (ARCC) . I like ARCC (see both this article by me, and this one where I assisted) but it's an income play even more than MAIN.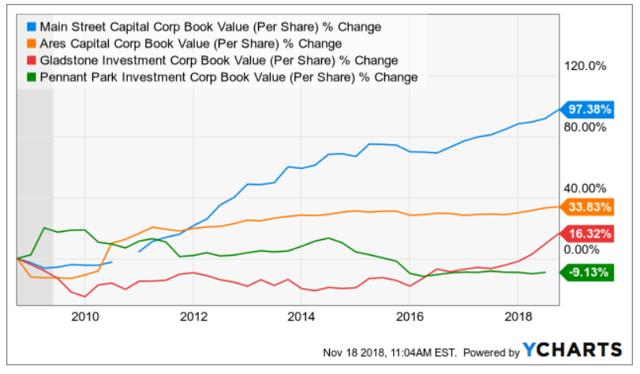 Figure 4
NAV (Net Asset Value) or book value (as YCharts® plots it) is important in assessing a BDC. That is because their main assets are loans, which by their nature decline in value over time. So maintaining and even better growing NAV is a sign of good management. Declining NAV is a sign of trouble and if it continues long enough indicates a likely dividend cut. The above YChart® shows that on a NAV basis, MAIN, and ARCC too, stand above the other two companies. Again showing that you get what you pay for. Since MAIN trades at a premium to its NAV it can and does regularly issue more shares to help fund growth, making its increase in NAV per share even more impressive.
Main Street Capital continues to perform in a way that I want to continue my partnership with it. It is regularly and reliable increasing its ability to pay me dividends and is increasing those dividends. And it's also doing so without a big increase in leverage. I continue to want more shares of this high reward and fairly low risk company.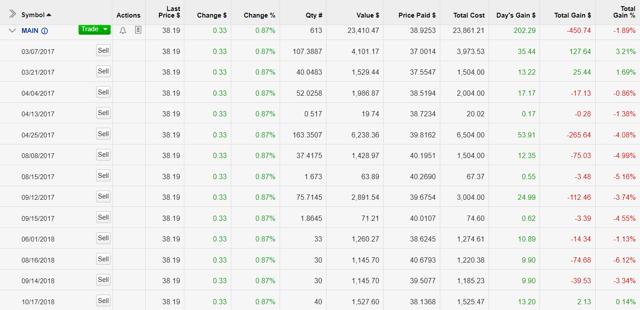 Figure 5 Broker Purchase Records
I now own 613 shares of MAIN and am quite happy with the $119.54 in monthly dividend payments. The $168.57 special dividend paid in December will be a nice Christmas present.
The special semi-annual dividend is going away, is that a bad thing?
In the latest earnings conference call, CEO Vince Foster made an announcement about the status and size of the semi-annual special dividend payments to little fanfare.
We are now in a position due to the size, diversity, and maturation of our business model to begin the conversion of our supplemental dividends and the regular monthly dividends.

We envision making this transition over the next five years such that by the end of the transition period our monthly dividend payout rate will be at least $0.05 per month higher than our current payout rate or at least $0.60 on an annualized basis. While currently our supplemental dividends of $0.55 per year will be reduced incrementally and fully absorbed into our monthly dividends.
Foster also said that MAIN would keep growing the regular dividend "at a level consistent with what we have delivered in the past". To me that is a significant change in dividend policy and I am surprised it hasn't gotten much coverage. Foster also announced that in April the regular dividend would increase to 20 cents a share and that the June special dividend would be just $0.25 (down from $0.275) a share.
Is this a good thing? I, for one, liked those extra payments in June and December. So I will miss them. But getting those same funds paid out each month in the regular dividend isn't a bad thing. But what this change in dividend policy tells me is that management is confident it can generate the funds to pay the larger dividend. And that says they are more confident in the outlook for their operations. I also like the phased approach to the switch. This way, if at any time they run into problems, they can just slow the transition. So each time management shifts money out of the special dividend and into the regular dividend, we shareholders get additional information on how management sees the future performance of the company.
What's a good price?
To figure out a good price, I do a DDM calculation using my Excel® based DDM calculator (pictured below, you can see the web-based calculator I based it on here and read a discussion on how the formulas were developed here). I also found this discussion of DDM, and note that in the article the author uses a discount rate of 5%.
Looking at the David Fish's CCC List(which contains data on companies that have raised their dividend each year for 5 or more years) I see MAIN has a 7 year streak of annual dividend increases. Currently the dividend is 19.5 cents a month, but based on the conference call that will increase to 20 cents in April. So conservatively, over the next 12 months the regular dividends will total $2.38.
Between what management has said on phasing out the special dividend payments and the regular growth of the regular dividend, I estimate that the regular dividend will end up being around 27 cents a month. To get there I estimate that each year following the next 12 months, the annual dividend will go up 18 cents. At the end of the 5-year period (4 years after the next 12 months), I use a rate of 26.5 cents per month. That is on the conservative side, but also allows for the fact that each 12-month period in the calculation doesn't quite line up with Main's fiscal years. For the remaining year before dividend growth matches the terminal dividend growth rate I use the 2.6% rate that would match the 0.5 cent increases Main has given over the past couple of years.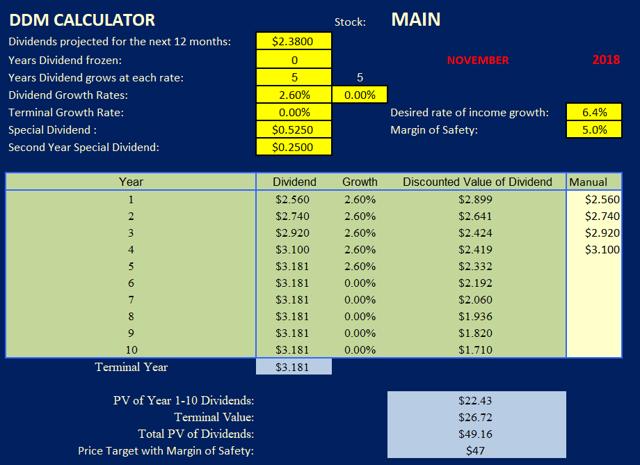 Using these parameters, I calculate that the NPV (Net Present Value) of the predicted dividend stream is $49.16. While I think the likelihood of a recession is still low (and the negative impact such a recession will have on Main Street's ability to increase the dividend), I want a 5% discount to that value to provide an extra margin of safety. That sets my buy price at $47, which is well above the current market price.
Some may notice that both the NPV value of the dividends and my buy price increased a lot from my September analysis. This is caused by the change in how MAIN will be paying its dividend. In the past Main has paid out a significant amount of money as special dividends. I only counted 3 of the semi-annual payments in my calculation of the value of the dividend stream. So, even with those 3 payments reduced, the increase in the amount of the regular dividend more than made up for the special dividends being phased out. This discounting of the special dividends (not just by me but by all third party evaluators) is a large part of why Main Street is folding those cash payments into the regular dividend. I think it's a very positive sign that management has enough confidence in regularly being able to produce the cash from capital gains that it will use them to pay an increased regular dividend.
What to watch for going forward?
Since Foster said that the phase out of the special dividend would result in a 60 cent increase in the regular dividend spread out over 5 years and that the past dividend increases will continue to occur, I expect the regular dividend to go up to about 21 cents a share by the end of 2019. So far, only a half cent increase has been announced. So I want to see when the other penny will start coming to me. Until that increase is announced (and after it as well), I want management to keep shareholders informed on the progress of the shift in dividends.
Conclusion
MAIN is and continues to be one of the most consistent business development companies out there. With consistent long term growth in NAV, DNII and dividends it stands out from the crowd. I think the new dividend policy will enhance the value of owning MAIN, although because it is just moving money from one designation to another I don't expect it to generate much price appreciation. Currently the market price is well below my buy price and I think dividend and dividend growth investors have a significant opportunity here to add more MAIN at this low price.
Note: I hope you all got something out of this article. I do appreciate the time you took reading it. If you are one of those who follow me here, I appreciate it; if you'd like to include yourself amongst those individuals, please hit the "Follow" button next to my name as well as following other contributors whose work you enjoy. As always, please leave any feedback and questions you may have in the comments below.
Disclaimer: This article is intended to provide information to interested parties. As I have no knowledge of individual investor circumstances, goals, and/or portfolio concentration or diversification, readers are expected to complete their own due diligence before purchasing any stocks mentioned or recommended. The price I call fair valued is not a prediction of future price but only the price at which I consider the stock to be of value for its dividends.
About High Dividend Opportunities
HDO is running a Black Friday special until Tuesday November 27, check it out here. My subscription to HDO generated more income from picks I wouldn't have known about than the cost of an annual subscription in just the first week.
We are the largest community of income investors and retirees with over 1600 members. We provide a comprehensive service, ranked #1, dedicated to high-yield securities trading at attractive valuations: Overall target yield of 9-10%. Subscription includes:
A managed portfolio of stocks currently yielding 10.0%. A "Dividend Tracker" to know exactly when to expect your next dividend. A "Portfolio Tracker" to track your holdings, income, and sector allocations. For video, click here.
If you are looking for the most profitable high-dividend ideas, you have come to the right place. For more info, please click Here.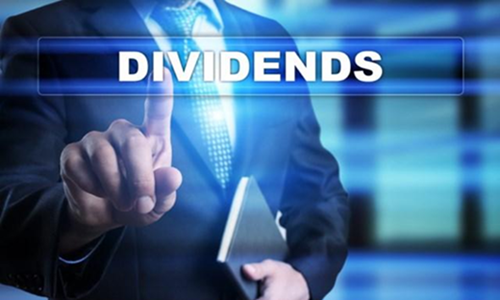 Disclosure: I am/we are long MAIN. I wrote this article myself, and it expresses my own opinions. I am not receiving compensation for it (other than from Seeking Alpha). I have no business relationship with any company whose stock is mentioned in this article.
Additional disclosure: ARCC is on my watch list and I do intend to buy it. When will depend on price action of all the stocks on my watch list and cash availability.