For Those Not Familiar With The Term Dividend Aristocrats (All Others Please Scroll Down)
The Dividend Aristocrats are S&P 500 index constituents that have increased their dividend payouts for 25 consecutive years or more. . . The S&P 500 Dividend Aristocrat index was launched by Standard and Poors in May 2005 and has historically outperformed the S&P 500 index with lower volatility over longer investment time frames. For example, over the past 10 years through the period ending June 30, 2018, the S&P 500 Dividend Aristocrat index has returned 13.28% on an average annual basis, compared to the S&P 500 index which has returned only 10.17% annually during that same period. Wikipedia
Of the companies in the S&P 500, the largest public companies in the US, only 51 qualify as Dividend Aristocrats. Nevertheless, all investing entails risk, and in this group there are definitely companies that entail more investment risk than do others. In 2009, General Electric qualified as a Dividend Aristocrat, having increased its dividend every year for thirty-two years. In 2009 the company cut its dividend, an indicator of severe challenges ahead. Lest we need reminding of the perils of even this illustrious group, GE's twenty-year stock performance. I use the crossing of the blue Triangular Moving Average as one indicator of inordinate risk.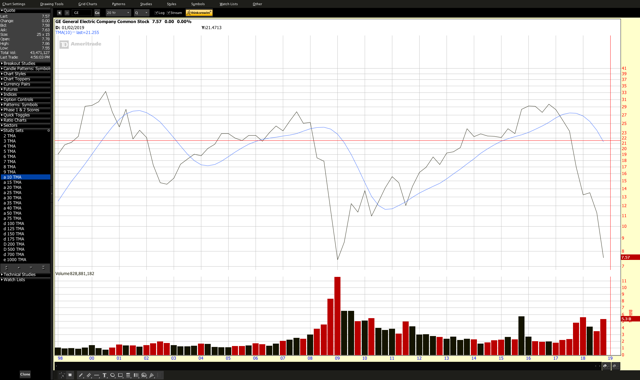 The power of compounded earnings and increasing dividends over time is perhaps best illustrated by Buffett's 400,000,000 share position in Coca-Cola (KO) which he purchased at an average of $3.25 per share in 1988 and 1989 for a total cost of about $1.3 billion. He currently receives, through Berkshire Hathaway, the holding company he controls, $624,000,000 in dividends annually, for a cash return, per year, of 48%. That 48% compares to a yield on the current stock price of only 3.1%. That's the phenomenon of compounding at work! It helps him hold the position despite the gradual deterioration of the company over the last seven years. See below.
Dividend Aristocrats outperform the market, even before dividends, over just about any extended period of time. Why? Because only companies able to generate increasing free cash flow every year, year after year, consistently, earning more cash on the prior year's beginning capital base plus earnings are able to increase their dividends each year, year after year. When a Board of Directors meets to consider a dividend increase, they examine three primary questions. One, is the company generating more cash this year than last? Two, does the business need that cash to cover anticipated capital expenditures, either for maintenance or growth, over the next twelve to twenty-four months? Three, are the prospects for the business sufficiently strong that a future dividend cut is unlikely, even in a recession. In other words, can the company maintain the dividend into the foreseeable future, meet all cash requirements and maintain a cushion for safety? Few companies are able to sustain that over the long term. Business is just too competitive, the economy too cyclical. Boards of Dividend Aristocrats are made up of seasoned executives who have personally experienced many business ups and downs over decades.
In fact, in general, investors in Dividend Aristocrats trade growth of company for growth of yield. The limited need for capital to fund growth is one of the primary reasons Dividend Aristocrats can fund steadily increasing dividends. In general. There are lots of exceptions. On average, using a wide variety of factors (including revenue, gross profit, operating profit, free cash flow, book value per share, earnings per share), Dividend Aristocrats grow at about 8% a year, about the same as the overall market.
Back to the main point of this article: Even among the exceptional Dividend Aristocrats, some companies are more exceptional than others. And some riskier than others.
The Good (Best Of An Overall Exceptional Group)
Based detailed financial statement trend analysis, the three most exceptional Aristocrats (best to worst, or in this case best to slightly less exceptional): T Rowe Price Group (NASDAQ:TROW), Roper Technologies (NYSE:ROP), and Lowe's Companies (NYSE:LOW). Not surprisingly, the three, on average, yield 1.3% versus 2.3%, on average, for all Aristocrats.
The Good To Avoid
The three weakest of the Aristocrats yield 3.5%. Those companies are, weakest first: Consolidated Edison (NYSE:ED), Chevron (NYSE:CVX), and Coca-Cola (NYSE:KO). Next are several companies that, while of lower quality than the rest of the Aristocrats, are best described as mediocre rather than weak. They include Cardinal Health (NYSE:CAH), Federal Realty Investment Trust (NYSE:FRT), Cincinnati Financial (NASDAQ:CINF), Proctor & Gamble (NYSE:PG), Exxon Mobil (NYSE:XOM) and AT&T (NYSE:T).
Graphs
Part of my business consists of preparing independent risk assessments for portfolio managers and family offices. When I started out, I'd go to meetings armed with reams of numbers documenting changes in margins, debt levels, return on assets, etc. Clients eyes would glaze over. In response, I created a series of graphs so that clients could instantly grasp what I was saying. Here are some of the graphs on which the conclusions above are based. They are presented in order of one good and good to avoid, to provide contrast.
T Rowe Price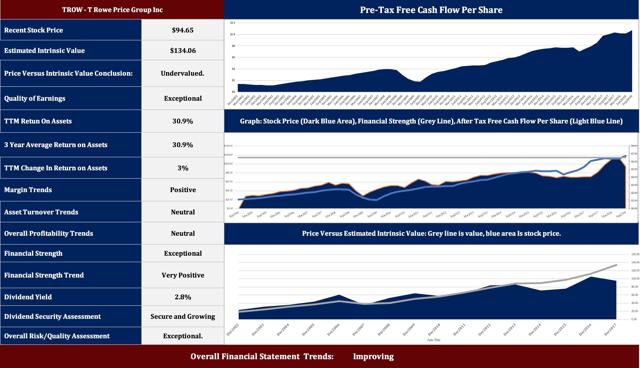 Comment:
Top graph shows the performance of one of the top five long term compounders among all public companies. Our definition of compounder: the top one half of one percent of consistent, drama-free creators of owner value.
The horizontal grey line on the middle graph is characteristic of companies with no debt and exceptional return on assets.
Lower graph indicates that the company is rarely undervalued, but is now.
Compare that with Consolidated Edison, the weakest of the Dividend Aristocrats: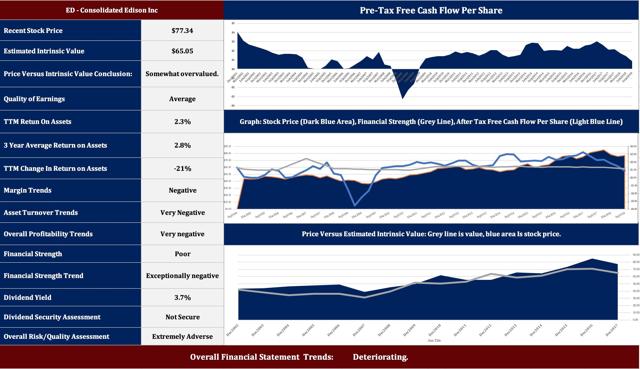 Comment:
Free cash flow, or owner earnings, are indicative of an erratic, mediocre company.
Financial strength trend flat at a weak level.
A little overvalued according to this analysis.
The company is protected from failure by its regulatory position, but not from mediocrity.
Roper Technologies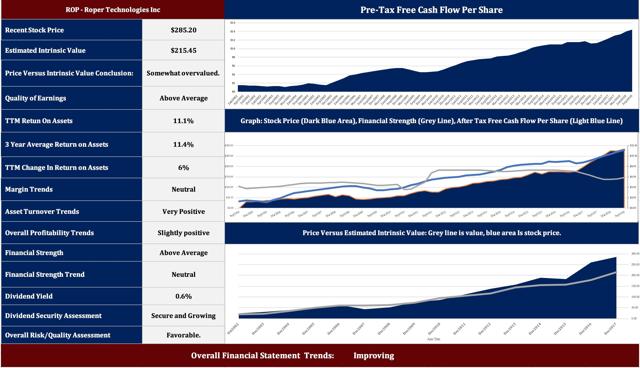 Comment:
As Roper has displayed the ability to compound earnings, its stock has increasingly traded at a premium. The question this presents for long term investors in quality, how much of a premium is justified? Exceptional quality, exceptional ability to compound, increases long term returns, increased premium reduces returns and increases risk.
My conclusion on this exceptional company – watch and wait. However, it is a close decision, and one perhaps influenced by recent market behavior (a dubious observation) and Nvidia's recent performance (an exceptional compounder though not Dividend Aristocrat).
Compare Roper's graphs with those of Chevron, a weak Dividend Aristocrat: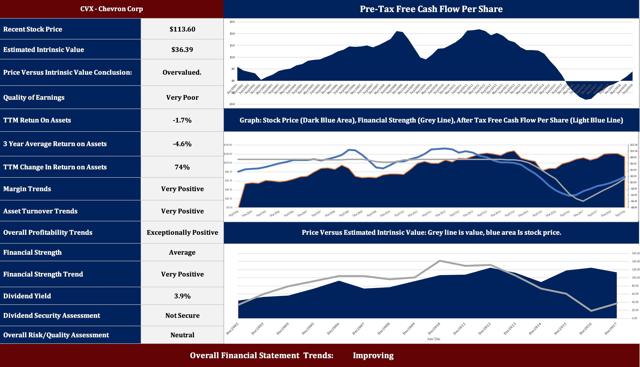 Comment:
Chevron creates little or no value for its owners, over the long term.
Lowe's Companies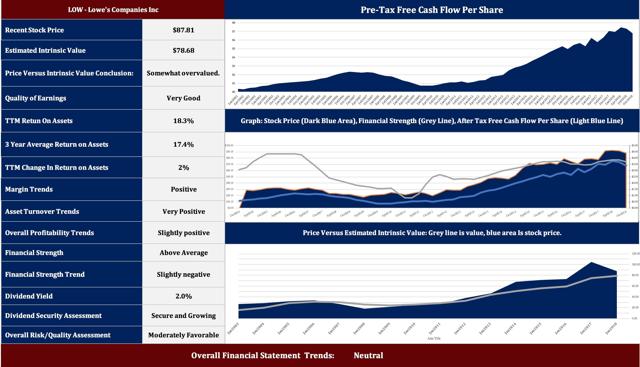 Comment:
Still slightly overvalued despite a 25% drop over the last three weeks. Watch and wait.
I've had better personal shopping experience in Home Depot than in Lowe's, so have that bias. Home Depot isn't a Dividend Aristocrat so doesn't qualify for this report. However, it is an exceptional compounder (actually a slightly better compounder than Lowe's), so here's the graph set regardless. Home Depot is down a little more than 10% in the last three weeks.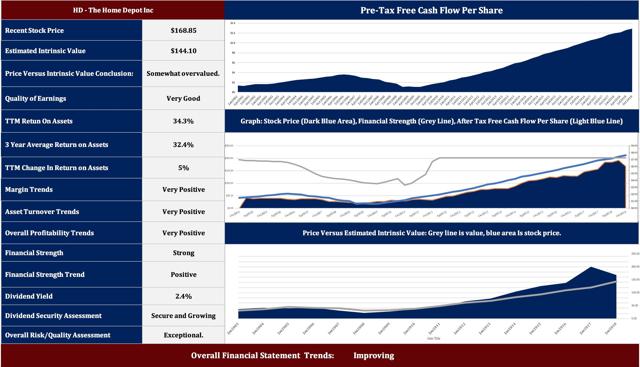 Compare those graphs with those of Coca-Cola, the final weak company in this report.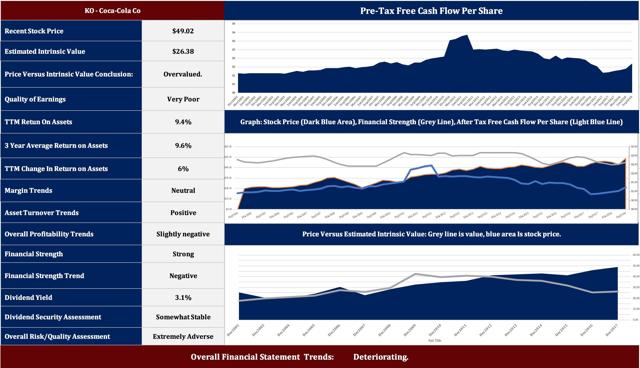 Comment:
The company did fine up until 2011. Since then it's been in gradual decline although the stock's up a little, on, at least in part, Buffett's praise.
Yes, I'm aware that my observations concerning KO are sacrilegious to Buffett followers, but facts are facts.
Methodology
For readers familiar with Michael Lewis's book Moneyball (and movie by the same name), we take a "moneyball" approach to investing. We follow companies with an inordinate ability to create owner value, or compounders (the top one half of one percent of consistent, drama-free, creators of owner value).
The underlying principle: companies with declining debt/equity ratios (or no debt at all), with improving margins and growing sales outperform, over time, those with the opposite characteristics. We follow changes in the financial statement trends that ultimately determine return on capital, leverage and liquidity. At the center of our process is an emphasis on cash (rather than GAAP) earnings. Our approach assesses a premium to companies that can grow with disproportionately small capital expenditures. Free cash flow is defined as net income (after deduction of one-time tax credits related to recent tax cuts) plus depreciation minus five-year average capital expenditures. No adjustment is made for fluctuations in inventory or receivables, although those are the primary considerations in our quality of earnings assessment.
Summarized, our risk/quality weighting:
(1) RISK
Stability: Free Cash Flow and Stock Price
Balance Sheet Strength
Balance Sheet Trend
Overvalued/undervalued (overvalued increases risk, particularly in the 1-2 year term)
Quality of Earnings (growth in free cash flow versus growth in capital expenditures, debt, inventory, receivables, SG&A, dividends, cash liquidity)
Ability to compound owner or cash earnings (see below)
(2) REWARD/UPSIDE POTENTIAL
Ability to consistently, year in, year out, increase free cash flow per share. No company is perfect at this, but some are better than others. We focus on the top half of one percent.
Free Cash Flow Return on Capital
Free Cash Flow Return on Capital Improvement
Financial Statement Trends (Margins, Capital Turnover, Leverage, Liquidity)
Quality of Earnings (see above)
Return on Capital (Equity for Financial Companies) Improvement
Growth (Revenues, gross profit, operating profit, net income, net income per share, book value per share, dividends and ESPECIALLY FREE CASH FLOW)
We reach an estimate of intrinsic using these criteria:
Based on average fifteen-year (if available, shorter period if not) price-to-free cash flow ratio. So, if a company had an average price to free cash flow of 30, and earned $1 over the last twelve months, the value indicated by this measure would be $30.
Free cash flow discounted at 6.67% (P/FCF ratio of 15), the value indicated by no growth companies in the current low interest rate environment. We include this conservative measure to reflect the possibility, even if small, that the subject company will experience no growth over the next twelve months. A company earning $1 per share would, by this measure, be worth $15 per share.
PEG ratio applied to free cash flow. If a company is growing at 20% a year and earned $1 in free cash flow over the last twelve months, we would estimate value at $20 by this measure.
Dividend value as indicated by current dividend yield divided by average dividend yield over the last fifteen years. If a company on average yielded 2% over the last fifteen years, and now pays an annual dividend of $0.50, we would estimate value at $25 by this measure.
Value based on fifteen-year average price to book times current book value. If a company is not currently earning money, we base value on the minimum price to book over the last fifteen years, and then deduct from that one year of cash losses, if any. For example, company that lost $1, and had a minimum price to book of 1.7, and a book value of $15, would have an estimated value by this measure of $24.50.
Disclosure: I/we have no positions in any stocks mentioned, and no plans to initiate any positions within the next 72 hours. I wrote this article myself, and it expresses my own opinions. I am not receiving compensation for it (other than from Seeking Alpha). I have no business relationship with any company whose stock is mentioned in this article.
Additional disclosure: This article assesses the financial statement trends, financial strength and dividend stability of publicly-traded companies. It is designed to complement research and analysis rather than be a sole source. You should do your own due diligence, and consult your financial advisor, who is (or should be) familiar with your own individual objectives and risk-tolerance.

As far as positions, we are primarily writers of options and so write calls and puts, often a little hedged, as opportunity presents itself. Which it often does.