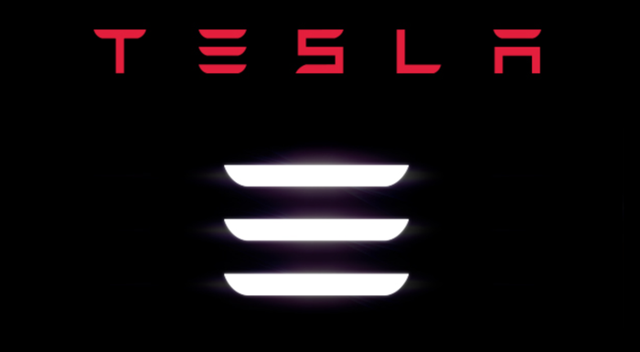 In an interview with The New York Times, Tesla's (NASDAQ: TSLA) CEO Elon Musk said, "This past year has been the most difficult and painful year of my career. It was excruciating." On the other hand, if you look at Tesla's Q3 earnings report, analysts' forward financials, and near all-time high stock price, you may reach a different conclusion.
Recent Financials
Q3 2018 may well be the turning point that Tesla has been looking for. For the first time, the company has produced and delivered more than 80,000 vehicles which finally met the long-anticipated promise of 5000 weekly production goal (Figure 1). Also for the first time, the company has kept the second promise of delivering a meaningful profit. Q3's $254 million profit represents a true and significantly profitable quarter yet, as it relies only $52 million credit sales but mainly from 70,000 real car delivery (Figure 3). The Q3 earnings also reflect a much larger auto operation, with deliveries and production each rising 200% year over year with revenue exceeding $6.8 billion (Figure 2), though, the added logistics and financing concerns didn't seem to sway the zero-emission car maker. The heavily watched cash burn, measured by cash balance, change in cash and free cash flow all made a surprising uptick with cash balance sitting comfortably close to $3 billion (Figure 4). This may be the reason why Tesla does not seem to worry about the forthcoming convertible bond refinancing.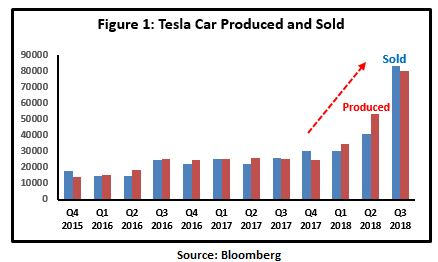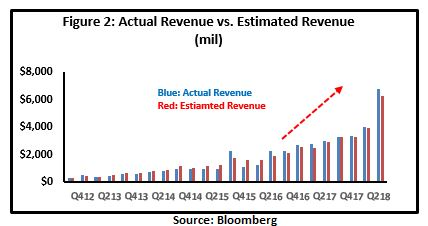 Looking at Figure 1 through Figure 4, Q3's financials may exhibit some sign of a turnaround for the badly criticized zero-emission car maker. Tesla, on the other hand, should not have the illusion that it has turned the corner or come out of the woods already. For one, it desperately needs a repeat in (Q3) performance in all aspects. Furthermore, Tesla cannot play with delaying supplier payments, putting off capex or storing up ZEV credits anymore.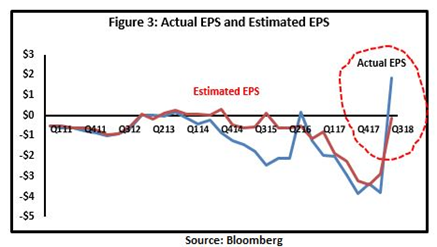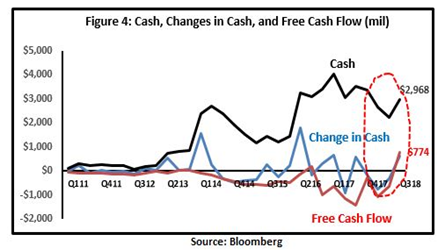 Forward Financials
After the impressive performance from Figure 1 to Figure 4, Street analysts quickly revised their forward financial estimates for the remainder of the year. The recent batch of Model 3 VIN filings bodes well for Tesla's continued push for the electric car this Q4. Tesla's chances this fourth quarter have gained the Street's confidence that as Tesla closes in on production and delivery numbers of 100,000 vehicles per quarter, the company could finally reach a point where it could be "sustainably" profitable. Accordingly, the revenue is raised to $7.066 billion (Figure 1A). The all critical adjusted EPS is revised to $2.04 (Figure 1B). The gross margin is estimated to be around 22% (Figure 1C). The Q4 free cash flow is estimated to be $360 million (Figure 1D).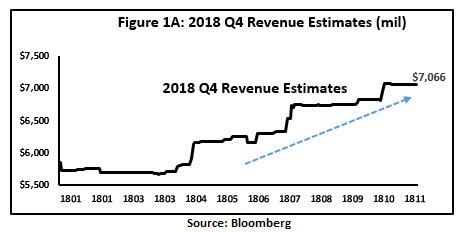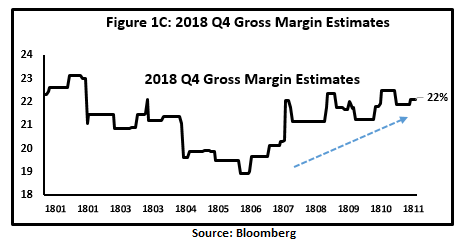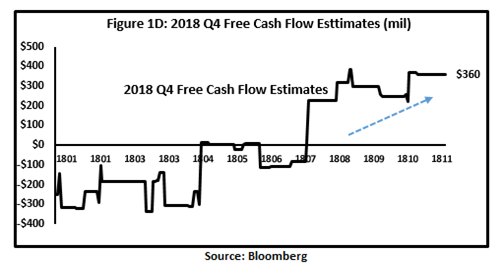 Finally, if we sit back a moment from the theoretic, i.e., going private and SEC lawsuit, it is easy to find the trace of Tesla's financial improvement through 2018. The market consensus, in terms of forward revenue, EPS, gross margin and cash flow, has been consistently favorably upgraded over the last 10 months (Figure 5). With the exception of 1Q 2020, the forward revenue estimates have been increasing into the future. This may be a result of Model 3 production schedule fully on line. More importantly, the increase has been consistently upward revised since March of 2018.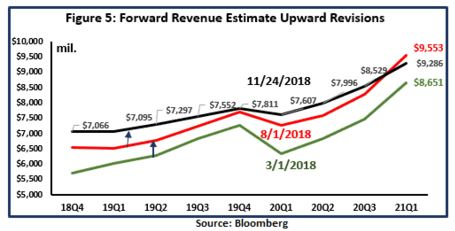 Tesla's Short-Term Valuation
Given the significant changes in Tesla Q3 financials and forward financials, an obvious question is whether Tesla's stock prices have reflected these changes. Since Tesla's actual stock price can deviate from what the traditional valuation method, i.e., DCF method, would have predicted, I elected to use a practical approach to price Tesla's stock price movement at least for the short turn. In other words, I was looking for factors which correlated with the actual stock price changes. To this end, since stock prices are forward-looking, I started with identifying several forward financial metrics which have been shown relevant in pricing Tesla's shares. These metrics include Street consensus estimates for the number of car delivery, quarterly revenue, earnings per share, free cash flow, and gross margin. More importantly, since rising interest rates are a competing argument to explain stock prices, the 10-year Treasury rate was also included as one of the metrics used to estimate stock price movement. Then, for Tesla, I developed a market pricing structure by correlating stock prices with its corresponding forward financials for the period between 2014 and 2018. A significant correlation would imply the process of how the market has priced this firm's fundamentals.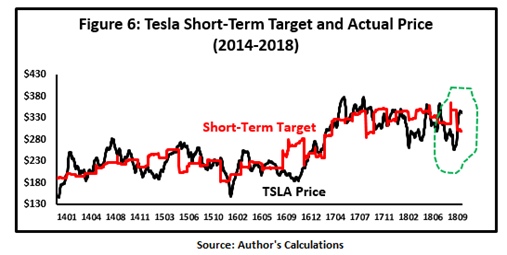 In Figure 6, I first showed the "theoretical" short-term target prices (in red) which correspond to the forward financials and the actual stock prices (in black) for the 2014-2018 period. The relevance of this model is largely validated since the actual stock prices have been closely correlated with the model prices. As a result, I used the same model to price Tesla with the recently raised favorable forward financials in the most recent period since May 2018. In Figure 7, the evidence suggests that Tesla's stock prices dropped significantly below the fundamental target prices. As of the time of this post, Tesla's stock traded around $343, which is significantly higher than the target price at $300.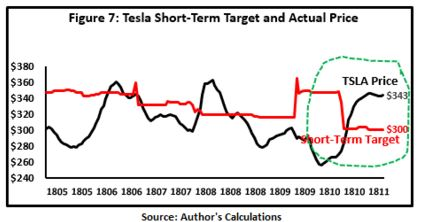 Stock Price versus Bond Price
A peripheral way to assess the proper valuation of Tesla's stock is to compare it to Tesla bond. As Tesla bond is a Baa-rated junk issue, it practically trades like a stock. There has been a close correlation between the stock and bond prices. Although this may not be the most consistent of relationship, the price of Tesla's "5.8 2019/07/09" issue has been closely related to the stock prices (Figure 8). Based on this relationship, Tesla's stock prices have traded away (higher) from the typical path of the Tesla bond price. Granted this observation may not be the typical way to assess relative valuation, Tesla's stock price may appear to trade higher than it should have been in the regular situation.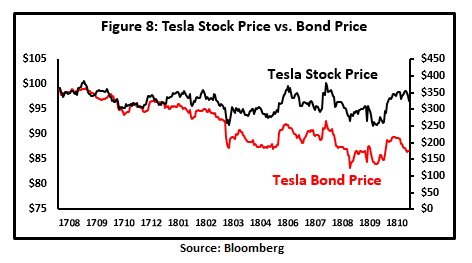 Takeaways
Believe me, it is not a regular occurrence to complement Tesla on its current financials or future outlook. However, Tesla did deliver an exemplifying Q3 performance by most reasonable standards. Street wisdom also recognized the improvement and revised forward financials upward. As usual, the market went overboard to surprises and Tesla's shares have advanced more than 25% since the Q3 earnings announcement. By my estimates, at least 13% of the 25% is deemed excessive. (At the time of this post, Tesla is trading at $325, so only the stock is 8% overvalued.)
That being said, we do need to acknowledge the fact that we are talking about Tesla. This is a stock that routinely trades at 30% to 50% higher than its intrinsic value. This is a stock that routinely fluctuates 5% to 10% a day. So, for all practical purposes, Tesla's investors should be happy that Tesla's stock, finally with a good fundamental, is fairly valued at this point.
Disclosure: I/we have no positions in any stocks mentioned, and no plans to initiate any positions within the next 72 hours. I wrote this article myself, and it expresses my own opinions. I am not receiving compensation for it (other than from Seeking Alpha). I have no business relationship with any company whose stock is mentioned in this article.