By Gary Alexander
It was another week to forget, but "Black Friday' offered some hope. Even though the S&P was down 0.7% on Friday, reaching a new 7-month low, the SPDR S&P Retail ETF closed up 0.3%. Let's thank the all-powerful U.S. shopper for these small favors, but that low-volume half-day on Wall Street took the S&P down by a cumulative -10.17% from its September 20 high, reaching official "correction" territory.
Black Friday's sales reached $6.2 billion, up 23.6% from last year, while Adobe Analytics reported that on Thanksgiving Day America's diners took time away from their turkey and TV football to place online sales totaling $3.7 billion, up 28% vs. last year; so it looks like the 2018 holiday shopping season is off to a strong start, giving us hope that the last few "red" weeks can be erased by some Christmas "green."
Even though this time of year is seasonally strong, we have noticed that traders look nervous as several sharp swords of Damocles hang over this market - most notably tariffs with China, rising deficits, the changing dynamics of the House (along with threats of impeachment), Fed rate increases, and Italian bank debt. There's always something to worry about, but if two or more of these worries begin to be solved, there's also the chance of a quick market rally, adding a little joy juice to Wall Street's punch bowl.
Veteran market observer Sam Stovall reminds us of an old Wall Street adage that says, "The bears have Thanksgiving, while the bulls have Christmas." We've been spoiled by some recently-strong pre-Thanksgiving rallies - so much so that we expected some kind of seasonal guarantee going into Turkey Day, but it didn't work out this year. Still, Stovall reminds us that 2018 has become a huge historical outlier, writing that "the S&P 500's quarter-to-date return through November 20 (down 9.3%) was the third worst since 1946, behind 2008 and 1987. However, these slumps typically led to end-of-year rallies." After the five worst declines (2018 would be third-worst), the average year-end rally was +6.7%!
Thank you, shoppers, for your kick-start to the holiday season. Now it's your turn, investors.
"Peak Earnings Season" - Part IV - Soon to Debut on Screens Near You
Writing last Monday (November 19), economist Ed Yardeni called the recent earnings reporting season - the third quarter of 2018 - "The Last Great Earnings Season." Where have I heard that before? We have heard about "Peak earnings season" ever since last April for the first-quarter reporting season, so this would be "Peak Earnings Season, Part III." But don't be too surprised if there is a Part IV coming.
In the third quarter, S&P 500 revenues per share jumped 8.5% year-over-year. This is very rare this late in an economic expansion, when sales growth tends to slow down to the 5% range. Earnings were up a phenomenal 27.5% y/y, the strongest single quarter since 2010 and up from 25.8% the previous quarter.
Profit margins last quarter also rose to a record high of 11.4%, up from a then-record 10.1% in the last quarter of 2017, right before the 2018 tax cut. (Lower taxes contribute directly to higher profit margins.)
Using I/B/E/S earnings data, the S&P profit margin rose to 12.8% during the third quarter. Using S&P earnings data, I/B/E/S calculated Q3 operating profit margins at 12.4%. Both are at record highs.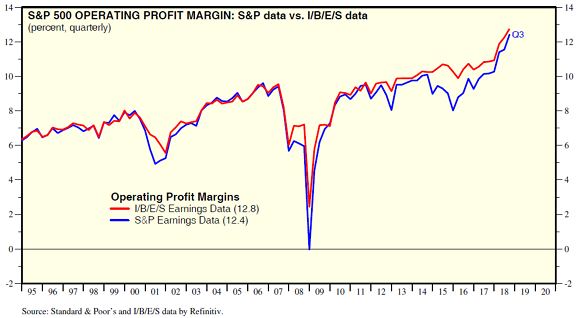 Graphs are for illustrative and discussion purposes only. Please read important disclosures at the end of this commentary.
The fourth quarter of 2018 will be the final quarter in which we will see these favorable year-over-year comparisons, so I expect to see more double-digit corporate earnings gains reported from mid-January through the end of February, sending the market up again in early 2019. After that, assuming we can stay out of a recession engendered by persistent tariffs or a bickering Congress, we may have to settle for single-digit earnings growth in 2019, but let us give Thanksgiving for a year of 23% earnings growth.
We must not forget that America faced a huge and powerful series of natural disasters this year, which have lasted to this day. This was California's worst wildfire season ever, starting in the summer months, with November fires adding to the total. Then Hurricane Florence was a powerful and long-lived hurricane hitting some towns with over 35 inches of rain - the wettest tropical cyclone ever recorded in the Carolinas. In October, Hurricane Michael was the third most intense Atlantic hurricane to make landfall in the contiguous United States in terms of low pressure, and the strongest in terms of maximum sustained wind speed since Andrew in 1992. It was the strongest storm ever to hit the Florida Panhandle.
As a result, industrial production was hurt in both September and October by these hurricanes. Many auto factories are located in the Southeast U.S. In October, motor vehicle production fell 2.8%. However, neither these hurricanes nor a slump in motor vehicle production stopped the U.S. economy from showing solid manufacturing production growth in October, as manufacturing output increased for a fifth straight month in October. The gain in October was +0.3% and September data were revised upward to +0.3%.
We also endured a fractious election, so as 2018 draws to a close we can at least be thankful that we "survived" a year of two major hurricanes, two major fire seasons, two embattled political parties, two major market downdrafts (January-February and October-November), and two major superpowers (China and Russia) allegedly trying to meddle in our elections and our economic prosperity and property rights.
May Christmas and the New Year bring us something a bit more obvious to celebrate in 2019!
Disclosure: *Navellier may hold securities in one or more investment strategies offered to its clients.
Disclaimer: Please click here for important disclosures located in the "About" section of the Navellier & Associates profile that accompany this article.