Investment thesis & catalysts
Marinus Pharmaceuticals (MRNS) advances a molecule that is highly similar to the lead molecules of Sage Therapeutics (SAGE), all of which are so-called 'neurosteroids'. Both SAGE and MRNS are pursuing a 'greenfield' opportunity in CNS / psychiatry known as 'post-partum depression', which is hypothesized to be caused by hormonal imbalances following childbirth. Beyond PPD, SAGE is pushing ahead in additional mood disorders, whereas MRNS is pursuing orphan epilepsy indications.
SAGE trades at a 30x multiple over MRNS, which despite SAGE's head start in PPD, appears excessive. My updated rNPV calculations for MRNS show intrinsic value around $1.1bn, implying 525% upside over current levels.
Major near-term catalysts for MRNS in Q4 are:
the top-line readout from the company's 60-patient PhII trial in women with severe PPD, known as the 'Magnolia' trial. It was been noted that dedicated website of this clinical trial went offline as of this week, suggesting an imminent readout.
a preliminary readout from the company's 250-patient PhII trial in refractory status epilepticus ('RSE'), for which ganaxolone has obtained orphan drug designation.
I expect that the Magnolia readout will confirm ganaxolone's equivalence or superiority over Sage's Zulresso. I also believe that IV ganaxolone will show a synergistic effect with IV benzodiazepines in the RSE trial and depending on the interim cut-off, I expect IV ganaxolone to show a numerical or a statistically significant advantage over IV benzodiazepines alone. Both of these catalysts have to potential to lead to dramatically higher valuation for MRNS.
Allosteric modulation of the GABAergic system via neurosteroids and the allopregnanolone-deficiency hypothesis in PPD
Summary:
A previous call to take advantage of MRNS share price weakness paid off handsomely
The company has initiated 3 trials over the course of the past 12 months and 2 important readouts are due this quarter
Safety, transition-of-care and a focus on orphan epilepsy differentiate ganaxolone and MRNS from SAGE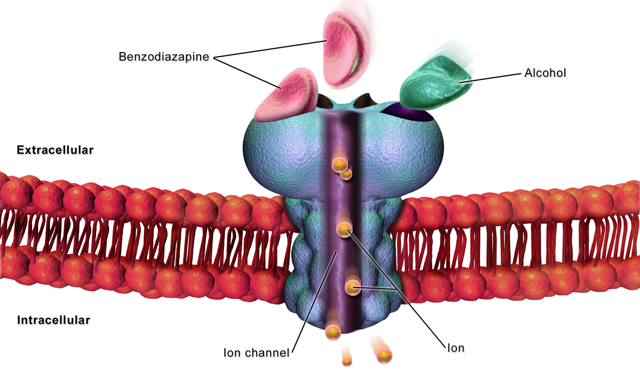 Artist's impression of a GABAergic ion channel. Source
The development of small molecule drugs that modulate the GABAergic system in the brain has a long history, with benzodiazepines in widespread use since the 1960s. Subsequently, the therapeutic potential of neurosteroids has been, and continues to be, investigated due to their differentiated, allosteric modulation of GABA and NMDA receptors. Discovery of progesterone's depressant effect on the CNS dates back as far as 1941, and both endogenous neurosteroids such as progesterone & allopregnanolone, as well as synthetic compounds have been explored for their anaesthetic, sedative, anxyolitic and most recently, potentially anti-epileptic and anti-depressant properties.
Today, two companies - Sage Therapeutics & Marinus Pharmaceuticals - are spearheading this push for 'next generation' CNS therapies based on neurosteroids. My particular interest lies with MRNS, based on the conviction that the company is severely undervalued both intrinsically and by way of comparison to SAGE.
In my most recent update on Marinus, I urged investors to take advantage of weakness in the company's share price triggered by an expansion & delay of the company's PhII 'Magnolia' trial of IV ganaxolone in women with severe post-partum depression ('PPD'). That call paid off handsomely as the stock essentially doubled since my recommendation: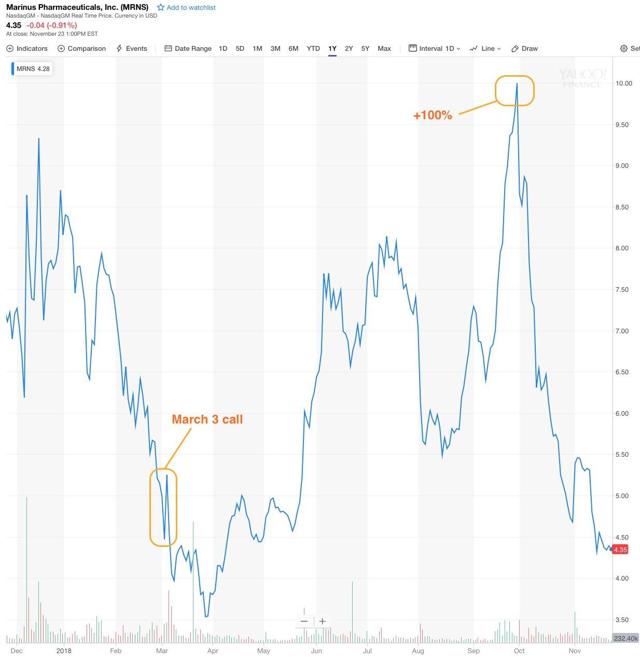 Since my last call, the company has notably:
Initiated its PhII trial of IV ganaxolone in refractory status epilepticus
Initiated the PhIII trial of oral ganaxolone in an ultra-orphan condition known as 'CDKL5 deficiency syndrome' and
Completed enrollment in the Magnolia trial.
I've highlighted these milestones in the chart below: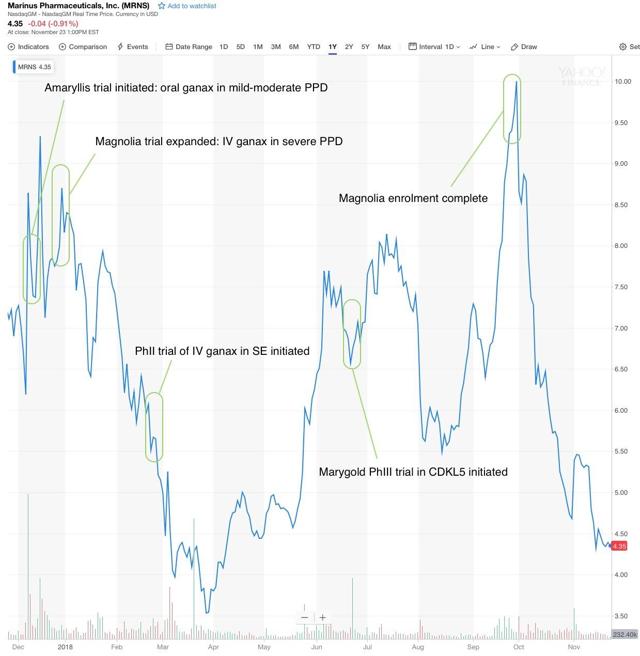 Some, but not all of these milestones were broadcast via PR and I retrieved data from clinicaltrials.gov to determine actual study commencement for the Amaryllis trial in mild/moderate PPD & the PhII trial of IV ganaxolone in SE.
The correction from $10 to current levels appears to be due to a confluence between the most pronounced biotech selloff since 2015/2016, and disappointment mostly by retail investors who may have expected the Magnolia readout to occur slightly earlier.
With enrolment of the Magnolia trial completed at the end of September, the company is poised to release top-line results from this crucial study in women suffering from the most severe form of PPD before the end of the year, and the recent correction provides yet another opportunity to enter or accumulate MRNS shares.
Let's recall: PPD is a form of depression thought to be caused by hormonal imbalances following childbirth. The prevalence of PPD in the U.S. is estimated around 400k cases / year. SAGE have thoroughly validated the 'allopregnanolone hypothesis' by virtue of the meaningful treatment effect observed with its lead product 'Zulresso', previously known as 'brexanolone'; an injectable formulation of allopregnanolone (henceforth: 'allo') which is poised to become the first approved treatment for PPD.
Sage's use of proprietary termimonology to describe this injectable formulation of endogenous allo even had the FDA confused, as this AdCom meeting document erratum shows:

While Zulresso, and thus SAGE, benefit from the first-mover advantage in this indication, the drug has its set of caveats as we will see further down.
Given the extreme similarity between ganaxolone and allopregnanolone on the molecular level, there is ample reason to believe that ganaxolone will provide similar relief to women suffering from PPD as straight-up injectable allopregnanolone. From a strategic point of view, the question is rather to which extent Marinus can differentiate ganaxolone from Zulresso.
In a nutshell, and as I have previously discussed, ganaxolone's main advantage over Zulresso might very well be its remarkably clean safety profile as well as transition of care from the inpatient to the outpatient setting. Ganaxolone has shown outstanding tolerability across adult and pediatric populations up to very high doses. This is partially explained by the fact that ganaxolone was specifically engineered to prevent back-conversion into active metabolites, which is a major limiting factor to using an allopregnanolone-based therapy like Zulresso in the long run. Ganaxolone can be dosed both orally and IV, whereas endogenous allopregnanolone can only be administered via IV. Interesting tidbit: both IV ganaxolone and Zulresso are powered by the same underlying IV technology called 'captisol', by courtesy of Ligand (LGND).
Due to the fact that Marinus and Sage are the only two viable players in the 'greenfield' PPD indication – which is an exceedingly rare constellation in this business - SAGE remains the main source of comparative valuation for Marinus, even though, as I will discuss further down, the two companies are taking divergent paths in their development strategy beyond PPD.
Let us begin with a discussion of the state of Zulresso in the light of recent regulatory action.
Sage's self-inflicted wound
Summary:
Loss of consciousness events associated with SAGE's Zulresso pose a 'serious risk' according to FDA reviewers but were not previously disclosed to investors
The FDA has requested a REMS and extended the review deadline for Zulresso to March 2019
Zulresso's likely confinement to the inpatient setting creates opportunity for ganaxolone
When SAGE reported positive data from their two PhIII trials in moderate and severe PPD in late 2017, the company appeared to suggest that brexanolone had a safety profile that is practically indistinguishable from placebo:

I have highlighted 'dizziness and somnolence' in red as we now know that these benign-sounding descriptions concealed a more worrying reality which will have a meaningful impact on the drug's commercial prospects.
Investors had to wait until Zulresso's Advisory Committee ('AdCom') earlier this month to learn there were events of sudden loss of consciousness ('LoC') in some patients treated with Zulresso. FDA reviewers deem episodes of LoC a 'serious risk' due to their impact on the mothers receiving the drug and the associated risk to the newborn child: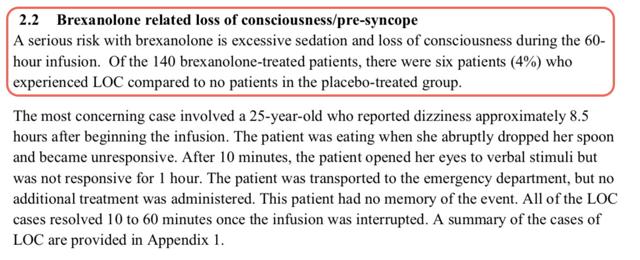 The agency's meeting document provides additional color around Zulresso's safety profile: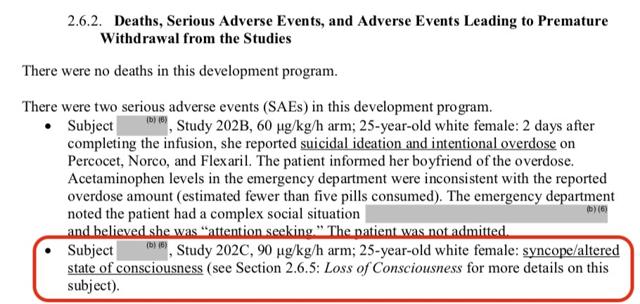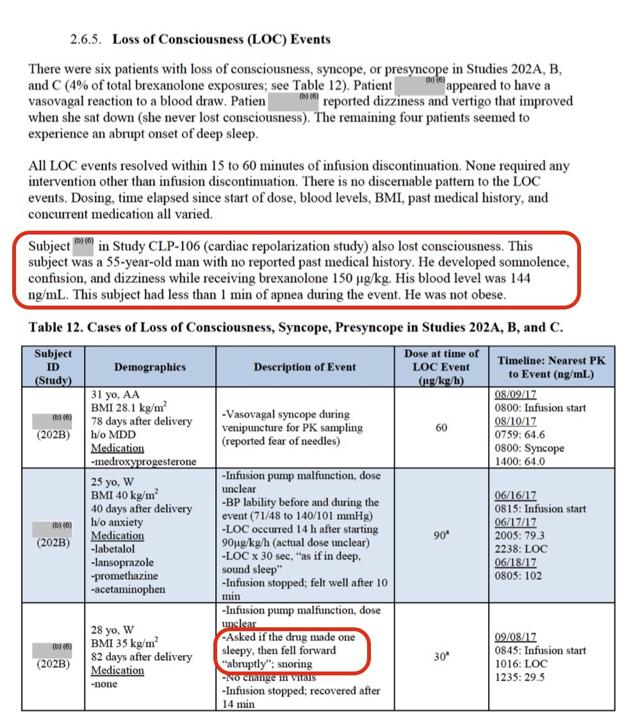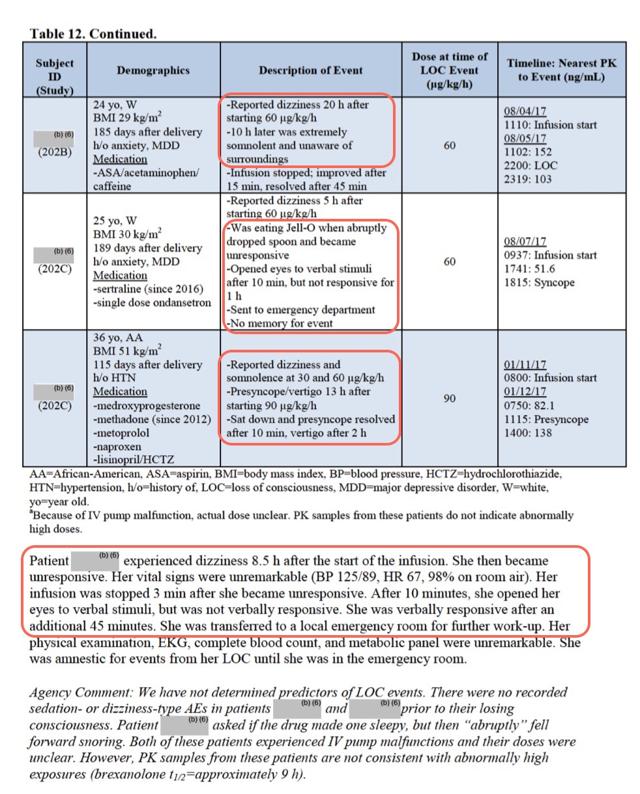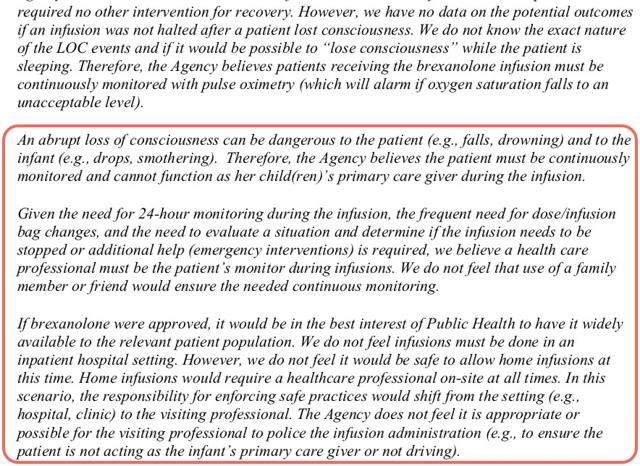 Source for all above images
What is particularly worrisome to the FDA is the fact that these LoC events are not associated with any reliable predictors. Agency reviewers note that certain patients lost consciousness without 'prior warning' in the form of reported dizziness or somnolence. LoC events were not associated with any comorbities, either.
As a result, FDA insist that mothers on Zulresso must be "continually monitored and cannot function as [their] children's primary care giver during the infusion" – which lasts 60 hours.
I have emphasized the economic incentives for outpatient treatment in my most recent in-depth discussion of Achaogen (AKAO). Even though PPD and cUTI are very different indications, the underlying value proposition / pharmacoeconomics for outpatient therapy is identical: the less time patients spend in the hospital, the smaller their healthcare bill, the more time they are free to spend with their loved ones or pursue some productive activity.
In other words – while Zulresso should see rapid adoption due its first-mover advantage, its peak sales will be limited by the fact that it will be limited to inpatient therapy.
While less meaningful to the drug's commercial trajectory, it should also be noted that Zulresso has abuse potential as noted by FDA in the same AdCom meeting document as cited above:
"In a drug-discrimination study in rats, brexanolone produces full generalization to the benzodiazepine, midazolam (>99%). This suggests that brexanolone produces effects that are similar to a sedative with known abuse potential."
Sage's fast-and-loose tactics with Zulresso's safety data are further reflected in the fact that the company did not include a so-called Risk Evaluation and Mitigation Strategies ('REMS') program with its Zulresso NDA. FDA, however, requested as much in its AdCom briefing document and made the explicit recommendation that the use of brexanolone be limited to a healthcare setting (= no home infusion) and that patients be enrolled in a registry for monitoring purposes: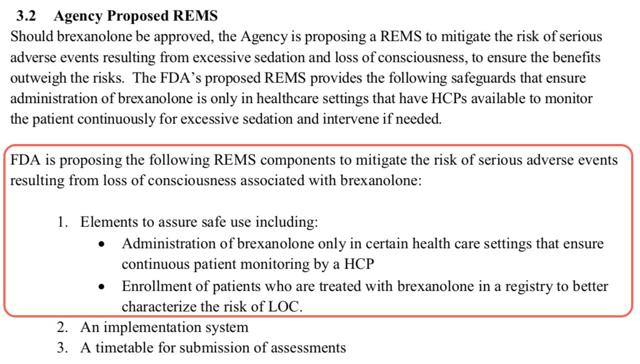 SAGE investors were in for an additional surprise when the company announced that FDA had pushed back Zulresso's PDUFA to March 19 in order to assess the REMS submitted by SAGE:
"After the recent positive FDA Advisory Committee meeting, Sage submitted a proposed Risk Evaluation and Mitigation Strategies (REMS) program with Elements to Ensure Safe Use (ETASU) in response to the FDA's request. Under PDUFA VI, FDA can elect to extend the PDUFA goal date by three months for submission of a REMS with ETASU not submitted in the original NDA, and FDA has elected to do so."
While I still expect Zulresso to be approved – unless Sage have somehow botched their REMS – this delay and the doubts raised by FDA around the drug's safety profile introduce unnecessary & avoidable uncertainty.
SAGE-217 to the rescue?
Summary:
SAGE are touting their 'next generation' neurosteroid SAGE-217 as a therapeutic breakthrough with the "potential to offer the first truly new mechanism of action in the pharmacologic treatment of depression in more than 20 years"
However, we have reasons to believe that SAGE-217 is first and foremost a sedative with a safety profile that needs to be further explored.
SAGE bulls are justified – to some degree - in relativizing the concerns around Zulresso by pointing to Sage's "next generation" neurosteroid, SAGE-217 (henceforth '217'). 217 looks a lot like ganaxolone with an added modification to improve the drug's bioavailability:

Structural differences between allo, ganax and SAGE-217 highlighted in yellow. Image generated by the author.
As Altum Research adroitly pointed out, all of Sage's patented 'next-generation' neurosteroids share a modification similar to ganaxolone's added methyl group over allo (small yellow circles in the above chart). Altum linked this modification to a possible improvement in ganaxolone's binding properties in addition to its known impact on the drug's PK/PD. In that sense, ganaxolone was a 'next generation' molecule long before Sage began thinking about neurosteroids.
Sage is pushing ahead full speed with SAGE-217, which it has partnered with Shionogi (OTCPK:OTCPK:SGIOF) in Japan and a few other Asian countries. Top-line results from the drug's PhIII trial in PPD are expected in January 2019 and the company is also initiating "multiple Phase 3 trials of SAGE-217 in MDD, including the placebo-controlled efficacy MDD study, a placebo-controlled polysomnography trial in MDD patients with co-morbid insomnia, and a Phase 3 long-term open-label retreatment trial in MDD." They have "also recently initiated dosing of patients in an open-label Phase 2 clinical trial, evaluating SAGE-217 treatment in up to 30 patients with bipolar depression with top line data expected in the first half of next year."
Source: SAGE Q3 transcript
This 'scattershot' approach is not uncommon in neuro/psych clinical development, but it is also somewhat of a relic from a bygone era. Wherever feasible, I much prefer targeted strategies grounded in thorough genetic pre-validation and biomarker-driven development - Denali Therapeutics (DNLI), which I covered here, being a prime example in the CNS space. As I will discuss further down, tiny MRNS are at present displaying a more discriminating approach to clinical development than SAGE.
Before we get to a discussion of MRNS & ganaxolone, let's discuss the PhII trial design and the resulting topline data of 217 in MDD. 217 showed strong differentiation from placebo in improving depression symptoms "following the first dose through Week 4", after which the drug's effect appeared to dissipate (not surprisingly). A striking feature of this PhII design is that 217 was invariably "administered at night with food", on a daily basis for 14 days. Why is this relevant? As the example of Zulresso highlights, and as (previously) approved neurosteroids such as Alfaxalone and Alfadolone demonstrate, one of the principal properties of many synthetic neurosteroids is that they act as general anaesthetics / sedatives.
A few months following the above-mentioned MDD data, Sage reported positive data from an insomnia trial with 217.
Could it be that 217 is primarily a sedative, helping MDD patients by virtue of improving their sleep? Should investors expect similarly bad surprises as with Zulresso with regards to loss of consciousness down the line?
I am personally all for a drug that could prove to be safer and more effective than benzodiazepines in alleviating insomnia. What I find slightly worrisome, especially in the light of the previously undisclosed LoC findings with Zulresso, is that Sage's CEO is conjuring a novel & exciting MOA instead of acknowledging 217's apparent sedative properties:
"Coupled with our recent positive Phase 3 data read-out evaluating brexanolone for the treatment of postpartum depression, the findings in this study suggest our pipeline of proprietary GABAA modulators may impact novel and fundamental brain mechanisms, offering potential development opportunities in a variety of indications."
Jonas goes even further:
"If successfully developed, SAGE-217 has the potential to offer the first truly new mechanism of action in the pharmacologic treatment of depression in more than 20 years."
Jonas must be unaware of Johnson & Johnson's (JNJ) esketamine, but that is a discussion for another day. I believe more straightforward explanations as to Zulresso's & 217's clinical results are called for:
Zulresso in PPD: this IV formulation of endogenous allo alleviates PPD symptoms by compensating for the well-documented drop of allo experienced by mothers after childbirth.
217 in MDD & insomnia: the molecule acts essentially like a sedative, in-line with other synthetic neurosteroids such as alfaxalone and alfadolone, thus improving sleep quality. Insomnia is a frequent, and highly aggravating, comorbity of depression.
A fundamental understanding of disease etiology and of the properties of each molecule is crucial for the successful development of these neurosteroids. Whereas SAGE are chasing the mass-market MDD opportunity on the basis of dubious claims regarding a novel MOA, MRNS have found that ganaxolone's well documented anti-epileptic & anxiolytic properties warrant a push into orphan epilepsies.
Marinus' forays in orphan epilepsy provide significant differentiation from Sage
Summary:
Zulresso's potential in epilepsy was laid to rest following a spectacular flop in PhIII
Meanwhile, ganaxolone is showing unprecedented, durable seizure reduction in patients with CDD and in an allopregnanolone-deficient subset of PCDH19 patients
Sage's failure in SRSE has little-to-no bearing on Marinus' ongoing trial in RSE, as the latter is pursuing the mechanistically sound goal of preventing the induction of a coma by synergistic effect with IV benzodiazepines
Sage have all but abandoned the epilepsy space following a crushing setback in super-refractory status epilepticus (SRSE) late last year. As STAT explains, Sage were attempting to show that a continuous infusion of Zulresso could 'wean' SRSE patients out of a medically induced coma without seizures returning for 24h. The result: success in 44% of Zulresso-treated patients vs 42% in placebo-treated patients, p=0.87. Both Zulresso and placebo were evaluated against a background of standard-of-care drugs. In other words, Zulresso appears to have next to no anti-epileptic properties.
The anti-epileptic properties of ganaxolone were evident in two mid-stage trials in children with intractable, genetic epilepsy conditions known as 'CDKL5 deficiency disorder' ('CDD') and 'PCDH19 related epilepsy' ('PCDH19). Additional results pertinent to both PhII trials are being presented at this week's American Epilepsy Society annual meeting:
Let's start with CDD, which MRNS have declared their lead indication. There are no approved treatments for this ultra-orphan indication which might have a prevalence of about 1000 individuals in the U.S. & Europe. Sustained seizure reduction was unheard of prior to MRNS' PhII trial, which has generated significant excitement as the company reported a median decrease in seizure frequency of 43% from baseline as well as a 78% increase in seizure-free days. While this dataset is limited, its relevance needs to be considered against the total absence of viable therapies for kids with CDD.
Impressively, this durable anti-epileptic effect is being cemented by the long-term data the company is presenting at this week's AES annual meeting:
"Four subjects were included in the OLE phase with a -54.1% (median) change in seizure frequency at the 6-month primary endpoint. To date, median seizure frequency for these subjects improved to -66.0%. One subject continued to experience a robust and durable seizure reduction (85-90%) and another subject dramatically improved from 6-months to 18-months (38% to 87% reduction). Two subjects noted mild increases in seizure frequency at 12 or 18-months relative to 6-months, yet both remain improved from baseline and demonstrate clinically meaningful seizure reductions (-37 to -45%) at or beyond 12 months."
This information is summarized in this accompanying chart: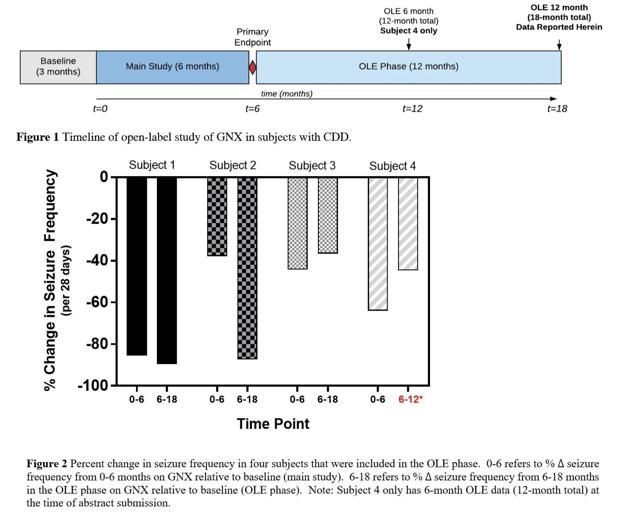 Source: AES 2018 annual meeting abstract
These 12 months + data are particularly impressive given that sustained seizure reduction in CDD patients beyond 6 months was previously unheard of. As a result, the odds are stacked in MRNS' favor with regards to the company's ongoing PhIII trial in this indication.
What about PCDH19? Like CDD, PCDH19 presents an unmet need with no specifically approved therapies. Just like CDD, PCDH19 patients tend to cycle through standard-of-care anti-epileptic therapies to no avail. PCDH19 has a much higher prevalence than CDD at 15-30k estimated cases in the U.S., making it a more attractive potential market than CDD.
Let's wind back the tape a little. A 2016 readout of MRNS' PhII trial in children with PCDH19 epilepsies yielded encouraging results which were however skewed by a few extreme outlier patients:
Were it not for patients 9, 10 and 11 whose seizure frequency increased significantly during the trial, ganaxolone would have demonstrated a highly meaningful reduction in seizure frequency and increase in seizure free days. Back in 2017, when I first covered the name, a critical commentator pointed to the above table to claim that such variability must mean that ganaxolone has no treatment effect. That seemed preposterous, due to the fact that any meaningful seizure reduction in children with PCDH19 or CDKL5 mutations points to some degree of efficacy, whereas there might be some as of yet unknown underlying variability in these patient populations. Patient 11, for instance, appeared to suffer from an underlying pathology that is quite different than the rest of the cohort.
The question for MRNS ever since these 'mixed' data in PCDH19 has been whether they could figure out what accounts for outlier patients and whether there is a reliably biomarker to be used in identifying patients most susceptible to ganaxolone therapy.
New insights being presented at the AES meeting suggest that MRNS have now cracked that nut. A 2015 paper in Human Molecular Genetics first established the link between PCDH19 and allopregnanolone deficiency, and MRNS have now established that low plasma levels of allopregnanolone sulfate ('allo-s') are predictive of seizure reduction in PCDH19 patients treated with ganaxolone: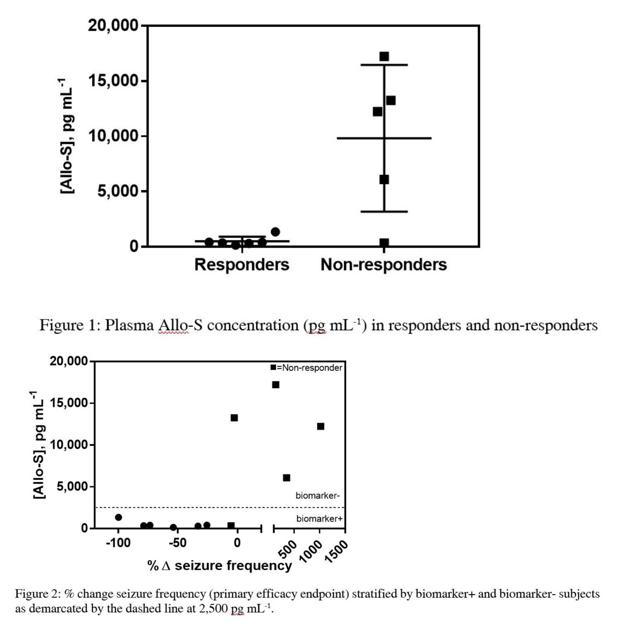 Plasma levels of allo-s are highly predictive of successful treatment with ganaxolone in PCDH19 patients. Source
This additional stratification of the PCDH19 population provides an elegant explanation for the heterogeneity observed in the PhII trial:
"The median change in 28-day seizure frequency (all seizure types) from baseline for all-comers (n=11) was a decrease of 26%. In this group, average plasma allopregnanolone-sulfate (Allo-S) concentration was 4,741 pg mL-1(median=433 pg mL-1). The responder analysis and correlation with Allo-S demonstrated two discrete populations. Responders (n=6) and non-responders (n=5) had plasma Allo-S concentrations of 501 ± 430 pg mL-1and 9,829 ± 6,638 pg mL-1, respectively (mean ± SD, p=0.05, Mann-Whitney) (Figure 1). Retrospective analysis of biomarker+ (n=7, Allo-S < 2,500 pg mL-1) versus biomarker- (n=4, Allo-S > 2,500 pg mL-1) subjects yielded median % change seizure rates of -53.9% and 247%, respectively (p=0.006, Mann-Whitney). Further, the biomarker+ group significantly improved (p=0.02, Wilcoxon) whereas the biomarker- group did not significantly deteriorate (p=0.25, Wilcoxon) when comparing seizure frequency at 6 months to baseline."
The plot thickens: with the 'allo hypothesis' meaningfully validated in PCDH19, MRNS have a clear-cut way ahead for a registrational trial in PCDH19. Inclusion criterium: patients must suffer from allopregnanolone deficiency, and all of a sudden, you have a much 'cleaner' dataset (think patients 1-7).
That dataset would then be consistent with the significant & durable reduction in seizure frequency observed in their PhII trial of ganaxolone in CDKL5 patients.
In other words: PCDH19 appears to have joined the ranks of CDKL5 as the company's second orphan pediatric indication with a high probability of success. If successful, the company stands to obtain a priority review voucher following approval in each and just as importantly, the company would be able to charge a pretty penny for a lifelong therapy.
Outside of these orphan pediatric indications, the company is also enrolling patients in its refractory status epilepticus ('RSE') trial, an adult indication in which ganaxolone also benefits from orphan drug designation.
Unlike Sage, who were trying to get SRSE patients out of a medically induced coma while keeping seizures down, Marinus' aim is to prevent the induction of a coma. High-dose ganaxolone is administered IV to patients who have failed initial therapy with IV benzodiazepines. The reasoning being that IV ganaxolone will act synergistically with the benzodiazepines still in circulation in order to sufficiently 'tone down' neuronal activity to stop patients from seizing up. RSE is a 50k-patient market in which ganaxolone would face no meaningful competition. The company is planning to present preliminary data from this 250-patient trial before the end of the year. As opposed to studies with long-term follow-up such as those in PPD and genetically caused epilepsies, investigators will be able to determine almost immediately whether adding IV ganaxolone to standard of care has a beneficial effect on RSE patients. As a result, an 'early look' at this ongoing trial could be highly informative.
Sage's work and new findings in PCDH19 position ganaxolone for success in PPD
Summary:
Zulresso's data in PPD have validated the 'allo deficiency' hypothesis
Ganaxolone's strong anti-epileptic activity in allo-deficient PCDH19 patients suggests that it acts as an allo substitute
Thus, ganaxolone is likely to succeed in PPD
Marinus can exploit the seamless IV-to-oral transition with ganaxolone for extended therapy, early discharge & home infusion and for the treatment of women diagnosed with PPD long after childbirth.
There may be a hidden takeaway from the finding that responses to ganaxolone therapy in PCDH19 patients are strongly linked to allo deficiency: from these new findings, we can deduce with some confidence that the seizure reduction observed in PCDH19 patients treated with ganaxolone is at least in part due to ganaxolone acting as an 'allo substitute'.
In PPD, Sage's work with injectable allopregnanolone ('Zulresso') has thoroughly validated the allo deficiency hypothesis, and since the PCDH19 data provide evidence of ganaxolone similarly acting as an 'allo substitute', they meaningfully increase the likelihood of ganaxolone producing positive data in PPD.
While I expect ganaxolone to succeed as a treatment for PPD, the relevant question for MRNS shareholders is to which extent ganaxolone will be differentiated from Zulresso and 217.
Establishing areas of differentiation vis-à-vis Sage's two drugs is a major objective of the soon-to-report PhII 'Magnolia' trial. This is first and foremost a dose-finding study, testing IV ganaxolone at varying doses and possibly at varying durations of treatment. In severe PPD, Marinus could set IV ganaxolone apart by providing greater efficacy over Zulresso and / or by offering a better safety profile (avoiding LoC, for instance) to enable home infusions.
In the ongoing trial of oral ganaxolone in women with moderate PPD, it is our understanding that Marinus are looking to recruit women who suffer from PPD up to a year following childbirth, per the CEO's comments at an investor conference. That would be a differentiated demographic from those who are set to benefit from IV formulations right after childbirth while still in the hospital setting.
When the company report data from the Magnolia trial, investors will inevitably try to draw preliminary conclusions in relation to Zulresso's prior performance across PhII (below: Study 202A) & PhIII (below: Study 202B & 202C).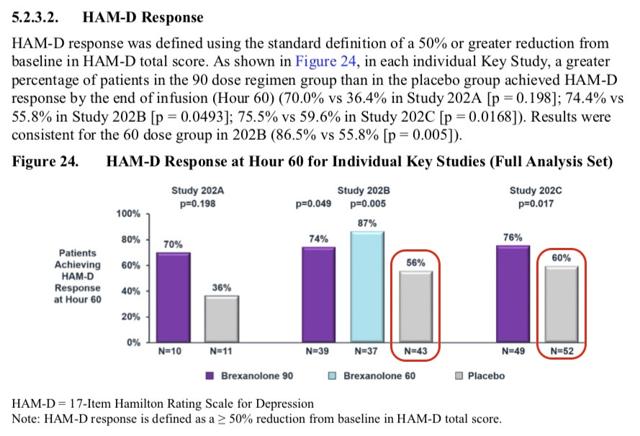 Source: SAGE meeting doc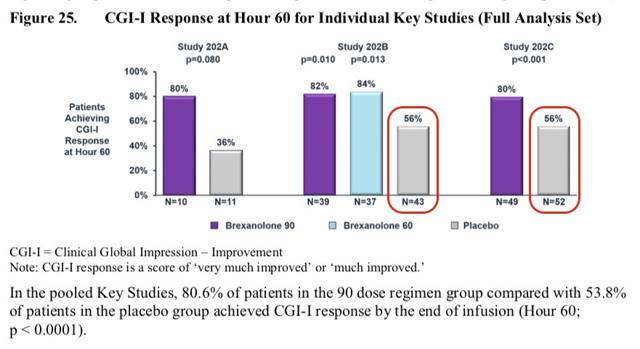 Source: SAGE meeting doc
The above charts illustrate effect size on the HAM-D depression scale and the CGI-I behavorial scale. A few things should be noted:
The drug's small (n=21) PhII trial for some reasons showed a low placebo response which was not replicated in the larger PhIII trials. Zulresso was awarded breakthrough therapy designation ('BTD') on the basis of this 21 patient trial which in hindsight is not particularly reflective of the clinical reality of PPD patients.
Placebo response was significantly more pronounced, and consistently so, across both PhIII trials and across HAM-D & CGI-I.
Zulresso showed a paradoxical, inverse dose-related effect in trial 202B, which was especially pronounced on the HAM-D scale. This highlights the importance of dose-finding work, as is currently being conducted by MRNS.
A visualization of Zulresso's impact on patients with moderate PPD over time shows that there is an opportunity for IV-to-oral transition of care following the end of the 60-hour IV, upon which a 'rebound' in HAM-D is observed both for Zulresso- and placebo-treated women: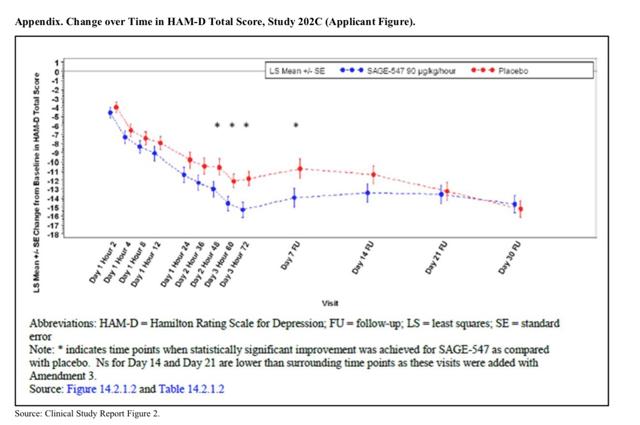 Zulresso's statistically significant treatment effect dissipates after the day 7 follow-up.
Even though Sage will no doubt try to position 217 as an oral follow-up to Zulresso, the transition between two distinct molecules is not as straightforward as the transition from IV to oral ganaxolone. For that reason, Marinus are planning a single registrational PhIII trial to evaluate both the IV and oral dose forms of ganaxolone in women with PPD.
To sum up, the opportunity provided to ganaxolone and hence Marinus vs Sage's PPD programs is:
The potential for home infusion with a safer drug
The potential for greater and / or extended efficacy over Zulresso
The potential for a seamless oral-to-IV switch
The potential to treat women suffering from PPD up to a year following childbirth
Finances & valuation
Summary:
MRNS is financed through its upcoming readouts in PPD, SE and possibly CDD.
An updated rNPV model which includes PPD, CDD, PCDH19 and SE yields fair value around $27; the upper end of my prior price target range.
Risk / reward appears skewed to the upside given a modest Mcap which can be accounted for by the ongoing PhIII trial in CDD alone.
M&A appears plausible given MRNS being the most viable contender in PPD other than SAGE.
Balance sheet & burn rate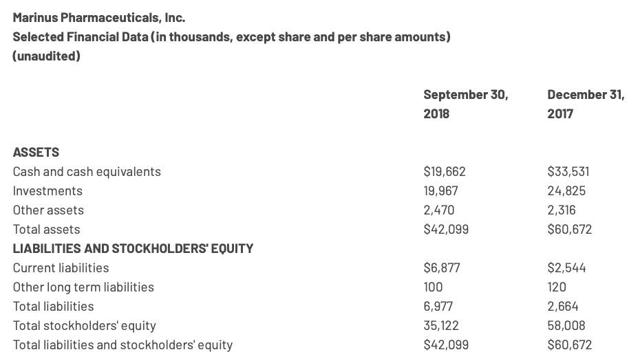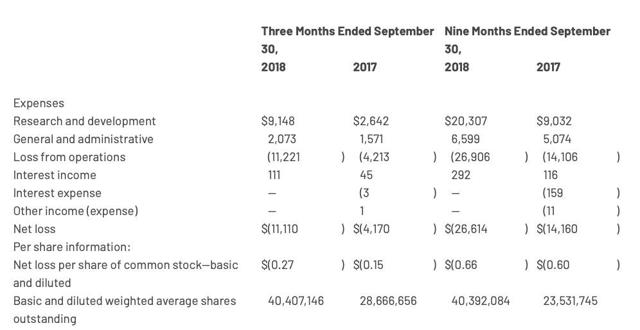 As of September 30, the company had roughly $40m in cash & cash equivalents and investments, down from roughly $57m at the end of Q4 2017.
Quarterly burn rate (= R&D and G&A) is up from $4.2m in Q3 '17 to $11m in Q3 '18. This ramp is mostly attributable to increasing clinical trial expenses. The company believes that it is funded into 2020.
Given the magnitude of the upcoming PPD & RSE catalysts, it stands to reason that the company will look to raise additional cash at higher prices, akin to its secondary following the positive CDKL5 readout in 2017.
Intrinsic valuation
I have previously guided for a $20-27 target price range, the attainment of which crucially hinges on the two upcoming catalysts in PPD & RSE and progress in the orphan pediatric indications.
Here I present an updated rNPV model which captures PPD, RSE, CDKL5 and which also includes PCDH19 as I believe that the new findings presented at the AES pave the way for a PhIII trial: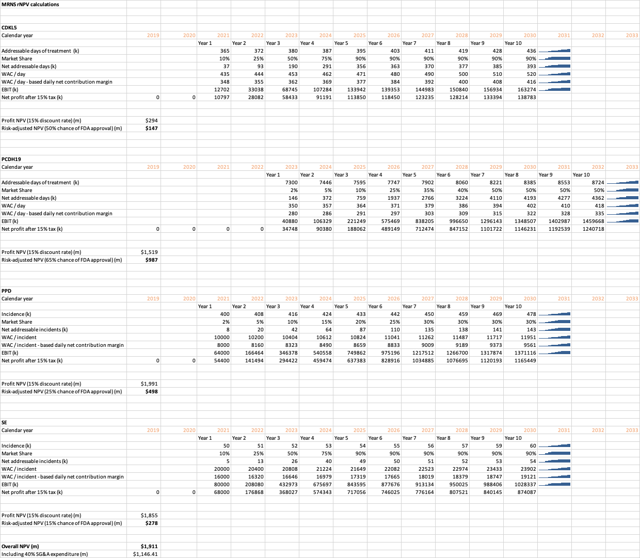 Key assumptions flowing into this model include:
annual cost of therapy around $160k in CDD
annual cost of therapy around $130k in PCDH19
cost per PPD treatment around $10k - I am lowballing this, and we will have additional color around PPD pricing next year when SAGE launch Zulresso.
cost per RSE intervention around $20k
POS: 50% in CDD, 65% in the eligible PCDH19 cohort, 25% in PPD, 15% in RSE.
Slow sales ramp in PPD & PCDH19, more rapid uptake in RSE (medical emergency with high mortality) and CDD (ultra-orphan population).
Aggregate rNPV reduced by 40% in order to conservatively account for a level of SG&A expenditure proportionate to projected revenue (Source: Pharmagellan).
Model does not account for the 2 priority review vouchers which would be awarded following approval in CDD & PCDH19. Market value of these voucher can be estimated between $100m-200m each.
Model does not account for possible partnering activity and the resulting upfront payments & milestone / royalty-based model.
The resulting rNPV of $1.1bn translates into $27 at current share count, which represents the upper bound of my previous PT range and 525% upside over current levels.
Mainstream analysts have chimed in with comparable price targets, for instance Baird initiating at $15 while highlighting ganaxolone's blockbuster potential or Ladenburg Thalmann setting a $20 PT. Kenneth Pittman, an MD who has written extensively about the depression space, sees fair value between $780m-1bn in the near term, which translates roughly into a $16-20 price range, and fellow contributor Stephen Simpson, CFA sees present value around $15.
All in all, there is agreement that Marinus should & will be valued much higher as the company continues to build a meaningful dataset in PPD and epilepsy. Upside far outweighs downside risk in my estimation, given that the company's current sub-$200m valuation can be justified on the basis of its PhIII trial in CDD alone.
The company has only cautiously expanded headcount, but where they did, they have nabbed remarkable talent, such as a former Global Clinical Leader, Psychiatry, from Takeda.
M&A considerations
The company has indicated that they are looking to partner their program in PPD following the PhII readout. What makes MRNS a particularly interesting situation from the point of business development & M&A considerations is that anyone willing to enter the PPD space will either look to partner with / acquire SAGE or MRNS. In addition, MRNS' orphan epilepsy portfolio provides the opportunity to successfully 'go it alone' in patient populations with very high unmet need that benefit from strong patient advocacy networks, all the while being of interest to established players in the orphan disease space such as Jazz Pharma (JAZZ) or Shire PLC (SHPG).
Finally, anyone looking to acquire MRNS outright would gain a highly versatile and safe molecule benefiting from 3 orphan drug designations & ongoing trials in epilepsy as well as a soon-to-be PhIII-ready IV-to-oral program in PPD.

Members of Second-Level Investing, my premium research service, benefit from in-depth exploration of the most promising themes and companies in biotech & pharma. I go to great lengths to provide members with uncommon insights & analysis that is a cut above the rest. 

Disclosure: I am/we are long MRNS, DNLI, AKAO. I wrote this article myself, and it expresses my own opinions. I am not receiving compensation for it (other than from Seeking Alpha). I have no business relationship with any company whose stock is mentioned in this article.
Editor's Note: This article covers one or more microcap stocks. Please be aware of the risks associated with these stocks.