Several days ago, Avenue Therapeutics (NASDAQ:ATXI) announced an acquisition agreement with InvaGen (a subsidiary of Cipla, one of the larger pharmaceutical companies in India), whereby InvaGen will acquire via the offering of about 5.8M shares of Avenue (33.3% of the company) for about $35M or $6 per share.
Upon closing, InvaGen will then spend another $180M to buy the reaming shares of Avenue at about $13.92 per share, subject to conditions. Conditions being that the FDA approves Avenues' IV Tramadol drug in the future.
Avenue was trading about $3 a share at the time of the announcement and closed about $5.47 on Friday.
Is Avenue a buy?
The answer is yes. While Friday's close in not that far from the $6 handle that InvaGen will be buying the freshly minted shares, receiving $14 a share, assuming IV Tramadol is approved by the FDA, is not a bad deal.
Yes, there is always the risk that the FDA does not approve IV Tramadol; however, InvaGen is making a $30M bet it will. The fact that another pharmaceutical company is doing this deal probably means they spent a lot of money doing their due diligence on the drug and feel comfortable the drug will be approved.
While it is not a guarantee for approval, nevertheless, I feel more comfortable with the idea they feel comfortable approval will happen.
So, for those looking for a biotech trade with a relative margin of safety, I think Avenue is a buy.
Is Fortress Biotech a buy?
An interesting twist in this deal is that Fortress Biotech (NASDAQ:FBIO) owns 34% of Avenue and the majority of voting shares (via preferred Class A Shares which provide super-majority voting rights). And while Avenue's stock jumped on the news, to my surprise Fortress barely moved (so far). So, let's investigate how much money Fortress might make from this deal.
According to Fortress' latest 10-Q report (page 24), it owns 35.2% of Avenue. The precise number of shares is not mentioned, so we will have to do some math to figure it out.
According to Avenue's latest 10-Q report, the company has 10,662,398 shares outstanding. So, 35.2% of 10,662,398 shares are about 3,753,164 shares. For simplicity, I will round the number to 3.753M shares.
Fortress will not see any of the money InvaGen will put into Avenue at the current time. The only benefit for Fortress is that Avenue will be fully funded and Fortress will not need to put any more money in the company.
Fortress will benefit when the FDA approves IV Tramadol, and InvaGen forks out an additional $180M to buy out shareholders at about $13.92 a share.
So, assuming IV Tramadol is approved by the FDA and Avenue issues no more shares and no additional dilution incurred to current shareholders, then the benefit to Fortress is the number of Avenue shares it currently owns multiplied by $13.92. If we do the math the number comes out to about $52.2M.
On Monday, November 19, Fortress also announced it entered in an agreement to sell its 56.1% stake of National Holdings Corporation (NHLD) (a full-service independent brokerage and investment banking firm) to B. Riley Financial (RILY) for a total aggregate price of $22.9M.
According to the press release, 24% of National was sold in an initial closing on Friday, November 15, and the remainder will be sold at the same price following FINRA approval.
So, in total, between Avenue and National, Fortress is poised to receive about $75M in total in the future. That might not sound like a lot, but please note that the market cap of Fortress as of Friday was about $70M.
But trying to figure out what Fortress might be worth is a very difficult task. On the one hand, it's impossible to know what its other biotech assets are worth, and on the other, its balance sheet is very complicated. Reason being about 12 companies are being consolidated.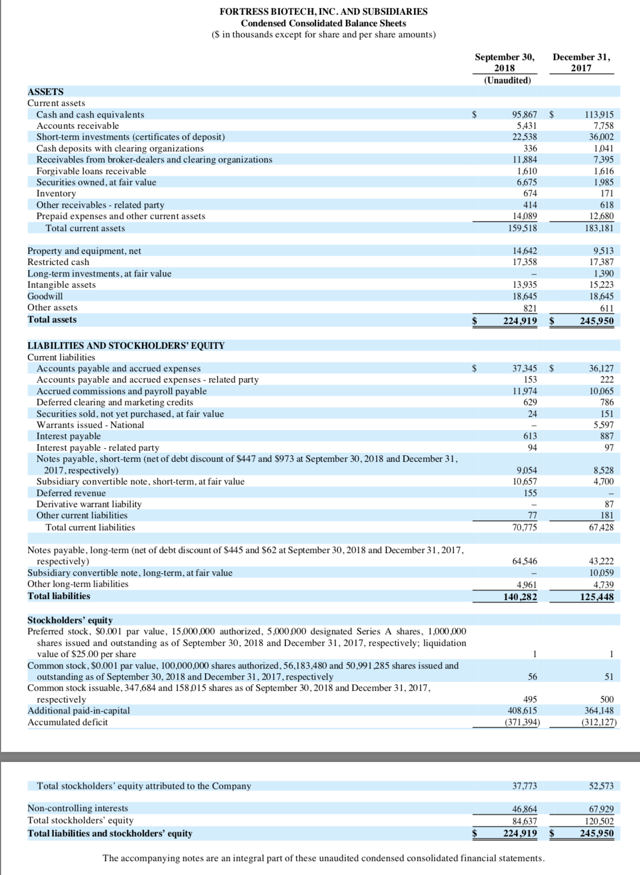 Personally, I think we have to wait to see the balance sheet without National Holdings consolidated to try to figure out what is going on.
However, having said that, the company should have more than enough capital to finance its biotech subsidiaries.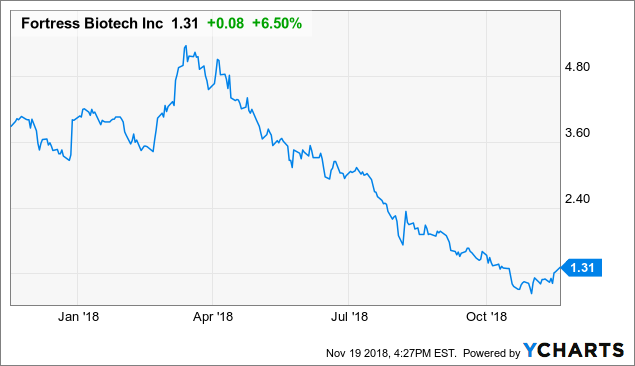 Also, analysts had a price target of about $10 a share before the 2 deals were announced. So, while I cannot tell you enough about the science of its biotech assets, from a financial perspective, investors are able to buy a biotech company with penalty of cash, and on the other, you also have a stock that corrected as much as 80% over the past 12 months.
So, if analysts are right about the price target, then there is a lot of money to be made in Fortress shares.
Bottom line
Avenue in my mind is a buy for investors who want a pure-play in the biotech sector. There is a clear plan of action, and the potential for profit is also clear. If all goes well and IV Tramadol is approved, current Avenue shareholders will make almost 200% in the next 2-3 years.
As for Fortress, things are not that clear for it is very difficult to value the parts. However, if the assets of Fortress are worth anything near Avenue's valuation, then Fortress might be the better buy. Especially, since analysts have such a high price target for its shares.
Editor's Note: This article covers one or more microcap stocks. Please be aware of the risks associated with these stocks.