EOG Resources (NYSE:EOG) is a best of breed E&P operator that most know as a household name. Delivering net income of $1.2 billion during the third quarter of 2018 is a testament to that. Needless to say, EOG is clearly a leader when it comes to earnings potential, and the same can be said for their drilling and completions techniques.
The more important theme from EOG's recent call was the fact they are sticking to their guns on delivering robust returns at $40 oil. As breakevens come down further through efficiencies being gained, EOG can continue to operate irrespective of oil price activity. As a result, a premium should be placed on shares of E&Ps like EOG which have low breakevens (higher margins) and can operate in any commodity price environment.
EOG More Immune To Boom-Bust Cycles Now
EOG is more like a technology company than a commodity player. Sure, if the price of oil fluctuates, so do EOG's margins. But, this is no different than a technology company like Apple (AAPL) which depends largely on cheaper energy costs to drive margins. Therefore, if oil prices fluctuate, EOG's and Apple's margins fluctuate as well.
The argument I am making is that since breakevens are coming down below $30 a barrel for EOG, the company will not change its plans just because oil drops back below $55 per barrel. In fact, many E&Ps are in this same position. This is the first time in history that if oil prices dropped, short cycle projects will continue. In the past, if oil prices dropped below $70 per barrel, offshore drilling (long cycle) had to stop or losses would be incurred. Not only could losses occur, but the cycle with which to get paid back took years, and finding new oil to drill was difficult in itself.
This is why short cycle, onshore fracking will beat longer cycle, offshore drilling. The breakevens for fracking have come down below where offshore drilling could ever dream, and the quick payback period of fracking provides incentives and bonuses for E&P executives to get the job done quicker and more efficiently. And, since there is enough shale to drill for at least 20 years in the Bakken for Whiting Petroleum (WLL), for example, the oil is clearly there, and this trend of short cycle fracking should show no signs of slowing down.
There has never been a point in my 15-year investing career where oil has presented an opportunity like this. Fracking is a relatively new, widespread phenomenon. Therefore, these factors of lower breakevens and faster cycle times are not being priced into E&P's shares like EOG.
Share prices have fallen precipitously from the recent oil price pullback, which was marked by Iran being allowed exemptions to export oil to certain countries while Saudi Arabia, expecting that more sanctions would be placed on their rival competitor, pumped more oil to make up for the shortage Iran was supposed to create.
I believe these factors will be short-lived, since companies like Schlumberger (SLB) are saying that there is not enough energy investment at the moment to meet demand, while oil fields around the world are declining in production.
EOG Can Operate At $40 Oil With 30% Returns
EOG plans to stay responsible by maintaining discipline when it comes to allocating time and money to higher return assets. This, in effect, allows them to operate at $40 oil with 30% returns, and these superb margins will actually continue to grow as more efficiencies are gained. With these breakevens, that means EOG is currently growing earnings at about 15% to 25% with $50 to $60 oil prices. In order to accomplish this feat, EOG plans to:
"...invest in wells that will only generate a 30% rate of return or better at a $40 flat oil price. So with oil prices where they are today, these wells are generating 60% to 100% rate of returns.

Source: EOG Resources

In the Delaware Basin, we've made remarkable progress determining how to optimally develop this technically-complex basin. During the first three quarters of 2018, we put 201 net wells to sales in various spacing and target patterns, which generated more than 150% direct after-tax rate of return."
This will be done a number of ways, including through implementing more zipper fracs, longer laterals, cheaper local sand, water infrastructure investments, and shorter drilling days. Most are aware of what zipper fracs are, where two wells are fracked simultaneously at alternating stages.
But, Patterson-UTI (PTEN) announced that more zipper fracs were on their way to the Permian, as opposed to being formerly relegated to northern basins, which will lead to more efficiencies being gained in the Permian for EOG. Stages have already increased by 20% in 2018 while completions costs have fallen 10%, and these numbers should only improve as production scales up in 2019.
Whether service companies like Hi-Crush Partners (HCLP) and others knew zipper fracs were coming to the Permian or not, more sand and horsepower was going to be needed to do these mega-fracs, and pricing for frac sand therefore dropped substantially due to the abundance of new frac sand coming online while pipelines were full.
This is expected to be temporary, and so EOG and others have taken advantage by locking in cheaper sand and pressure pumping services while services costs are low. This should help lower costs by more than $400,000 to $500,000 per well since rail costs are eliminated and trucks are used instead. Sand costs also account for a considerable amount of overall completions costs. Also, if sand prices drop further due to abundance of supply, this will add to EOG's margins.
New technology continues to be introduced into the drilling space as well, which is allowing for drill times to be reduced. In fact, drilling days have fallen by 10% throughout the year. Laterals are also getting longer, especially in the Eagle Ford where there is less faulting, which is driving more efficiencies and cost savings.
More Catalysts: Newer Basins Expanding
Not only are wells outperforming expectations in the Delaware Basin, but EOG is expanding their operations in other basins, too, such as the Anadarko and Powder River basins. A total view of EOG's operations can be seen below.
Well results are exceeding type curves so much in the Delaware Basin that EOG is looking to apply their learnings to these other basins.
For example, EOG is targeting the Woodford window in the Anadarko Basin, located in Oklahoma, as one area for growth. This window is made up of predominantly oil, and has low IP rates but low decline rates as well, allowing for a more steady growth profile.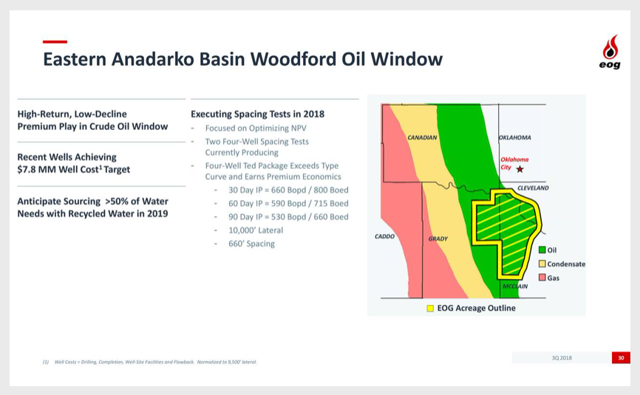 Source: EOG Resources
A water reuse program is being installed in Oklahoma, as well, by EOG which will reduce costs further by sourcing over 50% of their water needs through recycling.
EOG is also targeting the Mowry and Niobrara plays in the Powder River Basin, since they are showing high growth potential as well. New infrastructure is being built in the region by oil & gas companies of all kinds which will improve costs on sand, water, and processing services as well as improve differentials on the takeaway side of things, too. So, expect big things on the horizon from these new areas of expansion by EOG.
EOG's financial status has been covered more in depth in my recent articles, which you may refer to. As we stated above, net income of $1.2 billion was exceptional, especially when compared to net income of $101 million from the same period a year ago. This jump in earnings is most likely due to higher oil prices and EOG's increased rate of production.
Risks to EOG's story would lie more in the political arena than simply lower oil prices, since we already discussed their indifference to lower oil prices above. However, when one thinks through the various political scenarios, they would keep arriving at the same conclusion in that fracking is here to stay.
This is due to the U.S.'s desire for reducing reliance on foreign oil that funds terrorism (national security), as well as our need to compete with other nations and keep our political hegemonies throughout the world in place. These factors, in addition to Light-Brent shale being cleaner than Sour Crude made by our competitors (CO2 regulations), should keep demand for our oil products healthy, regardless of who is in office.
Conclusion
EOG continues to dominate the E&P space. Just to demonstrate EOG's extreme dominance over peers, I thought I'd leave readers with this tidbit below.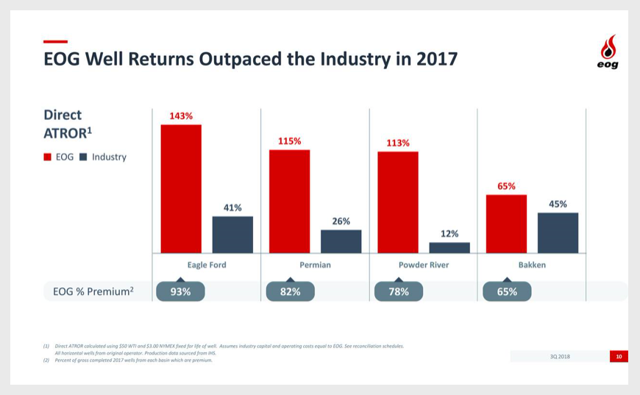 Source: EOG Resources
Since EOG is generating robust cash flow at current oil prices, even below $55, the company should continue this trend unabated. Not only will EOG be generating strong returns at current production levels, but they will be expanding operations in newer basins as well, which should provide more topline growth in 2019. As a result, the recent pullback in EOG's shares is offering a buying opportunity, and I am long E&Ps as a result.