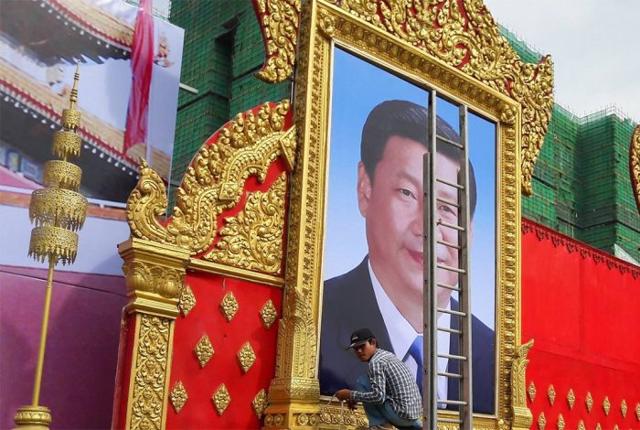 Introduction
Famous author and security analyst George Friedman has noted recently that China seems to be losing its war on financial risk, poverty, and pollution (Geopolitical Futures blog, 2018). The focus has shifted instead to dealing with what China calls "growing downward pressure on the economy." Chinese GDP growth fell to a 6.5% annualized rate in the Third Quarter, its slowest rate since 2008 (Gina Heeb, 2018). Note also that China's reported GDP growth is widely believed to be a work of fiction, and satellite data suggest that the numbers are generally inflated by 15%-30% (Investor's Business Daily blog, 2018); this would suggest that GDP growth is now 5.65% or less and falling. Still, the Chinese economy is now very massive and its slower growth nevertheless added $1.20 trillion (or a minimum of about $1.05 trillion if we allow some shrinkage for the presumably false reporting) to the economy in 2017 (Yuwa Hedrick-Wong, 2018).
The recent slowdown appears to be at least partly the result of President Xi Jinping's program of deleveraging China's huge private sector debt to reduce systemic risk. Stephen Roach, a Senior Fellow at Yale University, has pointed out that the tariffs recently put in place by the US will exacerbate the slowdown. President Trump has just announced that the next jump up in the severity of the tariffs will not be delayed past year-end unless a deal is forthcoming at the G20 summit on December 1, 2018. There is also a structural decline in productivity (Yuwa Hedrick-Wong, 2018; Op. cit.) that is due to very high private sector debt, diminishing rates of export growth, the end of the demographic dividend, and the possible decline of the urbanization dividend. Domestic demand has dropped sharply due to the recent deleveraging efforts of the government (Aidan Yao, 2018), and export orders have recently fallen below break-even. Developers have been cutting housing prices and the housing market is expected to decline further.
Signs of a Declining Chinese Economy
The People's Bank of China noted recently that because it expects the economy to weaken further, it is encouraging Chinese banks to increase their lending to smaller firms (Sunny Oh, 2018). The Chinese manufacturing "PMI" Index has been plunging (Chart 1) and is expected to soon drop into contraction territory (David Scutt, 2018). There is an argument to be made that the recent plunge in oil prices is due to fears about Chinese demand (e.g., Ivan Martchev, 2018). Others would argue that it is more of a supply problem than a demand problem (e.g., Jeff Miller, 2018), but it is still reasonable to suspect that a portion of the plunge has been due to a discount for the weakening Chinese economy.
Chart 1: China's PMI Index Will Soon Indicate a Decline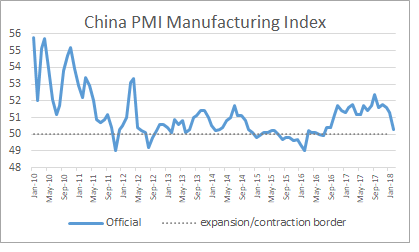 Indeed, Chinese consumers have started to turn cautious with respect to spending, and automobile sales have dropped by 11.5% in two months, turning YTD growth negative for the first time in over six years (Evelyn Cheng, 2018). Chinese household debt is over 100% as a percentage of GDP; this is above the level of household debt in the US. Real estate construction is contracting for the first time since 2005 (Chart 2). Some believe that certain regions, such as China's northeast, will need continuing government stimulus to avoid what appears now to be an inevitable regional recession (China Enthusiast, 2018). State-owned enterprises ("SOEs") have seen their spending growth shrink also, as the central government tightened up on their credit. The massive overcapacity and misallocation of resources that President Xi is trying to rein in have not yet been reduced enough to spur renewed growth, and there is a long way to go yet on Xi's plan to reform the economy.
Chart 2: China's Real Estate Construction Rate Is Contracting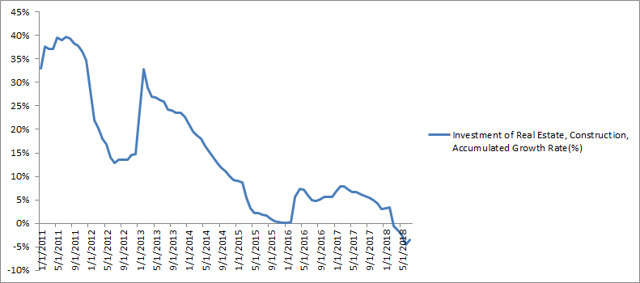 A Startling Admission of the Truth?
Something like this has long been expected by skeptical observers, who have taken note of and criticized the market myths surrounding China (cf. Kevin Wilson, 2017). The idea that China is supposedly so exceptional that normal economics don't apply to her situation is easily challenged (cf. Sally Chen & Joong Shik Kang, 2018). However, the government itself has long held the official position that its spectacular growth in recent years was due to its unique growth model, which it labeled "socialism with Chinese characteristics." George Friedman recently reported a startling comment from a senior Chinese economist named Zhang Weiying (George Friedman, 2018), who said that China's growth was not the result of a unique "Chinese model" of development. In fact, he said that there is no such thing as a Chinese model, and by implication he supported radical reform. Friedman speculates that the fact the speech was allowed to be given (and was not punished in any way) is perhaps a gesture for the US, given as part of the trade negotiations with President Trump. Friedman says, "I don't know what it means, but I do know it means something."
Friedman also suggests there is a slight possibility that the speech signals a major change in direction for China. I will go out on a limb and agree with this notion; it's possible that President Xi is intentionally sending a message internally. The message might be that the Chinese growth miracle is effectively over and temporarily harder times lie ahead, as China faces its myriad economic problems. Why send such a message? Because Xi appears to be a realist and he expects the rationalization of China's economy to be both painful and completely unavoidable. Presumably that means that President Xi, having consolidated his power and become President-for-life, has decided that a recession is also unavoidable if reforms are ever to take hold. This will potentially cause great civil unrest, a falling yuan, crippling outflows of capital, soaring debt defaults, a big decline in China's middle class, and a host of other problems. Perhaps President Xi is a patriot and is willing to make his people take the bitter medicine that his predecessors studiously avoided, in order to secure a sustainable future for China. If these speculative thoughts are anywhere near the mark, the world economy is about to take a substantial hit, and the markets have barely discounted any part of what's coming.
In the end, I believe that those who own long-term Treasuries and gold will make a lot of money in the next 12-36 months, and those holding stocks will writhe in pain at their enormous paper losses. Allowing for human nature, most people will sell closer to the bottom than the top. A bull market for the US Treasury bond is historically the norm under these circumstances (Eric Hickman, 2018), and a strong one is likely again (Van Hoisington & Lacy Hunt, 2018). Given the current long-term sell-off from the January market high, the renewed sell-off from the October market high, and the state of certain national economies (e.g., China, Europe, Japan), it makes sense to invest some money in a gold fund like SPDR Gold Shares (GLD), but only as a short-term hedging trade, not a buy-and-hold position. The I-Shares Gold Trust (IAU) is an alternative ETF that may be safer for those who want to hold it for a somewhat longer period of time. But the safest form of gold in the event of a true financial apocalypse is physical gold.
Also, for those discounting a possible near-term recession and bear market, some liquid alternatives like the Otter Creek Prof. Mngd. Long/Short Portfolio (OTCRX) could be held to protect assets in the event of a much sharper market draw down associated with deteriorating economic data. Those in a more defensive frame of mind because of the expected eventual market slide should also hold some long Treasuries, in spite of bearish arguments to the contrary, as a stock market crash would be hugely supportive of bond prices: examples include the Wasatch-Hoisington Treasury Fund (WHOSX), and the I-Shares 20+ Yr. Treasury Bond ETF (TLT).
Disclosure: I am/we are long GLD, OTCRX, WHOSX, TLT. I wrote this article myself, and it expresses my own opinions. I am not receiving compensation for it (other than from Seeking Alpha). I have no business relationship with any company whose stock is mentioned in this article.
Additional disclosure: Disclaimer: This article is intended to provide information to interested parties. As I have no knowledge of individual investor circumstances, goals, and/or portfolio concentration or diversification, readers are expected to complete their own due diligence before purchasing any stocks or other securities mentioned or recommended. This post is illustrative and educational and is not a specific recommendation or an offer of products or services. Past performance is not an indicator of future performance.