Thesis
Worries about menthol cigarette regulation have hurt the share price of Altria (MO) and other tobacco companies. It is very unlikely that Altria will feel any negative impact on its profitability in the short term, though, and in the long run, Altria should be able to do well, too.
The share price decline has made Altria's dividend yield rise towards a quite high level of 6%, which makes shares attractive for income investors as well as for those that seek above-average total returns.
Menthol regulation and its impact on Altria
In early November the FDA proposed a ban on menthol cigarettes, on top of that the FDA has also cracked down on e-cigarette sales. This has led to selling pressure on the stocks of Altria and other tobacco companies such as British American Tobacco (BTI) and even Philip Morris (PM) which does not do any business in the US.
The market's reaction seems overblown, though, as many things are yet unknown. It is not sure whether menthol cigarettes will indeed be banned, so far this is only a proposal. The second point investors should factor in is that a ban on menthol is still years away even in the scenario where menthol cigarettes will be banned at one point. Analysts point out that a ban on menthol cigarettes is unlikely before 2022, and that a time frame of 4 to 5 years seems realistic until a ban will be in place. This implies that menthol cigarette sales could be banned from 2023, or 2024.
Tobacco companies such as Altria thus have a lot of time to look at strategic alternatives that can guarantee that their current menthol cigarette revenue streams will remain in place.
Altria could, for example, try to introduce lower risk menthol products that the FDA would possibly allow, and to switch current users of its menthol cigarettes to these products instead. Another option would be for Altria to try to switch its menthol cigarette customers towards its regular (non-menthol) cigarettes over the next couple of years before a menthol cigarette ban would be in place.

Source: Altria statement
Altria seems to be convinced that a menthol cigarette ban is not a sure bet and that it is possible to convince the FDA that a ban is not necessary, as other measures (e.g. more rigid standards) would be a viable approach as well.
Even in a worst-case scenario where menthol cigarettes are actually banned, Altria would not be hit devastatingly hard:

Source: Altria statement
Menthol cigarette sales make up roughly 20% of Altria's tobacco revenues. The company generates some additional revenues and earnings from other sources, such as its smokeless products, its wine business, and its stake in Anheuser-Busch InBev (BUD). When we account for these other businesses, less than 20% of Altria's revenues are at stake, and the potential loss of these revenues is several years away.
If a ban on menthol cigarette sales cannot be avoided, Altria will likely have switched a significant amount of its menthol cigarette customers towards other products during the years before the ban. If Altria manages to switch half of its menthol cigarette users to other products, effectively only 10% of tobacco sales would be lost, the impact on the company as a whole would be even smaller (due to non-tobacco revenues not being harmed). Let's assume that this would nevertheless result in a 10% hit to Altria's earnings per share. Altria's earnings per share could then look like this over the next couple of years:
| | | | |
| --- | --- | --- | --- |
| Year | EPS | Growth | Source for estimate |
| 2018 | $3.99 | - | Altria's guidance |
| 2019 | $4.39 | 10% | CFO's comment of growth of more than 9% |
| 2020 | $4.83 | 10% | CFO's comment of growth of more than 9% |
| 2021 | $5.22 | 8% | the long-term goal of 7%-9% growth |
| 2022 | $5.63 | 8% | the long-term goal of 7%-9% growth |
| 2023 | $5.07 | -10% | impact of lost menthol cigarette sales |
| 2024 | $5.32 | 5% | Author's conservative estimate |
| 2025 | $5.59 | 5% | Author's conservative estimate |
We see that Altria would likely be on track to deliver solid earnings growth through 2025 even if profits take a hit from a possible menthol cigarette ban. The average growth rate between 2018 and 2025, according to my estimates, would be ~5% a year. This is not as strong as Altria's growth in the past, but not a bad result either. This estimate is, I believe, on the conservative side, as I calculated with EPS growth of only 5% in 2024 and 2025, which is well below Altria's target EPS growth rate, and also well below the growth rate Altria has delivered in the past.
Total returns look promising even with conservative estimates
Even when we look at the relatively conservative scenario laid out above, total returns would still be promising over the next couple of years. Through EPS growth of 5% a year and a dividend that yields 6% right now, Altria would produce annual total returns of 11% as long as its valuation does not change going forward.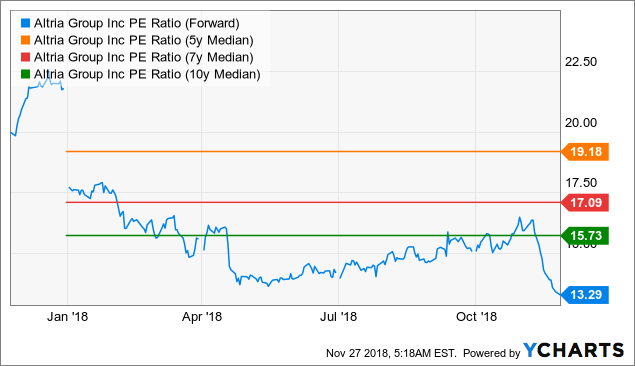 Right now Altria trades at 13.3 times this year's earnings. Its current earnings multiple is substantially lower than the median earnings multiples over the last 5, 7, and 10 years. If Altria's valuation would expand towards a PE ratio of 15 by 2025, which would still represent a rather cheap valuation relative to how shares were valued in the past, this would add another 1.7% to Altria's total returns annually, for a total return estimate of close to 13% annually.
Altria's shares thus look relatively promising for total return oriented investors right here. There is, I believe, a good chance that investors will generate total returns of 10% or more through the coming years if they buy shares of Altria right here.
What happened the last time Altria's dividend yield was this high?
Based on a dividend payout of $3.20 a year and a share price of $53.20, Altria offers a dividend yield of 6.0% right here. This is the highest yield investors can get from Altria since quite some time: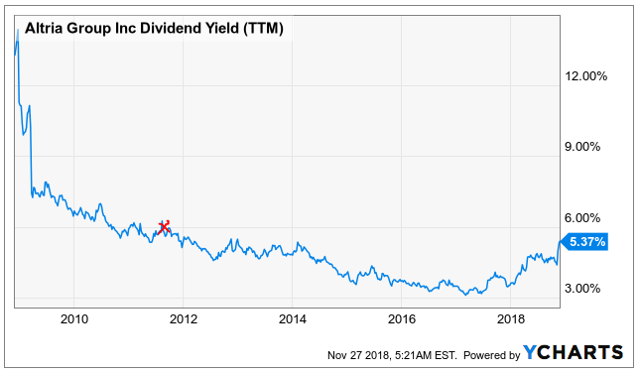 The last time Altria's shares offered a yield of 6% was in late 2011. Investors that bought shares of the company back then have seen highly compelling total returns since:
In the three years following the last time Altria's shares yielded 6%, i.e. between fall 2011 and fall 2014, Altria's shares have produced total returns of more than 80%, or about 22% on an annualized basis.
This does not mean that future returns will be the same, but it shows that it has turned out very well to buy Altria's shares when market sentiment is weak and when its dividend yield is high. The high initial dividend yield boosts total returns, as it allows for a stronger pace of dividend reinvestment, which amps up total returns during the following years.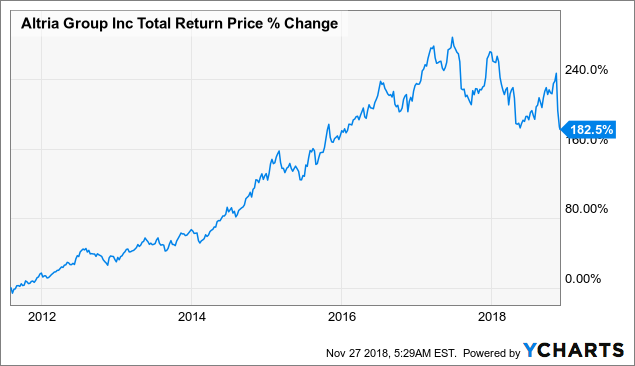 Total returns between late 2011 and the present totaled 183%, or about 15.5% annually. Even after the share price slump that Altria's shares have experienced over the last couple of weeks, shareholders that bought in late 2011 when Altria's yield was 6%, are still up massively over the last seven years.
Final thoughts
Altria will report record profits for fiscal 2018 and has raised its dividend massively this year. The company's shares trade close to the 52-week low, though, due to worries about a menthol ban.
A menthol ban is still several years away (if it happens at all), and it seems likely that the impact on Altria will not be overly large. The share price weakness provides an attractive entry point for income investors as well as for those that seek double-digit total returns.
It has turned out well to buy Altria's shares when the yield was high in the past. Even though it is not guaranteed that the same will happen in the future, it still seems likely that investors will not regret buying this dividend stock with a yield of 6.0%.
Author's note: If you enjoyed this article and would like to read more from me, you can hit the "Follow" button to get informed about new articles. I am always glad to see new followers!
Elazar Advisors' Tech Stock Service: Nail Tech Earnings
The most profitable tech stocks have delivered revenue and earnings growth meaningfully higher than analyst estimates. Nailing which companies will beat or miss consensus estimates is the key to profits for traders and long-term investors. I work with Chaim Siegel who's a professional tech analyst, originally with SAC Capital. Nail Tech Earnings, our research service, provides actionable calls for tech investors, backed up by rigorous research, to make money for our subscribers.
Disclosure: I am/we are long MO, PM. I wrote this article myself, and it expresses my own opinions. I am not receiving compensation for it (other than from Seeking Alpha). I have no business relationship with any company whose stock is mentioned in this article.