This report is the first in a series presenting the results of three studies:
The top one percent of public companies in terms of ability to compound owner earnings (free cash flow) with minimal debt.
Dividend Aristocrats: companies that have increased their dividend every year for the last twenty-five years.
Microcap Almost Compounders: companies with market caps of under $300 million that appear destined to become exceptional compounders.
The results of this analysis are presented in graphs so that the relevant financial statement trends can be immediately discerned:
Current price in relation to estimate intrinsic value. Overall, the market trades at a 57% premium to my estimate of intrinsic value; the 62 compounders I study trade at an average premium of 27%.
Financial statement trends (return on fixed capital, margins, asset turnover) over the last three years, with particular emphasis on the last twelve months. To identify trends, I compare the latest 12 months with the 12 months ended three months earlier with the 12 months ended three months earlier, and so on, for three years.
Long-term ability to compound free cash flow or owner earnings. I weigh the number of quarters over the last twenty years (if available) in which the company was able to increase free cash flow versus the prior twelve months and the median rate of change. To put this in perspective, all public companies score negative 8 by this measure, and the 62 compounders I study score 51.
This analysis does not focus on short-term developments. For instance, I'm aware of Nvidia's (NASDAQ:NVDA) recently disappointing guidance and results; however, I think of the recent decline as an opportunity to begin accumulating. Following this investment approach, bad news is an investor's ally.
There is more on the methodology and philosophy underlying this analysis on my website here.
Today's set of graphs: Cognizant Technology (CTSH), Nvidia (NVDA) Versus Revlon (REV)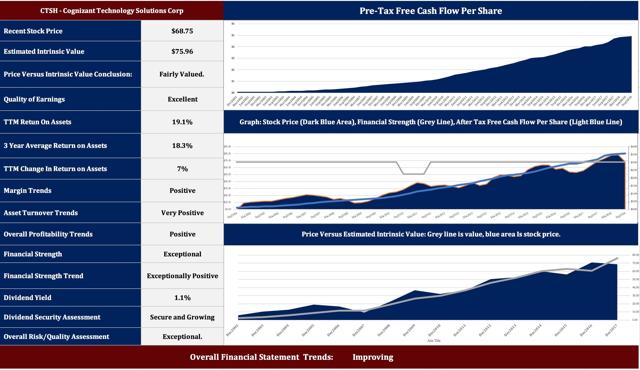 Source for these and all graphs: software I've created that draws from a database of SEC filings of all public companies.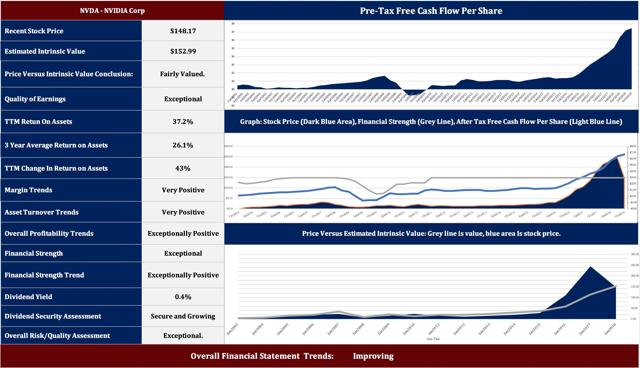 For purposes of providing a contrast, here are the same graphs for Revlon more typical company in terms of long-term returns although its recent performance has been subpar: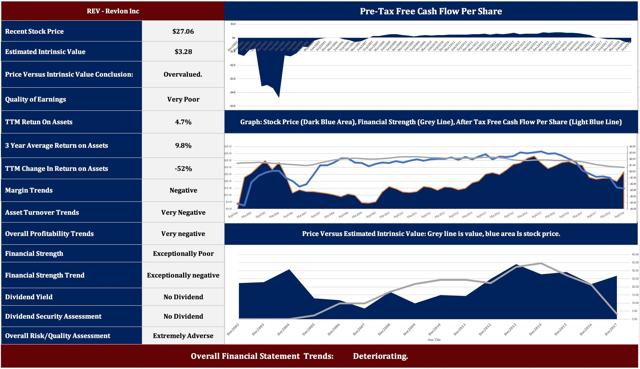 Comment and Conclusions:
The two exceptional compounders, Cognizant and Nvidia, both are reasonably priced by long-term standards.
Cognizant's free cash flow graph puts it in the top one percent of all public companies in terms of both consistency and long-term free cash flow growth.
I'm aware of analyst reports that Nvidia's free cash flow has declined precipitously over the last few quarters. This is misleading. First, the only way to assess free cash flow is to compare the latest 12 months versus the 12 months ended three months earlier versus the 12 months ended three months earlier, and so on, and to base all free cash flow numbers on average five-year capital expenditures. Quarter-to-quarter fluctuations are too volatile to be meaningful. Here are the four quarter numbers over the last eight quarters:

These graphs suggest the following investment approach:

Nvidia: accumulate a one third position now, one third at $125, one third at $100, should such an opportunity present itself.
Cognizant: one third now, one third at $50, one third at $40, should such an opportunity present itself.
Disclosure: I am/we are long NVDA AND CTSH CALLS. I wrote this article myself, and it expresses my own opinions. I am not receiving compensation for it (other than from Seeking Alpha). I have no business relationship with any company whose stock is mentioned in this article.
Additional disclosure: Long May calls hedged with small position in February puts.