Over the last decade, numerous companies have tried to replace and/or compete with traditional automobiles with their own unique vehicle. The vehicles are unique because they are generally lightweight, very efficient, have a rather interesting design, and are cheaper than a regular automobile. Some are powered by gasoline, others are electric, and even some run on air (as seen on Shark Tank). Although these alternative vehicles are an intriguing idea, none of them have been able to gain significant traction and succeed as a sustainable business. The concept for an ultra-efficient alternative vehicle was more plausible about a decade ago when many of these companies were founded, but with many of the major auto manufacturers around the world shifting to electric vehicles, there is no room in the market for companies like Arcimoto (FUV). A short position in Arcimoto is recommended because I expect the company to struggle financially, bringing its product to market, and gaining any substantial traction.
Arcimoto is an alternative vehicle manufacturer founded by Mark Frohnmayer based in Eugene, OR. Its primary product is the Fun Utility Vehicle ("FUV"), a tandem two-seat electric vehicle with three wheels that can reach speeds of up to 80mph and can go for up to 130-miles on a single charge. The vehicle is still being developed and has not been made available to the general public for purchase yet. Arcimoto is currently accepting refundable $100 deposits to pre-order the vehicle and is expecting to start mass production for public purchase in Q4 2018.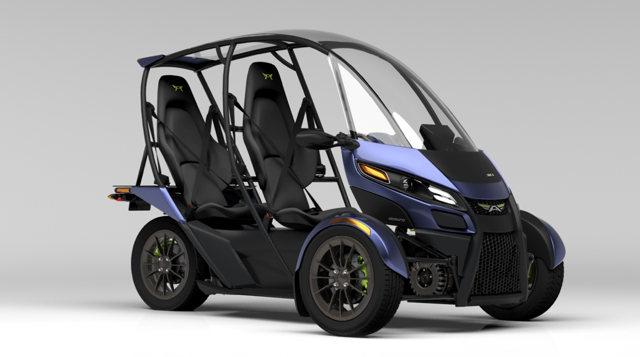 Source: Arcimoto
The Concept of Alternative Vehicles Is Not Catching On, Arcimoto Is Not Different Enough To Change That
Truth be told, I like the idea, concept and vehicles themselves. I am a bit of a "motorhead" so the mechanics behind them are interesting to me and they are a thrill to drive. However, this vehicle could not replace the automobile I drive daily, nor could I see myself spending about $11,900 for a "toy". The general public appears to feel the same way; with just 2,900 preorders to date, the concept is not catching on for Arcimoto. There has not been much customer demand for similar vehicles from other companies either, and I do not expect Arcimoto to be able to change that.
If you visit Arcimoto's site, you will see it touts that the vehicle has a unique design, is fun to drive, nimble, efficient, and affordable. All of which I'd say is true for the most part, but, are they really different? Let's take a look at Elio Motors (OTCQB:ELIO) and compare it to Arcimoto. The vehicle in the image above is Arcimoto's vehicle and the image below is Elio's vehicle (Ultimate Commuter Vehicle, "UCV").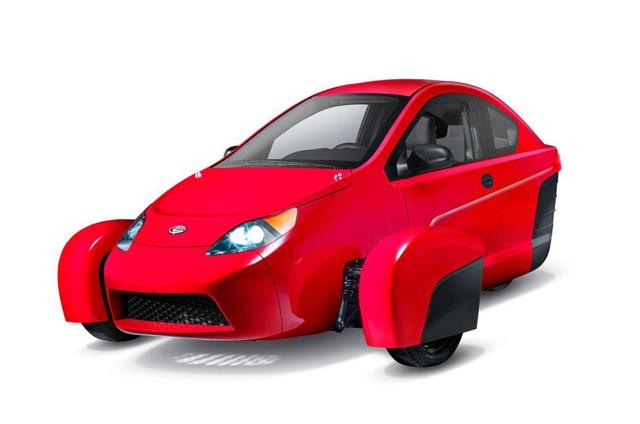 Source: VenueChilton
They are different, but are they that different? I don't think so. Both vehicles are tandem two-seaters with three wheels. Arcimoto's is electric powered while Elio's runs on gas, but they both boast environmental benefits by being very efficient. Arcimoto's can go about 130 miles on a single charge and Elio's gets up to 84 miles per gallon. Both vehicles are equally "fun to drive" (this is subjective, but in a general sense the experience is similar and equally "fun") and provide a nimble design for city driving. Arcimoto claims its vehicle is "ultra-affordable", but is it really? The base model of Arcimoto's FUV starts at just under $11,900, while Elio's UCV base price starts at just $7,450 – about 38% cheaper than the FUV. Also, the FUV base model does not come enclosed - a customer would have to purchase the hard doors separately, increasing the cost (Arcimoto hasn't released the exact price of the doors, but it did state the doors would be an "option" and would cost additional - it is my expectation the doors will cost about $1,000). As compared to the UCV, which comes fully enclosed.
We can see from the comparison with Elio Motor's UCV that Arcimoto's FUV is not all that unique. Elio Motor's UCV isn't even the only other comparable alternative vehicle. There are also vehicles from Lit Motors, ZAP, Myers Motors, and Aptera Motors. There are minute details between the vehicles offered by these companies that differ, but in general they are all quite similar. The vehicles provide an alternative solution to transportation that is aimed at being more affordable, better for the environment through improved efficiency, and more fun. Below are images of similar vehicles to Arcimoto's from the companies listed above (not including Elio Motors).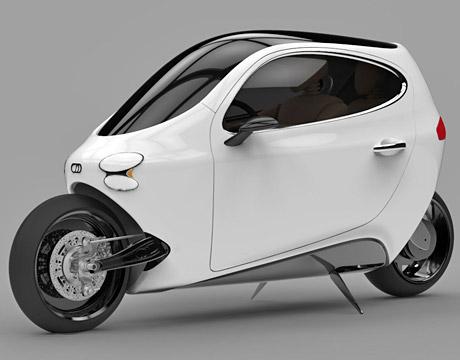 Source: Lit Motors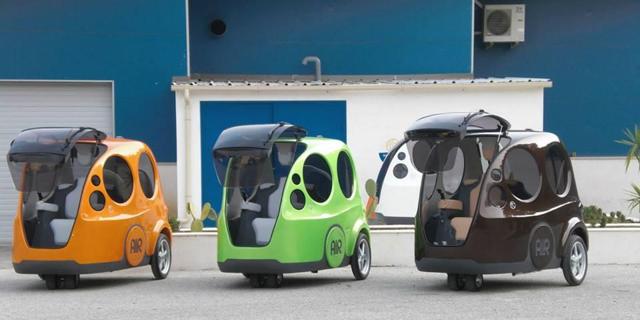 Source: Zero Air Pollution (ZAP)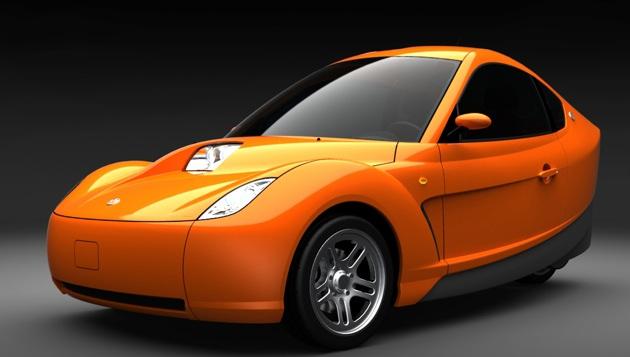 Source: Myers Motors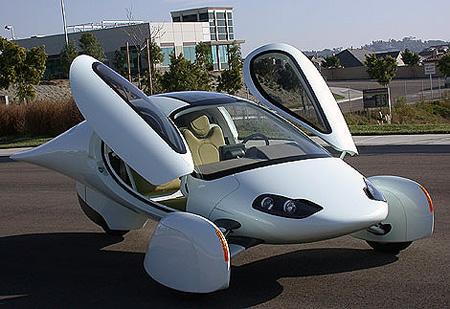 Source: Aptera Motors
The lack of adoption of its vehicles and success of its competitors vehicles is a major factor that paints a dire future for Arcimoto. Many of its closest competitors were founded about a decade ago (ZAP has been around since 1994) and still have not been able to gain widespread adoption from customers. In its 11 year existence, Arcimoto has only gained about 2,900 preorders for its FUV. Elio Motors, founded two years after Arcimoto, has been able to secure over 65,000 preorders. Despite having significantly more preorders than Arcimoto, Elio Motors is still a struggling business. 65,000 preorders sounds like a lot in comparison to Arcimoto's 2,900, but this is far from strong market demand that can be used to create a growing and sustainable business. There are of course a multitude of factors that could play into why Elio Motors is struggling, some of which might not be faced by Arcimoto, but seeing a company with a very similar vehicle with a much cheaper price tag and far more preorders struggle is not a good sign for Arcimoto.
The Big Players Will Crush Companies Like Arcimoto
Back in late-2007 when Arcimoto was founded there was less competition in the electric vehicle space. Arcimoto was considered innovative and ahead of its time by coming out with a fully electric vehicle. However, since then, it has failed to bring the product to market and truly capitalize on its opportunity. Unfortunately for Arcimoto, that window of opportunity has likely closed.
Tesla, Inc. (TSLA) was one of the first to bring the fully electric vehicle to the mainstream market, but its vehicles were pricey. This allowed Arcimoto to fill a need by providing a much more affordable option. However, since then, many major automotive manufacturers around the world have started offering electric vehicles to rival Tesla, significantly reducing the price. Today, there are quite a few different options for new electric vehicles in the mid-$20,000's, and significantly cheaper than that if used. For example, in the Greater Boston area you can buy a 4-5-year-old Ford Focus Electric with only about 28,000 miles for $1,000 less than a base model FUV. It is clear to see that purchasing a traditional automobile for a similar price to the FUV makes more practical sense, especially when considering crash safety, that the FUV is fully open like a motorcycle (can't be driven in the winter – you can purchase hard doors to enclose it, but that increases the price), storage, and ability to transport other individuals.
Major global auto manufacturers also have significantly more resources in regards to capital and manufacturing capabilities than does Arcimoto. The global manufacturers are able to mass produce their vehicles at a much more efficient pace and larger scale than Arcimoto can. Using its vast resources, it would take very little for a major manufacturer to create a vehicle like Arcimoto's. If a major manufacturer were to begin making a vehicle similar to Arcimoto's, the competitive pressure would likely crush Arcimoto and put it out of business.
Arcimoto better not look now, but that looks to be happening as I write. With the rising popularity of ride-sharing and autonomous vehicles, major manufacturers have started developing and producing vehicles quite similar to Arcimoto's to provide an attractive solution for those applications. Toyota's i-TRIL and Honda's NeuV are two of the more recently announced vehicles from major auto manufacturers that are aimed at the same market as Arcimoto's FUV. Other manufacturers such as Hyundai, Ford, Audi, BMW and Volvo have all been rumored to be spending significant R&D dollars on similar initiatives. There are also major players in the tech space (i.e. Alphabet (GOOG) and Uber) attempting to get in on this market. These vehicles might be some time away, but it doesn't paint a promising picture for the long-term success of Arcimoto.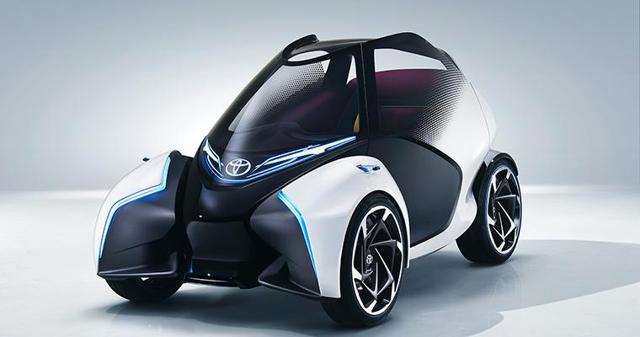 Source: Toyota i-TRIL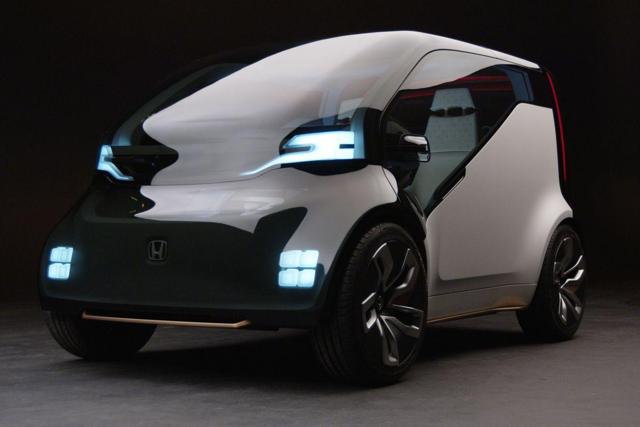 Source: Honda NeuV
Short-ability and Its Risks
According to Interactive Brokers, as of this writing there were about 55,000 shares available to short. The availability of shares to short certainly fluctuates as there was slightly over 100,000 shares available when I entered my short position in August 2018.

Source: Interactive Brokers
The risks to a short position are the inherent risks of micro-cap stocks and shorting stocks in general, raising additional capital, cash flow from its preorders, a merger with a similar competitor, or an outright sale to a larger manufacturer. Micro-cap stocks tend to have limited volume and high volatility. Shorting stocks has the inherent risk of unlimited loss with a maximum gain of 100%. Arcimoto also has the ability to raise more capital through a common stock offering (as the did on Nov 21, 2018), which could be a threat to a short position. Sales will increase from its preorders being delivered, and it is possible the preorders could be profitable and generate free cash flow, both of which would increase the stock price and threaten a short position.
Given Elio Motors and Arcimoto's similarities, a merger between the two companies could provide cost synergies and prove beneficial to both parties. Elio Motor's UCV could provide a traditional gas product line while Arcimoto provides an all-electric product line. If the two organizations were to merge, I would expect the probability of success to increase, threatening a short position. A short position in Arcimoto's stock also runs the risk of Arcimoto being acquired by a larger manufacturer. A large auto manufacturer could decide it wants to provide an alternative, niche market vehicle, or that it wants to integrate Arcimoto's technology into its existing products. It could also decide its vehicle would be a great fit for its ride-sharing and autonomous driving platforms.
Financials and Valuation
With full scale production expected in Q4 2018, I expect preorder sales to push sales higher by the end of 2018 than they had been at the end of the third quarter. In 2019, I estimate about 145 vehicles will be sold at an average of $11,900, and double that (290) being sold in 2020. With low sales demand Arcimoto will not be able to obtain significant production efficiencies to lower the cost of its vehicles, causing its cost of goods sold to be higher than its revenue. It is not possible at this point to estimate how many vehicles it would need to sell to reach an efficient production point, but I estimate it is significantly higher than the 290 vehicles I expect to be sold in 2020. Gross margins will remain negative until Arcimoto can substantially increase its production to benefit from economies of scale - that is if they are able to increase production. Research and development will continue to grow year-over-year as it learns from its customers and develops changes to its vehicles. General & administrative expenses and Sales & marketing efforts will increase substantially when the vehicles are available for the mass market (Q4 2018). I do not expect Arcimoto to be profitable by 2020 (if ever) and to continue to increase its share count. Operating Cash flow will remain negative and worsen as net losses are incurred. With negative operating cash flow and increasing CAPEX, Arcimoto will continue to have negative free cash flow and burn through cash.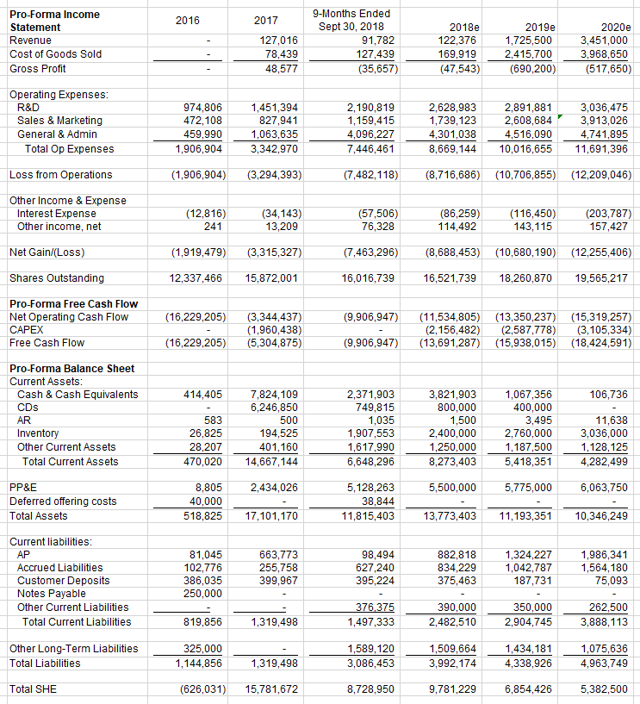 Source: Data, Arcimoto's 10-K and 10-Q; Table, Self-Created
It is difficult to estimate how high the stock could rise (for a long position), given it's a micro-cap company with an unproven market. However, based on the above financial projections, I have estimated the stock to trade around $0.85-$1.00 by the end of 2019, and down to a true penny stock by the end of 2020 (a range of $0.05 - $0.20).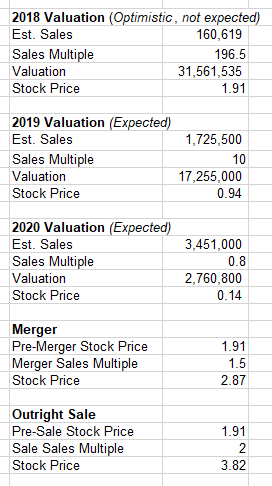 Source: Data, Arcimoto's 10-K and 10-Q; Table, Self-Created
If the risks discussed above in the "Short-ability and Its Risks" section were to materialize, I could see the stock rising to about $1.80-$2 if it exceeds expectations on preorders and early sales, about $2.5-$3 if it were to merge with a competitor such as Elio Motors, and about $3.75-$4 if it were to be acquired by a bigger company.
The Bottom Line
I have been following Arcimoto for a few months now, having learned of it by following Elio Motors. I had been doing my research throughout May, June, and July, before I eventually entered my short position in August 2018 at about $4.28 per share. As of today, the stock is down 51% since I initiated my position and trades at about $2.10. Despite the large decline already, the investment opportunity has not been missed. I still recommend a short position in Arcimoto's stock.
Arcimoto's vehicle is certainly interesting and fun to drive, but the business is not sustainable, and I am expecting it to eventually go to zero. There are multiple competitors with similar vehicles in a market that already lacks demand. Arcimoto's vehicle lacks practicality with limited to no storage space and a fully open body. You can customize your FUV by buying hard doors to equip the vehicle with, but then the vehicle is no longer as "affordable". The lack of practicality makes its vehicle more of a "toy" or second vehicle than a daily driver, and doesn't provide any compelling reasons as to why it's superior to the fully electric vehicles available from large auto manufacturers like Ford and Nissan. With only 2,900 preorders, I expect sales to disappoint as the vehicles become available for retail customers in Q4 2018. I do not expect its preorders to be enough volume to get production to an efficient scale where Arcimoto can be profitable and generate free cash flow.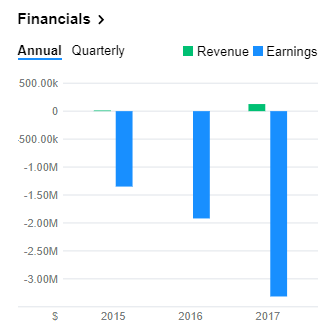 Source: Yahoo! Finance
The company has very little sales and mounting losses, worsening each year for the past three years. Over the past four quarters, its cash position has declined from over $17.6 million to less than $2.38 million, current liabilities have more than doubled, total liabilities have more than quadrupled, and it has averaged negative free cash flow of over $3.5 million. Given its lack of cash generation, I find it improbable that it would be able to receive adequate debt financing from a bank, especially on reasonable terms. Arcimoto can tap the equity markets to raise more capital, but this is not a long-term solution to its financial woes. It will need to start generating substantial revenue to qualify for additional capital resources to provide liquidity to the business.
There certainly are risks facing a short position in Arcimoto's stock, but the upside far outweighs the downside. To my knowledge, there have been no public announcements that a merger between Elio Motors and Arcimoto is in the works, nor have there been any indications that a larger manufacturer is interested in purchasing Arcimoto. Although they are possible outcomes, I do not see them as likely scenarios.
I do not expect Arcimoto to be able to differentiate itself from its competitors and generate enough demand for its products for it to be a sustainable business over the long-term. Competition, lack of demand and financial woes will lead to a successful short, and the stock price of Arcimoto going to nearly zero in the next five years.
Author's note: If you have enjoyed this article, please "like" it below and click the "follow" button next to my name at the top of the page. Your support will allow me to invest further time and resources into creating proprietary research.
Everything included in this article is not to be taken as investing advice because I am not your investment adviser. Also, I have not considered your specific situation as your fiduciary. Investors are expected to do their own due diligence before making any investments and should consult with an investment professional who knows their objectives and constraints.
Disclosure: I am/we are short FUV. I wrote this article myself, and it expresses my own opinions. I am not receiving compensation for it (other than from Seeking Alpha). I have no business relationship with any company whose stock is mentioned in this article.