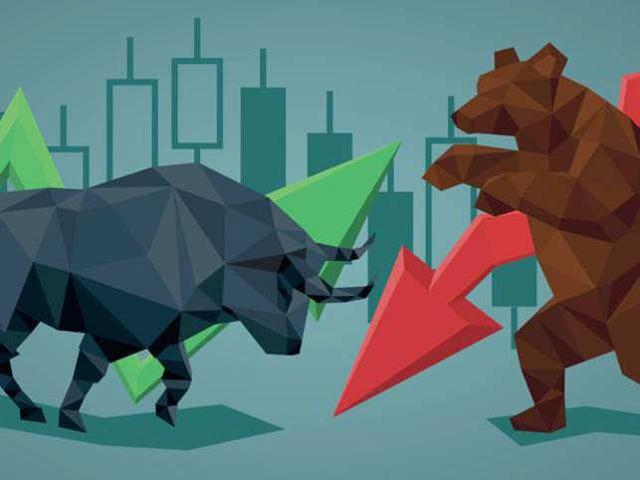 Source: EconomicTimes.com
Why We May Already Be In A Bear Market
The S&P 500/SPDR S&P 500 ETF (SPY) has seen its longest expansion in history since bottoming in 2009 at the ominous 666 intraday low. Since then, SPY and stocks in general have summoned an incredible move higher. From the 2009 bottom, SPY gained about 342%, in what amounted to be the longest bull market in history.
SPY 10-Year Chart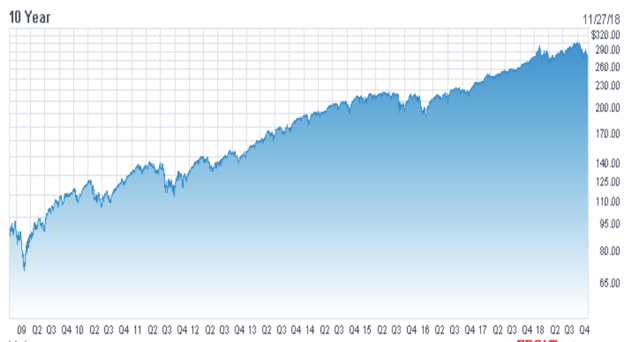 Source: Nasdaq.com
Unfortunately, it appears that this remarkable bull run may have finally met its end. It's true, bull markets don't simply die of old age, but this old bull appears to be dying from a combination of factors, including peak earnings, high valuations, a slowdown in economic growth, and most importantly, an unsupportive Fed policy.
About SPY
SPY is the first major and most popular ETF in the world. It's designed to mimic the exact movement of the S&P 500. The SPY index fund has roughly $258 billion in net assets, and each share in the fund represents a fraction of the holdings.
SPY provides investors with exposure to the S&P 500 index, which is widely regarded as the most significant stock market average for U.S. equities. Since SPY tracks the exact movements of the S&P 500, I will use SPY and the S&P 500 interchangeably throughout this article.
It's Always Been All About the Fed
It's difficult to downplay just how important quantitative easing, and zero rate policies have been throughout the last decade. Monetary policy has been instrumental in driving asset prices substantially higher over the last decade. The enormous amounts of liquidity, coupled with ultra-easy credit essentially enabled the creation of the recent economic expansion as well as the parallel boom in asset prices.
Now that the Fed is raising rates aggressively, the opposite is occurring, and the Fed is inadvertently putting enormous pressure on asset prices. The economy has become very accustomed to ultra-low rates and the seemingly limitless liquidity made available over the last decade. Due to this phenomenon, numerous asset bubbles sprung up, including in real estate, tech stocks, digital assets, debt, and so on.
These are just several examples of the numerous bubbles, some of which are already deflating, most notably, digital assets and tech stocks. However, there is likely a whole lot of air left to deflate out of the system. Easy money provided by the Fed has flowed almost endlessly to fuel all sorts of bubbles in recent years, and now that the Fed is drastically reducing liquidity through QT and is aggressively raising rates, we are likely to witness one of the greatest deleveraging cycles in history.
To get an idea for the kind of predicament we may be in for, let's take a brief look at the debt image. The U.S.'s national debt is approaching $21.8 trillion, the Federal budget deficit is closing in on $840 billion, total personal debt is at $19.3 trillion, mortgage debt is at $13.45 trillion, student loan debt is approaching $1.6 trillion, credit card debt is more than $1 trillion, and so on. The problem is that as the Fed increases rates all this debt becomes more difficult to service and manage, and it ultimately begins to weigh on economic growth.
These are by far the highest debt levels ever; most are even substantially higher than they were prior to the 2008 financial crisis. Americans are swamped in debt, and as the Fed continues to raise rates adjustable debt becomes increasingly more expensive to service, and future credit becomes increasingly more expensive, as well as more difficult to come by. The result is a slowing economy, peak corporate earnings, and very possibly, even a tsunami of defaults, coupled with an economic recession.
There is a big debate right now, whether the current downturn will prove to be another correction, or is the start of a bear market. So, let's look at several factors that tell an increasingly convincing story that we are indeed in the midst of a bear market already.
FANG's Debacle: Much More than a Correction
The FANG debacle has been epic:
If we expand the acronym a bit, to FAANNG+M:
If we add the Chinese counterparts, FAANNG+M+BAT:
B - Baidu (BIDU): Down by 38%.
A - Alibaba (BABA): Down by 39%.
T - Tencent (OTCPK:TCEHY): Down by 48%.
(All declines are from peak to trough 52-week period, average FAANNG+M+BAT decline 35.8%)
Perhaps the most discouraging factor is that these stocks have been the undisputed leaders of this bull market, especially in the later stages of the ascent. When you have market-leading companies down by 25%, 30%, 40%, and 50%, this is not just a correction any more, this appears to be more indicative of bear market action.
Also, if you think multiples have compressed to reasonable levels in these names, you may want to take a closer look at some of these P/E multiples. I am using trailing multiples, because these are based on actual company earnings and not on projection that may or may not come to fruition. Based on all the recent earnings misses and lower guidance, it's impractical to rely on many forward EPS projections, in my view.
Trailing P/E multiples:
F - Facebook: 20
A - Amazon: 88
N - Netflix: 93
G - Google/Alphabet: 39
A - Apple: 15
N - Nvidia: 21
M - Microsoft: 44
B - Baidu: 15
A - Alibaba: 45
T - Tencent: 28
Average FAANNG+M+BAT P/E multiple 40.8, average historical median S&P 500 company P/E multiple 14.73.
Despite the recent carnage, only a couple of these companies are trading in the teens, and these are the companies with most questionable growth prospects. In fact, we could be looking at negative revenues and EPS growth materializing for several of these names, including Nvidia, Baidu, and possibly even Apple.
The bottom line is that these are the market leaders, just about all are in bear market territory, and many companies' multiples are still sky-high, implying that further downside may lie ahead for many of these companies.
Another factor to consider is that just like multiples overshoot to the upside on the way up in a bull market, multiples could over-contract on the way down in a bear market, suggesting that, ultimately, prices could go much lower than many market participants expect in these names as well as in stocks in general. The FANG names are still market leaders, but they are leading stocks lower instead of higher now.
Crashing Oil Prices: Another Discouraging Indicator
Another important factor to note is oil prices. Oil has performed horribly in recent weeks. Crude oil has crashed by 35% in the last 6 weeks, which appears to be one of its worst performing periods in history.
Crude Oil 1-Year Chart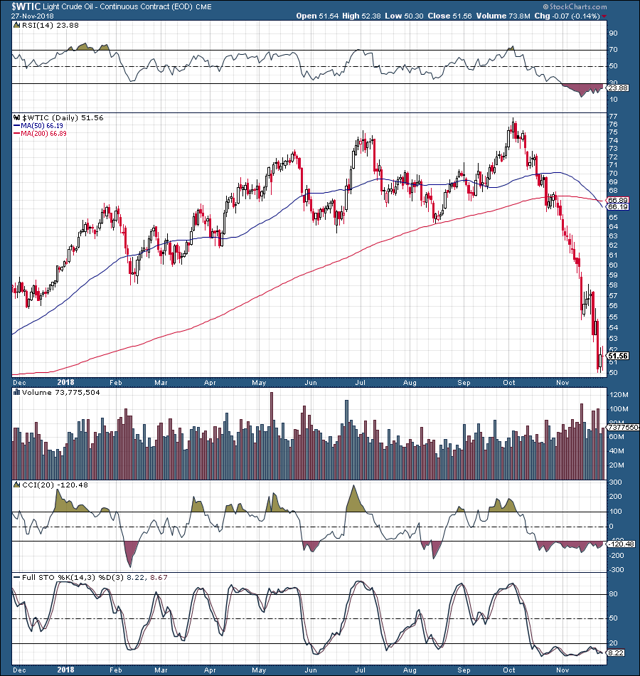 Source: StockCharts.com
Such declines are not indicative of a healthy market. Oil consumption is weaker than expected, and the oil markets are likely telling us that a substantial economic slowdown is on the horizon.
Other Sectors: Approaching Bear Market Territory
It's not only the high-flying tech names and energy stocks that are performing poorly now. Many sectors appear to be approaching a bear market if they are not in one already.
Consumer Discretionary: Down by roughly 15%.
Consumer Staples: Down by about 17%.
Energy: Down by about 19%.
Financials: Down by 17%.
Health Care: Down by 11%.
Industrials: Down by 16.5%.
Materials: Down by about 21%.
Real Estate: Down by about 9.5%.
Technology: Down by 16.5%.
Communications: Down by 16.5%.
Utilities: Down 15.8%.
(Declines are from peak to trough 52-week period)
As we can see, most FANGs (market leaders) are deep in bear market territory. In fact, if we take the average FAANNG + M + BAT stock, it's down by a staggering 35.8% from peak to trough. However, most sector averages outside of materials are only approaching bear market territory, as most are still "just" in a severe correction, technically speaking.
Nevertheless, just like stocks followed FANGs to new highs, they are likely to follow the same stocks to new lows, and ultimately deep into bear market territory. We can also see that money is starting to pour into "safer", less volatile, dividend-paying sectors like consumer staples, healthcare, real estate, and utilities.
Also, a very interesting phenomenon can be observed in utilities (as well as real estate and consumer staples). During the first correction at the beginning of 2018, utilities underperformed, declining by roughly 16% in the market downturn. This implied that this was just a long overdue correction, and investors were temporarily dumping everything.
However, utilities are now the best performing segment, down by only 2.5% from recent highs. This illustrates that investors are exiting many positions and are choosing to own the boring, but stable dividend-paying utility stocks. This price action is indicative of bear market behavior and is a stark difference from the price action we saw in 2018's Correction #1 earlier this year.
Utilities Sector 1-Year Chart

Source: CNBC.com
Once again, we can see very similar price action in consumer staples, and real estate, implying many market participants are indeed preparing for the worst.
Stocks are Very Far from Cheap Right Now
There was an interesting argument in recent years. Something along the lines of stocks not having to be cheap because there were no competing asset classes to attract all the loose capital around. This kind of mentality appears to be a byproduct of the Fed-induced asset bubble atmosphere. So, essentially, investors were saying, "Hey, I can't find decent yield anywhere, so I might as well inflate the stock market bubble some more".
The problem is that, unlike several years ago, there are numerous alternative yield sources out there now. Investors can now get over 3% holding 10-year T-notes, or 2.9% holding 5-year T-notes. Corporate bonds offer even higher yields, as AAA bonds provide about 4.2% now, BBB bonds provide roughly 4.75%, B rated bonds offer 7.5%, and junkier bonds like CCC rated provide 12% yields now. Even holding cash in a bank or in a money market account can yield you something. This is the magic of Fed tightening.
On the other hand, the stock market, SPY, is essentially flat for the year, implying that the average stock in the S&P 500 is providing 0% returns YTD. This also suggests that most money managers and stock pickers are having negative years. With this kind of tumultuous price action, why would anyone choose to be overweight stocks right now? Especially when they are so far from being cheap, implying prices could drop a lot more.
The average P/E ratio in the S&P 500 is about 21.83 right now, which is roughly 48% higher than the median norm. Also, if we look at the Case Shiller P/E ratio metric, a gauge that better represents asset values (in my view), it's at around 30 right now. The gauge was as high as about 33.5 recently, but despite the recent decline, it is still at its second highest point in history, well above the high of 27 during the 2007 top, and only below the levels of the dotcom bubble. Price to sales ratios are just starting to come off all-time highs of over 2.2.
Case Shiller P/E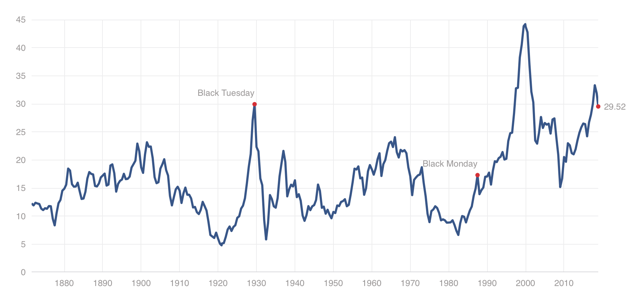 Source: Multpl.com
The bottom line here is that stocks are still very expensive, about as expensive as they've ever been throughout history, excluding the ludicrous period of the dotcom boom. With rates moving higher, liquidity tightening, and economic growth slowing, it's likely that air will continue to come out of this bubble, and since valuations have begun the decline, it is likely that the multiple contraction cycle will continue. Therefore, we are very likely in the very opening stages of the current decline than anywhere near the end.
For stocks to get back to their medium long-term valuation of 14.73 (P/E ratio), SPY would need to decline by an additional 33% from current levels, which would put the S&P 500 at around 1,800. We know that valuations often overshoot to the downside in a bear market, so the S&P 500 could potentially fall to the 1,500 level, or lower even.
Peak Earnings: Likely Approaching
The other factor likely to reduce stock prices further is stagnant or lower corporate earnings going forward. Whether it's due to slower or declining revenue growth, higher costs, trade tariffs, a China slowdown, or something else, we've been hearing a similar story from many companies. From Facebook, to Nvidia, to Apple, and to countless other bellwether industry leaders, the story is similar; revenues are lower than what analysts expected, and forward guidance is substantially lower than previously announced or expected.
This implies that the economic slowdown is already here, and it's likely to become more severe than many market participants had anticipated. Additionally, tax cuts and other late-cycle stimuli provided a substantial boost profit-wise to companies in recent quarters, and as this effect wears off, corporate profits are likely to peak and level off soon and could even begin to decrease going forward.
Corporate Earnings 3-Years (in billions)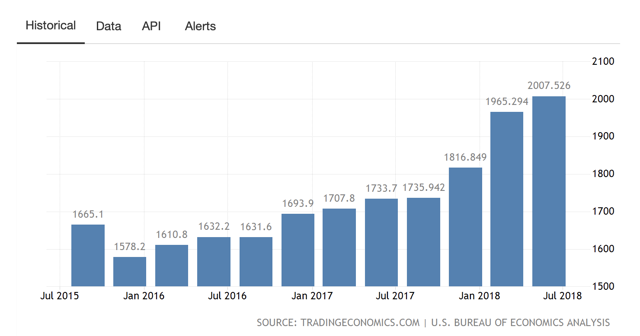 Source: TradingEconomics.com
Corporate Earnings Long Term View
Moreover, this phenomenon is likely to be exacerbated by the effects of the economic slowdown materializing. Therefore, corporate profits may peak in early to mid-2019, and given that the stock market is a forward-looking mechanism, declines in stocks are likely to begin well before peak earnings arrive.
Is a Recession Necessary for Bear Market?
There is a common misconception that for a bear market in stocks to materialize, there must be an economic recession. Since 1950, the U.S. has weathered 9 bear markets and 3, or 33% of them have been independent of an economic recession. It's true that the deepest and longest bear markets occur at around the same time as a recession materializes, but often times, they begin well before an actual recession is recognized.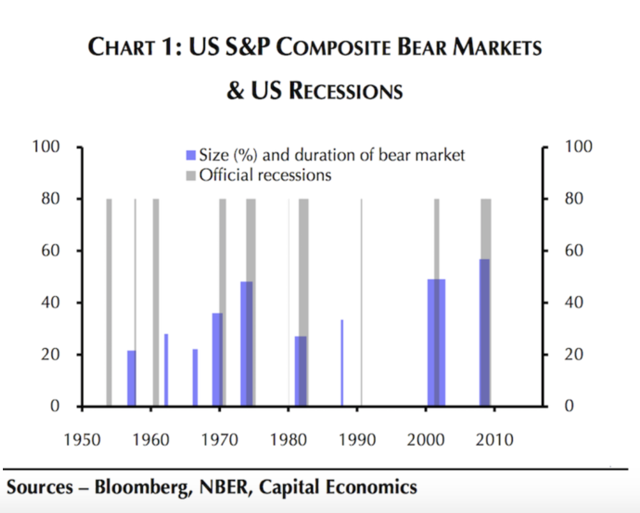 Source: BusinessInsider.com
Furthermore, it's important to note that a recession is a normal occurrence in an economic cycle. It is essentially a rebalancing of all the excesses consumed and created during the boom years. Typically, a recession occurs about every 5 years or so.
So, how long has it been since we had an actual recession? Well, it has been almost 10 years. In fact, we are approaching the longest period without a recession ever, since the 10-year run from 1991 to 2001. This implies that a recession may be much closer than many market participants realize and could essentially materialize at any moment.
Furthermore, as bear markets typically precede recessionary environments, it is quite plausible that we may be in a bear market already, and the recession may materialize roughly 6 months to 1 year down the line.
The Bottom Line
The bottom line is that the bear market may already be here. But don't expect to see a repeat of 2008 when stocks plummeted by 10% or more on any given Monday, or liquidity concerns were rampant, causing panic everywhere. This time, the bear market may be less steep, but it may also last a lot longer. There could also be a lot of sideways action and plenty of room for bear market rallies. In fact, we may be on the cusp of a bear market spike into year-end due to the current vastly oversold short-term conditions.
However, I would utilize upcoming rallies to sell the rips, much rather than build long-term positions, or buy the dips even. The risk reward dynamic is likely skewed to the downside now, as future gains are likely going to be limited, and potential losses could be significant going forward. It's not a bad idea to raise dry powder going forward. There will probably be plenty of opportunities to deploy it at lower levels within the next year or two.
To sum up:
Former leaders are now laggards and are overwhelmingly in deep bear market territory.
Many sectors are approaching bear market declines.
Defensive sectors such as consumer staples, healthcare, real estate and others are outperforming.
Utility, staples, and real estate stocks are experiencing heavy demand and are behaving much differently than in the prior correction.
Valuations are still extremely high.
SPY would need to decline by 33% just to reduce valuations to long-term historical median average.
Corporate earnings may peak as soon as early to mid-next year.
Debt levels are extreme and are becoming increasingly difficult to manage and service.
Future credit is becoming more expensive and more difficult to come by, which is slowing down economic growth.
The Fed's unsupportive policy is putting enormous pressure on asset prices, threatening to deflate multiple bubbles.
Stocks don't necessarily need a recession to go into a bear market. Nevertheless, bear markets almost always precede peak earnings and recessionary environments.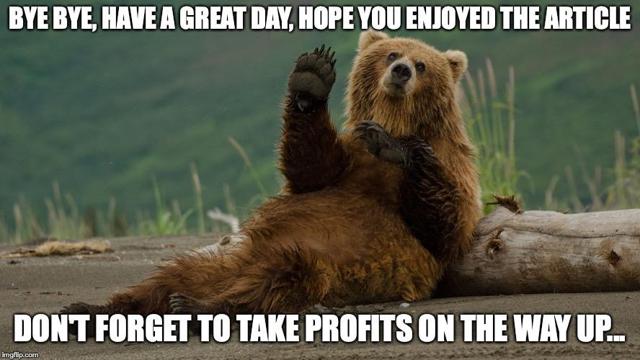 Source: ImgFlip.com
Thank you for taking the time to read my article. If you enjoyed reading my work please hit the "Like" button, and if you'd like to be notified about my future ideas, hit that "Follow" link.
Disclaimer: This article expresses solely my opinions, is produced for informational purposes only, and is not a recommendation to buy or sell any securities. Investing comes with substantial risk to loss of principal. Please conduct your own research, consult a professional, and consider your investment decisions very carefully before putting any capital at risk.
Want more? Want full articles that include technical analyses, trade triggers, trading strategies, portfolio insight, option ideas, price targets, and much more? To learn how to best position yourself for a rally in SPY please consider joining Albright Investment Group.
Subscribe now and receive the best of both worlds, deep value insight coupled with top-performing growth strategies.
Enjoy access to AIG's top-performing portfolio that has outperformed the S&P 500 by 40% over the past year.
Take Advantage of the limited time 2-week free trial offer now and receive 20% off your introductory subscription pricing. Click here to learn more.
Disclosure: I am/we are long AAPL, GOOG, MSFT, BIDU. I wrote this article myself, and it expresses my own opinions. I am not receiving compensation for it (other than from Seeking Alpha). I have no business relationship with any company whose stock is mentioned in this article.
Additional disclosure: Current positions have been significantly reduced in recent months and weeks.
Editor's Note: This article discusses one or more securities that do not trade on a major U.S. exchange. Please be aware of the risks associated with these stocks.