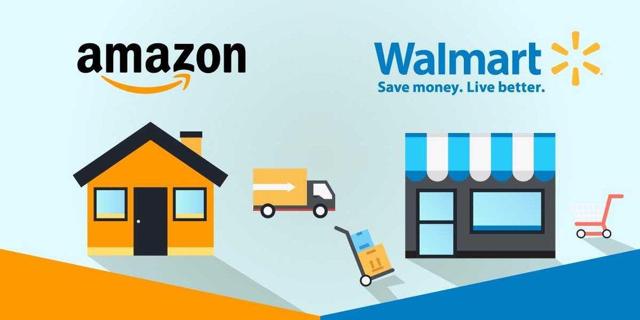 Source: Business Insider
Back almost 1.5 years ago, I wrote a highly-regarded article comparing Walmart and Amazon and the coming grocery wars. Back then, the big news was Amazon.com's (NASDAQ:AMZN) $14 billion purchase of grocery chain Whole Foods Market Inc.
At that time, I mentioned that both Amazon and Walmart (NYSE:WMT)were super companies for shopping. However, one must look at the technicals and fundamentals to determine if they are good investments.
If I could only invest in one - either Amazon or Walmart - I would prefer to be long a stock that is taking market share from an e-commerce company rather than an e-commerce company taking market share from a brick-and-mortar approach to selling groceries. My opinion has not changed too much today. However, the easy money is over in both stocks and stock options will again enter into my trading the volatility in each.
Since the time of the last article, I have owned shares in both of these companies, let's take a side-by-side look at each.
Comparing WMT and AMZN
Walmart's Changing Business Strategy
Walmart's online sales are expected to grow 40% this year while digital growth will expand by 35% in 2019. WMT is stepping up its grocery business and adapting to a fast-changing environment against AMZN. WMT is giving AMZN a one-two punch. They are focused on two customer segments - one offering less expensive and convenient ways to buy groceries while also focusing on high end brands like Bonobos and Modcloth.
However, don't forget the Jet.com $3.3 billion acquisition two years ago. In my opinion, the fruit of the Jet.com acquisition has not budded. Walmart continues to 'rebrand' and give a 'facelift' to the brand. It has not been able to capture urban areas like New York with its high concentrations of affluent buyers. Jet.com's traffic and market share have declined. A Hitwise study showed that Jet.com's traffic dropped 56% from August 2016 to 2018.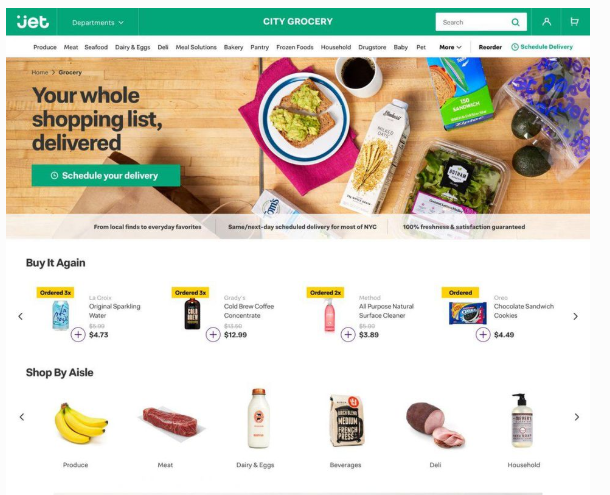 Source: Jet.com
Overall though, Walmart's plan is working. While some companies sales are stagnating, WMT's Q319 comp sales grew 3.4% and their e-commerce sales grew 43%. In addition, grocery pickup is now available in nearly 2,100 locations and grocery delivery is available in nearly 600 locations. Excluding currency, net sales were $30.0 billion, an increase of 1.6%. Comp sales were positive in nine of 10 markets.
On top of that, their balance sheet is getting stronger with receivables down, accounts payable up, and inventories flat. The company is throwing off free cash flow of $10.3 billion. However, year-to-date share repurchases are quite a bit lower than they have been. While their share repurchased did rebound in Q319, we need to wait and see if they continue with strong share repurchases for the year. Share repurchases are generally positive for stock prices as management thinks the shares are undervalued.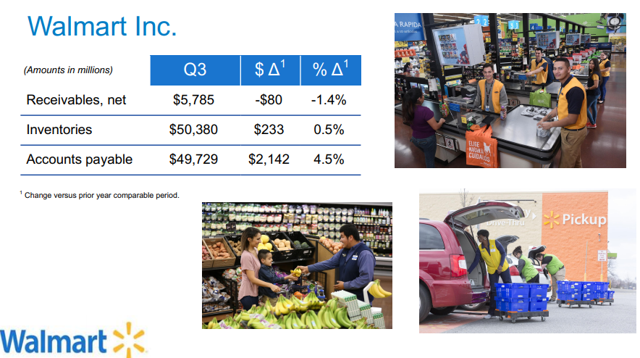 Source: Walmart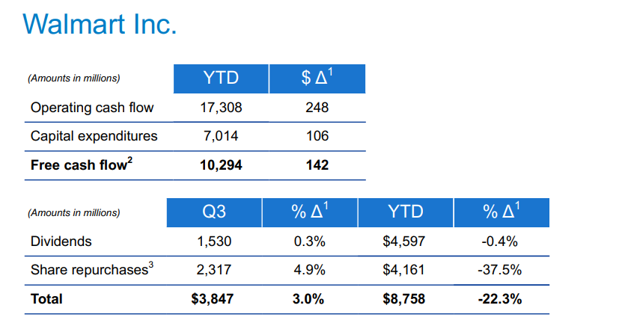 Source: Walmart
Sam's Club
One business that I never really understood why Walmart is in is Sam's Club. Their stats continue to be unimpressive and frankly, I think they would be wise to spin that off. Please comment below to convince me otherwise. Walmart's gross profit rate declined 27 basis points and increased 6 basis points, with and without fuel, respectively. Operating expenses as a percentage of net sales increased 18 and 43 basis points, with and without fuel, respectively.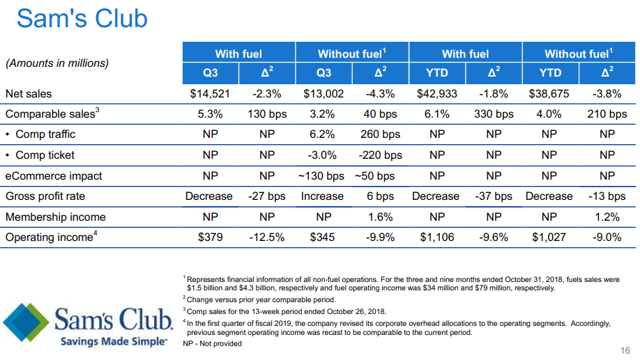 Source: Walmart
As Amazon has been able to capitalize and become the e-commerce leader, Walmart would be wise to keep in front of Amazon as much as it can.
Walmart's net sales worldwide from 2006 to 2017 ($B):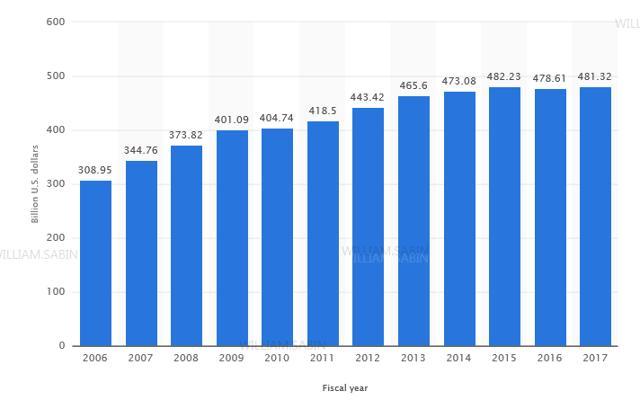 Source: statista.com
Walmart Pay
In July 2016, Walmart launched its own mobile payment system called Walmart Pay in all of its 5,000-plus U.S. stores. Twenty-five percent of adult smartphone users have used Walmart Pay at least once; by December of last year, 5.9 percent of smartphone users used the app to make a purchase in a Walmart store.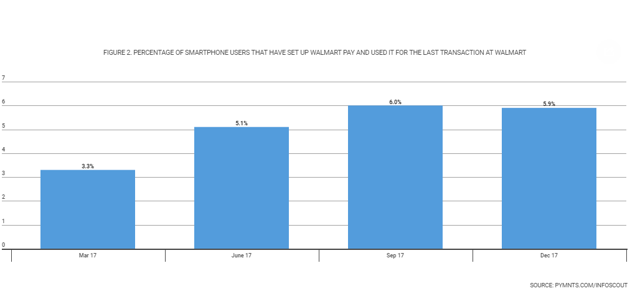 Amazon's Leadership
As has been the case for some time, Amazon continues to dominate online sales. Amazon now has nearly 50% of the US e-commerce market up from 43.5% last year. Amazon controls nearly 5% of the total US retail market (online and offline). The amazing thing about Amazon, is that it does not have to rely just on food and merchandise sales to generate shareholder value. There is strength in its diversity.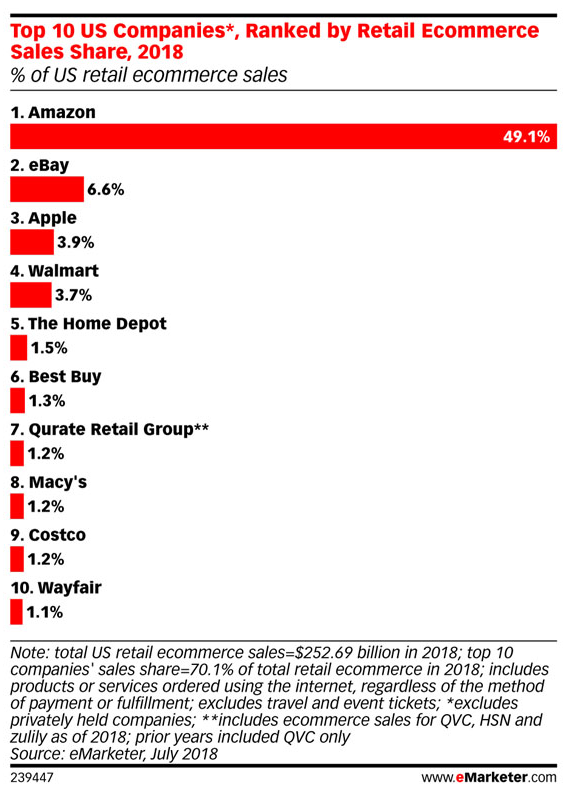 Amazon is on track to generate $258.2 billion in US retail e-commerce sales this year (computer and consumer electronics is the leading product category with sales of $65.8 billion), up 29.2% over last year. Amazon's Marketplace represents 68.0% of their business while 32.0% of sales are from direct sales.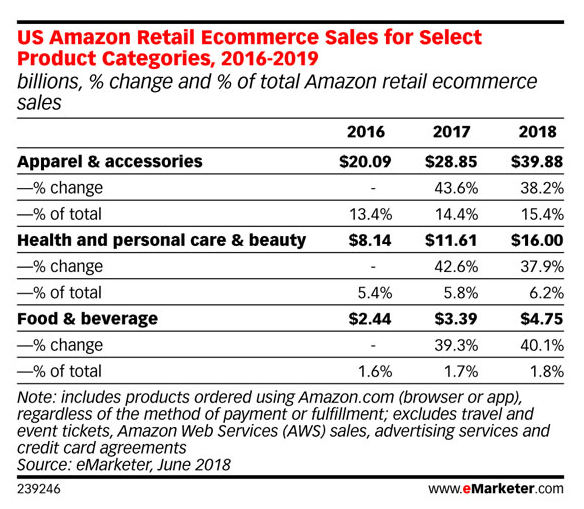 In its continued fight against Walmart, Amazon expanded grocery delivery from the Whole Foods Market through Prime Now which is available in more than 60 U.S. cities. This service offers customers delivery in as fast as an hour on thousands of natural and organic groceries and locally-sourced items. They also launched grocery pickup from Whole Foods Market allowing customers to place their order and pick up their groceries in as little as 30 minutes. The service is available in more than 10 U.S. cities with plans for continued expansion.
A Review of Walmart and Amazon Share Prices and Technicals
Walmart Shares
Walmart's stock has been hit hard along with the rest of the market. However, I'm getting bullish on the stock at this point. Their P/E is 55 which is historically high with a dividend of 2.19%. The stock is down 1.4% in the last 52 weeks.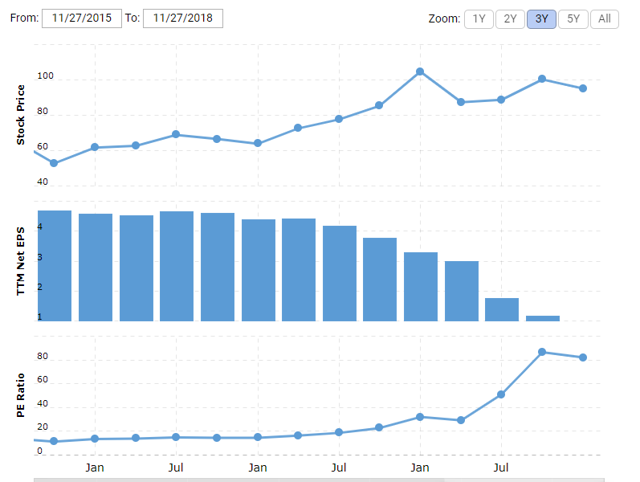 Source: Macrotrends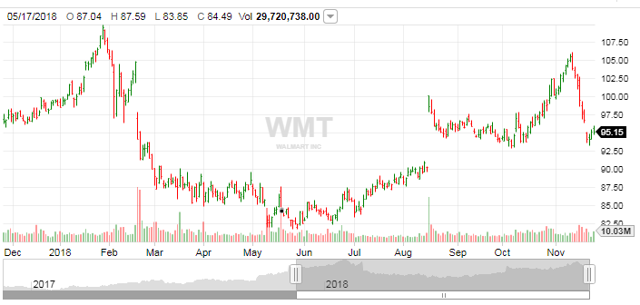 Source: Fidelity
Walmart Technicals
Walmart's Relative Strength Index (RSI) RSI is below the neutrality area at 50. The MACD is below its signal line and negative. The stock is trading under both its 20 and 50 day moving averages of 100.31 and 97.47, respectively. Support is 91, which if met, would be a 4% decline from current prices.
The stock will need to close above 98.7 for a bullish trend to be in place. If a breakout about 98.7 occurs, look for 104 as the next target.
At this point, I am trading cautiously bullish on Walmart shares. For details for trade specifics, please subscribe to my Seeking Alpha Market Place service: Financial Freedom Insights.
.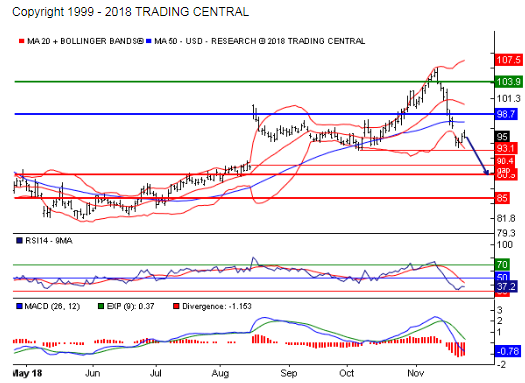 Amazon Shares
Amazon's stock is in the gutter. Why? Their P/E is 84 which is relatively low for Amazon. The stock is still up almost 30% in the last 52 weeks which is not a place I would want to be in a nervous market. Support is 1338, which if met, would be a decline of 15% from current prices.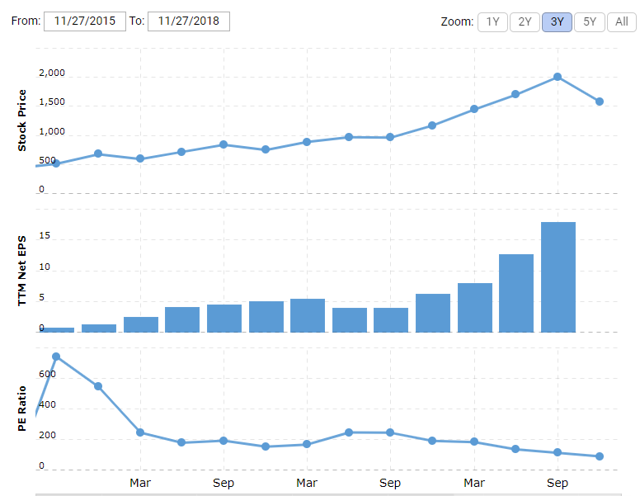 Source: Macrotrends
Net sales increased 29% to $56.6 billion in the third quarter. Operating cash flow increased 57% to $26.6 billion for the trailing twelve months, compared with $17.0 billion for the trailing twelve months ended September 30, 2017. Free cash flow increased to $15.4 billion compared with $8.0 billion for the trailing twelve months ended September 30, 2017. Operating income increased to $3.7 billion in the third quarter, compared with operating income of $347 million in third quarter 2017.
Even with this great news, traders have decimated the stock from a recent trillion-dollar market cap to just over $734 billion. It's all about 4Q guidance.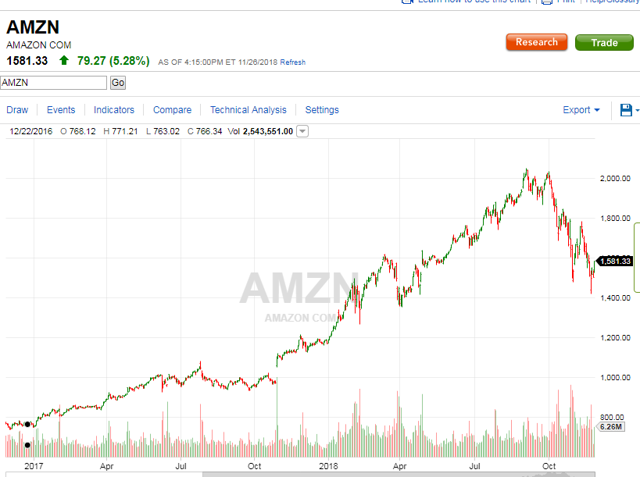 Source: Fidelity
Amazon Technicals
The Relative Strength Index (RSI) is below 50. The MACD is negative and below its signal line. The stock is trading under both its 20 and 50 day moving averages of 1,608.98 and 1,760.68, respectively.
The stock will need to close above 1712 for a bullish trend to be in place. If a breakout about 1712 occurs, look for 1900-2000 as the next target.
At this point, I am trading bearish on Amazon shares. For details for trade specifics, please subscribe to my Seeking Alpha Market Place service: Financial Freedom Insights.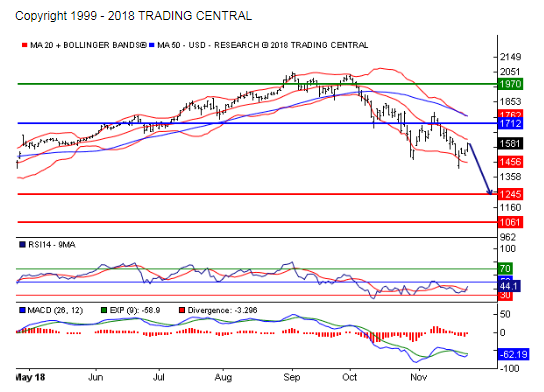 Comparing the Two
Shown below are Walmart and Amazon charted together. Walmart is in the blue. In my opinion, technically, WMT has a much more established base and is trading near that level while AMZN has more room to the downside in the short term.

Source: Fidelity
Insider Activity
While not a perfect indicator, it is interesting to view (legal) insider trading activity over a time period. Some investors believe there is a direct correlation to insider trading activity and future stock performance. However, I generally don't think insiders are that much better than the public in determining the direction of a stock. Many times, insiders exercise shares for several reasons, some of which have nothing to do with where they think the stock is headed.
As you will note below, Walmart has had consistent and increasing insider sales. However, the volume compared to the options outstanding is quite small. As such, the activity seen in these trades might (or might not) point to a stock reversal.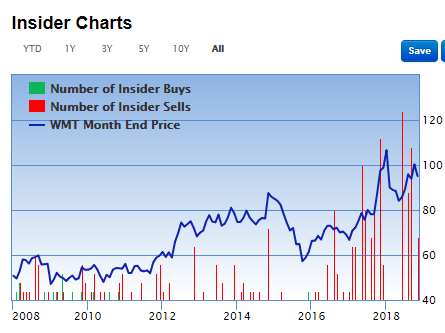 Source: GuruFocus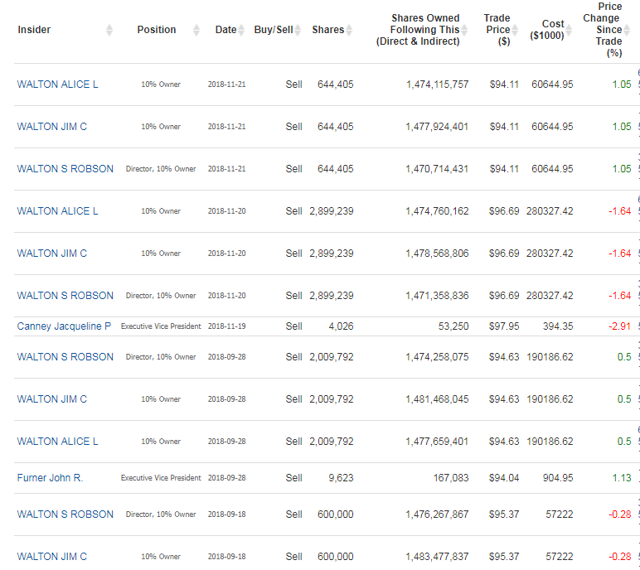 Source: GuruFocus
For Amazon, the graphs are rather distorted due to the high concentration of shares held by Mr. Bezos. However, there is very little inside activity to report.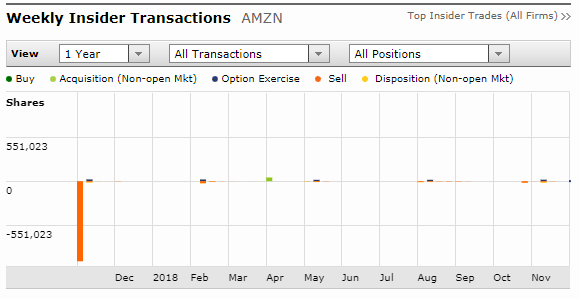 Source: Morningstar
When Is The Best Time To Retire?
Ah...the countdown, the day dreaming, the planning. What will you do - travel the world, fish, volunteer, more time with the grand kids? I have always found retirement a bit frightening. Why? Because I don't want to retire too soon and outlive the nest egg.
Below are a number of items to at least think about before retiring from that full-time job. If you are married, make sure that you both are on the same page before announcing your retirement....
1. Reaching Full Retirement Age
From the US Government standpoint via Social Security, see the below chart for 'full retirement' age. Although you can start claiming Social Security benefits as early as 62, your benefits will be much higher if you wait until full retirement age. If you start your retirement benefits at 62, your monthly payment is greatly reduced - see below. The longer you delay receiving a payment - up until age 70 - the larger the monthly check you will receive.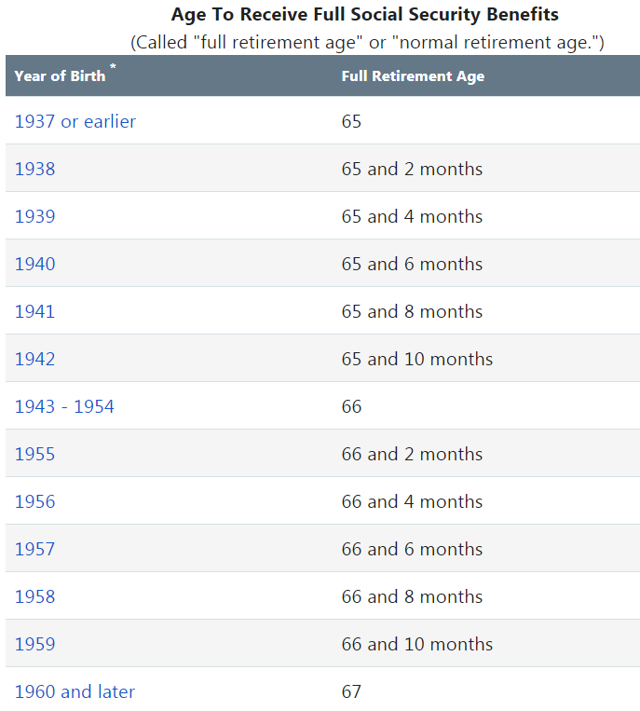 Source: SSA.com
If you claim Social Security benefits at 62, think through the decision carefully ensuring you understand how Social Security benefits work, so you can make the right choice for you and your family.
To be fair, there is a break even analysis that one should review on when to take benefits - the point at which the amount you receive if you claim later equals the amount you would have received if you had started receiving payments early. Social Security is designed with "actuarial neutrality" built in. Meaning, regardless if you start receiving your benefits earlier or later, you should receive about the same total money over your lifetime. However, since delaying your benefits provides a larger monthly check, most experts advise to delay receiving a payment as long as possible.
Below is a chart showing the breakeven at a number of typical monthly social security income levels along with if you started to take a check at 62 vs 66 and 70. The breakeven ages are shown in the last column - if you take benefits early, it will generally take you to age 77 to 83 to breakeven - where the extra early payments equal the increased payments for waiting.

Its important to note that you are guaranteed these additional monthly benefits by waiting. While you potentially could get payments starting at 62 and invest in instruments yielding more than you would have by waiting to receive a bigger check later, there is no guarantee of this.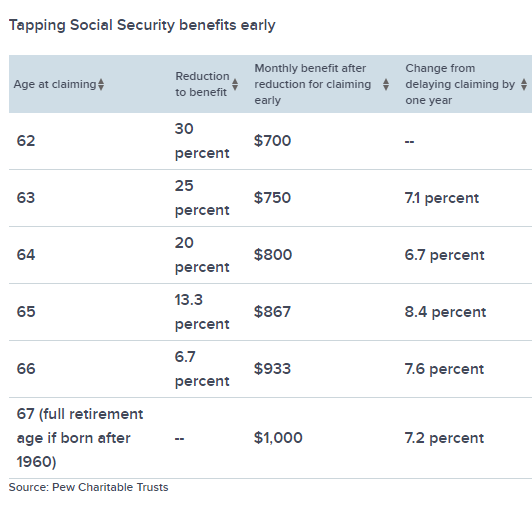 Some people take social security benefits early (earlier than full retirement age) for a number of reasons - they don't think that the system will be around (e.g. it's going broke) or because of injury or illness that makes it impossible to work. While the Social Security trust fund is estimated to run out money by 2034; I believe that the problems will be fixed before then. There is no reason to short change your day-to-day life over what could be or might be under a huge government program.
If you can't work because of a physical disability, you might consider not rushing to claim Social Security retirement benefits at 62. Doing so will cause you to permanently reduce the benefits you receive for the rest of your life. Rather, consider applying for Social Security Disability Insurance (SSDI). This is different than Supplemental Security Income (SSI). SSI disability benefits are available to low-income individuals who have either never worked or who haven't earned enough work credits.
If you get SSDI, you won't could hopefully delay receiving your social benefits. You can also become eligible for a "disability freeze." Social Security calculates benefits based on your average wages. If you're disabled and making very little, a disability freeze prevents these low-earning years from being counted when determining your monthly benefit. In addition, SSDI will automatically switch to regular social security benefits when you reach full retirement age.
2. Who You Financially Support is Reduced
If you kids are grown, out of the house, or maybe have their own income, you should have lower expenses. If so, that makes it a lot easier to retire as you have fewer expenses. However, if they are still in college, and you don't have a state pre-paid plan or have fully funded their college costs, you might consider postponing your retirement plans.
At the same time, if you are caring for elderly parents, this might take a bite out of your retirement dreams. I'll discuss long-term care (LTC) and related insurance in a future article, however, it pays to shop around for this type of insurance to cover costs of nursing home, assisted living and in-home care. According to AARP, only approximately 7.2 million Americans have LTC insurance for expenses that are not typically covered by Medicare.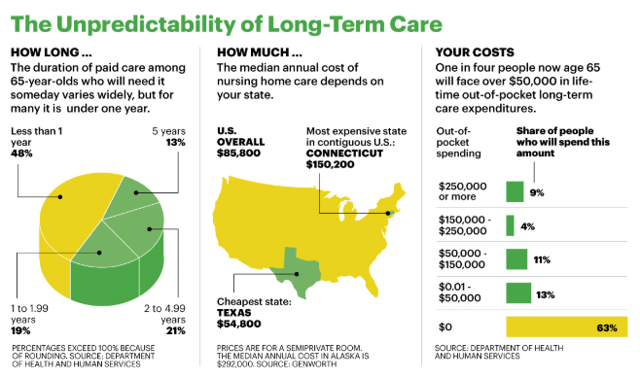 Source: AARP.com
3. Being Debt-Free
If you are debt free - I mean all debt - cars, house, credit cards, boat, etc. , you might be able to retire more easily. You definitely don't want to be on a fixed income and have to feed the debt monster each month. If you have your debt paid off, you will have more income to allocate to other things that come up such as emergencies and vacations. To help reduce your debt by reducing your expenses, see my historical article. The key is to be goal-driven - to be debt free. Don't look at debt as a tool - leverage works both ways. In good times, you can get more stuff (bigger house, nicer car, etc.). However, when the lean times come, and they will, be ready to be nimble.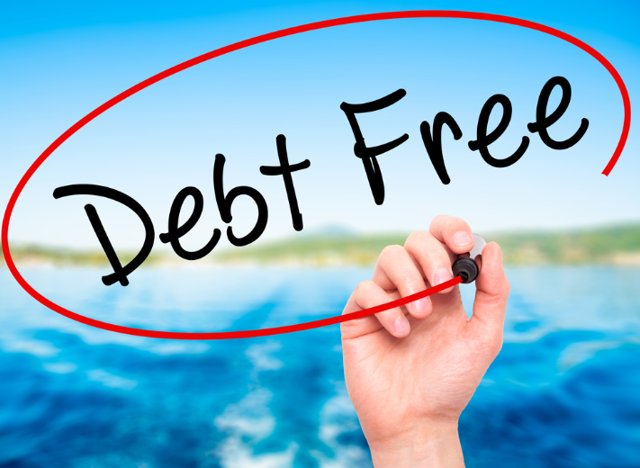 Source: Science of Mind
4. Create a Retirement Budget
Aghh...I spent my whole life living on a budget? Are you saying I need one in retirement as well? Yes. Unfortunately, it is needed. Its one of the most effective tools for knowing what you are spending. If you find over time that you are spending too much relative to your savings and retirement income, you will need to figure out how to make more money (higher yielding bonds which carry more risk, getting a part-time job) or reduce your spending.
A budget is important to determine if you can live comfortably on your post-retirement income. For a sample budget, please click here. Add all your income up - your Social Security payments, pension, retirement account distributions, and any other sources of income. Determine your costs such as mortgage, rent, groceries, utilities, insurances (house, car, medical, etc.), gas, entertainment, medical, shopping, etc.
5. Review Your Portfolio
Ensure that you consult your financial advisor to work through tax, investment mix, and goals that very well could change in retirement. Your portfolio will be working hard for you in retirement and you will rely on it to provide you with income and to cover expenses.
One area that you might consider is to review the size of your portfolio, how much growth you expect and consider your estimated spending from your budget. It's important to build your portfolio in a more conservative manner in retirement primarily as you do not have as many years to recover from market swings.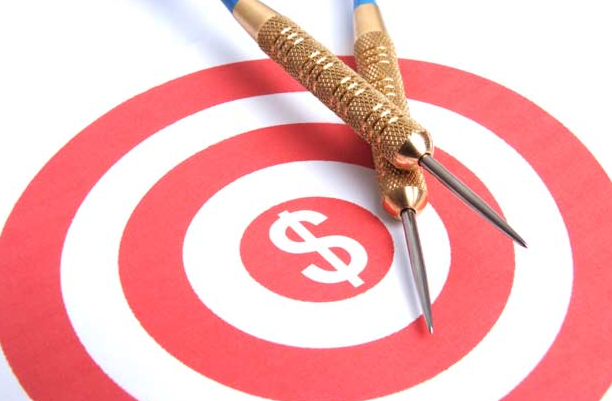 Source: Oldnorthwest
Summary
I am a frequent customer of both Amazon and Walmart and shop based on price and convenience. From a consumer standpoint, I have no allegiance to either company (or any other company in this space); I suspect I am not alone. As such, the company that gets my business on one order might not be the one that gets my business on the next. Overall, more competition is good for the consumer, who should see great product availability, lower prices, and (hopefully) better quality.
While both Amazon and Walmart are super companies, looking at the technicals and fundamentals, I would prefer to be long a stock that is taking market share from an e-commerce company rather than an e-commerce company taking market share from a brick-and-mortar.
Thank you for your time in reading the above article. I read and write on a wide range of companies on a regular basis. If you would like to stay informed with articles like these, please click the "Follow" button at the top of this report and select "Get email alerts." If you have additional insights on the topic or contrasting views, please kindly share them in the comments section.
Disclaimer: This article is intended to provide educational information to readers and in no way constitutes investment advice. Investing in public securities is speculative and involves risk, including possible loss of principal. The reader of this article must determine whether any investments mentioned in this article are suitable for their portfolio, risk tolerance and accept responsibility for their decisions. Neither information nor any opinion expressed in this article constitutes a solicitation, an offer or a recommendation to buy, sell, or dispose of any investment or to provide any investment advice or service. An opinion in this article can change at any time without notice.