In early August, the only way to describe pizza chain Papa John's (PZZA) was as a complete mess. Ugly and deteriorating financial results coupled with persistent boardroom drama and negative publicity to create multiple headwinds for the company. Consequently, PZZA stock traded down to levels not seen since late 2014.
We recognized that weakness as an opportunity, recalling that Papa John's has had prior sales downdrafts before, and that each time, it ended swiftly and resulted in PZZA stock rebounding. In the four months since, shares popped 40% higher. But, PZZA stock is taking a huge step back today (11/27) on a Wall Street Journal report that rumored buyer Trian Management is no longer interested in the pizza chain.
This newfound weakness in PZZA stock should last. Despite our bullishness back in August, the situation surrounding PZZA stock has changed dramatically since then. Namely, even after a recent correction, the stock is still up more than 20% in less than four months. While we feel an operational turnaround is just around the corner, we also feel PZZA stock is appropriately priced for such a turnaround. Further upside will be capped by what has already turned into a maxed out valuation.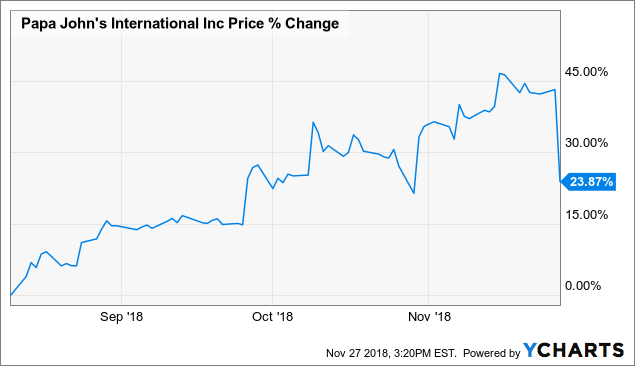 Back in August, the bull thesis on PZZA stock was pretty simple. Papa John's is a pizza chain, just like Domino's (DPZ). Both are nationally recognized brands with a growing international presence, healthy delivery-centric models, and tasty food. In the big picture, there really isn't much separating the two companies. But, in August, you had a massive separation driven by boardroom drama and bad publicity at Papa John's creating a massive slowdown in sales. This created a huge separation in valuation between PZZA and DPZ, a valuation gap that would ultimately correct itself once near-term sales headwinds at Papa John's moderated.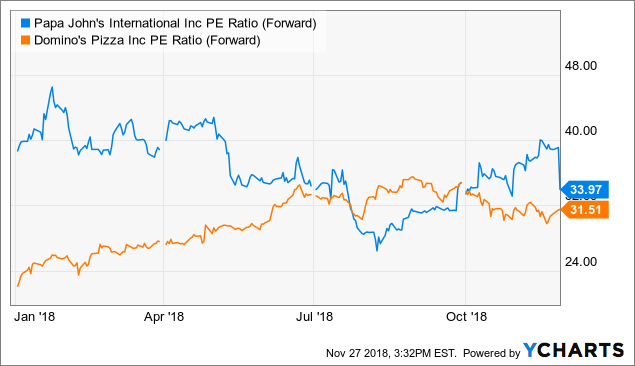 As is obvious from the chart above, the valuation gap did correct itself, and it did so without the numbers improving. Last quarter, comparable sales in North America dropped nearly 10%, much worse than in Q2 (down ~6%) and in Q1 (down ~5%). Instead, the newfound optimism in PZZA stock has been driven by two different factors. First, management said that September comparable sales improved versus July and August, and raised its full-year comparable sales guide last quarter, implying further expected improvement in Q4. Second, there were rumors running around that private equity firms were starting to look at Papa John's as a potential takeover candidate. The combination of these two catalysts caused PZZA stock's valuation to go from well below DPZ in early August, to well above DPZ by late November.
The big rally in PZZA stock was short-circuited recently by a report that a potential buyer is no longer interested. This short-circuiting was long overdue. The reality is that up near $60, PZZA stock was overvalued. The company is turning the corner in terms of sales declines thanks to a new "Voice of Papa John's" campaign and an expanded digital delivery presence. Fourth quarter numbers should showed a big improvement from third quarter numbers, and earnings will likely start growing again after this year.
But, the fiscal 2021 consensus EPS estimate is still just $2.30. Moreover, our calculus indicates that a reasonable EPS target for this company in five years is $4, based on the assumptions that comparable sales growth rebounds to a steady state around 1-2% and that operating margins likewise rebound to just under 10%.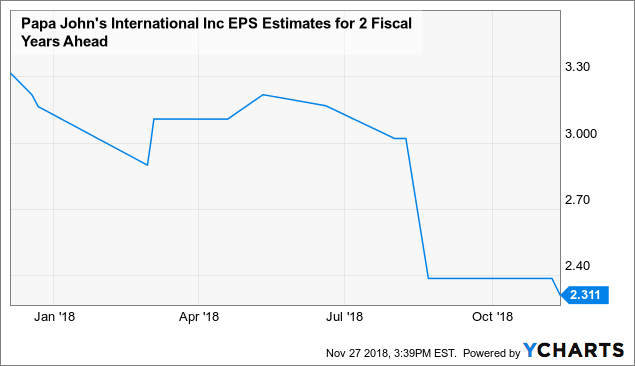 If we take the market's five year average 16x forward multiple and apply it to $4, we are looking at a four year forward price target for PZZA stock of $64. That represents just 6% compounded annual upside, which isn't all that great considering the plethora of macroeconomic risks which could derail this company's rebound trajectory (higher rates could sap consumer confidence, and likewise pause the Papa John's rebound).
Overall, while we were bullish on PZZA stock back in August, we are now largely neutral with a slightly bearish skew. We believe the current valuation appropriately reflects the reality that a sales turnaround is coming in the near future. Further upside will be driven by PE interest, and that seems like a wild card, so we choose to remain on the sidelines.
Disclosure: I/we have no positions in any stocks mentioned, and no plans to initiate any positions within the next 72 hours. I wrote this article myself, and it expresses my own opinions. I am not receiving compensation for it (other than from Seeking Alpha). I have no business relationship with any company whose stock is mentioned in this article.