Medicure is a small Canadian pharmaceutical and biotech company involved in the research and development of drugs largely targeting the cardiovascular space in the United States. Medicure's strategy is to buy or license drugs with low R&D requirements, and bring them to market. Thus, Medicure's value-add is its distribution network and relationships with hospitals and payers in the US medical system. To summarize the thesis quickly, Medicure today trades at a $107 million CAD fully-diluted valuation, and has $72 million CAD of cash on the balance sheet, with a receivable due in the middle of 2019 for a further $10mn USD (~$13mn CAD). This will bring the total cash on the balance sheet to $85 million CAD, giving an implied value to Medicure's core business of $22 million, or 0.87x LTM sales. The company is cash flow breakeven, has one drug that is just starting sales, another drug due to launch in 2019, and by 2020 will be a 5 drug company. The company's founder, Dr. Albert Freisen, owns 15% of the company.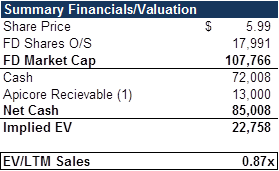 Source: S&P Capital IQ, Company Filings
While it is difficult to estimate what the run rate sales will be in 2020, it is clear that Medicure today represents a highly asymmetric investment: a founder led company with a significant pipeline, with downside protected by the fact the company is almost a net-net at today's price.
What is the Market Missing?
The easiest way to explain what the market is missing is simply to show you the company's financials: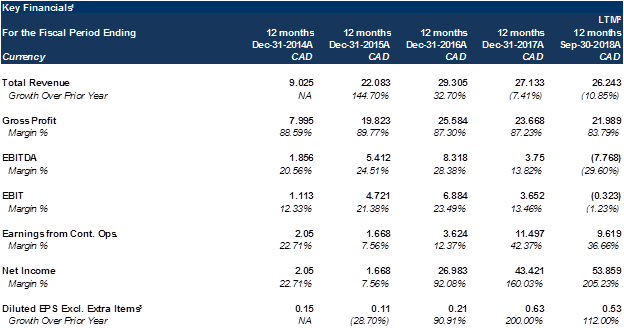 Source: S&P Capital IQ
One of the things I learned when working for a top performing small cap fund in Canada (which coincidentally is one of the largest holders of Medicure today) a few years ago was that investors in the small cap space often use screens excessively, and so companies that didn't screen well often traded at significantly lower valuations than peers that looked better. Of course, when you dug into them sometimes you'd find the market was wrong. What we see here is just that: Medicure is showing declining sales growth, declining gross margins, and it's a one drug company at present. Further, the $13mn receivable doesn't show up in cash yet, but management said on the last conference call that they will be receiving this by the end of H1 2019. This has the effect of making the company look more expensive than it is. Knowing only the financials, why would you as a small cap fund or investor buy shares in Medicure when a competitor, Biosyent, has financials that look like this: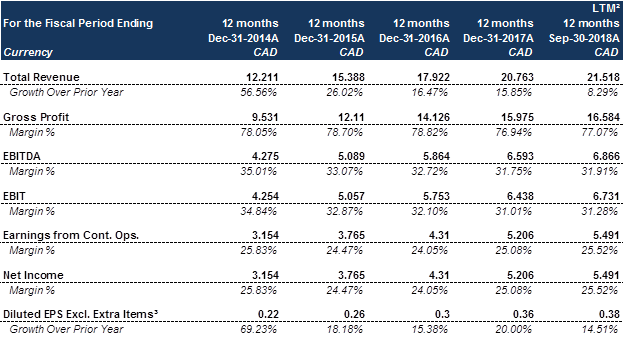 Source: S&P Capital IQ
Seems like an easy choice right? Buy the company growing at 15% a year with 25% net margins! As I'll show, Medicure is a company going through a transition from a one drug company to a 5 drug company, and I think that the market just really isn't paying attention. That transformation is going to re-ignite top-line growth which is something that tends to expand the multiple the market is willing to put on the company. I think this potential for increasing sales, multiple expansion, and the downside protection offered by the cash make Medicure a highly attractive investment today.
Aggrastat
Aggrastat is Medicure's largest revenue producer, and is a drug used as an anticoagulent in emergency rooms. The drug's primary competitor is Integrilin, and the total market the two address runs ~$180 million USD in sales. Aggrastat does ~$7mn CAD a quarter in sales, but that hides its true market share as it is a lower cost alternative to Integrilin. We know this because in 2017 Integrilin represented more than 50% of overall market sales, but had less than 50% patient market share, while Aggrastat had almost 50% patient market share in 2017, but only 22% of 2017 revenues. This implies Aggrastat is priced at ~40% of Integrilin. Also note that Medicure sells to wholesalers, and realizes ~50% of the actual total revenue (e.g for Aggrastat, they realized ~$28mn CAD in revenue on $40.5mn in USD sales).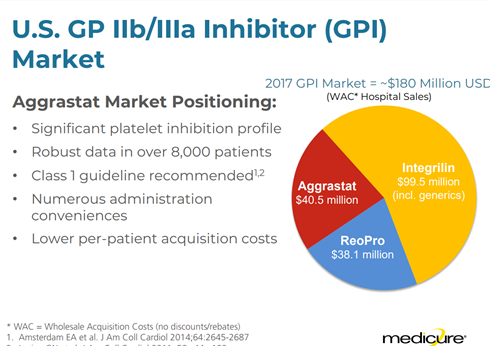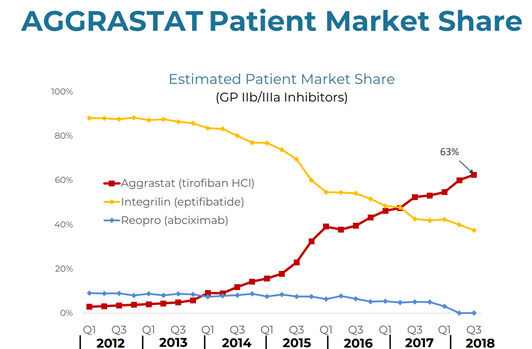 Source: Medicure IR Presentation
Aggrastat revenues are declining slowly as Integrilin continues to lower prices in response to Medicure, and this is one reason Medicure shares are down over the last year. As is to be expected, Medicure is feeling this price pressure as well. Because revenues are realized in USD, but Medicure's functional currency is CAD, FX plays a large role in quarter over quarter sales fluctuations. Thus, growth can be lumpy as per the below:

Source: Author/Company Filings
Going forward, I expect Aggrastat market share will continue to rise, but that price declines will cause roughly flat sales before factoring FX conversion into the picture.
Zypitamag
Zypitamag is Medicure's second drug currently on the market. It was launched in Q2 2018, and is still gaining insurance coverage, so sales are low and lumpy at present. Zypitamag is used for the treatment of patients with above normal levels of fat in the blood (hyperlipidemia and mixed dyslipidemia). Unlike Aggrastat, the drug is not an in-hospital product, but rather expands the company's reach to a new patient group. Zypitamag costs roughly 1/3 of its nearest competitor, Livalo (which is effectively the same drug), which has a $272 million/year run rate in sales. Based on cost alone, if Zypitamag were able to take 10% market share from Livalo, it would result in $27mn USD, or $35mn CAD in sales, roughly 50% of which would flow to Medicure. Zypitamag is also superior in some ways to Aggrastat in a business sense as it is not a single use drug, but rather a maintenance drug designed to help control cholesterol levels. Thus, its revenues are subscription-like and should be fairly stable when they reach a stabilized run rate. Currently, the barrier is insurance coverage: only 39% of the US population is covered by insurance for Zypitamag, but Medicure is rapidly growing that coverage.
ANDA 1
Medicure's next drug, due in Q1 2019, is a sodium nitroprusside injection used to lower blood pressure in hospitals. This will be a generic drug (meaning no license fees and thus higher gross margins to Medicure vs. Aggrastat and Zypitamag), targeting a market of ~$75mn USD. Again, the goal is a lower cost solution than the current incumbent. If this drug achieves 10% market share, then that accrues another $7.5mn USD in sales to Medicure and this would largely utilize their existing hospital focused sales force.
ANDA 2 & 3
At present, we don't know much about these other than they will be released in 2020 and will be generics. For now, I'm leaving these out of my valuation, but be aware that these are effectively options on future sales growth. It is worth noting at this point the economics to Medicure of additional drugs. Given it has already built out its sales force, Medicure has tremendous operating leverage to new products it can move through its distribution networks. Below is an example of what a generic at 90% gross margins would produce in the way of EPS.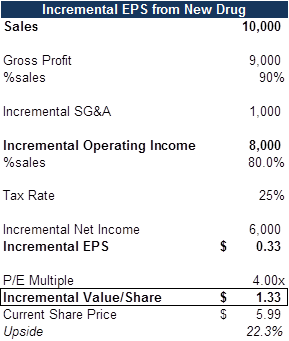 Source: Author Estimates
As can be seen, successful drugs for Medicure are extremely valuable options, and something investors should keep in mind.
Prexxartan
Medicure also has the lisence to sell Prexxartan, the only liquid oral dosage of valsartan, a drug for hypertension treatment in children. This drug is currently on hold due to a dispute between Carmel Biosciences, the developer of the drug, and their third party manufacturer (not Medicure). Overall, the drug is likely to be a minor addition as the license was acquired for $500,000 plus additional milestone payments. Because Medicure is not the one litigating this issue, it's not costing them anything and effectively this is a free option for upside should sales resume.

Company Comment on Prexxartan (source: Medicure Q3 2018 MD&A)
Tardoxal
This drug is currently in the R&D phase, and will treat neurological disorders such as Tardive Dyskinesia (random jerks and spasms as a result of taking drugs to treat schizophrenia). At present, it is too early to say whether this will bear fruit, but if it does it would further expand the company's diversification away from cardiovascular drugs.
Valuation - Base Case
I use the following assumptions to estimate revenue for Medicure. One thing to note is I assume since 2017, there has been 5% pricing declines in Aggrastat's market. I further assume no sales from ANDA 2,3, Prexxartan or Tardoxal.

Source: Author Estimates
Management has indicated that current levels of SG&A and R&D are appropriate for the company going forward, but I have budgeted another $1 million in extra costs for conferences, travel etc. to give the financials some flex. I also assume a 25% tax rate, though it should be noted that Medicure has historically paid almost nothing in tax. Medicure's low taxes come about for two reasons. First, they have for the last number of quarters broken even so a low tax bill is to be expected. Second, Medicure funnels income to subsidiaries in Barbados, Mauritius, Ireland, and the US, and has tax losses in those locations to offset income. Aggrastat, for instance, is sold through a Barbadian subsidiary, and thus will result in a lower tax rate for the company. The reason I assume a 25% tax rate in my base case is that it is unclear where future drugs will be held and taxed, and generally, I don't like rewarding companies for tax minimization like Medicure uses because treaties and laws can change quickly, meaning these agreements can be temporary. Based on these assumptions, I arrive at the following forecast and valuation metrics for Medicure ex. cash, and after the receipt of the $13mn CAD receivable still due from the sale of Apicore.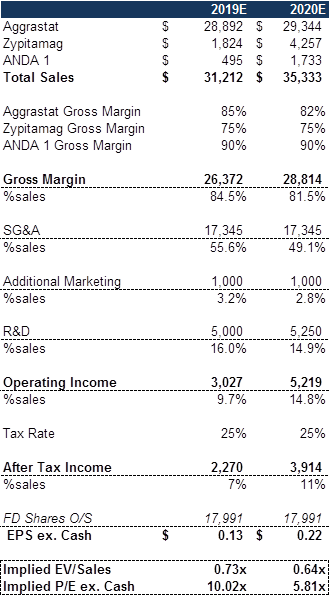 Source: Author Estimates
As can be seen, the company trades, ex. cash, at an very low valuation based on reasonable assumptions of market share and revenue.
Valuation - Bull Case
Note that the above does not take into account any value for ANDA 2 and 3, which could add a few million in sales at 90% gross margins to the company. Leaving that aside, what happens if Zypitamag and ANDA 1 take 10% market share by 2020 and Medicure continues to pay very little in taxes?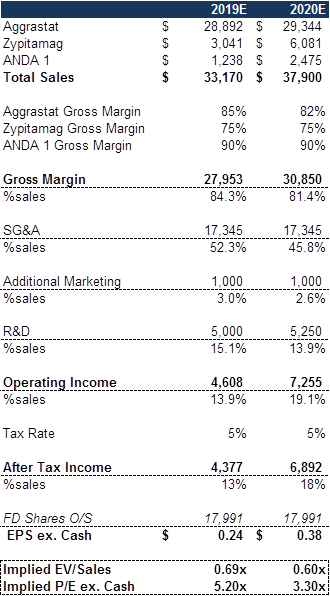 Source: Author Estimates
Again, you can see that you would be buying Medicure today at ~3x earnings ex. cash. Very low for a founder led company with most of the market cap in cash!
Upside Estimate
Medicure's nearest competitor is Biosyent Inc., which develops, inlicenses, and sells a range of drugs. Biosyent earns 25% net income margins, and has had sales grow ~15% for the past few years. On the surface, it is a better business than Medicure and its valuation reflects that, though recently due to a bad quarter, Biosyent's share price has tumbled. Despite that, I still believe it should trade at a premium to Medicure.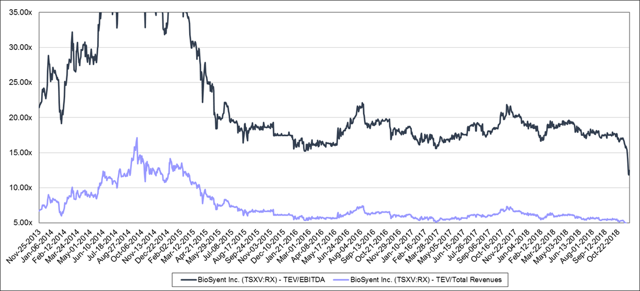 Source: S&P Capital IQ
Assuming Medicure trades at only half of Biosyent, I arrive at the following upside estimate for the company in my base case: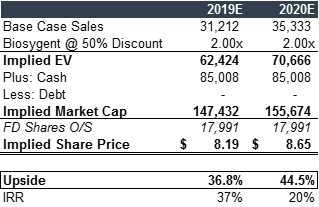 Source: Author Estimates
And the following in my bull case, where I also collapse the discount between Biosyent and Medicure somewhat due to Medicure's improved revenue growth and better net income conversion due to the lower tax rate I assume in my upside estimates.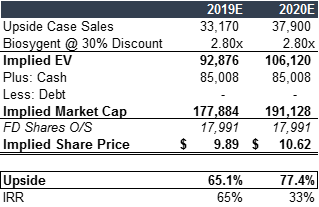 Source: Author Estimates
The final thing to consider is that my estimates do not take into account 4 drugs each of which would add to sales if successful. Thus, I believe Medicure represents a case where we can define at least 20% IRR's over the next two years, with the potential for 30%+ using bull case assumptions, and potentially much more if their other drugs in development are successful. Finding this kind of upside in a security that is founder-led and trades marginally above the value of its cash is, I believe, rare and worth taking advantage of.
Downside Estimate
Assuming that Zypitamag is a failure, ANDA 1 is a failure, all their other drugs are failures, and Aggrastat faces 15% annualized price declines due to competition I believe will give us a reasonable estimate of what kind of permanent loss of capital we could expect if it all went south.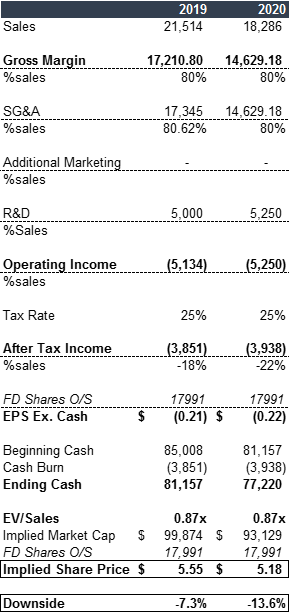 Source: Author Estimates
As you can well imagine, the company's current cash hoard gives investors today a lot of downside protection assuming the valuation remains the same. I believe the valuation today implies effectively no growth for the business despite there being many catalysts to change that in the next 2 years, and so I don't think that investors here are taking on a lot of valuation risk if the business were to deteriorate. The result of this, I believe, is that Medicure today offers a fantastic risk/reward of 3:1 in 2 years (44.5% base case upside vs. 13% downside), making it a very compelling investment.
What About the Cash?
One glaring issue here, and with any net-net situation, is what becomes of the cash. What the ultimate use is can present either a huge opportunity or a large risk to the investment thesis. To understand why I think the cash is a greater opportunity than a risk, one must understand how Medicure came to have the cash in the first place. A year ago, Medicure sold its interest in Apicore, a Indian generic drug company, for over $105 million US. While this might not seem remarkable, only a year earlier, Medicure had acquired that stake for around $50 million; making this quite an astoundingly successful investment. The proceeds were used to repay $61 million in debt, and the remainder sits on the balance sheet today. I don't want to draw any conclusions about whether management was skilled or lucky here, it's always a bit of both. What is worth noting, however, is that the founder and CEO made the tough decision to sell their investment when the right price came long. The market reacted negatively to this announcement, somewhat confusingly, but I think they made a wise decision. Being lucky and striking it rich is one thing, but very few CEO's or investors have the wisdom to sell and realize that luck. Looking forward, I think there are a few reasons that Medicure will put its cash to good work. First, it has a history of intelligent decisions and successful operations: Aggrastat has been a very successful drug for the company, Apicore was successful, and Zytiga has thus far shown positive signs. Second, the fact that Dr. Freisen owns 15% of the company, and it is a significant portion of his net worth, means that he is unlikely to squander the cash on something completely irrational. Finally, Medicure's stated strategy is a focus on R&D-light drugs. I interpret this to mean a strategy of buying or licensing drugs that are close to realizing revenue, and then using Medicure's sales force as the real competitive advantage to bring the product across the finish line. This focus de-risks the process, and thus anything they are likely to buy with the cash, I believe will be lower risk and once revenue is realized, will be far more accretive to EPS than the interest on the cash balance. An example is below: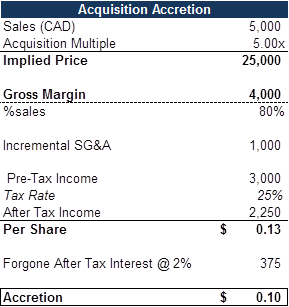 Source: Author Estimates
Of course, acquisitions always present risk, but I think given management's track record and strategy, this is another lever management can pull to create upside that is, again, not factored into my estimates.
Risks
1) Management Does Something Stupid with the Cash
As outlined above, I think this is an unlikely risk, but it is still a risk nonetheless! Drug development is a venture style investment, but Medicure de-risks the process by acquiring drugs that are close to sale, or are generic versions of proven drugs, so this reduces the risk that the cash will be spent licensing something that does not ultimately produce sales.
2) Continued Pricing Pressure for Aggrastat
Management has outlined that diversifying the company away from Aggrastat is a key priority for them, and my understanding is this has been hastened with the increased pricing pressure for Aggrastat. The risk here is that the other drugs don't start pulling their weight enough to offset declines for Aggrastat. The mitigant for this is really the cash. Management has a long runway, even if it doesn't acquire anything, where it can afford to have some slight cash burn in order to grow the other 5 drugs coming online. In the end, I find it hard to believe that pricing in the Aggrastat market would decay to the extent that it would cause massive losses at Medicure. To be sure, I assume that the Market for Aggrastat shrinks from ~$180mn USD today to $111mn USD in 2019, implying a price cut of 40% and arrive at the following estimate: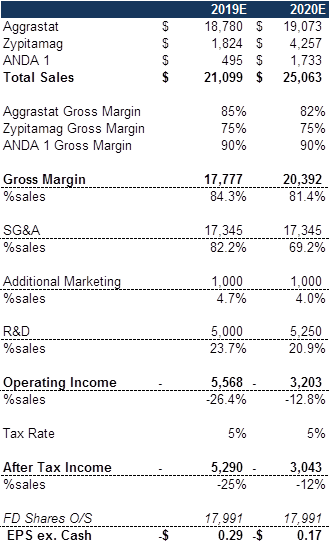 Source: Author estimates
Were Medicure to trade at the same EV/Sales multiple as today, it would imply a share price of ~$5.50 in 2020, assuming cash burn approximates net income. Again, this gives no credit to the value of the 4 drugs under development or awaiting commercial release. This shows that there is very little material downside for Medicure should things not work out as I expect them to.
3) Forecasting Difficulty
My forecasts of revenue growth rely on market share and pricing assumptions, both of which are almost impossible to know in advance. It is possible that Medicure could significantly outperform my estimates, and I have deliberately kept them conservative to try and counter this. Looking to Aggrastat as an example, it took 2 years to get to 10% market share, and so I have deliberately modeled Medicure's next two drugs less aggressively to reflect the risk that market share gains could occur more slowly.
Conclusions
Medicure today offers a lot of promise: a founder led company that will have ~85% of the market cap in cash by the middle of 2019, with new drug launches between now and 2020 that should drive material upside in sales, cash flow, and the shares. All of this comes at an estimated risk/reward of 3:1, and that risk/reward estimate does not take into account 2 drugs due in 2020 (ANDA 2 & 3) , and 2 more drugs that are either in development (Tardoxal) or awaiting commercialization (Praxxartan). In today's late-cycle environment, I think downside protection is something investors don't spend enough time thinking about, and that is really why I believe Medicure today is such a fantastic investment. The cash on the company's balance sheet gives investors significant downside protection in a multitude of scenarios, including the unlikely event that none of the aforementioned drugs work out. Given that the downside is minimal, the upside is likely to take care of itself, and in this case it's material upside: up to 77% over the next 2 years, without taking into account 4 drugs that would add to this. If all goes well, I think Medicure could be a double over the next 2 years. To find a double with downside of only ~13% is something that doesn't come around that often, and so I think Medicure is a highly unique, asymmetric opportunity that investors should be taking advantage of today.
Disclosure: I am/we are long MCUJF. I wrote this article myself, and it expresses my own opinions. I am not receiving compensation for it (other than from Seeking Alpha). I have no business relationship with any company whose stock is mentioned in this article.
Editor's Note: This article discusses one or more securities that do not trade on a major U.S. exchange. Please be aware of the risks associated with these stocks.