Preface
Within my exclusive marketplace, The Formula, I look for assets that provide therapeutic differentiation (superior efficacy and safety, serve unmet needs, and have limited competition).
Affimed (NASDAQ:AFMD) is developing powerful engagers of the immune system for the treatment of cancer. The following article addresses AFM11 and its clinical hold.
AFM11 Clinical Hold
Affimed N.V., a clinical stage biopharmaceutical company focused on discovering and developing highly targeted cancer immunotherapies that harness the power of innate and adaptive immunity (NK and T cells), today announced that it has placed AFM11 (CD19/CD3-targeting T cell engager) on clinical hold, and has notified the global health authorities of its decision. AFM11 is being evaluated in two Phase 1 clinical studies for the treatment of patients with relapsed or refractory CD19 positive B-cell non-Hodgkin lymphoma (NHL) and acute lymphoblastic leukemia. The clinical hold was initiated after the occurrence of Serious Adverse Events (SAEs) in three patients, which included a death in the ALL study and two life-threatening events in the NHL study.

The SAEs occurred in patients enrolled in the highest dose cohorts of each study. Thirty-three patients have been treated in total in the two Phase 1 studies, with preliminary signs of clinical activity observed in several patients.

Affimed will be working closely with the global health authorities, the Safety Monitoring Committees, and the studies' clinical investigators to review the events, carefully assess all of the data and determine next steps for the AFM11 program. Affimed intends to provide an update on AFM11 upon completion of the evaluation.

Source: GlobeNewswire
The clinical hold was announced on October 8, slicing prices of Affimed by nearly a quarter: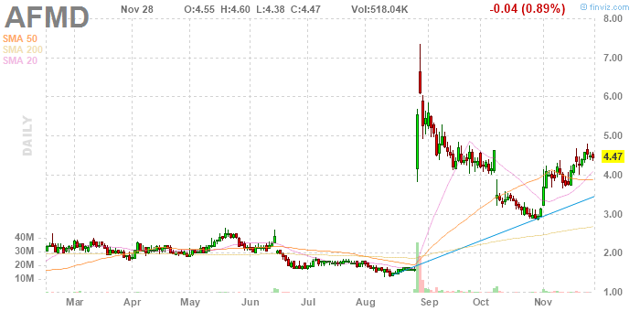 An analyst at Suntrust estimates that AFM11 (indications in NHL and ALL) is ~50% of Affimed's total valuation, so news of Severe Adverse Events resulting in one death were taken seriously by the market.
However, upon a closer look, there are reasons to believe the clinical hold is likely temporary for the following reasons:
Neurotoxicity is not unique to AFM11. With careful dosing and monitoring, SAEs can be limited, as one FDA-approved drug targeting CD19 has already proved.
The SAEs in both AFM11 trials occurred in patients receiving the highest doses.
Preliminary evidence of efficacy demands a more proper review.
Neurotoxicity Is Not Unique To AFM11
AFM11 Mechanism Of Action
AFM11 is a bispecific, tetravalent T cell-engaging antibody construct binding to CD19 on B cell origin malignant cells such as B-precursor acute lymphoblastic leukemia (B-ALL) and to CD3 on T cells. By engaging CD3-positive T cells, AFM11 elicits T cell-mediated killing of CD19-positive (CD19+) leukemia and lymphoma cells.

Source: Affimed AFM11 ASH abstract
Pathophysiology
Cytokines are a part of the immune system, primarily involved with inflammatory processes.
Cytokine release syndrome [CRS] is a common side effect of quite a few FDA-approved oncologic drugs (source).
Cytokine release syndrome is a systemic inflammatory response that can be triggered by a variety of factors such as infections and certain drugs.
CRS can also impact our central nervous system (brain, spinal cord), causing "neurotoxicity":
Neurotoxicity commonly presents with delirium, headache, decreased level of consciousness, or speech impairment. Focal neurologic deficits, seizures, and acute cerebral edema have been reported but are infrequent.
CRS and neurotoxicity, associated with CRS, can be prevented and reversed:
Neurotoxicity usually develops after the onset of CRS and can present after its resolution. In almost all cases, neurotoxicity and CRS are reversible.
With the emergence of T-cell engaging therapeutics, CRS is more in the spotlight due to increasing prevalence of the syndrome associated with the mechanism of action:
Lately, with the success of the newer T cell-engaging immunotherapeutic agents there has been a growing interest in CRS since it represents one of the most frequent serious adverse effects of these therapies. T cell-engaging immunotherapies include bispecific antibody constructs and chimeric antigen receptor T cell therapies. Both these immunotherapeutic strategies have recently been carried forward into clinical application and have shown impressive therapeutic activity in several hematologic malignancies, such as acute lymphoblastic B cell leukemia (B-ALL), chronic lymphocytic leukemia (CLL), and diffuse large B cell lymphoma (DLBCL).
Blinatumomab and CAR-T cell therapies tisagenlecleucel and axicabtagene ciloleucel are now FDA-approved. All therapies, which engage T-cells to some extent, had clinical incidences of CRS and neurotoxicity:
Studies of the first T cell-engaging therapies, i.e. blinatumomab [22] and CD19-targeted CAR T cells [23, 24, 25] revealed that CRS is the most important adverse event of these therapies. Thus, most of the current CRS data is derived from CAR T cell and blinatumomab studies in hematologic malignancies where CRS has been reported in frequencies of up to 100% in CD19-targeted CAR T cell trials, sometimes with fatal outcome (Table 1).
What are some predictors of CRS severity?
Disease burden (tumor)
Administered dose
Strength of T-cell activation
Age (higher incidence in younger patients)
CRS Grading: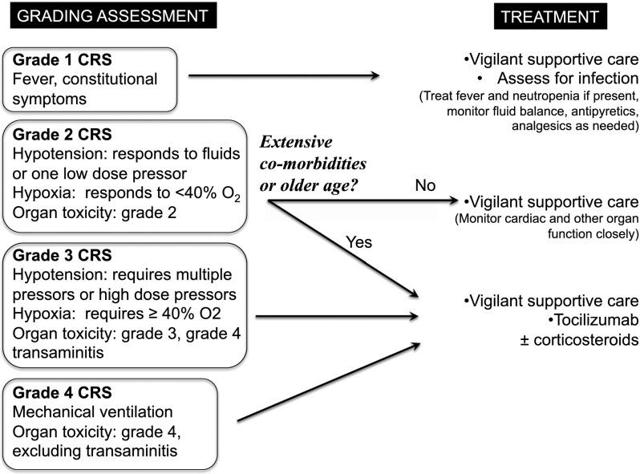 Source: Blood
Severe CRS Prevention:
Severe CRS represents a life-threatening situation that requires prompt and aggressive treatment. With the BiTE blinatumomab the focus has been to prevent the occurrence of severe CRS. Based on the insight gained from the first clinical trials of blinatumomab a prophylactic protocol consisting of cytoreduction, dose adjustment, and premedication with corticosteroids has been devised, that resulted in a reduced incidence of severe CRS
Severe CRS Treatment:
The current recommendations (...) prefer the use of corticosteroids for the treatment of the neurologic adverse effects of T cell-engaging therapies.
AFM11 Phase 1b [ALL]
As with any Phase 1 trial, measures are taken to prevent adverse effects (e.g. dose escalation). An important goal in Phase 1 trials is determining the maximum tolerable dose. It appears the maximum tolerable dose is within Cohorts 4+5 (reasonable efficacy/tolerability), as Cohorts 5+6 were the ones with the SAEs. Unfortunately, due to the severity surrounding the coincidental discovery of the maximum tolerable dose, it was a prudent decision to place AFM11 on clinical hold and investigate additional measures to prevent SAEs. Also, bear in mind that these patients treated with AFM11 have, generally, exhausted all other treatment options.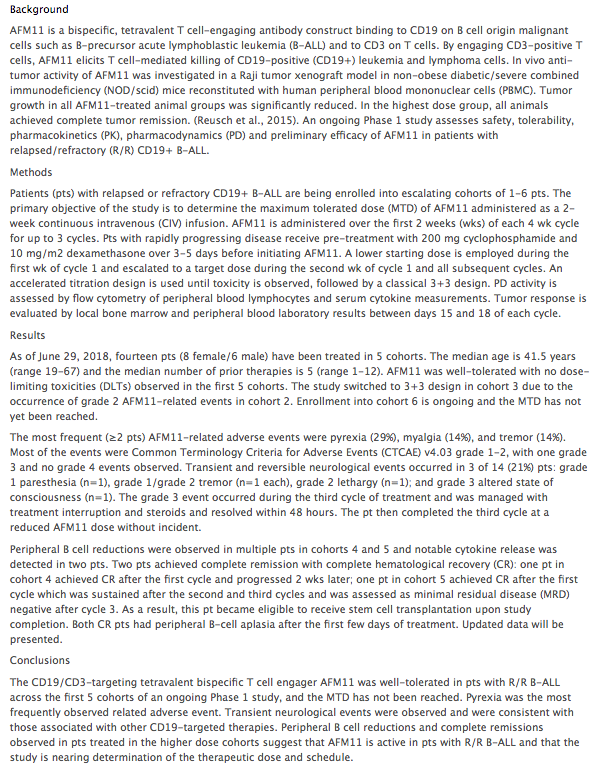 Figure 1: AFM11 shows encouraging efficacy with tolerable AEs in lower doses (as evidenced by 2 CRs before 6 cohort dosing).
Possible Preventative Measures Going Forward
Revise exclusion criteria to exclude patients at higher risks for CRS
Revise inclusion criteria to include patients at lower risks for CRS (older patients)
Slash the highest dose
Adjust dose escalation to be more sensitive in the monitoring of SAEs
Implement clinical interventions for a more robust monitoring for CRS progression
Increase/add a medication aimed to prevent CRS
Risks, Even After Clinical Hold Removal
Efforts to decrease toxicity, by lowering the dose, can also lower efficacy
Affimed postulated that a therapeutic differentiation between existing therapies and their own drug, AFM11, was that AFM11 would limit occurrences of CRS. This does not seem to be the case, as of now, in light of the clinical hold.
Analyst Insights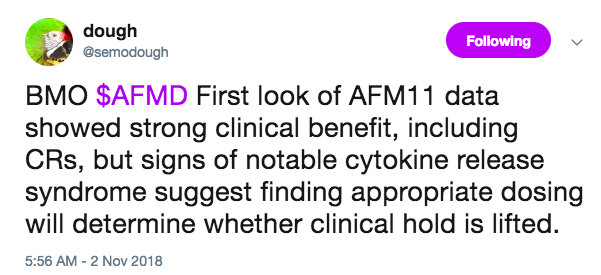 Summary
It is apparent that AFM11 is a very active/strong T-cell engager drug.
CRS/neurotoxicity is not uncommon for drugs targeting CD19. Such drugs have obtained FDA-approval despite risks of severe CRS/neurotoxicity.
AFM11-associated neurotoxicity has occurred in patients receiving high doses of AFM11. As with any drug, discovering the therapeutic window (highest dose a patient can receive while limiting side effects) is key.
I believe Affimed and global health authorities are likely to propose a solution that lowers the risk of severe CRS and, subsequently, provides a clinical path forward for AFM11.
Risks
It is certainly possible that relevant parties will not be able to carve a clinical path forward for AFM11, resulting in a complete discontinuation. Such a revelation would cause the stock to depreciate significantly, perhaps, in excess of 20%.
Disclaimer: The intention of this article is to provide insight, not investment advice. While the information provided in this article is intended to be factual, there is no guarantee and prospect investors are encouraged to do their own fact-checking and research before investing in a company. One must also consider one's own financial standings, risk tolerance, portfolio diversification, etc. before making a decision to buy shares in a company. Many of my articles detail biotechnology companies with little or no revenue. These stocks are, therefore, speculative and volatile. Even when prospects seem promising, there is no predicting the future. Losses incurred may be significant.
Editor's Note: This article covers one or more microcap stocks. Please be aware of the risks associated with these stocks.