Last week, we saw a huge decline in oil prices which led to a broad sell-off in equity markets. The political uncertainty around the Italian budget and Brexit developments continued to weigh as investors remain cautious. This week, we expect more news around the US-China dispute as President Trump will meet his Chinese colleague at the G20 summit. In terms of economic news, we expect the comments from the Federal Reserve officials about the outlook of monetary policy in the upcoming months. What is more, the third quarter US GDP will be published, as well as inflation in the Eurozone.
The Benchmark
Over the past week, the price of the benchmark, the SPDR S&P 500 Trust ETF (NYSEARCA: SPY), decreased by 3.83%.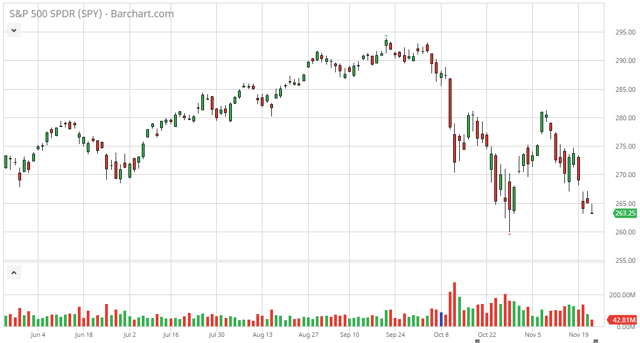 Source: Barchart, SPDR S&P 500 Trust ETF
The News
This week, Tri-Continental Corporation (NYSE: TY) declared a fourth quarter ordinary income distribution of $0.2515 per share of Common Stock and $0.6250 per share of Preferred Stock. In addition, the Corporation declared a total capital gain distribution of $0.7401 per share of Common Stock.

Source: Yahoo Finance
1. Highest Z-Score
We use the Z-score to find statistically undervalued or overpriced funds in the sector. If the value of Z-score is negative, it signals a "Buy" opportunity. Conversely, if you are looking for a "Sell" candidate, you should be interested in a positive Z-score value. We use a 1-year basis to see how many times the current discount deviates from its mean for that period.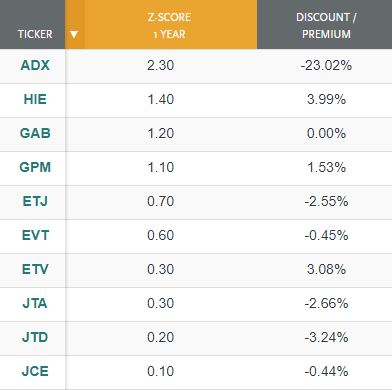 Source: CEFConnect.com
We can check that the Adams Diversified Equity Fund (NYSE:ADX) is currently trading at a Z-score of 2.30. As we mentioned last week, this is one of the funds with the most stable discounts because it just follows the broad market. The discount takes into account the management fee. What's more, a small deviation from the NAV gives such a change in its Z-score. As we can see from the table above, there are no statistically overvalued funds.
2. Lowest Z-Score
We can see from the table below that there are some buy opportunities based on statistics. However, each one of them should be carefully considered. Most of the funds continue to trade at low Z-scores, but this week we could not find a suitable recommendation.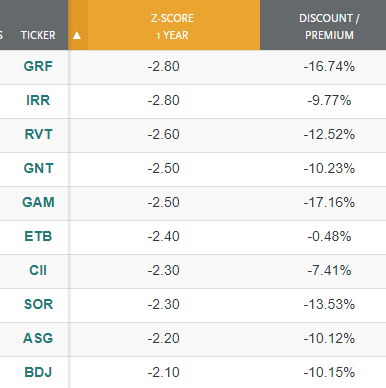 Source: CEFConnect.com
3. 5-year Annualized Return on NAV
The aim of the below ranking is to show us the funds that follow the broad market with the highest yields based on net asset value. A combination of the return with the other metrics that we have is a foundation of our research for potential "long" candidates.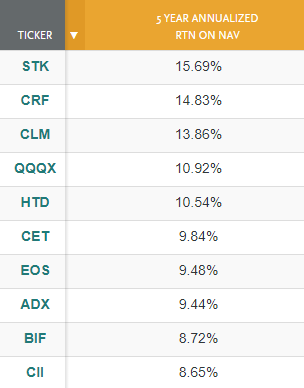 Source: CEFConnect.com
4. Highest Premium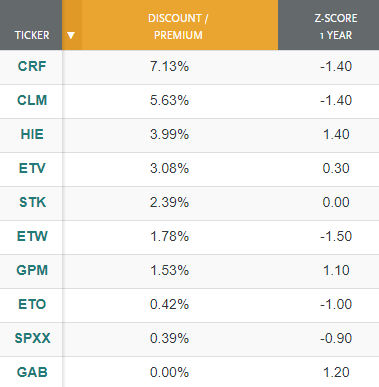 Source: CEFConnect.com
We can check that some of the funds still staying little premiums are those which have the highest distributions and return.
5. Biggest Discount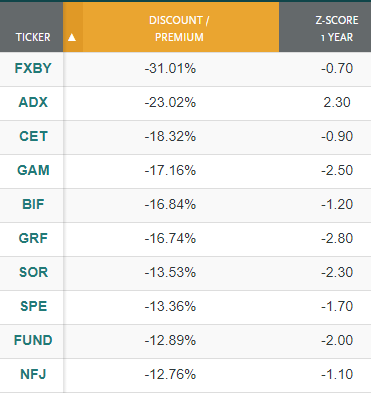 Most of the funds in the table above give little distributions and are close to their 52-week average discounts.
Source: CEFConnect.com
6. Highest Distribution Rate
The table shows the funds with the highest distribution rate on price.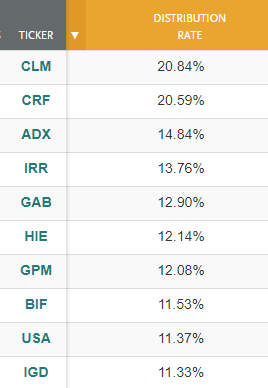 Source: CEFConnect.com
We can clearly see that the funds trading at a premium recently have one of the highest distribution rates.
7. Highest Effective Leverage
Looking into that section, we can clearly see that there are some funds that use high leverage. In the environment of rising interest rates, this should not be underestimated and should be included in your research if you decide to buy/short any of the funds.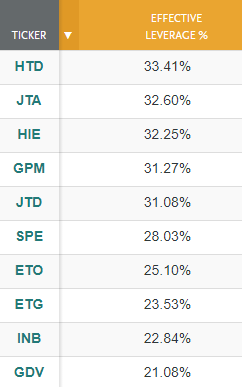 Source: CEFConnect.com
Statistical Comparison And Potential Trades
This week, we could not find anything that is too overvalued or undervalued in order to recommend a position. If the market continues to go lower, we will continue to monitor the funds that trade at unusual premiums and/or Z-scores and will reveal if any arbitrage opportunity arises.
Note: This article was originally published for our subscribers on 11/25/2018, and some figures and charts may not be entirely up to date.
Trade With Beta
At Trade With Beta we also pay close attention to closed-end funds and are always keeping an eye on them for directional and arbitrage opportunities created by market price deviations. As you can guess, timing is crucial in these kinds of trades; therefore, you are welcome to join us for early access and the discussions accompanying these kinds of trades.
Disclosure: I/we have no positions in any stocks mentioned, and no plans to initiate any positions within the next 72 hours. I wrote this article myself, and it expresses my own opinions. I am not receiving compensation for it (other than from Seeking Alpha). I have no business relationship with any company whose stock is mentioned in this article.