Excitement Over Uranium is Brewing
From my vantage point, segments of the investment community, especially those inclined towards natural resources, appear to be getting excited about uranium. Just a few days ago, another uranium holding company, Uranium Trading (UTC) launched its initial public offering (IPO). UTC describes its purpose as follows:
Founded in June 2018, Uranium Trading Corporation ("UTC") has been established to provide investors a vehicle to invest in what we believe will be the future price appreciation of uranium, as well as, provide a mechanism, through an agency trading arm, to help facilitate the trading of uranium between miners, utilities, and financial intermediaries.
It seems that older investors have the massive 2004-07 bull market in the back of their minds, and they are hoping for a repeat. In that bull market, the spot price of uranium spiked from around $15 per lb. to $135 per lb., as shown here:

Source: Cameco.com
It is my view that another spike like this is not attainable without some sort of major, unforeseeable supply disruption.
I am bullish on the long-term contract price of uranium in the near term, but with dampened expectations. Let us now dig into the fundamentals.
Uranium Fundamentals
Uranium is primarily used for nuclear power generation and accounts for about 11% of the world's electricity. After uranium is mined, the U3O8 concentrate ("YellowCake") is produced and sent to a conversion plant to be purified and converted into either natural UO2 power for heavy water reactor fuel pellets or UF6 (uranium hexafluoride) suitable for enrichment. The enriched UF6 is then processed into UO2 powder to be used in making fuel pellets for nuclear reactors.
There is a spot market for uranium, but utilities mostly purchase the fuel via long-term price contracts. Unless otherwise noted in the remainder of this post, when I talk about the uranium price, I am referring to the U3O8 long-term contract price.
The four largest producers - Kazatomprom (KAP in London), Orano, Cameco (CCJ), and Uranium One - are responsible, either directly or through their associated joint ventures, for about 62% of the world's mine production in 2018. All of the production from Kazatomprom and Uranium One (56.7 million lbs. in 2018) comes through in-situ recovery (ISR). These 4 companies essentially account for almost all of the ISR operations in the world. Copper and uranium are for the most part the only 2 metals where ISR is used for extraction.
The uranium consultancy, UxC estimated that the average full cost (roughly equivalent to the all-in sustaining cost method - AISC) of ISR production in 2017 was $17.02 per lb. U3O8 compared to $32.19 per lb. for underground production and $39.19 per lb. for open pit production (source: Kazatomprom IPO Prospectus). For reference, here is the UxC's 2017 global cost curve for uranium production: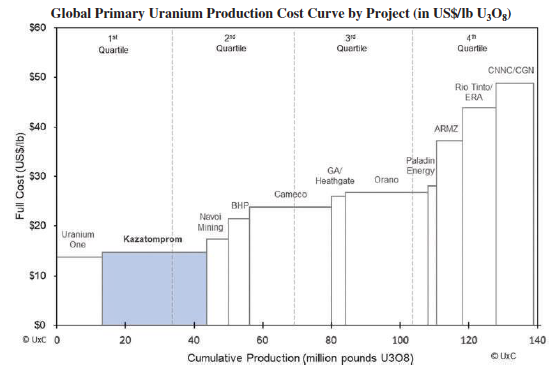 Source: UxC Consulting, Kazatomprom
NexGen Energy (NXE) is planning on initially producing 29 million lbs. per year, probably starting around 2023, at an AISC that I estimate will be ~ $18 to $19 per pound. As you can see from this cost curve, NexGen is set to challenge the Kazakhs, Russians (Uranium One), and Uzbeks (Navoi) at the lower end of the cost curve. More importantly, 29 million lbs. of production at this cost level would drag down the entire uranium cost curve making it even harder for higher cost producers. For the time being, though, ISR production in Kazakhstan dominates the lower end of the cost curve.
From a cost curve analysis perspective, you can see that almost all production is profitable at $50 per lb., and most of the production at the tail end of the curve, such as Russia's state-backed ARMZ Uranium and the Chinese producers, is most likely price insensitive. Cameco is most likely looking to get at least $45 per lb. from its long-term contracts, which would provide it with a reasonable level of profitability.
The total supply of uranium in 2018 is running at about 183 million lbs. -133.1 million lbs. of which is from mine production and 49.7 million lbs. of which is from secondary sources (government post-Cold War inventory liquidations, reprocessing, and commercial inventories). Production cuts from Cameco (McArthur River), Kazatomprom, and Paladin Energy dropped annual mine production by about 19 million lbs. this year from 2017 levels. Assuming (1) Kazatomprom waits until 2021 to bring this idled capacity back online, (2) McArthur River does not restart at all, (3) NexGen brings Arrow online in 2023, and (4) Denison Mines (DNN) brings Wheeler River online in 2024, this is how I see the uranium supply looking out to 2030: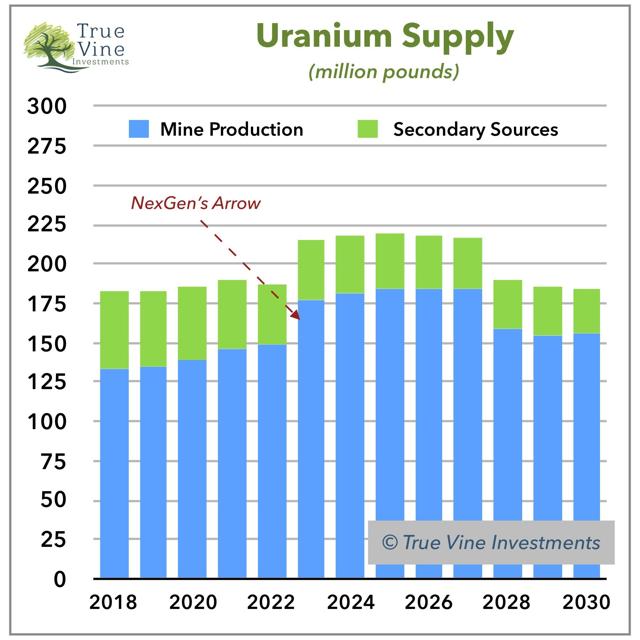 It is critical to reiterate that this supply outlook does not include McArthur River restarting production. McArthur River could potentially add up to 20.1 million more pounds per year. Furthermore, according to UxC, there are an additional 19.3 million lbs. that has been taken offline since 2013 that could conceivably come back online at the right price point.
I recently heard a uranium investor speculate that he thinks Cameco will buy NexGen and bring Arrow online instead of McArthur River. This seems like a good idea to me. NexGen could also be a good acquisition target for a Major like Rio Tinto (RIO) that operates in Canada and currently produces uranium elsewhere, meaning they have operational expertise in the sector.
For now, I have decided to keep future production from McArthur River off of my supply outlook but this could easily change. The key point to understand about uranium supply is this: there is a lot of supply that can be brought back online if the uranium price returns to the $50 to $60 per lb. range, essentially capping uranium at $60 per lb. absent some sort of unknown supply issue.
Now for a look at the demand side...
The big selling point you tend to see from uranium companies is that a bunch of nuclear reactors are going to be coming online next decade, mostly in China, India, and the Middle East. This is true. However, what no one seems to ever point out is that there are also nuclear reactors in the developed world that are expected to be retired. We need to look at the net growth in nuclear reactors to gauge demand. The following table from UxC gives an outlook for global nuclear power capacity and global nuclear reactors out to 2030: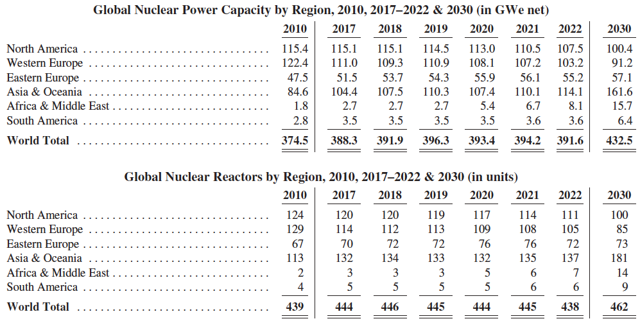 Source: UxC; Kazatomprom IPO Prospectus
Looking at the nuclear reactors, you can see they are expected to increase by 35% in Asia & Oceania and 367% in Africa & Middle East. However, they are also expected to decrease by 20% in North America and Western Europe (combined). Overall, nuclear reactors are only expected to increase by 16 units over the next 12 years - a compounded annual growth rate of only .29%!
From a policy perspective in the developed world, natural gas (LNG) and renewables appear to have the upper hand as a preferred source of energy and these longer-term reactor expectations may reflect that. Eventually, this could change as natural gas prices head to structurally higher levels. However, such a change would likely take years to feed into the uranium demand picture, and it takes a long time to bring a new nuclear reactor online.
UxC estimates that a new nuclear reactor requires between 1 and 1.5 million lbs. of uranium when it initially comes online, and all reactors consume 300,000 to 700,000 lbs. every 12 to 24 months when they refuel. There are currently 56 reactors being built. If we assume over the next 10 years that (1) all these 56 new reactors come online each requiring an additional 1.5 million lbs. to get started and (2) there is annually an average of 450 reactors online consuming 400,000 lbs. each per year, we would be looking at average annual demand of about 190 million lbs. This is roughly the average level of market demand that UxC is projecting from now until the end of the next decade.
The following chart pairs my supply outlook with UxC's demand outlook: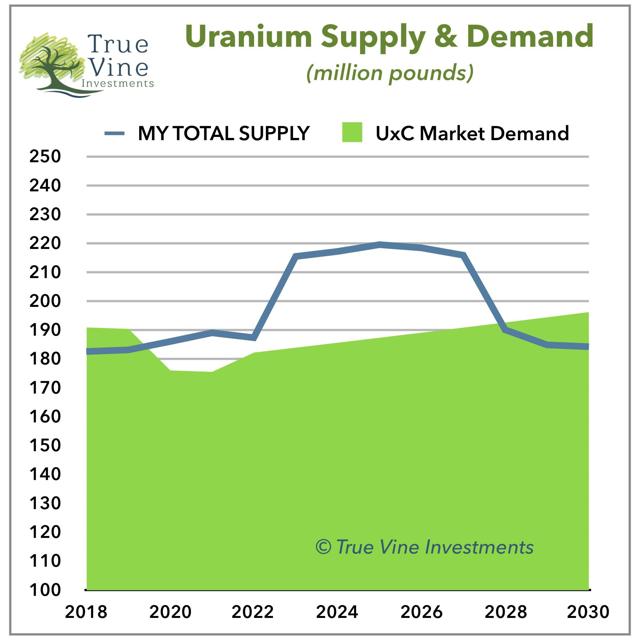 It is important to note that UxC's market demand is about 10 to 15 million lbs. higher, on average, over the next few years than consumption demand. This accounts for the excess demand from utilities to prepare new reactors and replenish inventories for existing nuclear power plants.
Based on these numbers, I expect to see the uranium price peak in the 2019-2020 period.
To be sure, the spot price of uranium has been in a bull market, having risen almost 50% over the last 12 months. A 50% move is pretty good when it comes to any commodity. I expect we are going to see the current market deficit of about 8 million lbs. bring a near-term lift to the long-term contracting price, which is still stuck in the low $30s.
Another factor to consider is that we now have three investment vehicles in the market holding uranium - Uranium Participation [U.TO]; (OTCPK:URPTF), YellowCake (YCA.L), and Uranium Trading. Uranium Participation and YellowCake together hold over 22 million lbs. of uranium. What happens when these guys start selling? Cameco recently mentioned this in a somewhat cautionary statement in their 3rd quarter report:
Despite the improvements in the uranium market during the quarter, we believe there is still a need for some caution. There has not been a return of long-term contracting in meaningful quantities, and prices are still not where they need to be to restart the significant idled production capacity that exists, let alone incentivize investment in value-adding growth opportunities. In fact, before the market turns to growth and the addition of new production capacity, the material held by financial players needs to be considered. Over time, as the financial interests meet investment targets, we believe some of the material currently sequestered in these funds will make its way back into the market, potentially temporarily over supplying the spot market and putting downward pressure on prices. (emphasis mine)
This is another longer-term bearish point that gets neglected by uranium bulls.
Strategic Conclusion
If we do not see long-term contract prices start rising soon, this will be a very bearish long-term signal for uranium, but I expect we will. There may be brief periodic price spikes as utility buying converges in the same way that investors congregate to chase stock prices higher, but the structural oversupply of uranium remains. I expect any price spikes (such as $50 per lb.+) to be short-lived. Investors shopping for uranium miners would be well-advised to only consider those that have good profitability at $40 per lb.
Important Disclosure
I'm an investment advisor and owner of True Vine Investments, a Registered Investment Advisor in the State of Pennsylvania (U.S.A.). I screen electronic communications from prospective clients in other states to ensure that I do not communicate directly with any prospect in another state where I have not met the registration requirements or do not have an applicable exemption.
Any investment advice or recommendations involving securities referenced in this article is general in nature and geared towards a readership of sophisticated investors. This article does not involve an attempt to effect transactions in a specific security nor constitute specific investment advice to any particular individual. It does not take into account the specific financial situation, investment objectives, or particular needs of any specific person who may read this article. Individual investors are encouraged to independently evaluate specific investments and consult a licensed professional before making any investment decisions.
All data presented by the author is regarded as factual; however, its accuracy is not guaranteed. Investors are encouraged to conduct their own comprehensive analysis.
Positive comments made regarding this article should not be construed by readers to be an endorsement of my abilities to act as an investment advisor.
Industrial Minefinder™
I hope you found this article on uranium insightful. It is an extract from a post I recently wrote for subscribers of my Seeking Alpha Marketplace service Industrial Minefinder™. I use fundamental analysis on industrial metals to help determine when and how much to buy of what I think are the best opportunities in the related mining sector.
If you are interested in subscribing to Industrial Minefinder™, you can sample my work by reading my "author's picks" accessible from my Seeking Alpha profile. Do not hesitate to direct message me with any questions you may have.
Disclosure: I/we have no positions in any stocks mentioned, and no plans to initiate any positions within the next 72 hours. I wrote this article myself, and it expresses my own opinions. I am not receiving compensation for it (other than from Seeking Alpha). I have no business relationship with any company whose stock is mentioned in this article.
Additional disclosure: NexGen Energy is a holding in some client and family portfolios that I manage. I have an economic interest in the stock.
Editor's Note: This article covers one or more microcap stocks. Please be aware of the risks associated with these stocks.