Rising volatility levels continue to grip the financial markets, and investors are wondering if these trends will benefit assets tied to the value of safe haven metals. But these potential trends have not been visible in the SPDR Silver Trust ETF (SLV), which has fallen 71.59% since it reached record highs in April 2011. Many bulls are still trying to fight the market's dominant bearish trend, but performances in external assets with relationships of inverse correlation suggest that the declines could accelerate for those holding long positions in the SLV ETF. Additionally, markets seem to be setting up for a major decline if key support levels are broken. If this occurs, it could set a decisively negative tone for the precious metals space in 2019.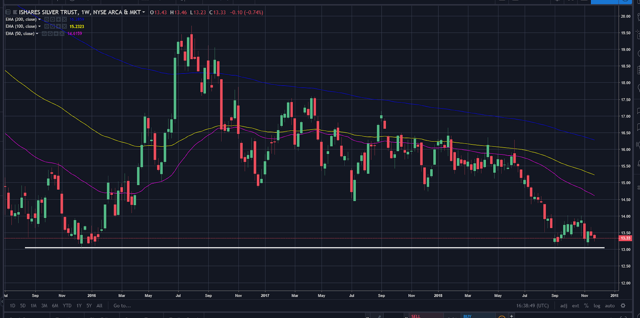 (Source: Author)
In the last four weeks, SLV has fallen victim to significant fund outflows. For bulls, this is a problem because it suggests that there is no "silent majority" in the market which is waiting to buy at lower valuations. As a result, this may be a bearish harbinger of things to come.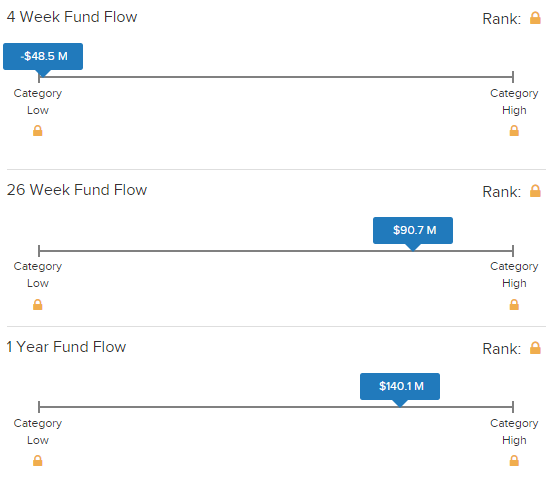 (Source: ETFdb.com)
If the chart outlook for SLV is not frightening enough on its own, the growing potential for extended bearishness can be visualized through the flow activities which are currently impacting valuations. Over the last four weeks, SLV has fallen victim to outflows of $48.5 million. This outflow figure suggests a marked reversal from the prior trends (which had previously given many bulls reason for optimism).
To be fair, the bullish argument can still be made (suggesting that the flow picture remains supportive). Over the last 26 weeks, SLV has seen inflows of $90.7 million, and this number expands to $140.1 million when we view the market's activity over the last year. But the strength of the recent outflow activity is conspicuously disproportionate, and it indicates a growing potential that the previous bull sentiment is reaching a point of exhaustion.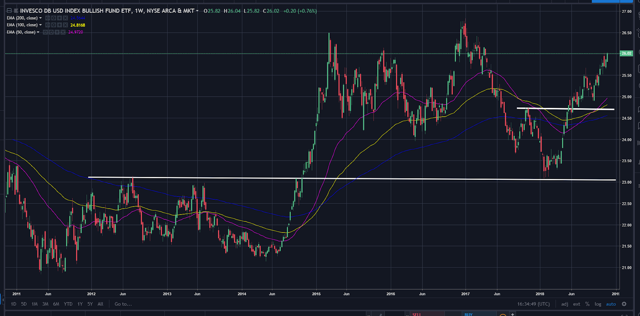 (Source: Author)
Additional evidence supporting this assertion can be found in the currency instruments which directly impact the value of SLV. The best examples of these trends are tied to the value of the U.S. dollar, as the greenback shares an inversely correlated relationship with SLV. In terms of a specific market instrument, I tend to track valuations using the Invesco DB US Dollar Index Bullish ETF (UUP), because the fund creates exposure to a diverse index of USDX futures contracts. Moves present in UUP give us a broad idea of the dominant trends in the U.S. dollar relative to a wide range of global currencies.

(Source: Invesco)
In this chart, we can how allocations in USDX are divided in terms of regional exposure. Valuations in the euro enact the most substantial influence on the U.S. dollar ETF (at 57.60%), and Japanese yen valuations take second place (at 13.60%). These allocations fall in line with trading volumes enacted within the global currency markets, and valuations in the British pound are seen coming in third place (at 11.90%).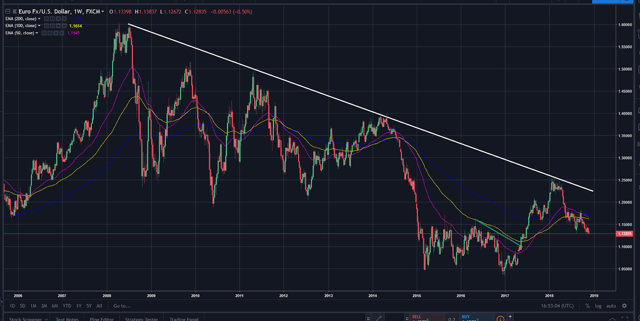 (Source: Author)
In the EUR/USD chart shown above, we can see continued evidence of the inverse correlation which exists between the SLV ETF and the U.S. dollar. Falling valuations indicate strength in the greenback, and the EUR/USD appears to be in the process of forming another bearish leg in its multi-year decline. As a partial explanation for this trend, SLV traders can point to the growing rift between President Donald Trump and Federal Reserve leader Jerome Powell on the topic of interest rates. Fed Chair Powell has made it clear in recent commentaries that interest rates are still below their neutral levels. This suggests that U.S. rates will continue to rise and the next expected rate hike may be seen as early as December.
Of course, these are macro trends which are bullish for the U.S. dollar and bearish for the ETFs which are tied to the value of precious metals. SLV is one of the most commonly traded instruments in this space, and so, it stands to reason that hawkish follow-through at the Fed could send its valuation lower.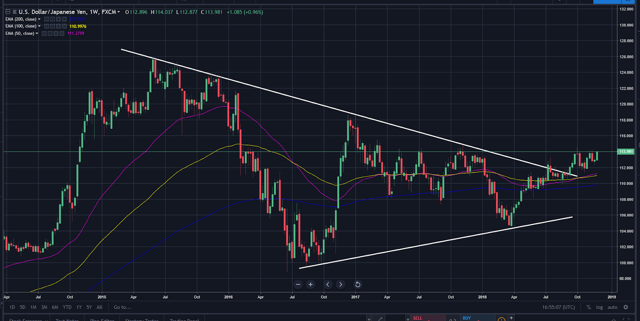 (Source: Author)
Generally speaking, it is not a good idea to base an outlook on any single asset. So, we should confirm our views on the U.S. dollar using recent trend activity in the USD/JPY. Fortunately, upward trends in this pair match the bullish stance on the greenback reflected in the EUR/USD. This additional currency confirmation makes it easier for us to establish a comparative outlook SLV based on its inverse correlations.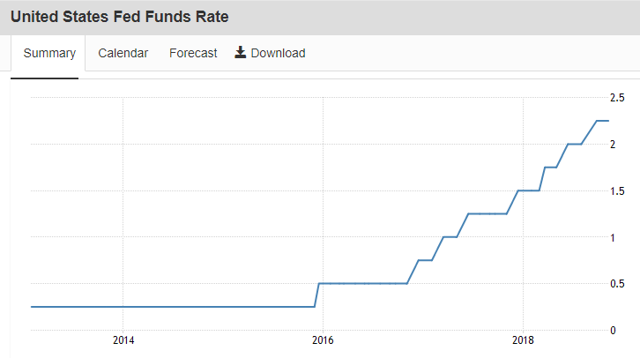 (Source: Federal Reserve/Trading Economics)
The rising value of the U.S. dollar should not come as a total surprise to investors with long positions in SLV. The Federal Reserve has been on a policy tightening path since the end of 2015, and this is not something that has been matched in other global economic regions (i.e. Europe and Japan). Recent GDP figures out of the United States indicate that this trend should continue for the foreseeable future.
Assuming this context of rising rates has not reached its completion point, the outlook is weakening for those holding positions in SLV. The ETF might be walking on the edge of a cliff based on the close proximity of its long-term support levels. In many cases, substantial trading stops are positioned below these types of price zones, and losses can accelerate quickly if they are triggered. This does not mean that SLV bulls have no valid argument for taking a contrarian stance. Stock market volatility may continue to rise, and the ETF continues to trade at extreme lows relative to the historical averages. But the broader macro fundamentals could make gains difficult, and many SLV bulls might be ready to start throwing in the towel.
Thank you for reading. Please click the "Follow" button to receive more real-time investment alerts from Income Generator. If you found this article interesting (even though it may disagree with your position), please click the "Like" button at the top of the page.
Now, it's time to make your voice heard. Reader interaction is the most important part of the investment learning process! Comments are highly encouraged. We look forward to reading your viewpoints on SLV.
Disclosure: I am/we are long UUP.
I wrote this article myself, and it expresses my own opinions. I am not receiving compensation for it (other than from Seeking Alpha). I have no business relationship with any company whose stock is mentioned in this article.