Introduction
As volatility becomes vogue once again, the market has begun to washout a wave of companies that were overvalued – alarmingly so in many cases. The variety of factors driving lofty valuations have been discussed frequently on Seeking Alpha, with some combination of tax cuts, economic cyclicality, and poor yield alternatives being popular and well sourced arguments. Given the turn in the market – dare we say the transition to a bear market or correction – the companies that were carried by macro factors and not sound fundamentals, are selling off at sharp rates. Earnings reports merely meeting guidance are getting hammered, leaving investors scratching their heads on how their 401K can be down on the year. Wix.com Ltd (WIX) is not one of these companies.
With a strong and innovative platform to leverage thanks to heavy R&D investment, Wix.com has firmly established itself as a leader in its space. Unlike some competitors that have been pigeonholed in a nice such as Shopify (SHOP) which targets itself toward an e-commerce market, Wix has positioned itself to serve not only e-commerce, but has taken strides to capture bloggers and small businesses alike. While a website developed from scratch may win in functionality in side-by-side comparison if a business has unique needs, Wix can likely produce similar functionality for less than the cost of the developer's billable hours for a single day of coding. This is a powerful argument for adoption of the platform and the primary driver of why the company has found success to date. Continue reading to see why the current valuation of Wix is too low and deserves a look by prudent investors.
Sustaining Growth
Digging into the numbers shows a clear strategy to balance user acquisition with monetization. Management is spending the money in R&D to keep the platform competitive and is seeing high ROI on advertising. Once a user begins on the Wix platform, they are likely to stay on the platform – something management knows and is positioning itself to handle.
As seen below, in the third quarter, revenue was up 40% year over year, with guidance placing fiscal growth at 41% year over year. This follows three periods of fiscal growth that bounced around mid-40%, although the revenue drivers are shifting relative to past periods from a pure subscriber growth to higher monetization of subscribers.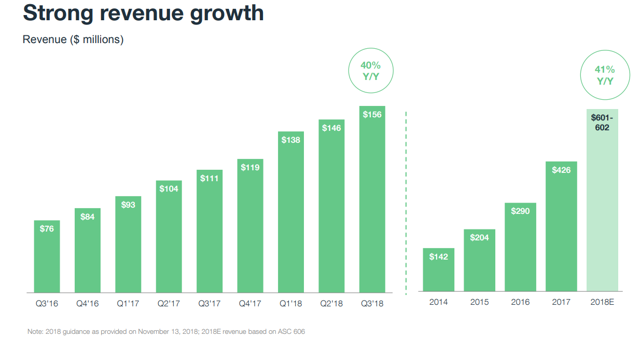 Source: Wix Q3 Earnings Slides
This point is demonstrated in the two charts below that explain how the company can be generating 40% growth despite subscribers growing at a lesser rate. Registered users were up 20% year over year to 137M, but premium subscribers were up 26% year over year to 3.8M. While the penetration of premium subscriptions is low, the percentage has been slowly creeping up by a fraction of a percentage point each of the previous fiscal years. This trend has continued through 2018, as management has continued to prioritize product offerings that work to flip users to subscribers. A quick back of the napkin calculation shows that $1B in revenue will be easy to achieve in the coming years as average subscription size increases and users adopt premium plans.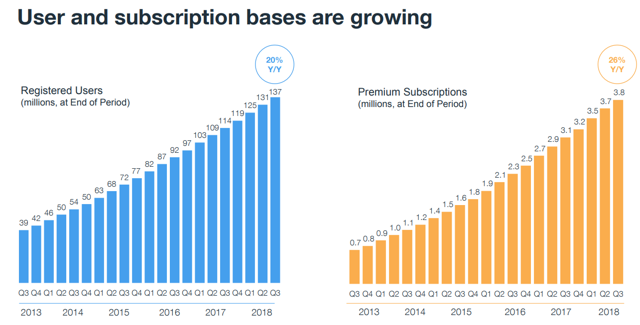 Source: Wix Q3 Earnings Slides
Once users are on the platform, management knows they are likely to stay on the platform once their website is built out and they are comfortable with the product. We can slice this in many directions, including a discussion on advertising and new user acquisition, but we will comment on how this allows some price inelasticity for management. The moving cost of leaving the Wix platform and establishing an online presence with another provider (or developed in-house) greatly outweighs incremental price increases. Considering how inexpensive the product offerings already are, this leaves huge room to run for Wix. Considering the cost of competitors, it's easy to not be excited about the one-two punch of churn into premium customers at increased rates.
Source: Wix Q3 Earnings Slides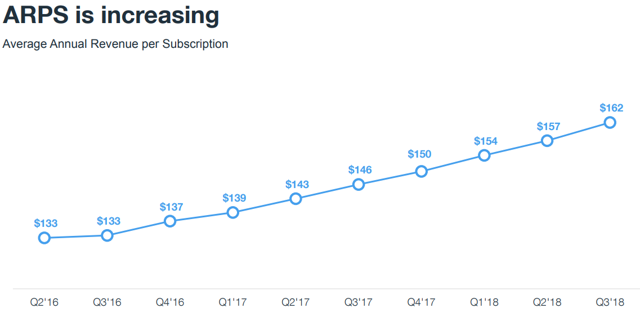 Source: Wix Q3 Earnings Slides
Quick Financials Update
Financial analysis on Wix has been done in detail by prior authors and in an effort to abbreviate this article – we will focus on quarterly updates and provide commentary on overall strength. While Wix has yet to post a GAAP operating profit, the Company is performing extremely well given its focus on growth. Through the first nine months of 2018, Wix reported a decreased net loss and improved cash flow rate despite an uptick in R&D and advertising (selling & marketing).

Source: Wix Q3 Earnings Release
An astute investor will note that in backing out non-cash expenses and accounting for working capital fluctuations, that the company is operating much leaner than the P&L suggests. Share based compensation alone had a P&L hit of over $50M and considering the net loss reported of ($32M), more than accounted for the loss on the year. When realizing that the losses generated are merely paper losses, it becomes easy to realize that the cash flow thrown off by the company is staggeringly high ($80M) for its stage of development. Many tech and online companies fail to generate positive cash flows, but WIx is already generating robust cash flow while still growing at high rates.

The balance sheet also remains extremely healthy – with the majority of liabilities tied to deferred revenue from premium subscriptions. Even after raising $333M in convertible notes (at 0%), deferred revenue still makes up over one-third of liabilities on the balance sheet. Working capital already looks strong at face value due to the influx of capital from the convertible notes, but after adjusting for deferred revenue is a staggering $635M in nearly all cash or cash equivalents.
Wix has walked the tight rope of balancing growth and market expansion, with building a strong balance sheet and done so marvelously. Investors should feel very confident in management to continue to allocate capital efficiently and should expect big things with the available liquidity on the balance sheet.
An Exercise in Valuation
Unlike other companies that have sold heavily off their highs in 2018, Wix appears to be trading at a relatively substantial discount to fair value after the movement. With a 52 week range between $50 - $121, and the stock sitting at approximately $90 as we type this article, investors may question how we can view more upside in the name. After all, nearly doubling over the course of the last 52 weeks is nothing to complain about.
The answer to our valuation lies in the price to sales ratio (P/S). All of the information we have discussed to this point bridges the gap for investors on why the company is strong and will continue to grow, but doesn't address valuation or where the stock should trade at. For companies that are still experiencing high growth, but limited earnings (intentionally or not), we feel that discounting cash flow unfairly penalizes companies that are focusing resources on user growth. While cash flow may be the life blood of a business in the long-run, focusing on the flows for Wix discounts the fact that their strong balance sheet (as discussed above) supports their growth phase.
Currently Wix trades at a Price to Sales ratio of about 7.5x. While we view the multiple to be low relative to their growth trajectory, for this valuation exercise, we will make the assumption that that market is fairly assigning a multiple as of today. Taking management's revenue guidance at its mid-point ($601.5M for 2018), and extrapolating growth rates – albeit conservatively lower – to 30% and 20% over the next two fiscal periods, we see that the even taking the current market multiple would price the stock much higher than the stock is currently trading within the next year.
We highlighted the multiples the give readers a quick reference for our valuation, where it can be seen that for 2019, the expected range should be $113 to $129. This assumes no multiple expansion (something that should happen but we discounted for this analysis) and a reduction in growth rates for the year to only 30%. Management has not provided full year guidance for 2019 yet, but given historical performance, we are confident that it will be at or higher than we project. Should guidance fall lower, investors should adjust their price target.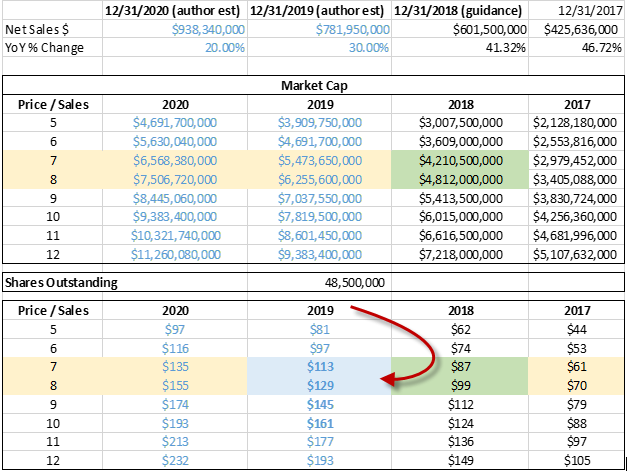 Source: Author's forecast (future data), past data (Wix Earnings Reports)
Analyst Coverage
In reviewing analyst updates and notes, as a whole we see Wall Street coverage that supports our target price range for the stock. Finviz calculates an analyst target price of $114, which includes coverage by Raymond James (outperform), Wedbush (outperform), and RBC Capital Market (outperform). Needham has a Buy rating on the stock, as does Jefferies and Suntrust (although coverage updates may go back as far as 2017).
We reviewed analyst notes on the stock after we performed our initial due diligence and valuation and were pleased to see the consensus price target fall within our conservative range. While this may seem relatively coincidental, keep in mind that many of these price targets came out mid-year when the stock was trading over $100. This supports our thesis that the selloff was unwarranted and that the company has fallen deeply below fair value.
Source: Finviz Quote and Data Summary
Putting it all Together
Wix meets all the criteria in our book for a buy / long recommendation. The company has a product that the market wants, demonstrated by continued user adoption of both the free product and churn to premium subscriptions. The financial position of the company checks out, with an arsenal of cash ready to generate new ideas and acquire new users. Wall Street analysts are also high on the stock, supporting our bullish sentiment.
Above all else, the valuation of the company checks out, with upside of up to 40% in the next year based on current trading in the low $90s.
We recommend establishing a long position in shares or long-dated call options if the volume of contracts being traded can establish a fair exit value. Embrace the volatility of the market and be greedy when others are fearful.
Disclosure: I/we have no positions in any stocks mentioned, but may initiate a long position in WIX over the next 72 hours.
I wrote this article myself, and it expresses my own opinions. I am not receiving compensation for it (other than from Seeking Alpha). I have no business relationship with any company whose stock is mentioned in this article.