What Worked in 2018: Growth
"Buy and hold" stocks were king in 2017. That trade (along with short volatility) met a rude awakening in February 2018 in an episode dubbed the "volpocalpyse," where inverse VIX ETFs like XIV and SVXY blew up overnight. People blamed the crowded short vol trade when VIX, which traded mostly below 10 for the second half of 2017, gave a sense of everlasting tranquility. It certainly didn't lend caution when the manager of the largest hedge fund in the world said it would be stupid to hold cash.
But there was a good reason for stocks to go up in 2017 - everywhere in the world experienced synchronized growth. The only thing that investors didn't think too much about was that despite coordinated growth, different economies were, in fact, in different stages of their respective cycles. You have the U.S. economy, surely, in the late stage where interest rates are the highest among developed economies. The eurozone had just been breaking out of zero growth, but ZIRP (zero interest rate policy) was and is still in place. China led growth with the rest of Asia as commodity prices rebounded from a bottom in 2016, boosting the manufacturing sector, which positively spilled over to the rest of the economy, creating the phenomenon "consumption upgrade".
What could go wrong? In hindsight, probably only the U.S. was in robust expansion, while China still faces issues with leverage and the balancing of the "old economy" and "new economy" growth models. The eurozone recovery was still in its infancy when the threat of tariffs hit, Turkey's lira imploded and Italy's political woes undermined financial stability. With the Fed hiking, funds poured into USD assets seeking higher-yield returns, US junk bond included.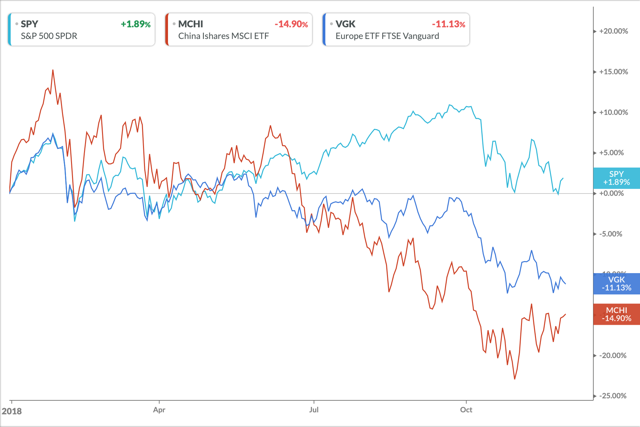 Source: Koyfin
So, in the end, investors all flocked to the same old play - long tech stocks - because they had growth numbers that were ahead of most other industries, and they weren't subject to the Chinese consumers' slowdown. Software names also had little in the way of tariffs. They were the safe growth plays until it got just a bit too crowded again.
Technology (XLK) outperforming the S&P 500 throughout most of 2018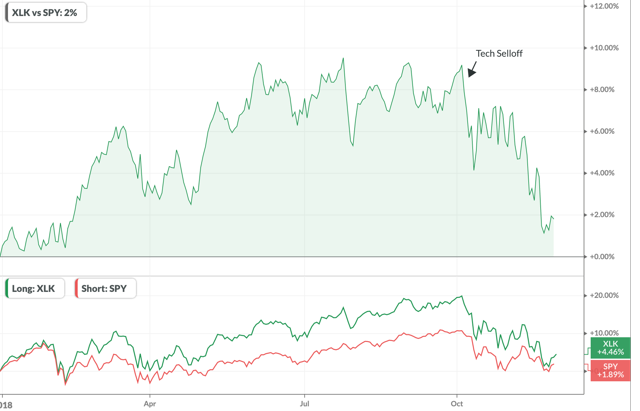 Source: Koyfin
Luxury, aka FANGs of the EU, crashed when LVMH reported in-line Q3 results
The selloff worsened when LVMH-Moet Hennessy Louis Vuitton (OTCPK:LVMHF, OTCPK:LVMUY) gave color on slowing Chinese consumption during its earnings call later that day (October 10). It routed the entire consumer discretionary sector in Europe and spread to growth stocks in the US ahead in the day.
In the Recent Months, Value Has Been Making a Comeback
Although value stocks are still underperforming the broad market year to date, the resurgence in the value factor has been pronounced against growth since October. Unsurprisingly, low vol stocks have shined as investors seek non-cyclical industries to put money in. Real estate is a classic late-cycle outperformer as well.
Factor performance relative to the SPX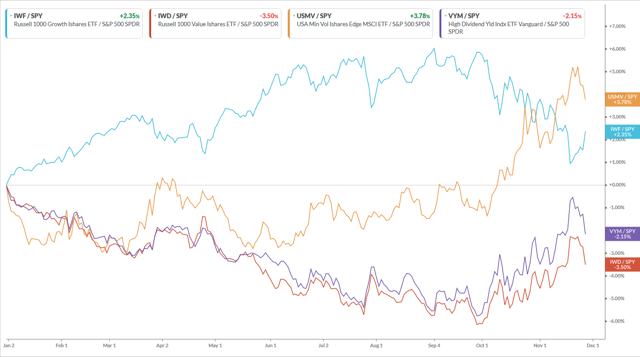 Source: Koyfin
Typical Late-Cycle Sectors are Propping Up in the Second Half
We also see a similar theme in Europe. Below is a chart of the Euro Stoxx 600's sector performance. The upper left-hand side quadrant contains sectors which had a negative return in the first 6 months but turned positive in the second half. We see non-cyclicals such as food & beverages, healthcare, and telcos doing well. Technology, oil & gas, and consumers did not fare too well. Despite cheap valuation of EU banks, macro concerns have been huge, and that has been putting a lid on any hopes of rates normalization.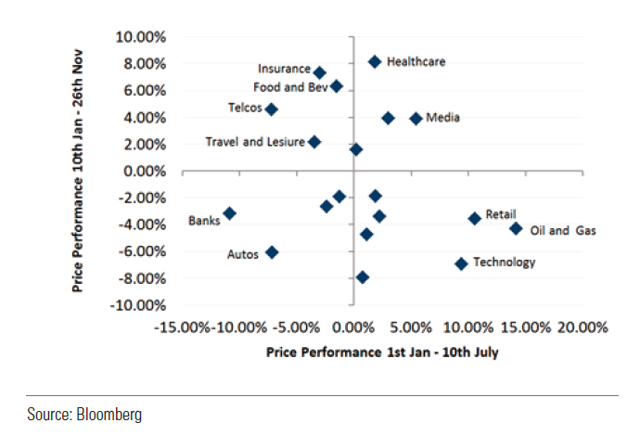 High Yield spreads have broken above 400bps resistance
I find the strength in US High Yield Bonds throughout most of 2018 quite mind-boggling, so now I'm pleased to see the spreads surging through the 400bps level as markets (small caps mostly) are finally pricing in the inherent risks of higher rates and slower growth. And the tax cut effects are finally fading. I see this as part of a normalization process. The HY spreads will likely to continue to trend higher, as I think USD will soften in 2019 and funds will flow back into emerging markets.

Source: FRED
Yield curve is close to flattening
This classic early recession indicator still hasn't given the signal yet. Typically, we see the yield curve invert first, and when the Fed starts to cut rates, that's the recession signal.

Source: FRED
US Treasury Yields Stand Ahead of Most Major Countries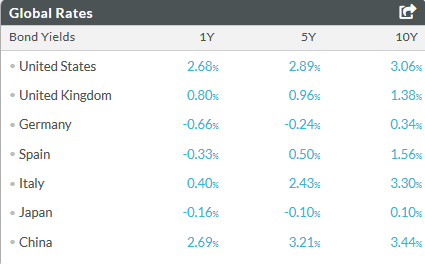 Source: Koyfin
US Steel (X) jumped when tariffs were first announced in March. The price chart tells you everything about the impact.
2019: Don't Chase the Winners of 2018; Buy Value and Emerging Markets
Investors will likely be more discerning in their picks in the coming year. Companies with strong balance sheets and good credit ratings are likely to be favored. As mentioned before, high yield spreads are rising, so small/mid caps will face higher burden when rolling over debt.
Fellow analyst Elazar Advisor has also written about warnings on tech slowing here and here.
The Era of Easy Money is Behind Us
Quantitative Easing-driven growth cycle is nearly over, and we have to look to ourselves to find growth in value.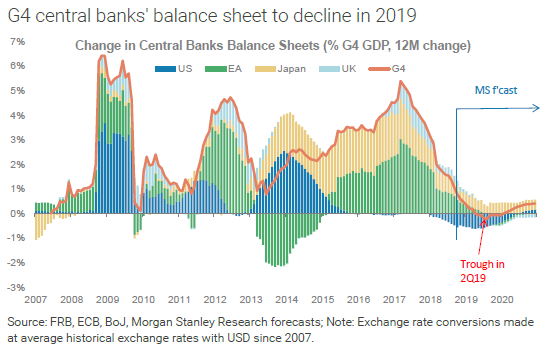 US Real Rates To Remain in Check, while EM Inflation Will Still Be Tame
Because US Q3 GDP grew 3.5% annualized versus 4.2% in Q2, and crude oil is, in fact, down to be about $50, I think inflation in the US will grow at a slower pace next year and the Fed may even contemplate pausing rate hikes in 2019. This is great news for emerging markets and their currencies.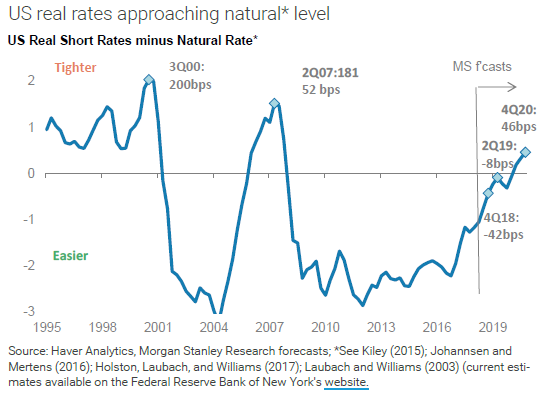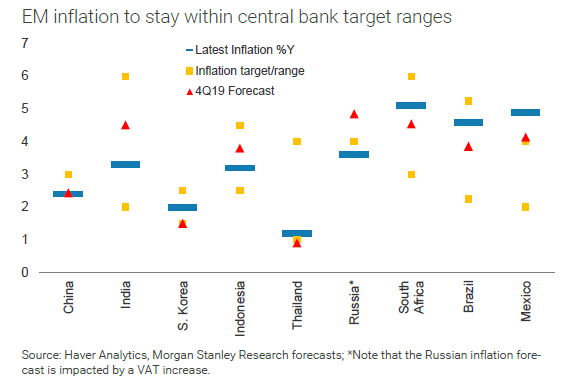 Emerging Markets Are Forecast to Grow 4.7% Next Year
The growth differential between EMs and the US is expected to be around 2%. I believe the harsh financial conditions for EMs in 2018 (e.g., Turkey and Argentina) have actually forced the countries to shore up on buffers. Macro-stability indicators such as inflation and current account deficits have thus remained relatively contained in EMs as a whole, with inflation in most EMs not overshooting the central banks' comfort zone. On the other hand, we will probably get tighter labor markets and withdrawal of stimulus in the US, which will cause US growth to slow, and in turn, allow the Fed to pause adding rates, which is beneficial for EMs.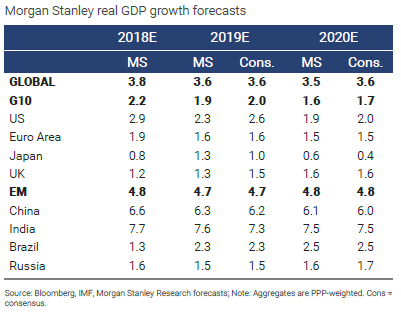 China to focus on higher-quality easing policies
Given past experiences with stimulus, the focus has now shifted more towards supporting sentiment for private companies in CAPEX and boosting domestic consumption and less on encouraging large public infrastructure and real estate spending. Opening up of foreign ownership of companies in key sectors and reduction of import taxes and VAT should be viewed as positives for both the short term and long term.
Macau's Gross Gaming Revenue Rebounding
Based on sell-side commentary and channel checks, November now has upside risk. I expect the monthly figure to be about +8% YoY. December 2017 was a weak month, so comps should be easier this year. For 2019, I forecast a modest growth of about 5-6% in GGR.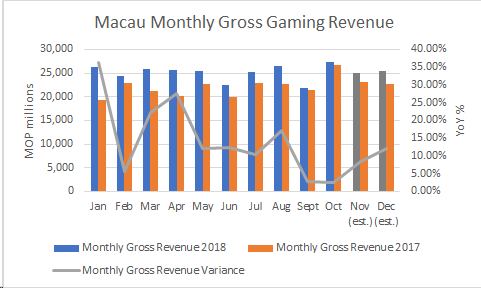 Source: Himalayas Research estimates
Shifting Supply Chains: Will it benefit Vietnam?
If there is a trade war, there will be winners and losers. As costs have been going up in China, factories have been moving to southeast Asian countries for cheaper labor and now to circumvent tariffs.
Bloomberg reports that Vietnam's manufacturing inflows rose 18% in the first three quarters of 2018, while Thailand's net foreign direct investment increased over 50% in the first 7 months this year.
These are areas for the daring investor to look deeply into if a full-scale trade war breaks out.
EM Forward P/E Valuations are 1 SD Below DMs in 15-year time frame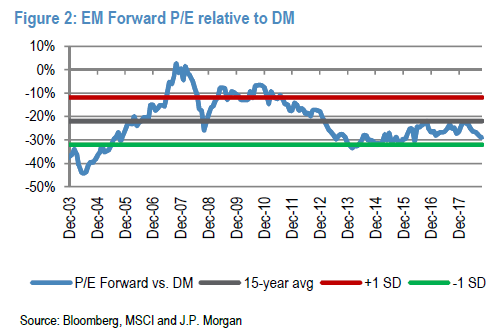 EM equity ownership had an uptick in 2017 but dipped in 2018
Mutual funds in aggregate still hold a low percentage of EM stocks. But macro conditions for EMs are much more robust than before. If conditions become favorable, earnings growth and funds inflow should yield superior returns over DMs.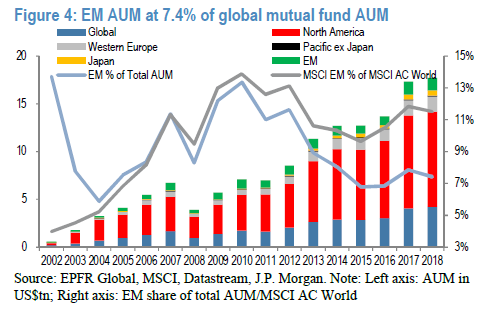 Conclusion
For 2019, I prefer value over growth and large caps with strong balance sheets and good credit rating over small caps. Geographically, I like emerging markets over developed markets (the US in particular) because of a positive expected growth differential, favorable currency conditions, low inflation in EM countries, and historically cheap valuations.
For further reading, please check out:
Tencent: Generational Buy On Secular Cloud Growth
Baozun: No Better Way To Ride The China E-Commerce Train
ZTO Express: Remarkable Growth At A Cheap Valuation
Weibo Earnings Preview: Can Earnings Be The Catalyst To Reverse The Downtrend?
Alibaba's Stock Is Poised For A Rebound
Chinese Equities: Time To Come Back?
Melco: High Risk Buy With Morpheus Ramp Up
Disclaimer: All research, figures and interpretation are provided on a best effort basis only and may be subject to error. Any view, opinion or analysis do not constitute as investment or trading advice, please do your own due diligence.
Disclosure: I/we have no positions in any stocks mentioned, and no plans to initiate any positions within the next 72 hours. I wrote this article myself, and it expresses my own opinions. I am not receiving compensation for it (other than from Seeking Alpha). I have no business relationship with any company whose stock is mentioned in this article.