Danske Bank (OTCPK:DNSKY) (OTCPK:DNKEY) is a quality bank in Europe, but its current investment case is deeply overshadowed by the Estonian money laundering scandal. Its depressed valuation seems to already price-in a lot of bad news and contrarian investors may find this cheap bank a good long-term play.
Money Laundering Issue
Some weeks ago I've suggested Danske Bank as a good income play within the European banking sector. At the time, the bank offered a very attractive dividend yield of more than 5% plus share buybacks, which was a better shareholder remuneration policy compared to many European banks.
However, despite this attractive income profile, Danske has not performed as expected due to the money laundering scandal. Danske's shares have declined by close to 30% and is one of the worst banks in Europe during 2018, down by around 42% (vs. -18% for the European banking sector, note that Danske is the white line).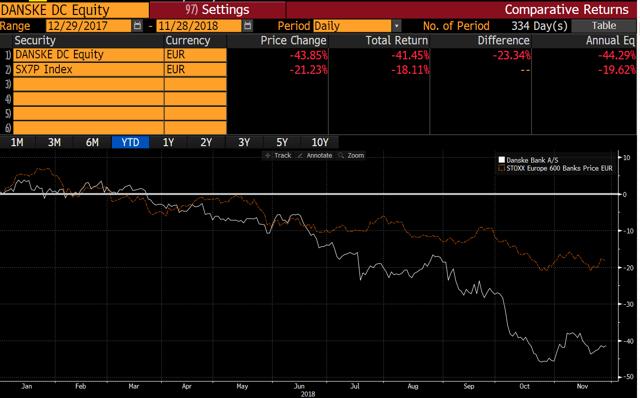 Source: Bloomberg.
Over the past couple of months, there were new developments regarding the money laundering issue at Danske's Estonian branch, which have affected negatively the bank's reputation and may lead to heavy fines in Denmark, Estonia and possibly in the U.S.
Reportedly, some $200 billion of questionable money flowed through Danske's Estonian branch from 2007-15, a much larger amount than previously disclosed. This led to the resignation of Danske's CEO, Thomas Borgen, and an internal successor was rejected by the Danish supervisor. The bank is currently searching for a new CEO, which means that the bank's strategy is on hold until a new board is set up.
Additionally, Danske has agreed to suspend its share buyback program, but remained committed to the dividend payment for the time being.
It is quite difficult to quantify how much Danske will have to pay to settle this scandal with European and U.S. authorities, but considering recent litigation settlements from other European banks, such as Societe Generale (OTCPK:SCGLY) or ING Group (ING) related to violating U.S. sanctions and money laundering issues respectively, a settlement for Danske somewhere between $1-1.5 billion seems to be reasonable.
Considering that Danske's net profit was slightly above $3 billion in 2017, this seems to be a considerable fine, but the financial impact will be a one-off event impacting only one financial year.
Therefore, Danske's long-term fundamentals don't seem to be at risk from the money laundering scandal, even though the reputational damage and how customers will react to this scandal is still unknown. Taking this background into consideration, Danske's current investment case is heavily related to the money-laundering affair and the extent of the fines it faces.
As of September 30, 2018, Danske's risk weighted assets amounted to DKK 738 billion ($110.7 billion), while the bank's CET1 capital was DKK 120 billion ($18 billion). As the fully loaded capital tier 1 (FL CET1) ratio, a key measure of solvency within the banking sector, is calculated based on risk exposure rather than total assets, Danske's FL CET1 ratio was 16.3%, at the end of the third quarter of 2018.
This capitalization is quite strong and way above the European banking sector average (about 13%), allowing the bank to reach a settlement regarding the money laundering issue and still have an adequate capitalization level.
Assuming a base scenario of a potential fine amounting to $1 billion, this would impact Danske's capital ratio by some 100 basis points to 15.3%, which is still a good capital level within the European banking sector.
For the Danish bank's capital ratio to drop to an average level (around 13%), a fine of about $3.6 billion is required. I think that a fine of this amount is very unlikely taking into account past cases involving money laundering, namely ING's issue that was recently settled for only $900 million.
Nevertheless, until there is a settlement and Danske puts this issue behind its back, its valuation is likely to remain depressed as investors should remain concerned about the financial impact of the money laundering issue and if the bank can maintain its dividend. Only when this is resolved, investors will turn their attention again to the bank's fundamentals and potential growth in the medium-term.
Recent Earnings
Apart from the money laundering headlines, during the first nine months of 2018 (9M 2018), Danske has maintained a positive operating momentum even though its growth has slowed down compared to previous quarters.
Investors should note that Danske's money laundering issue was related to a group of clients (what the bank calls the Non-Resident Portfolio in Estonia) that was closed in late 2015. Therefore, despite intense media coverage recently on this issue, Estonia is a very small part of the bank (it only has 4 branches in the country) and its financial performance during the past three years has not been affected materially by its Estonian operations.
Danske has maintained positive lending growth (+2% year-on-year) during 9M 2018, driven by growth in Denmark (+1% yoy) and Nordic countries (+4% yoy). This was important to offset the negative interest rate environment in these markets (Denmark and Nordic countries generate the vast majority of its revenues), enabling the bank to report a stable net interest income in 9M 2018. Its net interest margin was 0.88% in the period, up by only 1 basis point during this period.
On the other hand, trading income (-35% yoy) was negatively affected by volatile capital markets, leading to an overall decline of 7% on Danske's total revenues.
On the cost side, Danske increased expenses by 2% and has made a one-off DKK 1.5 billion ($230 million) donation of income related to the Estonia case. This is not a fine and the bank justifies this donation by its willingness to cooperate with authorities, donating this amount to initiatives aimed at combating financial crime.
This has pushed its efficiency ratio to 56% during the first nine months of 2018, a much higher level than reached in the same period of 2017 (47.2%).
Its asset quality remained at best-in-class levels, as the bank continues to do net impairment reversals at most business units. This happens because the bank has operations in Ireland, where the bank made large provisions for credit losses during the European debt crisis of 2012-13, which weren't necessary as the country's economy has recovered quite rapidly over the most recent years.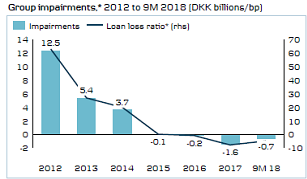 Source: Danske.
Despite this, its net profit declined by 24% to DKK 11.5 billion ($1.73 billion) and its return on equity (ROE) was 10.1% in 9M 2018, still at a very good level within the European banking sector despite the fall compared to the same period of 2017 (ROE of 13.3%).
Going forward, the bank should maintain a positive operating momentum, supported by strong macroeconomic indicators in its domestic market and some growth prospects in Nordic markets where it acts as a challenger bank, namely in Norway and Sweden.
On the other hand, the risk of a global economic slowdown would be negative for its lending growth, while its exposure to the agriculture industry may lead to higher impairments in the near future if farm prices decline due to lower economic activity in Europe.
Capital
The bank's capitalization remained among the best in Europe, measured by its high FL CET1) ratio of 16.3%. This strong capitalization is considerably above the minimum requirement set by the Danish regulator of 13.9%, being an important buffer to settle the Estonian issue without diluting current shareholders.
This means that Danske has a buffer of $2.6 billion until its capital drops to the regulator's capital requirement (with a fine of this amount its capital ratio would drop to 14%), without considering capital build over the next few quarters (in the last quarter Danske's capital ratio improved to 16.4% from 15.9%).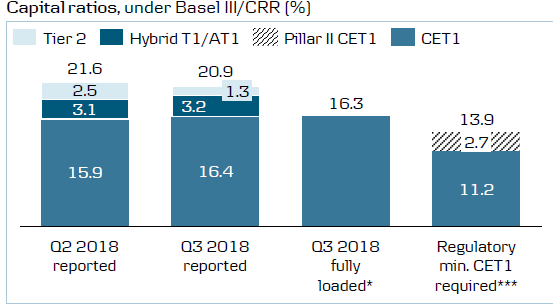 Source: Danske.
Moreover, the remaining 2018 share buyback program was cancelled, thus the bank should be able to build capital faster in the next few quarters, increasing its capital buffer until it reaches a potential settlement with Danish, Estonian and U.S. authorities.
Valuation
Despite Danske's resilient operating performance in the past few quarters, investors have been spooked by negative news flow towards the bank, pushing its valuation to very low levels compared to its recent history and the overall European banking sector.
Indeed, Danske is currently trading at only 0.77x book value, at a discount to its European peers (which trade on average at 0.85x) and its Nordic peers (1.18x book value on average).
Usually, Danske trades at a significant premium to European banks and in-line with its Nordic competitors because it has a similar business profile, showing how distressed is its current valuation. Moreover, this is the bottom of its own historical valuation over the past five years, given that it has traded on average at around 1.20x book value in recent years.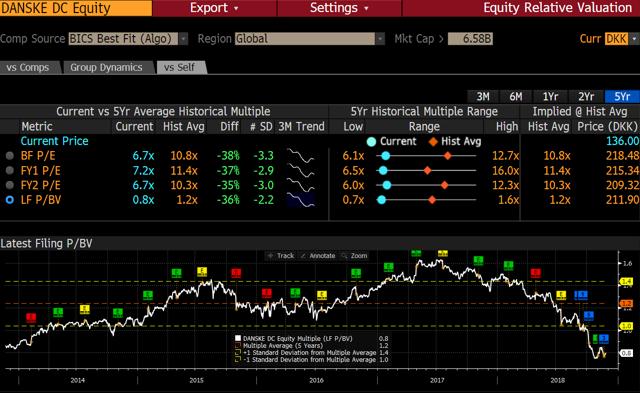 Source: Bloomberg.
Given that Danske has a quality profile due to its strong capitalization, a stable business model and high-dividend yield, this discounted valuation seems to already incorporate a big financial impact from the money laundering issue.
This means that Danske seems to have an attractive risk-return profile right now, given that if the bank is able to settle the money laundering issue for an amount close to current expectations (somewhere between $1-1.5 billion), the upside potential can be quite high considering the bank's fundamentals.
Assuming that Danske deserves to trade at a similar price to book value than its Nordic peers, this leads to a price target of DKK 202 per share or some 53% above its current share price. Even assuming that following the money laundering issue investors will demand a 10% discount to its Nordic peers, the price target goes to DKK 182 per share or 43% higher than its current share price.
Furthermore, based on the Gordon growth valuation model, assuming a return on equity of 10%, a cost of equity of 9% and a terminal growth rate of 2%, its fair valuation is 1.14x book value. This clearly shows that Danske is considerably undervalued nowadays based on the bank's fundamentals and the market is discounting a huge impact on the bank's book value from litigation.
However, there is also the risk that a potential fine can be higher than the range currently expected. Considering past cases of bad company behavior that was seriously punished, such as Volkswagen (OTCPK:VWAGY) or Deutsche Bank (DB), fines are usually set according to the financial capacity of the companies, as authorities don't want to put in jeopardy the company's going concern principle.
Thus, I see the worst-case scenario a fine of $2.6 billion because a higher amount than that would require a capital increase as the bank's capital ratio would be below the Danish regulator's requirement.
A fine would impact financially the net worth of the bank, measured by book value, which at the end of the third quarter amounted to nearly $23 billion. Therefore, a fine of $2.6 billion would cut Danke's book value by only 11% (its book value would drop to $20.3 billion), showing that a large fine seems to be already priced-in.
Even though it's difficult to predict the time of a potential settlement, Danske is cooperating with different authorities and is reasonable to expect this issue to be resolved within the next 6-18 months. I think this would be an important catalyst for a re-rating of its shares, as investors would be much more confident on the bank's fundamentals without the money laundering litigation risk.
Conclusion
Danske is one of my favorite banks in Europe, but unfortunately bad practices at its Estonian branch have been a major drag for its reputation and investor sentiment.
Even though it's quite hard to forecast how much the bank will have ultimately to pay to solve this issue, I think its excess capital position is large enough to put this issue behind its back without compromising its long-term fundamentals.
If the bank can put this issue behind its back for an amount close to current expectations, its shares should re-rate and its upside potential (up to 50%) is considerable over a relatively short time-frame. Moreover, a worst-case scenario leads to a tolerable loss, making Danske's risk-return profile quite interesting for contrarian investors.
Editor's Note: This article discusses one or more securities that do not trade on a major U.S. exchange. Please be aware of the risks associated with these stocks.