STAAR Surgical Company (STAA) has a 30 year history specializing in products for ophthalmic surgery; first for the treatment of cataracts going back to 1991, and the introduction of its revolutionary implantable contact lens marketed as Visian ICL in 1996. For the past two decades the company worked to enter new markets, gain worldwide regulatory approvals and educate specialized surgeons on the technology. Revenues were slow to pick up and annual growth languished in the single digits for the past 10 years. Fast forward to today and for all intents and purposes; 2018 will be remembered as the year STAAR Surgical finally broke out. The stock is up 136% year to date on accelerating revenues, positive guidance, and firming profitability.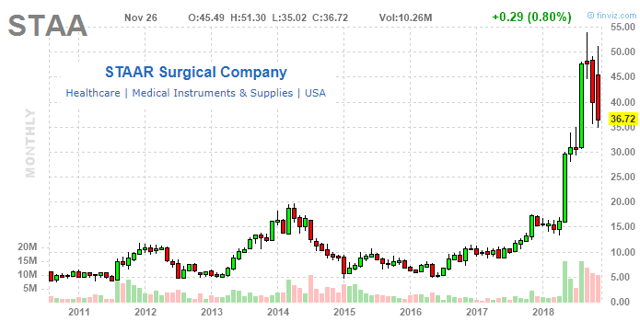 STAAR Surgical Company monthly stock price - source finviz.com
I think STAA can move higher, reclaiming its recent high around the $50 per share level representing ~35% upside. This article will explore the following points of my bullish thesis:
Still early stage of expansion with pipeline of new products.
Large market white space globally.
Solid balance sheet with no net debt.
What is STAAR Surgical?
The company's main product representing 80%+ of revenues are the implantable corrective lenses "ICL". The 'C' officially stands for Collamer which is the company's proprietary collagen-polymer based material but is also commonly explained to patients as implantable 'contact' or implantable 'corrective' lenses. Basically this is a solution to correct myopia, vision issues related to nearsightedness. The Collamer lens is surgically implanted behind the cornea and iris of the eye. If you have less than perfect vision seeing objects at distance, ICL is one alternative among prescription eyeglasses, removable contact lenses, and other surgical options like LASIK.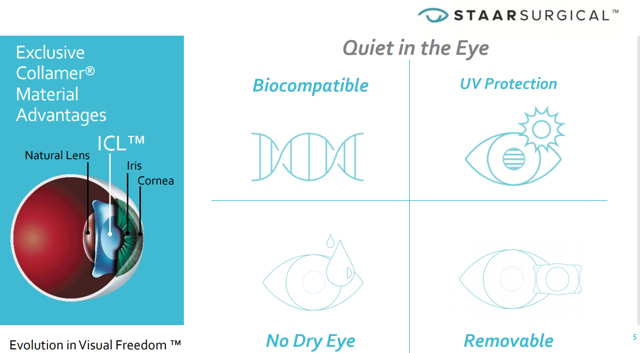 STAAR Surgical Company Q1 208 investor presentation - source
My understanding as a financial analyst is that ophthalmologists discuss different options with patients and, depending on the condition and circumstance; ICL has different pros and cons. The main benefit I see and something that is marketed as a comparative advantage is that the ICL the procedure can be reversed. By comparison LASIK surgery is permanent involving removal of corneal features with a laser and is known to contribute to "dry eye syndrome" in up to 20% of patients. For people with severe cases of nearsightedness "high-myopia", LASIK is doesn't work. Overall LASIK is less expensive and can treat a wider range of vision conditions but for severe cases of myopia, ICL is considered the best solution. Compared to traditional contact lenses, STAAR claims that patients can save over a lifetime by doing the ICL implant once, instead of regularly buying disposable contacts. You can read more about the product on the company's informational website.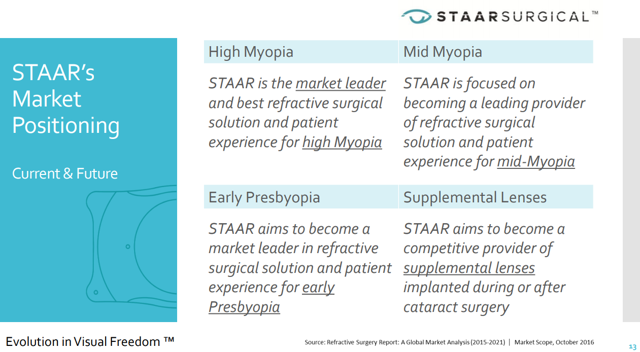 STAAR Surgical Company Q1 208 investor presentation - source
Currently the ICL product is aimed at myopia but the company has a solution for Presbyopia, the inability to focus on near objects, in clinical trials. Some versions of the current ICL product are only available for sale outside the United States pending approval. As an investor what i'm interested in is the size of the addressable market and what STAAR Surgical is doing to build its market share. The company does a good job of quantifying its market with comments made in the most recent earnings conference call. Some of the points summarized below:
STAAR believes the viable patient population for myopia is now more than 35 million people globally which would represent more than 70 million ICLs. This considers its findings that about 10% of the more than 350 million people globally that need myopia vision correction have the ability to pay for the procedure.
Relative to an estimated 3.6 million corrective myopic procedures currently performed annually (including all different alternatives including LASIK/ PRK); STAAR believes it can conservatively capture 20% of the market.
Presbyopia is a larger market considering people aged 40 - 55 years old representing 110 million ICLs with a similar viability factor regarding patient demographics, ability to pay, proximity to a qualified surgeon and willingness to undergo a refractive procedure.
In all, the company sees a global opportunity of "2,220,000 lenses annually in the coming years", (updated from 2.1 million promoted in Q1).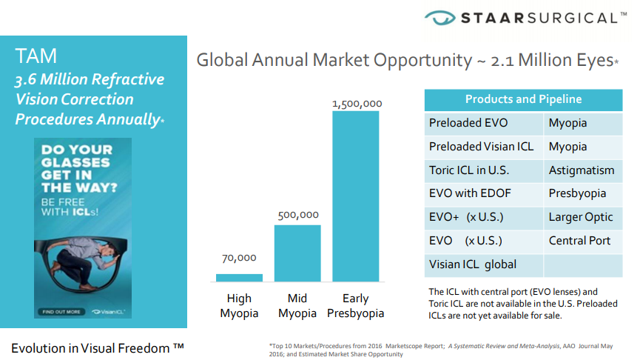 STAAR Surgical Company Q1 208 investor presentation - source
For perspective; while the company doesn't regularly disclose the number of units sold, I infer that STAAR sold about 150k ICLs in the past year, roughly at $750 per lens. The company thinks it can eventually sell millions per year in the future. The challenge to fill the gap between the addressable market and current sales really comes down to cost and marketing. While a lot of people of would benefit from the product, many simply don't know about it. Fortunately for STAAR momentum is on their side with procedure quickly becoming routine in Asia. China, Japan, and Korea alone now represent over 60% of sales which in my view represent a cultural acceptance of this technology as early adopters. The trend highlights the upside in all markets given the right marketing and education among practitioners in the field.
STAAR Q3 2018 Financials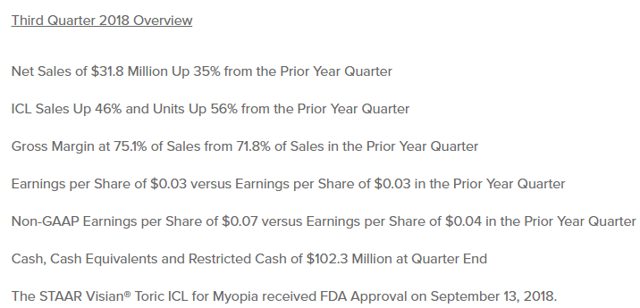 STAAR Surgical Company Q3 2018 earnings press release - source
As mentioned the numbers this year have exceeded prior expectations with growth accelerating. Sales reached $31.8 million, up 35% y/y while the gross margin expanded 330bps to 75.1% compared to the quarter last year. Year to date sales are up 41%. Growth has been driven by the Asia-Pac markets. In units, China grew 100%, Japan grew 95%, India grew 27%, and the rest of Asia-Pacific grew 38%. Overall, the Asia-Pacific region grew 79$ over prior year's third quarter in units. Management highlighted the key trend that the company is capturing market share from "laser" vision correction surgeries in most markets. Also the company is observing that the average degree of ICL diopter, essentially the severity of myopia, is moving lower meaning that there is more demand from patients with mild-myopia getting the implant.
With data through 9 months, STAAR is on track to reach $125 million in revenues for the full year 2018. Published market estimates suggest the company will grow revenues above 20% for the next three years. My own forecast considers revenue growth of 25% per year through 2021 on the expectation that the company's pipeline of products including regulatory approval for its presbyopia ICL, which is in clinical trials, occurs in the near future. In September, STAAR received FDA approval for its "Toric ICL" which corrects for astigmatism. Overall the combination of sales momentum and new products set a runway for growth going forward.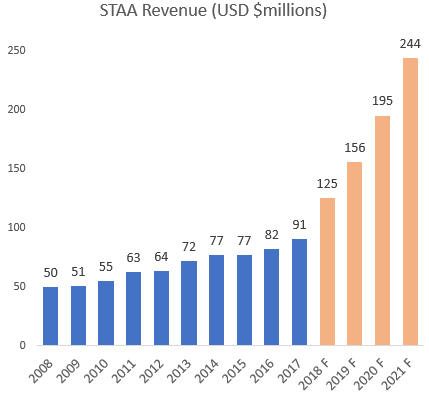 STAAR Surgical Company revenue forecast -historical from annual report , forecast is author estimates
The company views laser based procedures "LASIK" as its primary competitor. On one hand; LASIK is not suitable for severe cases of myopia so the ICL has a clear advantage. The challenge lies at the "mild-myopia" side of the spectrum when patients have the choice between ICL and LASIK. Pricing is an area that will help the ICL compete with alternatives like LASIK. According to management comments, one strategy is offer the product more competitively priced to LASIK for mild-myopic units while charging a premium for high-myopic units where ICL is in some cases the only solution.
Its important to note that STAAR Surgical's Visian ICL is among other "refractive implants" available in the marketplace. Johnson & Johnson and Novartis among others market devices that are similar but technically different from STAAR's ICL. The company notes the following in its annual report.
We believe the ICL has compelling clinical advantages over the other lenses, which are reflected in our strong market share of the global phakic IOL market. The ICL is the only foldable, minimally invasive PIOL approved for sale in the U.S..
The approval of STAAR's pipeline of products including toric and presbyopia ICL present the first to market advantage of offering for the first time a surgical alternative to qualifying conditions. In my opinion; the bullish case for the stock doesn't need people lining up to buy these things, only that growth continues in under-penetrated markets. STAAR only needs to gain incremental market share from competitors to continue its currently exceptional growth.
Market white space in the U.S.
Looking at this stock and learning about the company; what was odd to me is that North America sales only represent 6.9% of total revenues in 2018. Management explains this dynamic based on the product acceptance and penetration in Asia leading the the company to direct its sales and marketing effort "where the growth is". I see this as an opportunity considering the North American market should be at least as large as Europe and it could catch up quickly.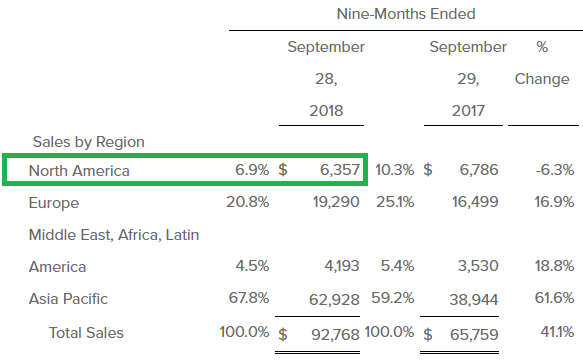 STAAR Surgical Company Q3 2018 earnings press release - source
Management's strategy in 2019 and beyond is to more aggressively expand in the U.S. market using its recent FDA approval of the "Toric ICL" version as a launching pad to market its full line of products. Essentially, ophthalmologists are just hearing about this state-of-the-art alternative for patients with astigmatism and the greater awareness will drive demand for STAAR's full line of products to correct different myopic disorders. STAAR is going to aggressively promote the Toric and it will make it easier to make the conversion to the full line as it becomes routine by the practicing physicians. The latest conference call included the following comments by management.
In the U.S., we are reintroducing the company and the ICL to a number of surgeons as well as expanding and reenergizing other surgeons. But my expectation is that because of the extraordinary performance of the lens and because of the elimination of peripheral iridotomy presurgical requirement, we're going to end up in the U.S. having a quicker adoption, and we believe faster growth because the work we're going to do with the Toric over the next several months to a year.
The way i'm reading this is that surgeons in the field will begin to implement the new FDA approved Toric ICL and that will open the door for marketing the other products. One anecdote that I think about when considering the possibility of future FDA approval is that all STAAR ICL products use the proprietary "Collamer" material which has been around for 20+ years. This is not a case where there is uncertainty if the product is even going to be safe. For all intents and purposes I believe the stock today is already trading with a baseline that the pipeline of ICL varieties get approved.
Back to the discussion on North America market sales representing only 6.9% of revenues, this implies STAAR Surgical only sold about 11,000 units between the U.S. and Canada in the last twelve months or ~30 per day. For reference there are roughly 20,000 ophthalmologists just in the United States qualified to perform surgery. If a quarter of them implanted just one ICL unit (one eye) per month, STAAR surgical could grow its US sales to 60,000 units per year. The point is that the market opportunity is enormous considering the company has the leading product for a common condition sold in 75 countries around the world.
STAAR Valuation
As is expected much of this story is already priced as the stock trades with a price to earnings ratio of ~160x for the trailing twelve months. Price to sales is also a eye-watering 14.5x. Multiples here at face value appear stratospheric but I believe STAAR deserves this type of growth premium. There are few companies where investors can say with confidence will double or triple earnings over any period and STAAR is on that path.
The company reported adjusted EPS (excluding stock based compensation) of $0.23 for the last twelve months and published consensus estimate think this can triple to $0.66 by 2020. In this case the stock trades at ~55x two-year-ahead earnings. The justification for the apparently aggressive bullish case is that going out to 2020 the company should still be expected to grow at +20% per year for the foreseeable future. Given the expectation of relatively flat R&D and capex in dollar terms over the next five years, free cash flow will incrementally increase much faster. STAAR's current market cap of $1.7 billion is "rich" but appropriate in my opinion.
Takeaway
To recap the following points summarize my bullish thesis and reasons I believe STAA has upside from current level.
Leading premium specialty medical device product aimed at treating a very common condition.
White space in under-penetrated markets
Global growth momentum (revenues up 41% YTD)
Company has no debt and free cash flow is expected to accelerate
Pipeline of new product versions to correct different vision disorders.

Toric ICL FDA approved in September
EVO ICL already sold outside the United States
Presbyopia ICL in clinical trial stage
Tactically; I'd like a chance to add to a long position under $31.50 per share which is the 200 day moving average. Shares should remain volatile in the near term with growth stocks generally under performing recently amid the market correction. Overall this is a highly speculative stock at the current price but I think there is an interesting long term investment opportunity here in a solid company. I think the company's reputation for quality and first to market advantage with the new products provides a competitive advantage. The main risk to mention is going to be some type of unforeseeable setback in the regulatory approval of its ICL pipeline.
Disclosure: I am/we are long STAA.
I wrote this article myself, and it expresses my own opinions. I am not receiving compensation for it (other than from Seeking Alpha). I have no business relationship with any company whose stock is mentioned in this article.