Introduction
Over the past two years, I have spent intensively most of my spare time building out a methodology that matches my risk profile and investment horizon. But as you already know, an investment portfolio is never finished, and further improvements can always be made to reduce the risks and volatility of your wallet.
With many stock market indices in correction territory, especially outside the US (Belgium and France), where I've allocated most of my long-term money, investors can get their bargain shopping done. Throughout this article, I am going to look at why the market is dead wrong about these opportunities and why I feel comfortable with the undervaluation of most of my current positions. I will also provide you with a list containing which names I may buy in the medium-term.
By means of two portfolios, one consisting of stocks that are trading at steep discounts and the other one containing reliable companies that grow their dividends, I will highlight my own risk profile, time horizon, and investment principles. Feel free to pick out (some of) the companies discussed, but it remains up to you to do your own due diligence and to decide whether my positions are right for you.
Investment Principle Number One: Use The Major Advantage Youngsters Have - An Endless Time Horizon
The younger you put your money to work, the better, as time is by far the most powerful weapon to generate high returns. Over the past six years, I have recognized that time should be an investor's friend, not an enemy, and that investing must be boring. What I mean by the latter is that most people continually track the performance of their companies without realizing the fundamental aspects. In essence, investors acquire part ownership of a company whose management has only one mission: growing the business and creating shareholder value. Most investors focus too much on excessively irrational market behavior and make crucial mistakes by being greedy and fearful. Buy high/sell low is a very common phenomenon. No wonder we could call today's long-term bull market the most hated rally ever, as few people benefitted from the latest crisis to finally start investing.
Thanks to fundamental analysis, every investor should cherish a downturn because sooner or later excellent companies will revert to their mean value, giving you the opportunity to harvest juicy dividends. The graph provided below clearly indicates that stock prices of my portfolio can fluctuate heavily in the short-term, but fortunately, in the longer-term, shareholder-friendly companies are getting fairly valued.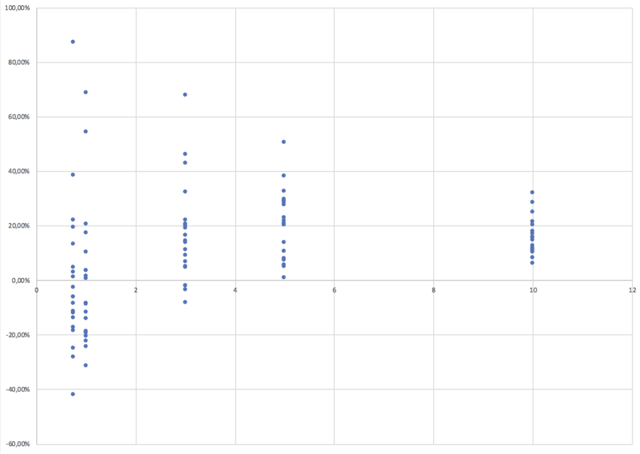 (Source: Author's work)
Youngsters focusing on trendy stocks and leveraged trading are the most emotional human beings. Despite having a huge advantage, namely the rapidity with which they can compound their hard-earned savings over time, youngsters neglect the importance of investing especially in Belgium where teenagers are confined to their savings accounts and disinterested in financial matters. With long time periods hammering out, money yields the fastest if you choose reliable cash-generating companies. That's why I am trying to convince my peers to not sit back, but to believe in one of Einstein's Wonders of the World: compounding interest. At the end of the day, everyone wants to become financially independent, and stocks are an excellent way to achieve this goal.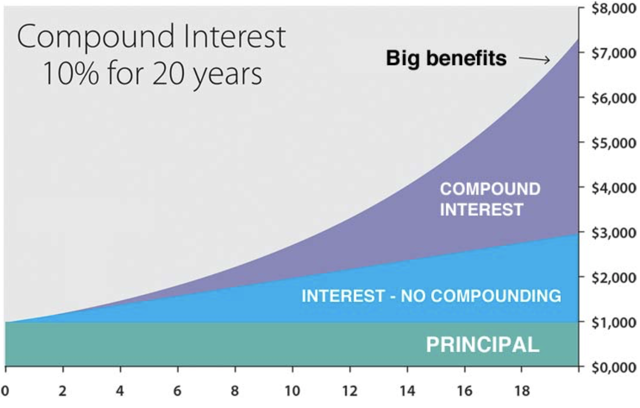 (Source: The Calculator Site)
Investment Principle Number Two: The Importance Of Extensive Fundamental Analysis
If you own a well-diversified portfolio of stocks, then you have to check up on the intermediate progress each company has made in terms of cash flows, balance sheet, profitability, and prospects. To get a sizable dividend income that everyone dreams of, investors should be very careful with companies that are overleveraged as their balance sheets promise little good for sustainably high dividends.
Buying companies with a stellar dividend track record, which leaves more room to hike the dividends in the next couple years, has proven to be a successful strategy, especially in periods of crises. The following picture fits perfectly in my strategy of seeking secured growing income and underlines the importance of only selecting companies that have the potential to deliver market-beating dividend growth and returns. Well-known names on the list of dividend aristocrats are AbbVie (ABBV), Abbott Laboratories (ABT), ADP (ADP), and A.O. Smith (AOS).

(Source: Simply Safe Dividends)
What do these companies have in common? They all have safe payout ratios that help them to generate steadily growing dividends over the next couple of years. One of the most accurate parameters to measure a company's dividend consistency is the coverage rate, indicating whether the cash contributions are sufficiently covered by total FCF. I consider this metric to be vital for buy-and-hold investors to steer them in the right direction when making investing decisions. On top of that, I recommend you to always gather high-quality information instead of the troublemaking news provided by much of the financial media. These information flows try to provoke panic during market corrections and find their way into most people's wallets, causing irrational transactions.
Investment Principle Number Three: Don't Buy The Trendy Stuff, But Benefit From Sharp Declines
My most important rule is not to buy companies that are currently in favor as these stocks are excessively tracked by hedge funds and ETFs. This in turn reduces the possibility of finding steep undervaluations and market-beating returns going forward. Unlike most investors staring at climbing stock prices, I want to capitalize on stocks that tend to be undervalued. In essence, I am always seeking companies that trade at sustainably high FCF yields, have rock-solid margins, and are active in mature industries. Stocks that meet my stringent requirements should be capable of generating the 10+% annual FCF yields that my portfolios are currently targeting. Thanks to robust balance sheets, improving margins, and blissful track records, these total returns should rise over time, whether or not additionally supported by share repurchase programs.
In the next section, I will present my current holdings that have both growth and value traits tailored to my criteria. The following pictures about Moury Construct, a Belgian constructor that remains a safe bond proxy stock (listed at Euronext Brussels), and Payton Planar, a high-tech planar manufacturer (listed at Euronext Brussels), serves as an example, illustrating that my portfolios consist of miscellaneous company profiles.
In blue, Moury Construct's FCF (in € million); in red, its dividend (in € million); and in green, its net cash position (in € million).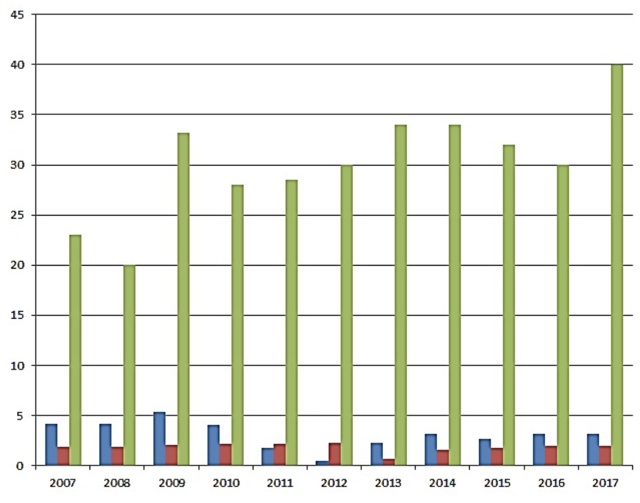 (Source: Author's calculations)
In blue, Payton Planar's FCF (in $ million); and in red, its net cash position (in $ million). I'll provide further details on its dividend policy later on.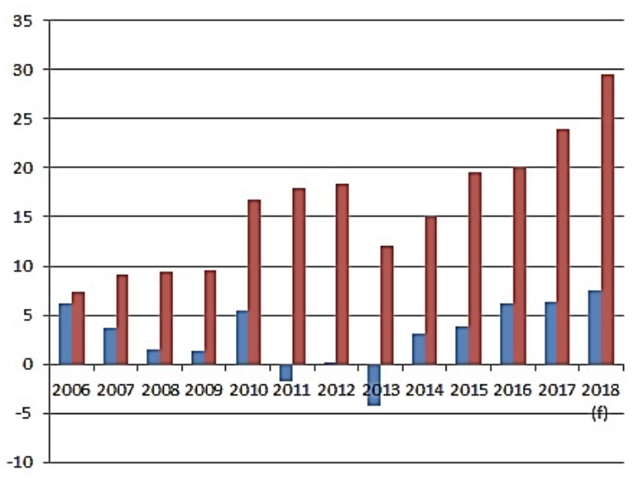 (Source: Author's calculations)
My Current Investment Portfolios
In the following paragraphs, I am going to unfold the strategies of my investment wallets, but there's certainly some overlap as some stocks match both the growth and dividend principles. It took several years to scrape these names together, but their investment cases are very promising for long-term investors, and since I buy the most crunching names every month, I hope to load them up at compelling levels.
Growth Portfolio
The purpose of my growth portfolio is to only select companies trading at steep discounts to their fair value. I expect prices to revert to their mean level over the next couple of years, leading to double-digit returns. Over the past years, thanks to several unicorns, it was much easier to post market-beating returns. I believe this trend to be untenable going forward.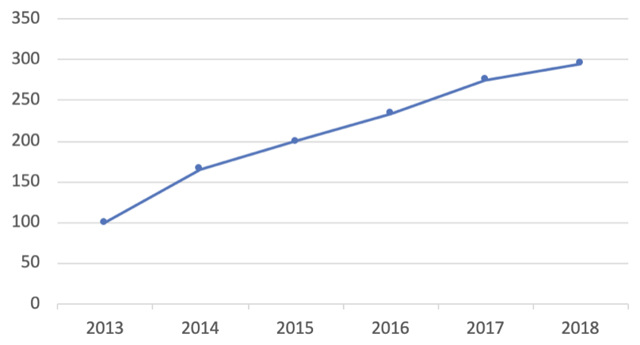 (Source: Author's work)
Today's holdings are the following and include medium-term targeted fair values (3 years) based on my Discounted Cash Flow Model:
Name
% Weight
Cost Basis
Forward Gross Dividend Yield (2019)

Minimal Fair

Value

Upside

Potential

Payton Planar (Euronext Brussels)

14.39%
€3.70
5.2%
€10.76

69.45%

Bet-at-home (Xetra)

9.22%
€65.03
11.1%
€101.31

83.87%

BE Semiconductor Industries (Euronext Amsterdam) (OTC:BESIY) (BESIF)

8.94%
€20.25
7.79%
€33.24

75.87%

Total Produce (OTCPK:TTPPF) (Dublin)

4.48%
€2.14
1.89%

€2.62

55.95%

AbbVie (ABBV)

7.31%
$102.4
4.58%
$149.23

67.79%

Sioen Industries (Euronext Brussels)

6.15%
€25.78
2.38%

€32.91

34.88%

Holland Colours (OTC:HLDRF) (Euronext Amsterdam)

5.29%
€92.00
5.57%

€161.38

110.68%

Boeing (BA)

5.22%
$355.21
2.23%

$551.71

65.43%

Michael Kors (KORS)

4.39%
$64.12
-
$93.6
108.19%

Ter Beke (Euronext Brussels)

6.06%
€161.23
3.09%

€240.21

85.49%

Imperial Brands (OTCQX:IMBBF) (OTCQX:IMBBY)

4.77%
£25.89
8.44%

£35.89

47.54%

Resilux (Euronext Brussels)

3.73%
€142.83
1.65%

€189.47

47.10%

Jensen (Euronext Brussels)

6.10%
€37.14
2.76%

€49.89

38.58%

Pandora (OTCPK:PNDZF) (OTCPK:PNDZY)

13.96%
401.23 DKK
5.42%

686.6 DKK

89.51%
(Source: Author's calculations, partially based on analyst estimates)
Just a quick snapshot of some of their business profiles and prospects:
Payton Planar is a high-tech planar manufacturer that benefits from the switch to a greener economy. I am convinced that the transition to electric vehicles will bode well for this small tech company. With shares looking to generate double-digit FCF yields in the next couple of years, Payton is a hidden gem in the world of high tech valuations.
BESI, which is engaged in manufacturing assembly equipment for chips, is another one of my top picks in the tech industry. Despite being subject to economic shocks and volatility in chip demand, BESI's valuation remains low, and its balance sheet suggests that more dividend hikes and buybacks are looming. Patient investors holding their shares over the long haul will definitely profit from their investment in BESI.
Total Produce is an Irish fresh produce distributor. Its growth trajectory remains in place with the acquisition of Dole Foods, unlocking tonnes of synergies. Providing steadily growing dividends, Total Produce shares are attractively priced.
Sioen Industries is a world market leader in coated technical textiles, protective clothing and fine chemicals. After the family company suffered the consequences of the latest economic crisis, it was high time to transform into a less cyclical company through diversification. With a clear focus on R&D and accretive takeovers, Sioen is in pole position to grow its activities over the next decade.
Holland Colours creates additives and high-quality liquid colorants. Backed by a stunning net cash position and margin improvements, Holland Colours should be able to offset the short-term headwinds it is currently facing, not least of which is the rising commodity cost. The company is a bite-sized chunk for mastodons like Akzo Nobel (OTCQX:AKZOF) (OTCQX:AKZOY) and PPG (PPG).
Ter Beke is Belgian fresh food company with services operating commercially in many European countries. The family company has a straight-forward strategy of growing its business through acquisitions and cost discipline. Ter Beke's shareholder-friendly policy will allow its management to return sweet dividends and to keep its financial situation sound.
Resilux is a Belgium-based family company that sells PET packaging in the form of bottles and performs. Over the past several years, management has clearly demonstrated it is capable of generating durable cash flows and predictable dividends. Its conservative policy should allow it to pursue accretive acquisitions and to ramp up its production facilities.
Jensen is a Belgian leading laundry industry-supplier marketing its products worldwide. The family company profits from mega trends such as higher spending on healthcare services, more traveling, and tourism. With a net cash position and long-term visibility, Jensen should be able to make up for some of the short-term headwinds it is facing such as customer consolidation, which leads to temporarily lower investments in Jensen's laundry systems.
Dividend Portfolio
Both my parents, looking to live off their dividends, and I have a dividend portfolio that consists of reliable long-term cash cows. Supported by selling cash-secured call options, I expect this portfolio to generate double-digit income growth in the next couple years.
In blue, total option income; and in red, total dividend income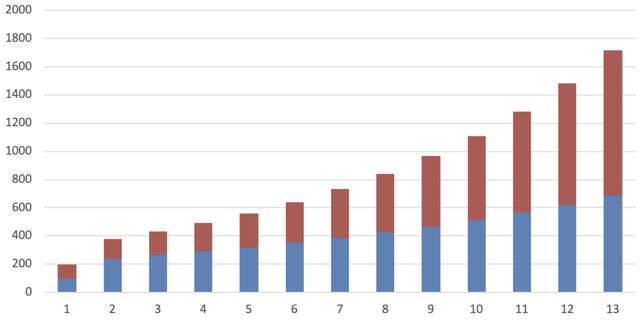 (Source: Author's work)
In blue, return of the growth portfolio; and in orange, return of the dividend portfolio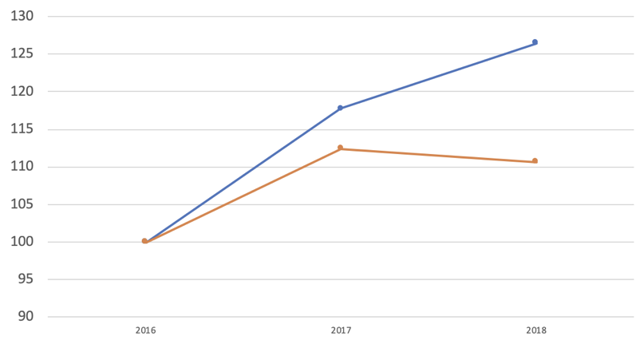 (Source: Author's work)
Not only does this approach bode well for dividend growth, but it also gives the opportunity to add more shares during a steep downturn. Let me give you an example, namely Altria (MO) about which I have written an article recently. Looking strictly at the numbers, the US tobacco giant has become too hard to ignore and the stock price has come off dramatically, pushing yields towards 6%. Obviously, I welcomed this irrational market behavior to add more crushing dividend yields.
Today, my long-term dividend wallet consists of the following holdings:
Name
% Weight
Cost Basis
Forward Gross Dividend Yield (2019)
Minimal Fair Value

Upside

Potential

AbbVie
10.31%
$89.96
4.58%
$149.23
67.79%
Altria
7.24%
$61.25
6.00%
$91.50
66.52%

BE Semiconductor

Industries

6.67%
€23.96
7.79%
€33.24
70.72%
Elia (OTC:ELIAF) (Euronext Brussels)
4.29%
€52.56
2.93%
n.a.
n.a.

TINC (Euronext Brussels)

3.97%
€11.87
4.26%
n.a.
n.a.
Philip Morris (PM)
8.61%
$82.68
5.42%
$105.00
21.54%
Randstad (OTCPK:RANJF) (OTCPK:RANJY) (Euronext Amsterdam)
3.39%
€53.91
5.90%
€57.49
36.59%
Jensen
7.19%
€41.38
2.79%
€49.89
37.06%
Kinepolis (Euronext Brussels)
3.59%
€56.19
1.89%
n.a.
n.a.
Melexis (Euronext Brussels) (OTC:MLXSF)
2.57%
€83.40
4.33%
n.a.
n.a.
Moury Construct (Euronext Brussels)
3.77%
€140.23
3.88%
€206.49
54.10%
Imperial Brands
6.49%
£26.15
8.44%
£35.89
47.12%
Sioen Industries
3.22%
€30.20
2.38%
€32.89
34.88%
Ter Beke
6.03%
€172.77
3.09%
€240.21
84.78%
VGP (Euronext Brussels)
9.38%
€63.59
5.17%
n.a.
n.a.
Publicis (Euronext Paris) (OTCQX:PUBGY) (OTCQX:PGPEF) (OTCPK:PBCBF)
8.64%
€53.23
3.92%
€78.77
46.41%
WDP (Euronext Brussels) (OTC:WDPSF)
4.66%
€101.67
4.03%
n.a.
n.a.
(Source: Author's work, partially based on analyst estimates)
Just a quick snapshot of some of their business profiles and prospects:
Elia is a transmission system operator with a monopoly in the Belgium market, and plays a key role in other European markets such as Germany where it holds a majority stake in 50Hertz. Elia remains a stable company that provides secured dividends.
TINC, a Belgium-based company, focuses on investments in infrastructure providing cash flows of a long-term sustainable nature. This company is considered to be a bond proxy stock.
Kinepolis is a Belgian cinema group that wants to offer its audience the ultimate movie experience. Through several acquisitions, Kinepolis has extended its traditional profile to a broader entertainment company. Last year, the company announced it was planning to acquire Landmark Cinemas. Bearing in mind that Landmark's profit margins remain one third of those of Kinepolis, this move should be the driving force for many years to come.
Car safety and automation are two areas which Melexis has worked in for many years, and that's ultimately the only reason why investors should look at this interesting tech company. Until the end of September, Melexis shares had been trading at expensive multiples, but due to fears of a slowing world economy, price levels have become more acceptable.
Building constructor Moury Construct proves it can be an erroneous view to suggest that the constructing industry doesn't offer buy-and-hold opportunities. When bearing in mind that at least 75% of today's market cap is net cash, shares are trading at depressed multiples. Moreover, Moury Construct will manage to grow its revenue to more than 100 million for the first time this year. This bond proxy stock offers opportunities for patient investors looking for boring and predictable dividend income.
The last ones are VGP and WDP, two Belgian REITs specialized in logistic real estate. While WDP is forced by law to distribute at least 80% of its annual net profits, VGP continues to recycle its capital invested in big projects, thanks to its joint venture with Allianz (OTCPK:ALIZF). Through the issuance of bonds at interesting rates, both companies focus on growing their property portfolio in Eastern Europe, especially in Romania where logistic property yields hit the 8% mark. I expect VGP to hike its dividend really fast through a combination of receiving new projects (and rental income) and a steadily rising payout ratio.
What I'm Buying Today
In my growth portfolio, I am looking to add more Michael Kors as its valuation has become even more depressed, pushing forward FCF yields up to 10%. Since the latest financial results, its share price decline has accelerated while my investment thesis hasn't changed that much barring the impact from the Versace takeover. Thus an excellent opportunity for contrarians to buy the dip. Besides my interest in Michael Kors, I've lost sight of the fact that my stake in Resilux has become under the radar. With forward FCF yields looking to generate up to 10% and its production investments paying off, I wonder how long this irrationally low share price will stand.
As mentioned previously, Altria shares are one of the most interesting companies to buy right now, and I would have no problem if today's already sizable portion of my portfolio grows even more. Rumors that Altria may acquire a significant minority stake in Juul would be an excellent move as Juul's growth is far more impressive.
Another possible destination for my option and dividend income is Randstad, which is offering a historically high FCF Yield and juicy dividend yields these days because of fears of slowing economic growth. However, I believe you shouldn't buy this kind of cyclical stocks these days as economic momentum still appears to be solid. Taking this into consideration, I'd better go bargain hunting when prices fall below €30-35.
Stocks I'm Keeping A Keen Eye On
The recent market correction caused many stock prices to contract and the biggest blue chip I'm watching closely today is Apple (AAPL), which is offering juicy FCF yields, and buybacks. As such, I rate Apple shares as a strong buy with nearly 43% upside potential. Also, I am looking at some European fallen angels such as Michelin (OTCPK:MGDDF) (OTCPK:MGDDY), Rubis (OTCPK:RBSFY), TKH (OTC:TKHGF), and Aperam (OTC:APEMY) (OTC:APMSF). Nevertheless, bearing in mind that Michelin and Aperam remain high-cyclical companies, I don't want to act in haste buying today's dip.
| | | | |
| --- | --- | --- | --- |
| Name | Forward Gross Dividend Yield (2019) | Minimal Fair Value | Upside Potential |
| Apple | 1.93% | $ 258.00 | 42.54% |
| TKH | 3.10% | € 61.02 | 33.69% |
| Aperam | 6.28% | € 43.29 | 66.8% |
| Michelin | 4.01% | € 108.99 | 19.23% |
| Rubis | 3.28% | € 63.54 | 34.61% |
(Source: Author's work)
Conclusion
Investors doing their thorough due diligence can always pick out some interesting names to invest in. My Discounted Cash Flow Method remains an interesting tool to compose my buy list for December. What do you think about my considerations? Are there some European names you've already heard of? Please let me know below.
Disclosure: I am/we are long ALL STOCKS MENTIONED IN MY PORTFOLIOS. I wrote this article myself, and it expresses my own opinions. I am not receiving compensation for it (other than from Seeking Alpha). I have no business relationship with any company whose stock is mentioned in this article.
Editor's Note: This article discusses one or more securities that do not trade on a major U.S. exchange. Please be aware of the risks associated with these stocks.