South Africa's embattled state-owned electricity provider Eskom this week reported its interim (6-month period) financial results for period to end-September 2018. We have previously written on the significant challenges faced by the parastatal that is still responsible for over 95% of the country's electricity supply. However, the recent set of results and more importantly operational and financial forecasts for the full financial year to end-March 2019 paints an even bleaker picture, which forces us to question some of our prior assumptions.
As we can see below in the breakdown presented by Eskom itself in a presentation this week, the two main expense line items, primary energy inputs (mainly coal) and employee compensation both increased by 12% y/y. In contrast, revenues only increased by 2.7% despite a tariff increase of roughly 5% for the current financial year, once again indicating a further decline in actual electricity volumes.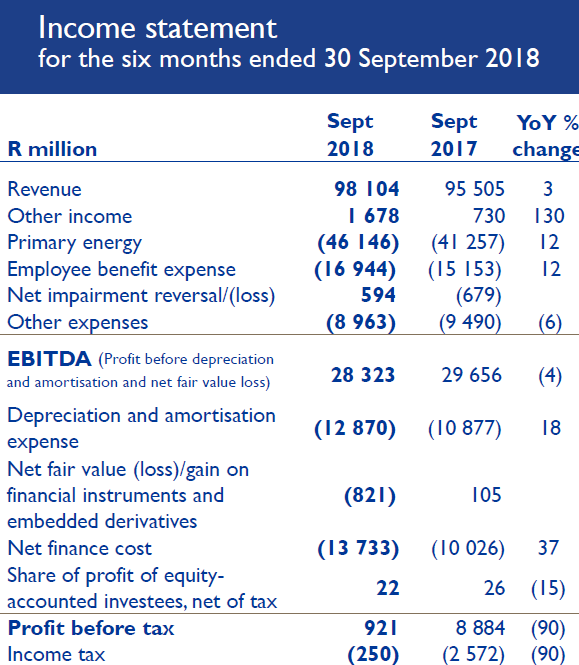 Source: Eskom
Although the company's Ebitda only declined by 4% y/y, this was partly due to an increase in other income and a decrease in other expenses, which are likely non-recurring. The main point to note though is that Eskom's Ebitda margin continued to deteriorate on a y/y basis, amounting to 28.9% for the interim period, a seasonally profitable period for the state-owned company because it receives higher winter tariffs. More alarming perhaps is the margin forecast for the full-year, which is now estimated at only 21%.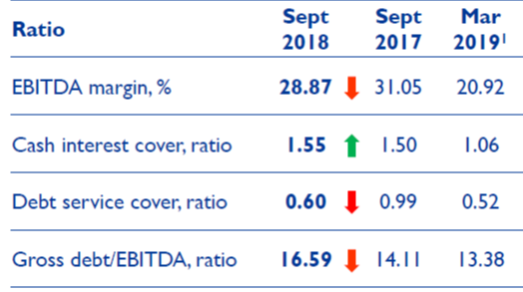 Source: Eskom
In the prior article on Eskom we highlighted how important it was for Eskom to eventually increase its Ebitda margin to around 35% if it was going to have any chance of returning to financial solvency. However, based on the company's operational history (reflected below) as well as the evolving coal supply crisis, achieving this type of margin may not be possible or at least with the state-owned company's existing fleet of ageing, coal-fired power plants.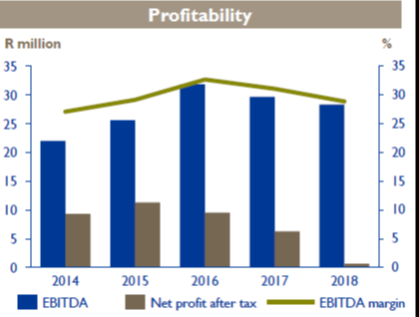 Source: Eskom
Eskom's primary energy source remains coal and as outlined in more detail in this well written article for various reasons Eskom's average purchase price has continued to increase in recent years. This is mainly due to the fact that Eskom, which requires roughly 110mn tonnes of coal per annum to meet its supply requirements, enjoyed very low coal prices as a result of legacy long-term cost-plus supply agreements entered into with various mining companies many years ago.
Some of these legacy contracts have come to an end and more of Eskom's cheaper coal supply will come off contract in the next few years, which will have to be replaced with higher cost coal. At present, Eskom's pays an average of between ZAR 500 to ZAR 600 per tonne for its total coal requirements. This compares with an export parity price of ZAR 1400 per tonne at present. Eskom is able to utilize lower grade coal in its power plants and will thus be able to procure coal below export parity prices. Nevertheless, as its cost-plus legacy contracts expire, it is likely that the average price paid by Eskom will still trend higher.
We don't have any idea what proportion of Eskom's existing coal supply is still tied to long-term legacy procurement agreements but given the gap between the current export parity price and what Eskom is paying at present, it is difficult to imagine Eskom's average cost price not trending higher from here. In order to get a rough sense of what Eskom's average input price could be if all of its long-term legacy contracts expired, we looked at a junior coal miner – Wescoal Ltd – that mines coal almost exclusively for Eskom and the domestic inland market.
Its average sales price was roughly ZAR 800 per tonne and a decent indicator in our view for where Eskom's average input price could trend towards over the next several years. If we assumed that ZAR 750 per tonne was a realistic cost price for Eskom and that this average price is reached by 2024 it would imply a roughly 50% or 10% annual increase in the embattled parastatal's average input cost price.
Given that primary energy costs account for such a substantial portion of underlying operational costs, it is in turn very unlikely that Eskom will be able to restrain its annual cost inflation to less than the official inflation rate of 5% . In our view, a steady-state Ebitda margin, assuming some cost-cutting, of around 25% may be the best the state-owned company can achieve given its ageing fleet that also requires increasing maintenance expenditures.
In our prior article covering Eskom we assumed a steady-state Ebtida margin of 35% could eventually be achieved if the state-owned company was awarded large annual tariff increases. If we assume a 25% margin then the picture will change quite drastically.
Eskom's net debt will likely peak at around ZAR 500bn as it completes its current build programme, while a reasonable estimate at this juncture for its average debt cost is roughly 10%. Both of these may well end up proving too optimistic but for now we will give the company the benefit of the doubt. Based on these basic assumptions we provide seven different scenarios based on different size tariff increases as well as the assumption that in certain scenarios a large portion of the parastatal's debt is transferred to the sovereign balance sheet.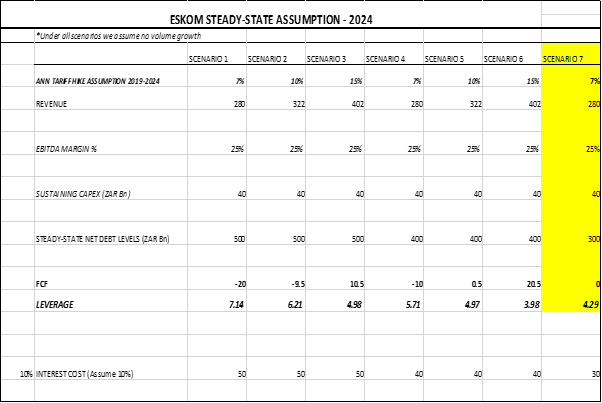 Source: Eskom, Blue Quadrant Capital Management
As we can see in the table below, it is only scenario 7, which allows for an annual tariff increase of 7% per annum AND a debt reduction of ZAR 200bn that would by 2024 deliver Eskom to a position of cash flow neutrality after capital and interest expenditures as well as reducing its leverage level close to a level that is perhaps consistent with an investment grade rating. Achieving this financial objectives are important if Eskom is going to have the capacity to invest in new more efficient power plants to replace its existing ageing coal-fired power plants.
Naturally there are other scenarios including one with much larger annual tariff increases. However, given the fragility of the economy at present, increasing tariffs by 10% or more for several years is not advisable. A large real electricity tariff shock combined with efforts by the current administration to impose some form of fiscal consolidation and the bizarre decision by the central bank to recently tighten monetary policy, pose significant downside risks to economic activity going forward.
We have written about this previously in an article as well and if policymakers are indeed going to pursue what we term "an impossible trinity" it is very difficult to envisage the economy generating any meaningful positive growth over the next few years. The most realistic growth outcome is likely to fall far short of current consensus expectations and will further erode the government's taxable revenue base.
The Eskom crisis is coming to a head and definitive action and ultimately hard choices will have to be made. The administration can choose between large real electricity tariff increases over a number of years or it can provide meaningful debt relief to the challenged parastatal. Either option is not without cost, the question is which option is the least costly option at this time. Given the fragility of the economy and the underlying socioeconomic pressures in the country, providing a large-scale "bailout" may be the best option.
Why is Eskom important?
In the context of the financial challenges faced by some of the other state-owned enterprises including the national airline, South Africa Airways ("SAA"), the cost to the fiscus of a credible and meaningful bailout of Eskom would be significant. SAA on its own is now reportedly in need of some ZAR 21bn in additional funding and Eskom's required bailout funding could end up dwarfing this amount if the bailout is going to be credible and have a genuine transformative impact on the state-owned company's financial position.
Although the administration can opt for a series of half measures, small - additional equity injections and/or smaller tariff increases - hoping that over time the ship will right itself - is not an optimal solution either. Half measures may avoid crippling real tariff hikes or a series of further downgrades to the sovereign debt rating, but it will ensure that the security and competitiveness of the country's electricity supply will remain in doubt.
At the margin this will continue to depress investment in the economy and more specifically constrain the potential of the supply-side of the economy. After years of growing public expenditure (mainly via an increasing public sector wage bill), it is only a renaissance in the country's supply-side sectors including mining and manufacturing, that will be able to deliver a real and durable economic recovery. As the chart below shows, fixed investment spending has failed to deliver a meaningful contribution to growth over the past few years.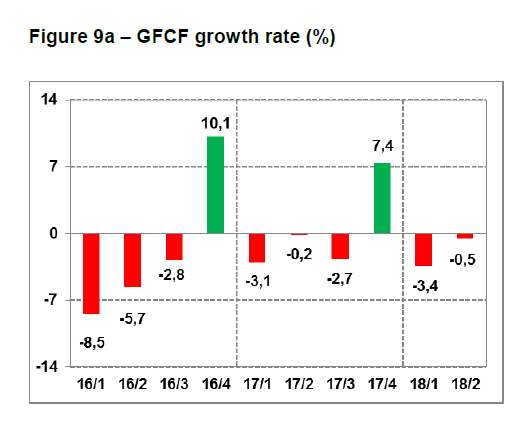 Source: Statistics South Africa
The outlook for fixed investment remains bleak. As the data compiled by Nedbank, a local South African financial institution, below indicates, total non-residential capital expenditure based on announced projects is likely to continue declining on a y/y basis. Further to this, recent data covering building plans passed also reflects a y/y decline. Based on this data and coupled with the central bank's recent decision to embark on a new tightening cycle, we find it extremely difficult to make the case that economic growth will accelerate in 2019 or exceed the likely marginal growth outcome for 2018.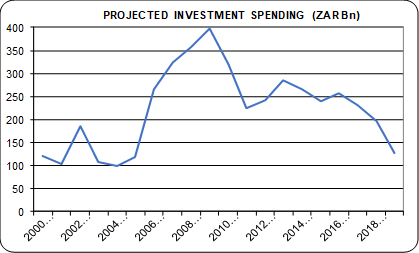 Source: Nedbank, Blue Quadrant Capital Management
Conclusion
As we have written previously investors should remain cautious with regard to South Africa financial assets (NYSEARCA:EZA), the currency and in particular domestically focused companies. The government's debt trajectory having already deteriorated significantly this year as highlighted in the recent mid-term budget update, is only likely to deteriorate further. In this context it is very difficult to argue in support of the country's sovereign debt rating returning (or remaining, depending on the ratings agency) at investment grade status over the medium-term.
The alternative, pursing the impossible trinity will only engineer a protracted recessionary environment for several years and ultimately given the country's underlying socioeconomic reality prove unsustainable. Whatever option or policy choices the current administration opts for, it will likely at some point also lead to a much weaker currency, something which in itself is likely required in order to help stimulate the country's supply-side sectors.
Disclosure: I/we have no positions in any stocks mentioned, and no plans to initiate any positions within the next 72 hours. I wrote this article myself, and it expresses my own opinions. I am not receiving compensation for it (other than from Seeking Alpha). I have no business relationship with any company whose stock is mentioned in this article.