"A 60:40 allocation to passive long-only equities and bonds has been a great proposition for the last 35 years …We are profoundly worried that this could be a risky allocation over the next 10."
Sanford C. Bernstein & Company Analysts (January 2017)
"Bull markets are born on pessimism, grow on skepticism, mature on optimism, and die on euphoria"
Sir John Templeton
"Life and investing are long ballgames."
Julian Robertson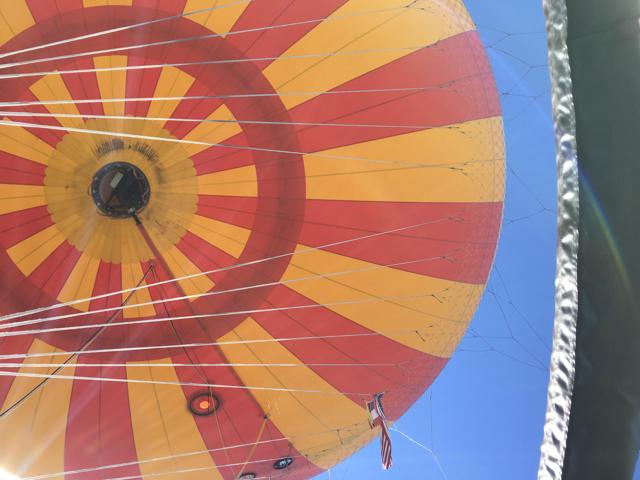 (Author's Photo)
Introduction
Due to its extreme out-of-favor nature, natural gas has become a focus investment for this contrarian investor and speculator over the last several years.
Publicly, I have written several natural gas-focused articles recently, in addition to many member articles, and the following three provide good background reading.
Crowded Trades Are Unwinding, With One Big One Left To Go
Natural Gas: The $4 Dam Is Breaking For The Bears
Opportunity In Natural Gas & Natural Gas Equities Is Worth The Wait
Price action for natural gas has been very favorable since a turning point in October, when natural gas prices rose as almost every financial asset declined in value, including most equities and bonds.
This price strength for natural gas has continued into November, despite the pessimism and skepticism of many investors and traders. Most are looking for a reason, attributing the price gains to blow-ups of hedge funds and CTAs, or bullish weather revisions, which, while both partially true, is only half the story, in my opinion.
The other half of the story is that natural gas prices were low for a long time, roughly a decade, and this has provided incentive for structural demand drivers in natural gas consumption, including increased electricity generation, increased commercial & industrial consumption, increased residential consumption, increased pipeline exports, and increased LNG exports.
Thus, the cure for low prices has been low prices, and with structural demand growth firmly embedded, it is going to take higher prices for more than just this winter to change the increasingly bullish supply/demand dynamics.
Thesis
Low natural gas prices for roughly a decade have created structural demand drivers that are firmly embedded and will not soon reverse, providing a backdrop for higher natural gas prices. The bullish supply/demand fundamentals run counter to persistently negative sentiment, with most market participants still believing in the lower for longer narrative for natural gas prices.
Natural Gas Prices Have Surged Higher
After meandering for most of the year, natural gas prices surged higher in October and accelerated their move-up in November.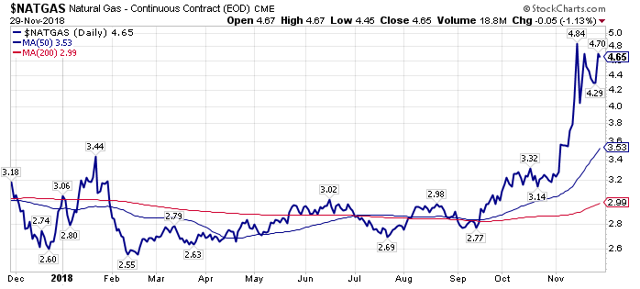 (Source: Author, StockCharts.com)
A bigger picture perspective shows how powerful the recent price move higher has been in natural gas.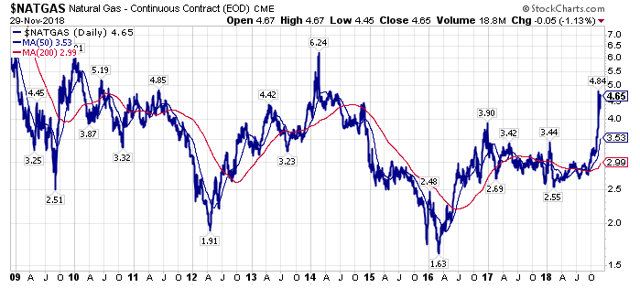 (Source: Author, StockCharts.com)
As the chart above shows, natural prices are now firmly above their December 2016 highs, which should serve as technical support on any pullback.
UNG Benefiting From Backwardation
With near-term prices higher, natural gas prices are firmly in backwardation, as opposed to contango, and this has actually benefited the United States Natural Gas Fund (UNG), which has typically suffered from a loss of the monthly roll yield while natural gas prices have been in contango most of the time.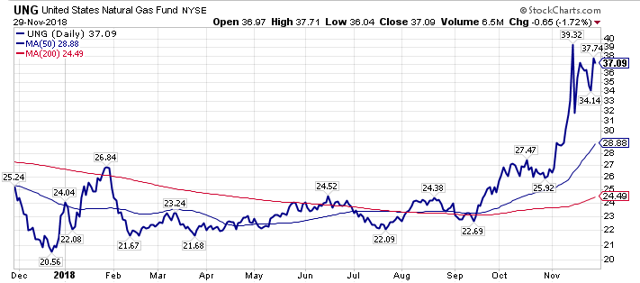 (Source: Author, StockCharts.com)
Longer term, it is easy to see how holding UNG has been a very bad investment, partially because of this previous consistent negative roll yield.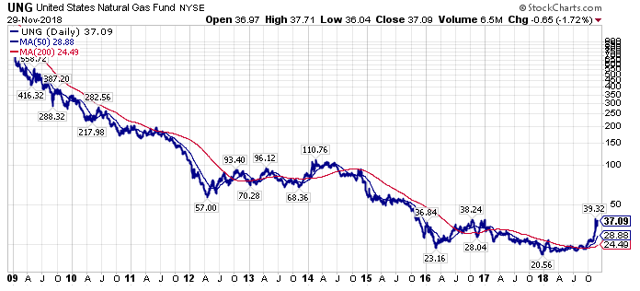 (Source: Author, StockCharts.com)
From the chart above, it is easy to see that shorting UNG had been a very lucrative trade, until recently, when this crowded trade has unwound.
Future Prices Still Show Plenty Of Pessimism & Skepticism
While near-term prices for the winter of 2018/2019 have rallied, future natural gas prices beyond this upcoming winter remain depressed, shown by the CME Group (CME) natural gas futures prices below, as almost everybody still believes in lower for longer.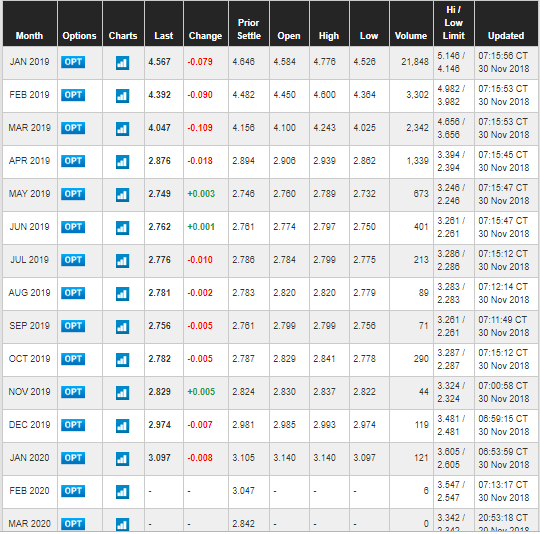 (Source: CME Group)
This persistent belief in lower for longer has caused the VelocityShares 3x Inverse Natural Gas ETN (DGAZ) to consistently have higher volume, adjusted for its lower share price than the VelocityShares 3x Long Natural Gas ETN (UGAZ), as speculators continually express their preference for bearish bets in these very short-term trading vehicles.
Building on this narrative, top natural gas-focused equities, including EQT Corp. (EQT), Exxon Mobil (XOM) Chesapeake Energy (CHK), Southwestern Energy (SWN), Cabot Oil & Gas (COG), BP (BP), Antero Resources (AR), Range Resources (RRC), CNX Resources (CNX), and Gulfport Energy (GPOR), the top-ten U.S. natural gas producers in the order listed, have seen their shares prices stagnate at best, and get crushed at worst.
This shows, particularly in the natural gas equities without much oil exposure, that investors do not believe in the current natural gas rally, providing a proverbial wall of worry to climb.
Said another way, enthusiasm has really not even surfaced yet, as future natural gas prices and natural gas equities are still pricing in the lower for longer scenario. Pessimism and skepticism still dominate, despite the recent, record rally.
Closing Thoughts
Similar to longer-term sovereign bonds in 2016, where almost everyone believed in lower for longer when the U.S. 10-Year Treasury Yield touched 1.37% in 2016, and almost half of the world's sovereign bonds were trading at negative nominal interest rates, yet longer-term Treasury Yields have rallied higher over 3%, almost all market participants believed in lower for longer for natural gas prices, even after their rally from their own 2016 lows, yet something different has played out.
Where do we go from here?
Weather will play a role, however, unless it is extreme weather either direction, I think it is going to play less of a role than most think, as structural demand drivers are firmly embedded, and for this reason, robust demand growth appears to be outpacing strong supply growth.
Additionally, pessimism and skepticism still dominate sentiment, providing further fuel for additional price gains in natural gas, as bears turn bullish.
The markets have responded by providing a bullish signal for natural gas prices, yet investors and speculators have not bought into this thesis yet, providing the opportunity for additional natural gas price gains, which should be a substantial catalyst for the downtrodden natural gas equities, including Southwestern Energy, which I shared a deep-dive on here, Chesapeake Energy, which I authored a public profile on here, and several other companies that I have done deep research dives on for members of The Contrarian.
Disclaimer: Every investor's situation is different. Positions can change at any time without warning. Please do your own due diligence and consult with your financial advisor, if you have one, before making any investment decisions. The author is not acting in an investment adviser capacity. The author's opinions expressed herein address only select aspects of potential investment in securities of the companies mentioned and cannot be a substitute for comprehensive investment analysis. The author recommends that potential and existing investors conduct thorough investment research of their own, including detailed review of the companies' SEC filings. Any opinions or estimates constitute the author's best judgment as of the date of publication, and are subject to change without notice.
For further perspective on how the investment landscape is changing, and for help in finding under-priced, out-of-favor equities with significant appreciation potential relative to the broader market, consider joining a unique community of contrarian, value investors that has thrived in 2016 and weathered the storm in 2017 to become closer as a collaborative team of battle-tested analysts. Collectively, we make up "The Contrarian," my premium research service.
Disclosure: I am/we are long AR, CHK, CNX, GPOR, SWN, RRC. I wrote this article myself, and it expresses my own opinions. I am not receiving compensation for it (other than from Seeking Alpha). I have no business relationship with any company whose stock is mentioned in this article.