Investment Objectives
The Fund seeks current income and gains. Long-term capital appreciation is a secondary objective.
(Data below is sourced from the Allianz website unless otherwise stated).
When Do Covered Call Funds Outperform?
Covered call portfolio managers hold a portfolio of stocks and sell call options against a portion of the portfolio to generate additional income. The managers generally try to write options on stocks when the call premiums are high in order to provide a cushion during a market correction.
The covered call segment of the closed-end fund market tends to outperform when:
- Implied volatility is relatively high: I use the VIX indicator to estimate whether option premiums are above or below average. The VIX is currently around 18, which is higher than its average over the last few years, and
- in a sideways or a down market.
Many covered call funds like to write out-of-the money call options which allows them to enjoy more upside potential in return for less downside protection. In general, the relative downside to a covered call strategy occurs during a very strong bull market, when some of the upside gains are lost when stocks are called away.
There are many different ways of running a covered call strategy. Some funds hold stocks very similar to the S&P. Others may have a growth or a value focus or may invest mainly in dividend-paying stocks. Some funds sell options on individual stocks. Other funds sell options on indices or ETFs.
The amount of options sold as a percentage of assets also varies. A lower percentage allows more upside potential, but generates less income and provides less downside protection in a bear market.
After a nine-year bull market, I think it may now be prudent to use covered call funds for some of your equity exposure. The VIX has been trading near 20 recently compared to levels in the low teens a year ago, so option income is up considerably over the last year.
NFJ is the Cheapest Covered Call Fund
I ran a report on CEFConnect which lists the discount of all covered call closed-end funds as of the close of business on November 28, 2018. NFJ was the cheapest covered call fund, currently trading at -13.01% discount. Several of the covered call funds are trading at a premium, while the average discount of the peer group was around -3%.
NFJ differs from many of its covered call peers because it uses more of a value approach when selecting its portfolio. It also invests about 25% of the portfolio in convertible bonds, which provides more downside protection. The fund will generally write out-of-the-money call options on 70% or less of the portfolio value depending on market conditions.
Investment Process NFJ Dividend Value Portfolio
Screen 1,000 largest stocks for low P/E, high dividend yield, and visible earnings.
Apply quantitative grid measuring price momentum, earnings revisions, fundamental change, and insider trading.
Conduct in-depth fundamental research on the remaining 250-300 companies focusing on earnings, cash flow generation, and product potential.
Construct a portfolio of 40-60 companies.
Regularly monitor for buy and sell candidates - Continually repeat the research process to identify new buy and sell candidates. Sell a stock when an alternative stock with equally strong fundamentals demonstrates a substantially lower price-to-earnings ratio, and/or a substantially higher dividend yield.
Investment Process Option Strategy
The Fund ordinarily will write call options on some or all of the individual stocks held in the Equity Component of the Fund, depending on market conditions and other factors, and with respect to generally 70% or less of the value of each position.
As part of the Option Strategy, the Fund will generally write call options with a strike price that is above ("out-of-the-money") the market value of the underlying security at the time the option is written. In addition to providing possible gains through premiums, out-of-the-money call options allow the Fund to potentially benefit from appreciation in the underlying security held by the Fund up to the strike price, but the Fund forgoes any appreciation above the strike price.
The Option Strategy is designed to generate gains from option premiums in an attempt to enhance amounts available for distributions payable to the Fund's shareholders.
Investment Process Convertibles
Gather information from internal and external sources, proprietary research models, other portfolio managers and bottom-up fundamental analysis
Combine dedicated and disciplined credit analysis with stock research in selecting convertible securities
Invest only in companies with each of the following three characteristics:

Positive Change - Earnings acceleration, global competitiveness, and earnings estimate revision
Sustainability - Long-term earnings consistency, corporate characteristics, and economic criteria
Timeliness/Risk Reward Criteria - Up/down participation, solid return in flat environment, and significant downside protection
Distribution History
The quarterly distribution of NFJ has been gradually reduced over time, which is often the case with the covered call closed-end funds because of their high distribution rates.
The quarterly distribution was last reduced December 2017 from $0.3000 to $0.2250. Before that, the previous cut occurred December 2015, when the distribution was reduced from $0.45 to $0.30. I think it is unlikely we will see another distribution cut in the near future, but if we see a weak market environment, there could be another cut next year. Of course, if the bull market resumes or we see higher VIX levels, we could easily see distribution increases next year.
Portfolio Breakdown

Sector Breakdown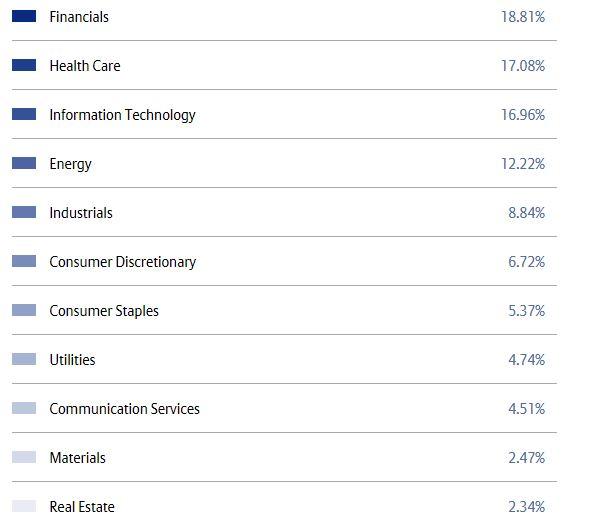 Covered Call Option Strategy
Within the equity covered call CEF sector, I generally prefer funds that use more liquid index options over those that use options on individual stocks. NFJ writes options on individual stocks, but they appear to select stocks with actively traded options contracts, so liquidity and bid-asked "slippage" should not be a problem.
I looked at the options written in the last shareholder report in August. NFJ wrote short-term out-of-the money call options with about one month to maturity. These positions are rapidly turned over as the options either expire worthless or the options are exercised and the underlying equity is called away.
Here is the total return NAV performance record since 2007 compared to the S&P 500 index. Note that NFJ has underperformed the S&P 500 except for 2008 and 2011. This is largely because of the strong bull market, so the option writing has been a drag on performance. But value stocks have also underperformed growth stocks during most of this time period, which has hurt NFJ since it has more of a value orientation.
But looking forward, I believe that value stocks may outperform growth stocks over the next five years or so, since these things tend to run in cycles.
| | | |
| --- | --- | --- |
| | NFJ NAV Performance | S&P 500 |
| 2008 | -32.62% | -37.00% |
| 2009 | +21.11% | +26.46% |
| 2010 | +12.02% | +15.06% |
| 2011 | +2.60% | + 2.11% |
| 2012 | +8.66% | +16.00% |
| 2013 | +18.74% | +32.39% |
| 2014 | + 3.59% | +13.69% |
| 2015 | - 9.20% | + 1.38% |
| 2016 | +10.95% | +11.96% |
| 2017 | +9.16% | +21.83% |
| YTD | -1.25% | +4.44% |
Source: Morningstar
NFJ Discount History - Last Five Years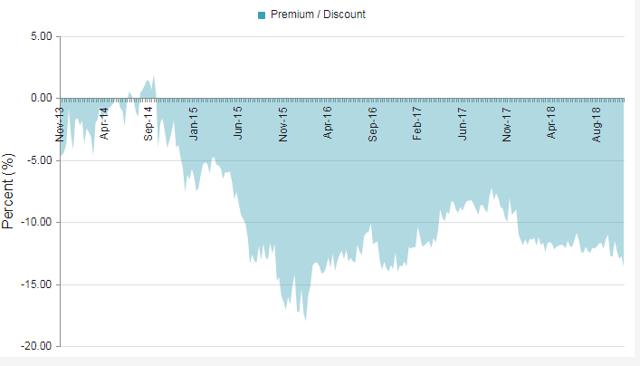 Ticker: NFJ - AllianzGI NFJ Dividend Interest & Premium Strategy Fund
Pays Quarterly Distributions
Total Assets= $1.32 Billion
Fund Inception Date: Feb. 23, 2005
Last Quarterly Distribution= $0.2250 Annual= $0.90
Annual Distribution (Market) Rate= 7.44%
Fund Expense ratio= 0.97%
Discount to NAV= -13.01%
Average Daily Volume= 248,000
Average Dollar Volume= $3,000,000
No leverage used
Fund Management
Jeffery D Parker: CFA, Senior Portfolio Manager, CIO Equity US
Ben Fischer: CFA, Portfolio Manager/Analyst, Vice Chair
Douglas Forsyth: CFA, Portfolio Manager, CIO US Income & Growth Strategies
R. Burns McKinney: CFA, Portfolio Manager/Analyst, CIO Value Equity US
John R. Mowrey: CFA, Portfolio Manager/Analyst, CIO Value Equity US
Thomas Oliver: CFA, CPA, Portfolio Manager/Analyst
Summary
The discount to NAV as of November 16 is -13.01%, which is less than the 52-week average discount of -11.81%. The 6-month discount Z-score is -1.50, which means that the discount to NAV is 1.5 standard deviations less than the average discount over the last six months. NFJ is cheap on an absolute basis.
But NFJ seems even cheaper on a "relative" basis compared to its covered call peers. NFJ has the highest discount currently available. For example, let's compare NFJ to two of its covered call peers - the Eaton Vance covered call funds ETV and ETW.
The 3-month total return NAV correlation of NFJ with ETV is 91%, but ETV is trading at a 2.7% premium above NAV and has a higher expense ratio than NFJ.
The 3-month total return NAV correlation of NFJ with ETW is 94%. ETW is trading at a 2.2% premium above NAV and also has a higher expense ratio than NFJ.
NFJ suffered from a dividend cut in the late 2017. It also has been hurt by its value focus, and has lagged the S&P 500. The convertible bond portion has also lagged the S&P 500.
However, I believe stock market returns may be more muted going forward, and the value segment could experience a nice comeback. NFJ should narrow the gap between its own discount and that of its peers.
This may a good time to buy NFJ as a lower beta alternative to straight equity index funds. It is fairly liquid and easy to purchase. The bid-ask spread usually is one or two cents, and you almost always get some price improvement on small market orders.
Marketplace Service For Those Hunting For Yield
In April 2016, we launched our marketplace service Yield Hunting: Alternative Income Investing dedicated to yield/income investors who wish to avoid the froth associated with most of the equity market. We encourage investors to benefit from our yield opportunities within closed-end funds, business development companies, and other niche areas.
George Spritzer's top investment ideas are being featured on Alpha Gen Capital's "Yield Hunting" marketplace service. The goal of the offering is to provide a "low-maintenance portfolio" with a yield in excess of 8% on a tax-equivalent basis with capital gain optionality. The core portfolio has generated a high-single-digit yield, while taking approximately half the risk of the S&P 500 on price and one-third on NAV. For safe and reliable income streams, check out our unique marketplace service.
Disclosure: I am/we are long NFJ. I wrote this article myself, and it expresses my own opinions. I am not receiving compensation for it (other than from Seeking Alpha). I have no business relationship with any company whose stock is mentioned in this article.