In this article, we examine the significant weekly order flow and market structure developments driving NG price action.
25-30 November 2018:
As noted in last week's NG Weekly, our primary inference for this week's auction was for continued development of balance following the recent aggressive buy-side imbalance phase. This probability path played out as balance development occurred, 4.037s-4.776s, as consensus continues to develop, closing the week at 4.612s.
This week's auction saw a minor probe of key demand (4.218s-3.883s) early week to 3.99s where buying interest emerged, rejecting the low amidst a small buy excess formation in Monday's auction. Two-sided trade developed during Tuesday's auction, 4.142s-4.344s, into early Wednesday. Buying interest emerged, 4.350s, driving price higher during Wednesday's auction, achieving a stopping point, 4.728s. Selling interest emerged there in size as balance again resumed, 4.728s-4.452s, through Thursday's auction and EIA inventory release (-59bcf v -77bcf expected).
A buy-side breakout attempt developed late Thursday following the Globex re-open, achieving the stopping point high, 4.776s. Selling interest emerged there, rejecting the high as the breakout failed. Price discovery lower developed to 4.473s ahead of Friday's close, settling at 4.612s.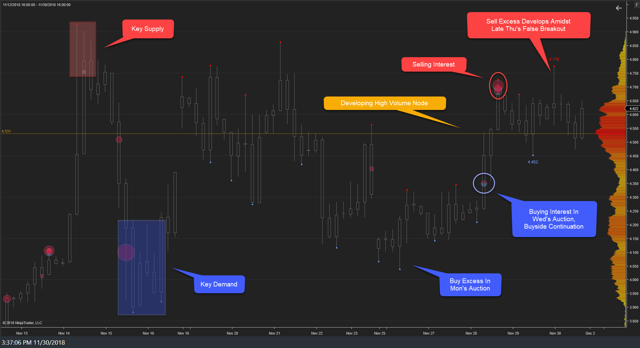 NinjaTrader
As expected, balance development continued as consensus develops following the recent aggressive buy-side phase. June 2014's key supply thus far has held.
Looking ahead, balance development is now the near-term market phase. As balance develops, a high-volume node of consensus will form. As that forms, the market will then again near its next directional phase. From a structural perspective, the highest probability path remains buy-side within the context of near-term balance.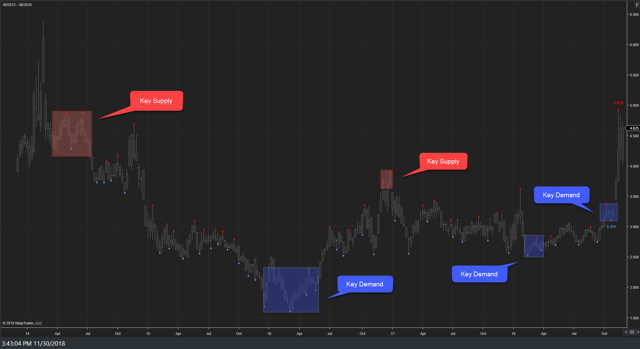 NinjaTrader
It is worth noting that based on the Commitment of Traders report, Open Interest (OI) decreased substantially this week (1.33 million contracts) as a deleveraging trend appears to have begun. Additionally, the Managed Money (MM) net long position increased modestly (239k contracts) at/near twelve-year highs. MM short posture decreased modestly (-46k contracts), near eleven-year lows. The MM short posture trend remains to the downside as the Long: Short Ratio increased to 6.19 near a twelve-year high. This data provides evidence of herding within the MM participants. The market has traded aggressively through the key supply areas overhead (3.630s-3.760s/3.784s-3.904s) toward June 2014 supply. Based on the empirical data, it cannot be argued that this buy-side activity has been the result of short covering inventory adjustment. Quite literally, there are virtually no MM shorts in the market before or during this current buy-side imbalance. It is likely that recent hedge fund distress (redemption and forced liquidation for margin calls) in the equity and crude spaces may have created contagion effect in NG. While the market structure remains buy-side, it is important to note that the MM posture indicates buy-side herding in the MM participants. From a structural perspective, the intermediate term (3-6 month) buy-side bias is still likely to face headwinds at 2014 major structural resistance.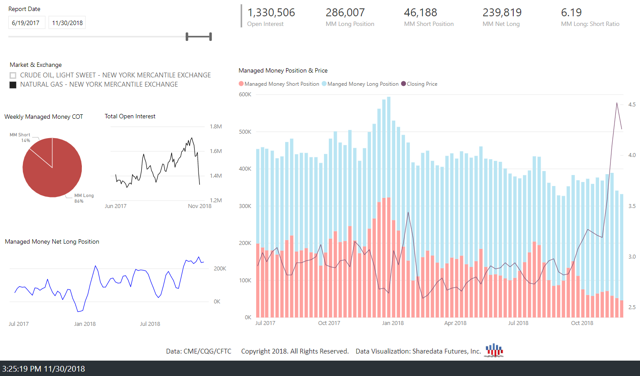 The market structure, order flow, and leveraged capital posture provide the empirical evidence needed to observe where asymmetric opportunity resides.