The bubble of Canopy Growth (CGC) has popped a little bit, but are shares now cheap? The commonly reported shares outstanding figures are likely undercounting the actual shares that should be used in calculating the total market capitalization. Furthermore, recent wholesale pricing figures suggest that adult-use recreational sales will have lower margins than expected. Shares are no longer a compelling short.
So Far So Good
CGC has since fallen considerably since apparently coming a bit too close to the sun. CGC has been a strong short since my two sell calls: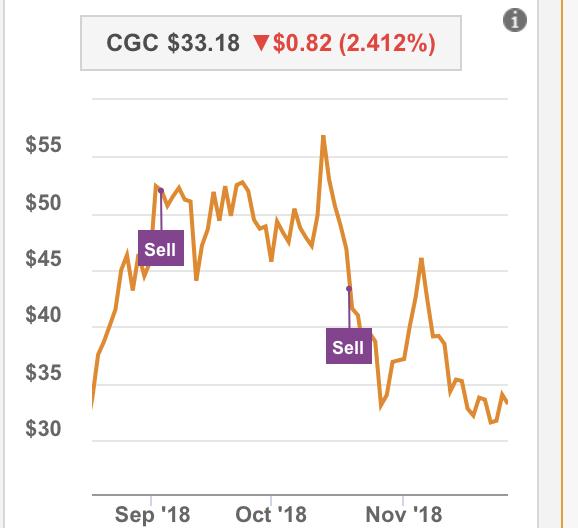 (TipRanks)
I now explain why after the drop, CGC is no longer a compelling short.
Most Important Takeaways
CGC grew revenues 32.4% YOY to 23.3 million CAD, which is low compared to its previous growth rates and disappointing considering that this actually represented a decline from the 25.9 million CAD it earned in the prior quarter. Of course, all of this will eventually be seen as rounding errors once its numbers from recreational sales are factored in, which of course were not included in the latest results, as the results were only up until the end of September (legalization was in October).
CGC did incur $45 million in share-based compensation as well as another $50.7 million related to acquisition milestones, which far exceeded revenues. I'm not sure I have ever seen stock-based compensation which exceeded revenue by almost five times. This is a potential red flag, but again, we should reassess again after recreational sales are factored in. The most important takeaway I took from the results had to do with potential price per gram sold.
While CGC reported having an average 9.87 CAD per gram price sold, this was benefited from increased medical marijuana product sold in Germany. The focus however should be on bulk wholesale pricing - which CGC unfortunately did not disclose. Tilray (TLRY) disclosed in its conference call that average selling prices dropped to 6.24 CAD per gram due to higher bulk sales, which made up 50% of total sales. Using its 8.22 CAD price per gram for non-bulk sales, we can estimate its bulk sale pricing to be very low at 4.26 CAD per gram. Meanwhile Aurora Cannabis (OTC:ACB) disclosed bulk wholesale prices of 5.50 CAD per gram.
I believe that prices for adult-use recreational sales should be expected to be close to the bulk wholesale prices rather than their direct-to-consumer prices. This means that even my previous estimates for projected earnings are likely to be overstated because I had used an estimate of 8.51 CAD per gram. This in turn reinforces my belief that CGC and the others are not competing for the frequently thrown around total addressable market numbers on a full price basis, which we discuss next.
In Deloitte's research paper, "Recreational Marijuana Insights and Opportunities," they cite the potential Canadian recreational marijuana market to be between 4.9 billion to 8.7 billion CAD. They also state that over 600,000 kg would be produced annually for the low end of that estimate. This implies that on the high end of the estimate (the figure which CGC and the others use in expressing the potential market), approximately 1.1 million kg would be needed annually. Assuming CGC can capture 25% of the market (quite optimistic), that would imply that it would sell about 275,000 kg annually. This estimate is very optimistic because the top 10 producers alone are estimated to be able to produce 3 million kg annually by 2020. Such a backdrop suggests that negotiating leverage will not be on the suppliers' end. At my estimated price of 6.00 CAD (which again is optimistic considering peer pricing), that would be 1.65 billion CAD or 1.25 billion USD in gross revenues. After assuming a generous 25% net income margin, we arrive at a potential long-term earnings estimate of 310 million USD. I note that I continue to be skeptical of its ability to take global market share as I anticipate local producers to dominate in their respective markets.
What's The Share Count?
One of the hard parts in analyzing CGC that I've raised in the past has been the material inconsistencies in reported share counts. Bloomberg reports 232.1 million shares. This would suggest that CGC trades at a market cap around 7 billion USD which, despite probably still being generous, will probably pass for a more than reasonable valuation by most bulls. However, this number is wildly off. For one, it does not include the shares issued in the Constellation Brands deal which closed November 1, which was 104.5 million shares. This would suggest around 337.4 million shares outstanding, or $11.3 billion market cap. This is a more accurate number, but I still view this to be still not so precise. The Constellation Brands deal also included 88.5 million warrants at an exercise price of 50.4 CAD or 38.10 USD. Those bullish on CGC most definitely believe the upside is much higher than $38.10, thus we should assume that these warrants will be exercised. The deal also included 51.3 million additional warrants, which have no set price, but would give Constellation Brands more than 50% ownership of the company. Again, bulls should assume that these warrants will be exercised, but to be conservative, I won't include these warrants in my calculations. On the conference call, management disclosed that including RSUs and other warrants, it had 518.4 million shares. Including the ones we already mentioned, it is clear that there are about 41.2 million shares unaccounted for. I was able to find these shares in the financial statements, starting with 22.2 million in options with an average exercise price of 28.16 CAD:

Clearly these should be assumed to eventually be exercised as CGC trades above these levels. I also found 19.8 million in warrants at an average exercise price of 14.30 CAD:

(FY19 Q2 Statement)
These too should be included in the shares outstanding number. This comes out to a total of 467.9 million shares to be used in computing its total market capitalization. The result is seen below: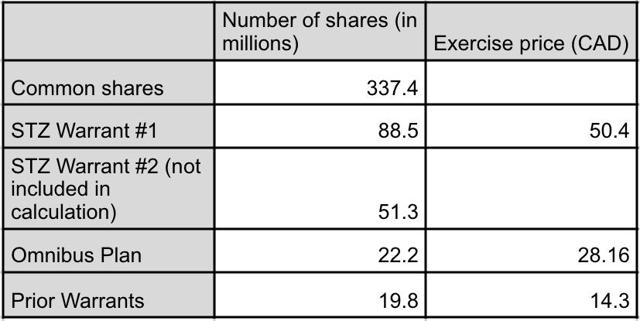 (Chart by Author)
With this updated share count, we compute its market cap to be around 15.8 billion USD, or about double the original estimate. That's a huge difference! Now that we have numbers for both projected earnings and market cap, we can finally try to compute a valuation.
Valuation and Price Target
Using a $15.8 billion market cap and $310 million in net income, we arrive at a forward price to earnings multiple of 51. I need to emphasize that this is not necessarily cheap because I have already used the high end estimates for market share, average price per gram sold, and net margins. Investors are paying dearly for growth at these prices, and it's no longer a question about the potential for global expansion but instead it's necessary to justify these premium multiples. I thus cannot rate shares a buy. How about a sell? The valuation is much more rational than before, and if we are generous and subtract the $4 billion in cash on the balance sheet, then we arrive at an earnings multiple of 38 times. This is somewhat reasonable and perhaps there is room for upside due to, for example, non-flower sales.
My fair value for CGC is $23, or about 35 times my projected earnings (and just under 22 times net of cash). The risk-reward no longer appears favorable as CGC has executed well in capturing large share of supply agreements and, most importantly, shares are no longer so obviously bubbly. I thus rate shares a hold.
Other Variables To Consider
Pricing for cannabis flowers is likely to decrease steadily if the data in Colorado is of any precedence. Cannabis flower prices have dropped 48% by March of this year since peaking in May 2014: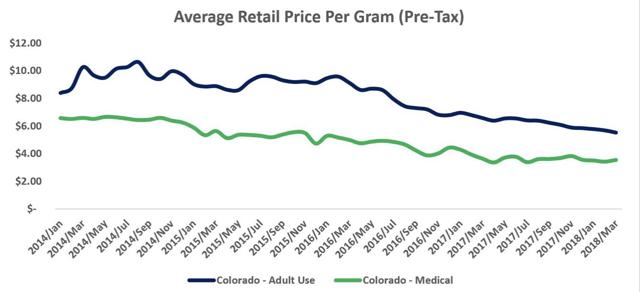 At the same time, however, flower sales have declined as a percentage of total sales: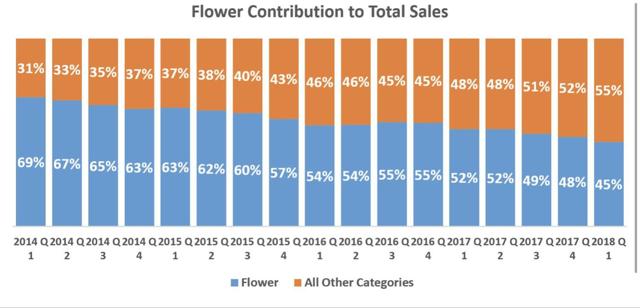 (Colorado Pot Guide)
This means that CGC and others may potentially be able to achieve higher average selling prices and, accordingly, higher margins across the entirety of their portfolio. It is thus far unclear whether the lower implied margins due to falling prices or higher implied margins due to non-flower sales would have the bigger impact to overall margins.
Conclusion
While CGC has indeed fallen sharply from highs, the numbers however show that shares still appear far from cheap. Investors are paying greatly for growth, and the company will need to execute perfectly and more to justify the premium valuation. Nonetheless, shares no longer appear as bubbly, and thus I now rate shares a hold.
If you liked this article, please scroll up and click "Follow" next to my name to not miss any of my future articles. I am always looking to expand my network of intelligent investors. I have a reputation for replying to every comment, leave a comment below!
(TipRanks - CGC: Hold)
Disclosure: I/we have no positions in any stocks mentioned, and no plans to initiate any positions within the next 72 hours.
I wrote this article myself, and it expresses my own opinions. I am not receiving compensation for it (other than from Seeking Alpha). I have no business relationship with any company whose stock is mentioned in this article.