It's been quite a while we have looked at Ambarella (AMBA), the image chip and computer vision company that has had so much promise for such a long time.
Essentially, the company is in the process of moving its competitive strength and markets from image processing to computer vision, and this is a transition that will take some years to bear fruit.
We think it still has considerable promise as a Chinese competitor is facing difficulty as a result of the trade war and the company still offers some cutting edge solutions.
But we don't run away from the fact that its performance has been quite disappointing over the past years: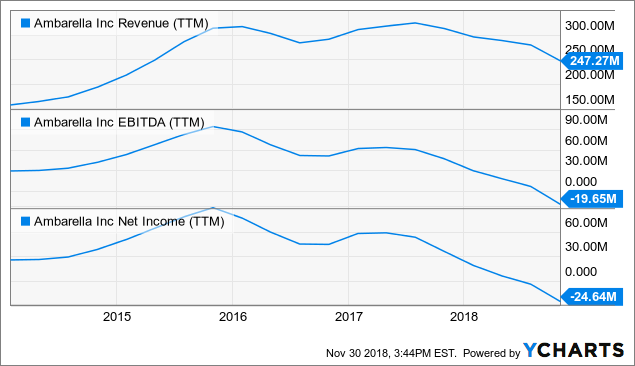 Much of the disappointing performance is the result of their one-time biggest client GoPro (GPRO), but the company has been developing other markets besides consumer action cameras, like:
Drones
Professional surveillance
Consumer surveillance
Automotive (ADAS, E-Mirrors, Recorders)
Drones is also down with the action camera market. Management argued that they are no longer focusing on the consumer market, but this will have a fairly long tail. So what are they doing to replace that? Well, CV or computer vision.
Computer Vision
Most notably, it has been developing CV, or computer vision, solutions which command higher prices and margins.
Their CV chips (actually SoCs) have started to gain traction; for instance, they gained a (non-Chinese) Tier 1 automotive supplier for front ADAS (advanced driver assistance) cameras with their CV22 SoC (hardware and software, at least for the level 4 ADAS based on short-range stereo vision).
This supplier has strong relations to a number of global car manufacturers so this is a promising development, even if revenue is quite some time off (management spoke of 2021-2022).
Investors will take notice of the four design wins for their CV chip in automotive; one design win in ADAS, one design win in Level 4 autonomous driving and two design wins in E-Mirrors for CV.
Revenue, apart from the two design wins in E-Mirrors, is slated for 2021-2022, though.
Management argues that their CV chips are highly competitive as a result of:
Low power consumption (the CV22 uses 2 Watt).
Their traditional strength in image processing improves the CV result (stuff like efficiency, image stabilization, low light performance, etc.).
Stereo processing (important in Level 3&4 ADAS).
Open platform (customers can import their own algorithm).
Level 5 autonomy (no driver needed) is of course a little further out still, but management believes that they have a compelling solution even for that as it depends (apart from other sensors like lidars and radars) on both short-range and long-range stereo vision multi-camera solutions.
Their CV chips also have other applications like professional and consumer surveillance cameras and electronic mirrors and cabin monitoring (see below), with more near-term opportunities, especially in China
China
And while management has design wins in China, they do notice hesitation as a result of the trade situation (and government bans in certain applications like surveillance cameras).
For instance, AI is on the list of barred products to sell to China, but this list is very vague (management argues that basically it's most of the semiconductor industry barred). The barred list is still very vague, from the Q3CC:
"I want to point out that we don't see AI algorithm particularly. For example, when we sell AI chip selling in [inaudible] engine, we don't do training, but we don't sell algorithm to our customer. So we really need to find out how the regulation to participate different AI functions in the end market and that all of details will impact us whether that would be part of that limitation."
But the company also benefits as a big Chinese competitor HiSilicon, which usually undercuts Ambarella on price, is now facing trouble and here is what management had to say about that (Q3CC):
"We are seeing non-China security camera makers increasing reluctant to design SoC for our main competitor HiSilicon, which is part of the last Chinese network company Huawei... I think, that we start seeing a larger design wins moving to us not only from the CV side, but also on the video product side, that used to use HiSilicon. So I'd imagine our market share outside China will increase and also that Hikvision and Dahua, because we got bans from U.S. Government, most new opportunity available to non-Chinese surveillance camera season vendors, I think, a portion of that will become ours too."
Near-term
The 'problem' with the CV chips, especially in ADAS is that this is still a couple of years out to start delivering significant revenues, even if the share price probably will react favorably to new design wins.
What is there in the near-term for the company to compensate for the decline in the consumer market (action cameras and drones)?
Automotive: video recorders (China is putting mandatory regulation in place, but other Asian countries like Japan and Korea are promising).
Automotive: E-Mirrors (although much less significant than the video recorders). The company had a couple of design wins here (for instance with ZF and two leading Asian Tier 1s, the latter with CV22 SoCs). This market will grow rapidly when CV is integrated, but that's a couple of years out.
Professional surveillance is a more near-term opportunity for CV. The company has one customer here that is going to ramp in Q4 with others to follow soon after, as the company has significant design wins (top 10 customers). Management seemed confident of more design wins as they expect CV to revive growth in the market, which has been slowing down.
The consumer market will follow usually 6-12 months after the professional market.
TMS and CMS.
Here is management on the cabin monitoring, from the Q3CC:
"The lead for long complex AI or computer vision algorithms to monitor drivers, passengers and the entire cabin of vehicle also represents an excellent new opportunity for Ambarella. During the quarter China based road event, introduced a combination car recorder and the driver monitor cameras based on Ambarella's quad-core S5L SoCs."
Q3 Results
While their first ADAS win for their CV SoC is a milestone, the quarterly results were still not very pretty, even if they surpassed expectations:
Revenue of $57.3M (-35.7% Y/Y) beats by $0.2M.
Q3 Non-GAAP EPS of $0.21 beats by $0.12.
GAAP EPS of -$0.28, a beat of $0.03.
Revenue was still down 8% from Q2 as their consumer markets declined substantially and there was a bit of a lull in automotive.
Guidance
The Q4 guidance isn't much better:
Revenue: $51M plus or minus 3%.
Non-GAAP gross margin: 59%-60.5%.
Non-GAAP OpEx: $29M-$31M.
Be prepared that the pain is going to continue even beyond Q4, at least in the consumer markets (Q3CC):
"...the substantial weakness in our consumer electronics business, particularly sports cameras, along with a decline in consumer drones is expected to continue through the remainder of the year and into fiscal 2020."
Risk
Needless to say that the US-China trade situation is quite fluid with some upsides and downsides. The latter could get worse if the situation escalates. Here is another effect (Q3CC):
"As a result of the U.S. ban on the purchase of surveillance cameras for government facilities from Hikvision and Dahua, we are seeing some near-term reduction in our orders, particularly in the high end of the product range normally associated with our export business. We are starting to see an offset increase in orders from non-China customers."
There might also be a preemptive inventory buildup in anticipation of new tariffs, but that is not happening yet, according to management. One might also note a rather heavy customer concentration, from the Q3CC:
"We had two 10% plus revenue customers in Q3. WT Microelectronics, a fulfillment partner in Taiwan came in at 49% of revenue and Chicony, a Taiwanese ODM who manufactures for multiple customers came in at 23%."
But these are not end-customers so it's not likely that we will see a repeat of the GoPro saga.
Margins
The company is rapidly shifting resources from video processing to CV.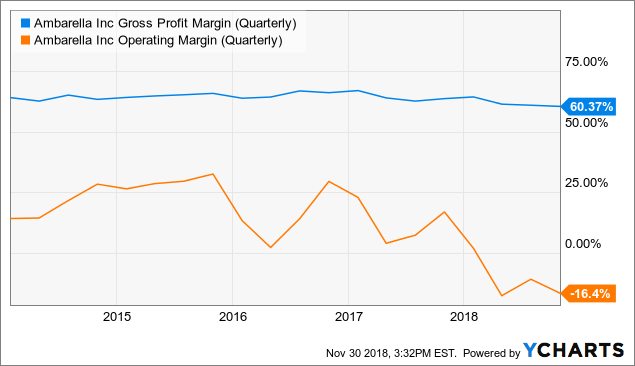 The GAAP operating result hasn't been pretty the last two years, especially this year. Non-GAAP gross margin was 60.9% (down from 61.4% in Q2). Non-GAAP operating expenses declined a bit sequentially to $28.7M (from $29.9M in Q2) but not enough to keep margins up.
Cash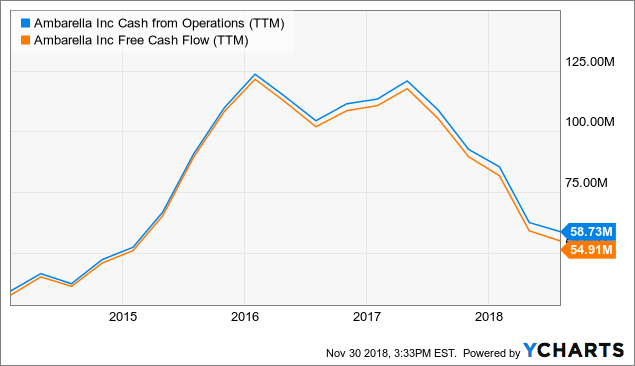 The graph doesn't include the Q3 results in which the company generated $3.5M of operational cash flow and their cash position declined quite a bit to $349M (from $376M at the end of Q2) due to $30.8M of buybacks in Q3 (825K shares at an average of $37.31).
Given the fact that cash flow was boosted by a $7.5M inventories run down, the result was pretty bad.
Valuation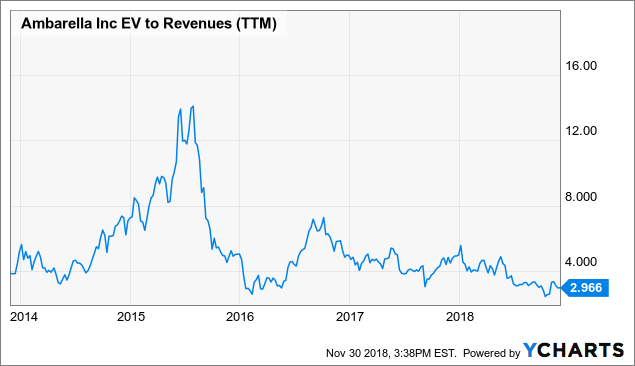 The company still sells at 3x sales despite a lack of profit and disappearing cash generation.
Conclusion
The share reaction to the earnings was jubilant, with the shares up 17% or so. No doubt the driver of that was their first CV wins in automotive, which is indeed a watershed event.
However, most of the revenue from that is years away, and in the meantime, the financial performance is pretty disappointing, and isn't likely to improve a great deal in the near-term.
On the one hand, there are some notable wins with CV in E-Mirrors and professional surveillance cameras; on the other hand, the company still feels the downdraft from the consumer market and the US-China trade situation can complicate matters further.
Investors who are buying now are betting on new CV design wins, which seems very well in the cards. But patience is, once again, warranted.
Disclosure: I/we have no positions in any stocks mentioned, and no plans to initiate any positions within the next 72 hours. I wrote this article myself, and it expresses my own opinions. I am not receiving compensation for it (other than from Seeking Alpha). I have no business relationship with any company whose stock is mentioned in this article.