By Andy Blocker, Head of US Government Affairs, and Jennifer Flitton, Vice President of Federal Government Affairs, on Nov 30, 2018, in Retirement
The midterms seemed like a recipe for gridlock, but Congress has a way of cooperating on under-the-radar legislation.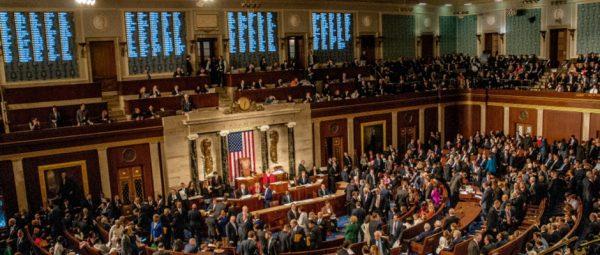 As expected, the US midterm elections resulted in a split Congress between a newly Democratic House and an increasingly Republican Senate. For many issues, this looks like a recipe for gridlock. But when it comes to retirement legislation, we believe there tends to be more bipartisanship. As part of Invesco's Government Affairs team, we are closely monitoring the legislative landscape as it relates to retirement policy. This is what we're hearing.
The "lame duck" Congress may focus on RESA
The newly elected Members of Congress aren't sworn in until January, so in this "lame duck" Congress the current leadership is mapping out its agenda for the next six weeks. Besides finishing up the appropriations process, there is some hope for a few remaining policy issues to get wrapped up in an end-of-the-year legislative vehicle.
One issue that's gained a lot of momentum in Congress over the past several months is RESA - the Retirement Enhancement Savings Act. This bill could help expand access to retirement plans for employees of small businesses. One of the more significant provisions of RESA would create pooled employer plans (PEPs), a type of open multiple employer plan (MEP) that would allow small businesses to band together in a common defined contribution (DC) plan. The bill would, among other things:
Eliminate a current requirement that only allows related businesses to join an open MEP, thus opening plans to a broader group.
Eliminate a "bad apple hurts the entire barrel" provision wherein a single employer that violates a requirement could disqualify the entire plan.
Provide fiduciary safe harbor in selection of an annuity provider.
On Nov. 26, the House Ways and Means Committee Chairman released an end-of-the-year tax bill that includes many of the provisions in RESA. This new legislation is the House marker heading into end-of-year package negotiations with the Senate, and signals a good chance that this bill may become law before the end of the year.
Key retirement bills to watch in 2019
For the new Congress, the first six months of the new year are going to be key, as the momentum in Washington will quickly shift from the midterm elections to the 2020 presidential election. In our view, any significant piece of legislation that doesn't gain momentum or get accomplished in 2019 is unlikely to be accomplished in 2020, as the politics of the presidential election will likely overwhelm the conversation. With that said, here are a few issues we're watching.
The House Ways and Means Committee. Looking into the coming year, there will be new committee chairs and members who are very interested in taking up retirement issues. Notably, it's expected that the new Chairman of the House Ways and Means Committee will be Richard Neal of Massachusetts, who has introduced some retirement-related bills in the past few years. One of his bills would require employers to offer a 401(k) or 403(b) plan for all businesses except those with fewer than 10 employees, incurring an excise tax if an employer fails to offer a plan.
A potential Portman-Cardin bill. On the Senate side, there is a draft bill being circulated by Senators Portman (R-OH) and Cardin (D-MD). Currently untitled, it would establish a new safe harbor for auto-enrollment, encourage employer matching contribution, offer a tax credit for employers, increase the required minimum distribution age, decrease the penalty, ease some rules for some small employers, and more.
Emergency savings proposals. Both the House and the Senate have introduced or considered bills pertaining to an emergency savings or "sidecar savings" plan that could be funded through payroll deductions. But they've taken somewhat different approaches:
When the House passed its version of RESA a few months ago, it added something called the Universal Savings Account - an account in which individuals could contribute up to $2,500 each taxable year, and could withdraw funds tax-free and without penalty at any time.
In the Senate, a group of bipartisan Senators - Sens. Tom Cotton (R-AR), Heidi Heitkamp (D-ND), Cory Booker (D-NJ) and Todd Young (R-IN) - introduced a package of retirement and short-term savings bills over the summer. With the election loss of Sen. Heitkamp, it will be interesting to see if Sens. Cotton, Booker and Young join together on that package of bills again in 2019.
Bipartisanship is possible
Overall, we don't expect to see large-scale legislation with significant reforms being passed in the 116th Congress, but that doesn't mean that Congress can't accomplish a range of small- to mid-size initiatives. For example, Jeb Hensarling, a very conservative Republican, and Maxine Waters, a very progressive Democrat, were able to compromise on a package of bills that was passed out of the House Financial Services Committee late this year, which was designed to increase investment in start-up firms, venture exchanges and more.
We believe that in the next year, you'll see Republicans and Democrats pairing up on individual bills, potentially including some smaller retirement and savings issues. The question for Congress is, "How do we empower the private sector to create their own retirement structures and their own plans for their employees? As more employees are working in small- or medium-sized businesses, how do we incentivize them to save?"
Those are the key retirement issues for Congress, and we'll be watching them all very closely.
Important information
Blog header image: Mark Reinstein/Shutterstock.com
A venture exchange is a stock exchange where the shares of emerging and small companies can be bought and sold. The purpose of listing on such an exchange is generally to obtain liquidity and capital.
This does not constitute a recommendation of any investment strategy or product for a particular investor. Investors should consult a financial advisor/financial consultant before making any investment decisions. Invesco does not provide tax advice. The tax information contained herein is general and is not exhaustive by nature. Federal and state tax laws are complex and constantly changing. Investors should always consult their own legal or tax professional for information concerning their individual situation. The opinions expressed are those of the authors, are based on current market conditions and are subject to change without notice. These opinions may differ from those of other Invesco investment professionals.
| | | |
| --- | --- | --- |
| NOT FDIC INSURED | MAY LOSE VALUE | NO BANK GUARANTEE |
All data provided by Invesco unless otherwise noted.
Invesco Distributors, Inc. is the US distributor for Invesco Ltd.'s retail products and collective trust funds. Invesco Advisers, Inc. and other affiliated investment advisers mentioned provide investment advisory services and do not sell securities. Invesco Unit Investment Trusts are distributed by the sponsor, Invesco Capital Markets, Inc., and broker-dealers including Invesco Distributors, Inc. Each entity is an indirect, wholly owned subsidiary of Invesco Ltd.
©2018 Invesco Ltd. All rights reserved.
When it comes to retirement bills, we're bullish on bipartisanship by Invesco US