Net interest margins are a key indicator for a bank's overall profitability. It is calculated as follows:
NIM = (Interest received - Interest paid) / Average invested assets
Typically, banks receive interest from loans at high interest rates and pay interest to depositors at lower interest rates. This is how a bank makes money.
This scenario can only exist when the spread between the interest on loans and interest on deposits is high enough. When this spread goes to zero, banks will be in trouble. This leads me to an important indicator: the yield curve (see chart below from FRED).

The yield curve plots the difference between the interest rates of different maturity bonds (in this case the 10-year bond and 1-year bond). When the yield curve approaches zero, you can see that the net interest margin will follow. I believe that the yield curve will start overshooting the zero bound next year, leading to a decline in net interest margins for the banks. When you look closely at the chart, it seems that net interest margins are rising in the period 2015-2018 instead of falling. The reason for that can be found in two areas:
The Federal Reserve interest on excess reserves (IOER)
Bank deposit rates
Federal Reserve IOER
The Federal Reserve has been increasing interest rates since 2015, and while doing that, it also increased interest on excess reserves (IOER) (see first chart below from FRED). So the Federal Reserve is currently paying banks at 2.2% interest on approximately $1.7 trillion in reserves (see second chart below from FRED). However, the amount of reserves at the Federal Reserve is shrinking as the Federal Reserve is shrinking its balance sheet. These reserve balances are being used to repay the Treasury bonds ($30 billion/month) and the mortgages ($20 billion/month) that the Federal Reserve is offloading each month. So going forward, quantitative tightening should be a negative for NIM.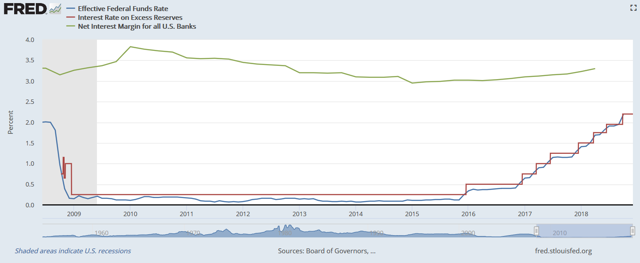 Moreover, this IOER rate effectively puts a bottom on the interest rate that banks use for their loans. A bank would never loan out funds at an interest rate below this IOER. The IOER also makes sure that banks get sufficient liquidity from the Federal Reserve to pass on higher deposit rates to depositors. But we are not seeing this happen at all as can be witnessed from the next chart.
Bank deposit rates
This chart shows that the Fed funds rate follows the LIBOR rate very closely and bank deposit rates (certificates of deposits) used to follow LIBOR rate as well.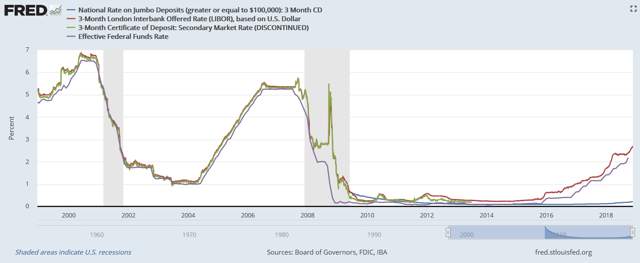 For many decades, banks would increase their deposit rates as the LIBOR rate increases. But since the financial crisis of 2008, this is not happening anymore. I think this is a huge red flag and am surprised nobody even talks about this. It shows me that the Federal Reserve is increasing interest rates much too fast. Banks are not able to keep up with the Fed funds rate hikes and need to keep their deposit rates at close to 0%. Of course, this increases their net interest margins because they can issue loans at high interest rates, and they don't need to pay depositors any interest. But this cannot continue for much longer, because at some point, deposits will leave the banking system. This is especially true for smaller and mid-sized banks. On top of that, the Federal Reserve is taking liquidity out of the market.
So I envision that deposit rates will quickly start catching up with the LIBOR rate next year and NIM will start falling when this happens. Interest expense could easily double from here.
Furthermore, it looks like the loan business has hit a wall here. The mortgage industry and the auto industry are both in decline due to the higher interest rates and it seems that 3% is the ceiling (see chart below from FRED). Any loans that go higher than 3% are not getting filled anymore.

Conclusion
Net interest margins are rising for now, but will reverse course next year because banks are being hit from two sides.
On one hand, bank deposit rates must increase dramatically next year, doubling costs for banks. Interest on excess reserves are going down as the Federal Reserve decreases its balance sheet.
On the other hand, the loan market has hit a brick wall due to higher interest rates. We see a deterioration in the housing market and the auto industry.
The underperformance in bank stocks like Citigroup (C), Goldman Sachs (GS) and Wells Fargo (WFC) are merely the canary in the coal mine. A full-fledged recession will follow if the Federal Reserve stays the course.