Cancer Research Highlight: ImmunoGen's Heme Program Rumbles Under The Surface
Summary
ImmunoGen's spotlight has long been on development of novel therapy for ovarian cancer.
News from the ASH Congress points to a potential future direction in leukemia.
Does encouraging early data change the investment outlook for the company?
Please note that I am affiliated with Avisol Capital Partners and their Total Pharma Tracker service. They have also covered the companies in this article in their writings, and I wanted to make readers aware of the potential for overlapping coverage.
If you pay attention at all to antibody-drug conjugate developer ImmunoGen (NASDAQ:IMGN), then your focus is most likely drawn to its folate receptor-alpha-targeted conjugate mirvetuximab soravtansine. And rightfully so, since this agent has Fast Track designation from the FDA, and it's in phase 3 trials for an area of heavy unmet need.
But as with many developmental biotechs, IMGN has more irons in the fire, as well. Specifically, IMGN is developing a pair of antibody drug conjugates, IMGN632 and IMGN779, which target CD123 and CD33, respectively. CD33, you may recall, is a target of interest for acute myeloid leukemia (AML) and related malignancies, and Pfizer's (PFE) gemtuzumab ozogamicin is an approved antibody-drug conjugate in that space.
The news
IMGN announced presentations of preclinical and clinical data relating to development of IMGN632 and IMGN779 at the Annual Congress of the American Society for Hematology (ASH) in San Diego.
First, abstract 2647 is a poster presentation highlighting the preclinical evidence supporting a novel combination of IMGN632 and a PARP inhibitor in AML, and IMGN632 alone in blastic plasmacytoid dendritic cell neoplasm (BPDCN). As you can see below, adding PFE's PARP inhibitor increases the ability to induce apoptosis (a form of cell death) in AML cells.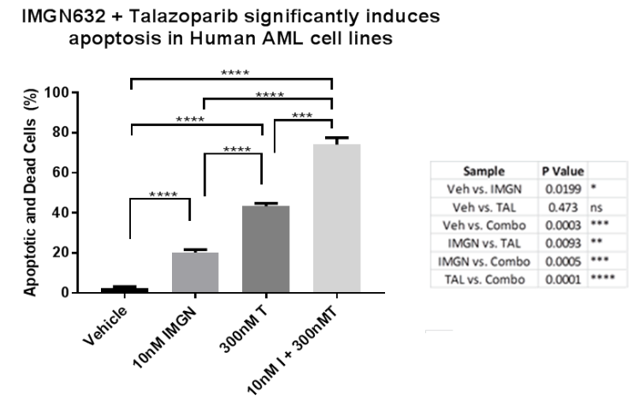 IMGN632 was also the focus of abstract 27, an oral presentation focusing on phase 1 findings in relapsed/refractory AML. You can view the slides here. IMGN632 demonstrated encouraging remission rates in the 23 patients reported so far. It's also worth noting that IMGN saw some preliminary responses in a small cohort of patients with BPDCN in this study.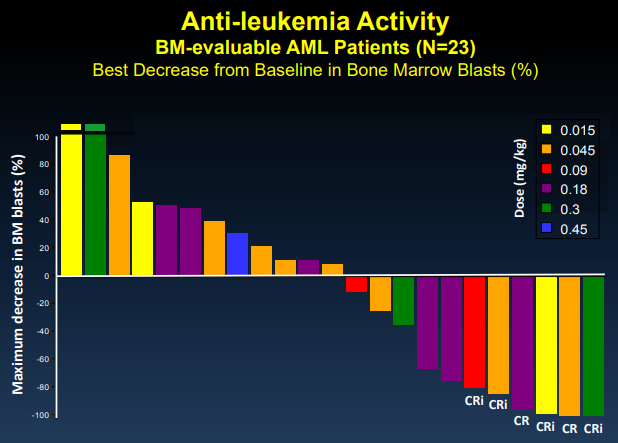 Source: ASH Abstract 27. A "waterfall" plot representing the efficacy of IMGN632 seen so far in patients with AML. The further down the bar extends, the deeper the remission.
Finally, abstract 26 was a presentation of early findings from a phase 1 study involving IMGN779 in patients with relapsed/refractory, CD33-positive AML. So far, the drug has maintained a favorable safety profile, importantly with limited liver damage, which is something that has been a problem for PFE's CD33-targeted antibody. The investigators also saw preliminary efficacy in both dosing schedules. Note: QW stands for "quantum well," which is Latin for "once weekly." Q2W means once every two weeks.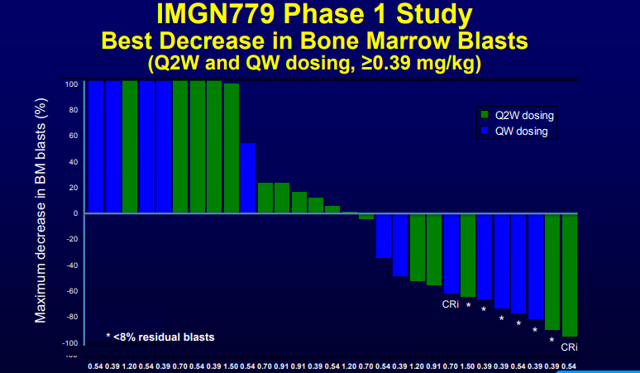 Source: ASH abstract 26
Looking forward
These presentations paint an encouraging picture for the continued development of IMGN's heme-facing antibody-drug conjugates. Right now, there are no approved CD123-targeted antibodies on the market, although Stemline Therapeutics (STML) and Sanofi (SNY) are also developing agents to target this receptor. There is also a smattering of research projects to develop CAR-T cells targeting CD123.
The responses observed with both of these agents are encouraging, particularly considering the dire nature of relapsed/refractory AML. This is a disease setting in desperate need of improved treatment options, especially those that are pretty well tolerated.
Now investors may be interested to know how, if at all, IMGN779 stands apart from PFE's entry to the CD33 space. Both are antibody-drug conjugates. Both target CD33. Is there a difference? So far, we don't have clinical evidence to suggest that there is, other than a signal that IMGN779 doesn't do excessive damage to the liver. However, in principle, there are some differences that could lead to different outcomes for IMGN's drug. The main difference that it touts is the payload that IMGN779 delivers to cancer cells. By inducing single-strand breaks, the company hopes that the "therapeutic index" (the window of dosing that provides treatment efficacy while maintaining safety) will be wider than with other classes of antibody-drug conjugates.
So far, the phase 1 data offer an encouraging signal of improved safety relative to gemtuzumab ozogamicin, but time will tell.
Key investment takeaways
So the news is generally quite positive for IMGN from ASH. Should that mean you buy today? Well, it's important to keep in mind that phase 1 data are far removed from an actual approval, and the company has a lot more work to do. Both of the phase 1 studies presented suggest that IMGN has a deep pipeline, with more shots on deck to come if it can get the approval for its flagship antibody-drug conjugate.
However, we can't be too optimistic about these data just yet. In the best-case scenario, we're still years away from approval of either IMGN779 or IMGN632, and this good news will not shore it up if bad news comes with respect to mirvetuximab soravtansine. Therefore, I would not base my decision making on the potential of these drugs. Rather, I would consider it a small piece of the overall puzzle that is dominated by its late-stage contender. You should definitely check it out, but don't bet the house on its heme programs just yet.
Thank you for taking some time out of your day to read this article! If you liked what you see, I hope you'll consider becoming a follower of mine on Seeking Alpha, as this will allow you to get real-time notifications when new articles of mine go live. Also, I want to let you know that I am a regular contributor to the Total Pharma Tracker, a marketplace service run by Avisol Capital Partners. If you want to join our conversations about biotech stocks, consider taking part in a free two-week trial today!
This article was written by
I am a former PhD scientist-turned-writer focused on cancer education. My writings in Seeking Alpha have been devoted to helping people identify promising investment opportunities in cancer research through commentary of recent events. Readers can learn more about other aspects of cancer research by visiting my site Invest Against Cancer.I also collaborate with Avisol Capital Partners on their Marketplace service known as the Total Pharma Tracker (TPT). Some of my work will be available to TPT subscribers either exclusively, or in advance. If you are interested, please click the link above!
Analyst's Disclosure: I/we have no positions in any stocks mentioned, and no plans to initiate any positions within the next 72 hours. I wrote this article myself, and it expresses my own opinions. I am not receiving compensation for it (other than from Seeking Alpha). I have no business relationship with any company whose stock is mentioned in this article.
Seeking Alpha's Disclosure: Past performance is no guarantee of future results. No recommendation or advice is being given as to whether any investment is suitable for a particular investor. Any views or opinions expressed above may not reflect those of Seeking Alpha as a whole. Seeking Alpha is not a licensed securities dealer, broker or US investment adviser or investment bank. Our analysts are third party authors that include both professional investors and individual investors who may not be licensed or certified by any institute or regulatory body.