E-Commerce: A Powerful Theme In Its Early Innings
Dec. 02, 2018 11:52 AM ET
On November 29, 2018, Global X listed the Global X E-commerce ETF (EBIZ) on Nasdaq. EBIZ seeks to track the Solactive E-commerce Index, which focuses on companies positioned to benefit from the increased adoption of e-commerce as a distribution model. This includes companies whose principal business is in operating e-commerce platforms, providing e-commerce software and services, and/or selling goods and services online.
We define thematic investing as the process of identifying powerful structural trends and the companies that stand to benefit from the emergence of those trends. The majority of these themes are either driven by secular changes in consumer habits and demographics – what we call 'People' related themes – or by advances in disruptive technologies – known as 'Tech' related themes. E-commerce has been benefiting from both: consumer preferences are evolving to favor online shopping experiences, while simultaneously new technologies in artificial intelligence, the internet of things, and transportation are enabling online retailers to offer features beyond the limitations of traditional brick and mortar stores. We believe that these dual drivers of potential growth, combined with e-commerce's still low overall level of retail penetration, make it a particularly powerful and compelling global investment theme.
How early is the E-commerce Theme?
While e-commerce has been around for over two decades and enjoyed significant growth across that time frame, its overall penetration of the retail industry still remains low. According to the US Department of Commerce, e-commerce as a percentage of total retail sales reached a new all-time high in Q3 2018, yet that percentage was still just 9.8%, leaving over 90% of the retail market still susceptible to online disruption.1 Such a low level of penetration implies that e-commerce is still in the 'early adopters' phase of the adoption curve, even despite the fact that surveys show that as much as 96% of Americans already engage in some level of online shopping.2 This disparity between sales and users is due the fact that there are still large areas of the retail market where e-commerce has not broken through. For example, only approximately 2% to 4.3% of grocery sales are occurring online, holding back a nearly $650 billion market within retail.3
Outside of the United States there is an even larger opportunity for e-commerce, with approximately $16 trillion of traditional retail sales still untouched by e-commerce.4 Among this group, China is emerging as the leader in e-commerce with over $1 trillion in total sales after growing by 32% in 2017.5 The Chinese market has benefited from a confluence of trends including rising wages, an expanding middle class, rapid urbanization, and deepening smart phone penetration.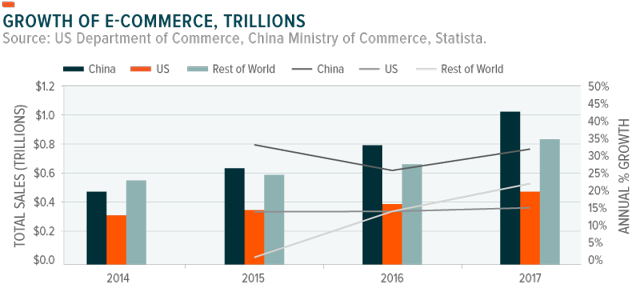 A survey of Chinese consumers revealed that shopping on mobile devices has been a major differentiating factor in the country's e-commerce growth, with 52% of respondents using their smartphone at least weekly for online shopping, compared to a global average of 14%.6 This demonstrates another factor driving China's rapid e-commerce growth: technology leapfrogging, which has led to the more rapid adoption of new technologies than even more advanced countries that remain entrenched in old habits.
Why Consumers are Opting to Buy Online
Needless to say, an online shopping experience differs significantly from buying the same item at a brick and mortar store. Items cannot be seen in person or tested out, and shoppers must wait between hours or days for their items to be delivered. Yet despite these potential hurdles, e-commerce has enjoyed rapid growth as consumers take to other attributes of the experience. In a recent survey from KPMG, consumers ranked the top features they preferred about online rather than in-store shopping.7 The top 5 reasons:
24/7 shopping
The ability to easily do price comparisons
Better prices
Saves time
Convenience
In addition to these attributes, online shopping allows for self-directed product research, facilitates peer reviews, can be shared through social media channels, and helps address issues among urban consumers, like limited space and transportation. In the aggregate, these features have led many consumers to prefer shopping online over in-person experiences, particularly those from the millennial generation who are quickly becoming the driving consumer force of the US economy.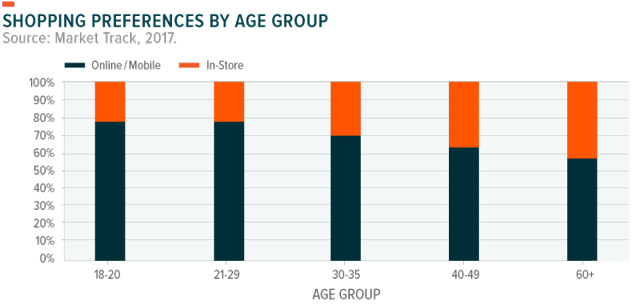 How Disruptive Tech Enables Growth in E-commerce
E-commerce has always depended on technology for its very existence; high speed internet and digital payments are basic infrastructure needed to facilitate online purchases. Yet as technology continues to evolve, e-commerce firms appear well-positioned to incorporate tech-enabled features into their businesses, potentially further accelerating industry growth. Some of the technologies currently being implemented into e-commerce include:
Artificial Intelligence: Brick and mortar stores have to be everything to everyone. Their promotions, product locations, and displays are designed for the masses, not an individual's unique preferences. For online retailers, however, their ads, product pages, and digital storefronts can be tailored to each customer. By leveraging artificial intelligence that learns from past searches, order histories, and shopping patterns, these online stores can identify each customers' interests and purchasing habits to create a unique shopping experience that maximizes the likelihood and size of an order. In a recent survey, 49% of shoppers indicated that they purchased a product that they originally did not set out to buy because of a personalized recommendation.8
The Internet of Things: Connecting various devices to the internet allows for new, potentially easier ways to make online purchases. For example, asking Alexa to order a pizza will cause the smart-assistant to analyze the person's order history and suggest an order from a favored restaurant to be delivered to their default address. Similarly, smart refrigerators can monitor their inventory, create shopping lists, suggest recipes, and place grocery orders. It remains to be seen whether customers will broadly utilize voice ordering or allow smart appliances to place orders on their behalf. Yet for e-commerce firms, the internet of things presents a vast new opportunity to interact with customers, collect data, and simplify the purchasing process.
Drones: There are two areas where brick and mortar still has key advantages over e-commerce: customers can see and feel a product before buying it, and once they do buy it, they get immediate access to that product. Drone deliveries may solve one, if not both of these issues. By flying directly from a distribution center to a person's front door, delivery times can be reduced to a matter of minutes, creating a shopping experience that's even faster than driving to a store, evaluating or purchasing an item, and driving home. Current drone designs are expected to deliver items within 30 minutes to customers living within 7.5 miles of a distribution center. Further, these cheap and fast drone deliveries could lead to rapid returns and exchanges, further benefiting customers.
Conclusion
While e-commerce is a well-established theme, there is still substantial growth potential given the vast size of the brick and mortar retail market. Consumers have shown an affinity for online shopping that appears set to accelerate with the introduction of new technologies that make ordering from an e-commerce site even easier. We believe that this powerful theme is likely to continue to grow, benefiting a variety of firms in the space, including companies that sell a substantial amount of goods and services online, e-commerce platforms, and companies that provide services to e-commerce firms.
FOOTNOTES
1. U.S. Department of Commerce, "Quarterly Retail E-commerce Sales, 3rd Quarter 2018." Nov 19, 2018.
2. BigCommerce, "BigCommerce Survey Shows Americans Consider Online Shopping Essential," Jun 6, 2016.
3. Forbes, "Online Grocery Sales to Reach $100 Billion in 2025; Amazon is Current and Future Leader," Jan 18, 2018.
4. Statista, Global X Research, 2108.
5. Digital Commerce 360, "Online Retail Sales in China soar past $1 trillion in 2017," Feb 8, 2018.
6. PWC, "eCommerce in China – the Future is already Here," 2017.
7. KPMG, "Global Online Consumer Report," 2017.
8. Segment, "The 2017 State of Personalization Report," 2017.
Investing involves risk, including the possible loss of principal. The investable universe of companies in which EBIZ may invest may be limited. The companies in which the Fund invests may be subject to rapid changes in technology, intense competition, rapid obsolescence of products and services, loss of intellectual property protections, evolving industry standards and frequent new product productions, and changes in business cycles and government regulation.
International investments may involve risk of capital loss from unfavorable fluctuation in currency values, from differences in generally accepted accounting principles or from social, economic or political instability in other nations. Emerging markets involve heightened risks related to the same factors as well as increased volatility and lower trading volume. EBIZ is non-diversified.
Shares of ETFs are bought and sold at market price (not NAV) and are not individually redeemed from the Fund. Brokerage commissions will reduce returns. Global X NAVs are calculated using prices as of 4:00 PM Eastern Time. The closing price is the Mid-Point between the Bid and Ask price as of the close of exchange. Closing price returns do not represent the returns you would receive if you traded shares at other times. Indices are unmanaged and do not include the effect of fees, expenses or sales charges. One cannot invest directly in an index.
Since the Fund's shares did not trade in the secondary market until several days after the Fund's inception, for the period from inception to the first day of secondary market trading in Shares, the NAV of the Fund is used to calculate market returns.
Carefully consider the Fund's investment objectives, risks, and charges and expenses. This and other information can be found in the Fund's summary or full prospectuses. Please read the prospectus carefully before investing.
Global X Management Company LLC serves as an advisor to Global X Funds. The Funds are distributed by SEI Investments Distribution Co. (SIDCO), which is not affiliated with Global X Management Company LLC. Global X Funds are not sponsored, endorsed, issued, sold or promoted by Solactive AG, nor does Solactive AG make any representations regarding the advisability of investing in the Global X Funds. Neither SIDCO nor Global X is affiliated with Solactive AG.
This article was written by
Founded in 2008, Global X is a sponsor of exchange-traded funds (ETFs). We are distinguished by our Thematic Growth, Income, and International ETFs. Explore our insights on the trends and themes shaping global markets – from technology to commodities to emerging economies – at globalxfunds.com/research. Global X ETFs is a member of the Mirae Asset Global Investments Group. Important disclosures: globalxfunds.com/privacy