Written by Josh Arnold for Sure Dividend
International telecom giant Vodafone (VOD) has seen its share price decline meaningfully thus far in 2018. The stock peaked in early January near $33, but has since fallen to just $21. The company's earnings have been a hot-button issue with investors as Vodafone tries to integrate its various mergers and cut costs at the same time. However, second quarter earnings suggest to us that investors are being too pessimistic on Vodafone, and we like the stock for value and yield.
Vodafone has always traded with a strong yield as it returns the vast majority of its earnings to shareholders. However, the 2018 selloff in the stock has created an extraordinary yield and it is now one of the best yields in the market, even among the list of high-yield stocks. Vodafone's current yield is in excess of 8% and this accounts for about half of our projected annual total returns for the stock in the coming years. As Vodafone trades for a good value based on projected growth and with a very high yield, we rate it a buy.
Overview of Recent Events
Vodafone Group began its operations in 1984 and since that time, it has transformed from being one of the earliest providers of cell phone service in the UK to a global mobile communications powerhouse. The company serves more than 500 million customers all over the world, generating $63 billion in annual revenue and a current market capitalization of $58 billion. Vodafone is dealing with some challenges in Spain and Italy and that is certainly crimping growth, but the majority of its core markets are growing EBITDA as Vodafone's cost saving measures are helping improve profitability.
The stock rallied following the Q2 earnings report on 11/13/18 as shares traded below $19 the day before the report, and are up to $21 as of now. We think investors are finally seeing the positives in Vodafone's results after many months of palpable pessimism, and this certainly helps support the bull case.
Total revenue fell 5.5% on a reported basis but was up 0.8% on an organic basis, ex-handset financing. Vodafone is exposed to significant forex translation risk given the global nature of its business, so that is part of the reason why the reported number is so much lower than the organic number. In addition, the recent sale of the company's Qatar business weighed on revenue, as well as the adoption of IFRS 15 revenue recognition principles. On an operational basis, Vodafone's revenue performed well.
Strong commercial performance was offset by the aforementioned weakness in Spain and Italy, which are seemingly perpetual soft spots for Vodafone. Competition in those two countries is immense and Vodafone isn't thus far able to improve its fortunes. They are relatively smaller markets but still hurt results.
Vodafone saw good momentum in broadband, which added 384,000 net subscribers during the quarter while it also added 616,000 net convergence subscribers.
Emerging Consumer revenue was up 7.4% as growth markets continue to lead the way not only in actual results, but in the places Vodafone is investing for the future. Customers used more data in emerging markets, driving revenue higher, and we see this as a longer-term tailwind for revenue. On a smaller scale, Business revenue rose 1% as Internet of Things revenue contributed positively.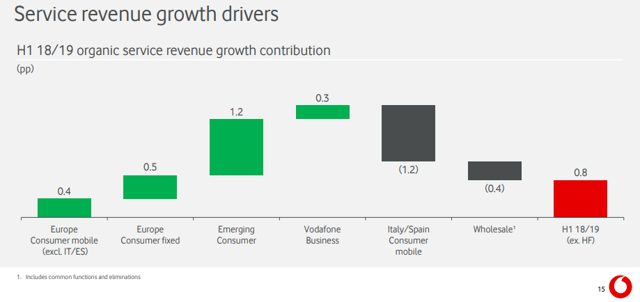 Source: Q2 earnings slides, page 15
We can see here the sizable impact of Italy and Spain, which fully offset the strong growth in Emerging Consumer revenue. Vodafone is hard at work on Italy and Spain, but the structural, competitive headwinds will make progress there challenging.
Operating income was up on an adjusted basis as the company continues to squeeze costs from its model.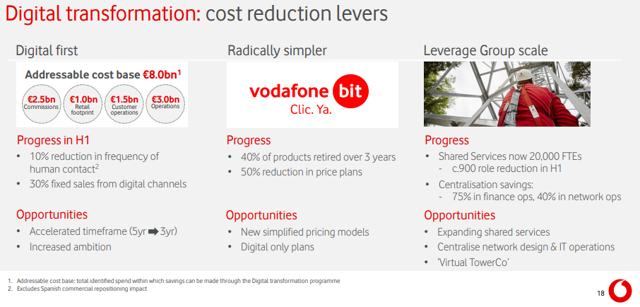 Source: Q2 earnings slides, page 18
This slide shows the wide variety of activities Vodafone is undertaking to improve its costs over the next few years. Management has made it clear that every cost the company has is up for discussion in terms of what to cut, and we see this as a primary driver of earnings growth in the coming years.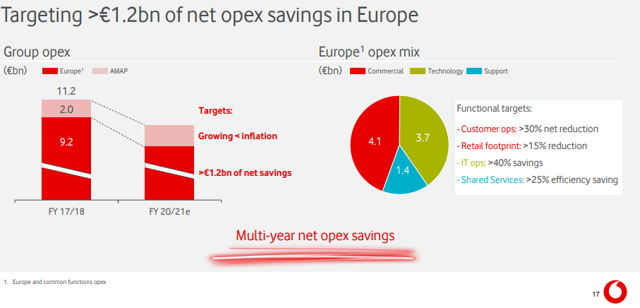 Source: Q2 earnings slides, page 17
Indeed, the company thinks it can save more than €1.2 billion in Europe alone, not accounting for its growth markets. In particular, it sees huge savings in IT operations and customer operations, along with reducing its retail footprint and consolidating share services. In other words, the room for margin expansion is significant and we believe management is fully committed to improving profitability with a detailed and achievable plan.
Management also updated free cash flow guidance after the report, boosting it about 4% for this year. The company froze its ample dividend as well in order to funnel extra cash to service its immense debt load and improve the dividend's payout ratio. We think the move to freeze the payout is a positive one as the payout ratio has been in excess of earnings in recent years. In addition, the yield is already extremely high, so investors don't necessarily need an even higher payout to find the stock attractive.
Growth Is On The Way
As mentioned above, we see the primary drivers of growth as low single digit revenue expansion from emerging markets, offset by weakness in Europe. In addition, margin expansion should provide a mid-single digit tailwind as the company undertakes a significant restructuring in the way that it conducts business. Vodafone's many years of M&A activity has left the company bloated and inefficient, but management has made it clear this is unacceptable and has a plan in place to fix it. The current share price doesn't take into account this transformation and its potential to produce earnings and free cash flow growth, and we see that as the opportunity for investors.
While Vodafone's share price has struggled this year, we see positive developments in the first half as supporting a higher share price. In total, we forecast 7% annual earnings growth in the coming years thanks to the factors discussed above, and see the stock as reasonably priced.
Total Return Potential Is In The Mid-Teens Annually
Even after the post-earnings rally, shares are trading for 14 times our earnings estimate of $1.50, which compares to our estimate of fair value at 13. In other words, the stock is reasonably priced even with conservative fair value estimates that have potential upside if the transformation proves successful. We see downside risk to the valuation as low while the potential for upside is significant because of the turnaround situation.
We forecast mid-teens annual total returns accruing from the current 8%+ yield, 7% earnings growth and essentially no impact from the valuation. Considering this, we see Vodafone as offering investors the chance to buy a stock with a huge yield and a fairly clear path to long-term, sustained earnings growth.
Final Thoughts
While turnaround stories can be challenging for shareholders, Vodafone's is a bit unique. It has a plan to significantly reduce operating costs and most of those savings will flow to the bottom line. That margin expansion combined with revenue tailwinds, particularly in emerging markets, should produce strong growth in the years to come. With an 8% yield on top, we think Vodafone offers a compelling value proposition to investors and rate it a buy.
Disclosure: I/we have no positions in any stocks mentioned, and no plans to initiate any positions within the next 72 hours.
I wrote this article myself, and it expresses my own opinions. I am not receiving compensation for it (other than from Seeking Alpha). I have no business relationship with any company whose stock is mentioned in this article.