The payment technology and services space is dominated by a small handful of companies including Visa Inc. (V), Mastercard, Inc. (MA), American Express Company (AXP), and Discover Financial Services (DFS). These companies have a virtual oligopoly on the cashless transactions you make. The payment technology and services industry is extremely profitable, but that doesn't mean that these four dominant competitors are of equal investment quality. We dive into the fundamentals to identify the "best of breed", as well as which of these fantastic companies are ripe for investment right now.

Competitive Landscape
The common link between each of these companies is the concept behind the payment services model. Think of the transactions we make every day in our lives as cars on a highway. Money is flowing from one destination (us) to another (merchant). When you pay with cash, that is a straight transaction from "A to B", like taking the local street to your grocery store. When you use a brand "X" card to make a transaction, that is like taking the thruway to get to your destination. You use the payment network of that card to move the money from your account to that merchant. In exchange for this service, the card company collects a small fee from the merchant - similar to us paying a toll on the highway. That is the basic concept of how each of these companies work on the front end.
From there, some differences arise. Visa and Mastercard strictly process these transactions, while American Express and Discover lend money to their customers in the form of credit cards. This changes the scope of the business (increased risk) and is something we need to keep in mind when we look at valuation metrics.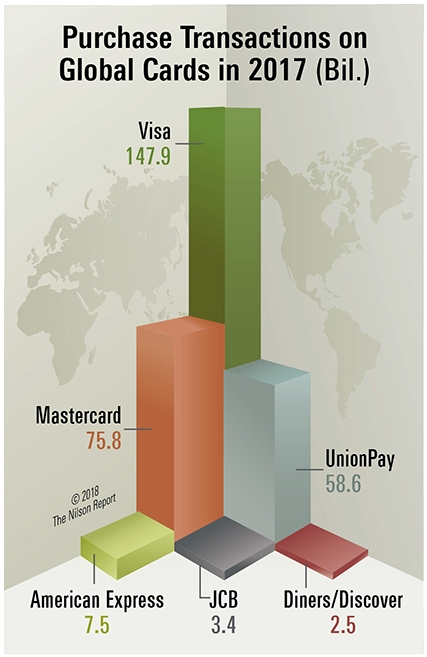 source: The Nilson Report
It is also important to note that Visa and Mastercard are global market share leaders. Visa and Mastercard have strong penetration into financial institutions, so just about every debit card you own will either be a Visa or Mastercard branded card.
Operational Performance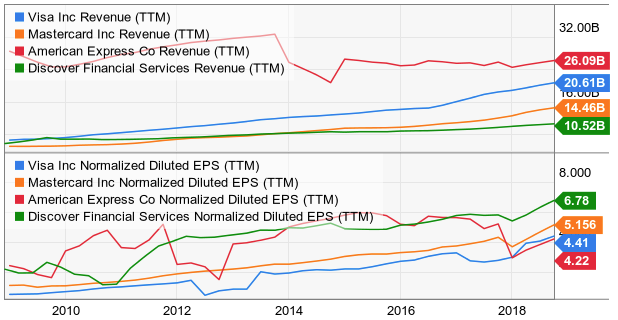 source: Ycharts
10 Year CAGR % (data from Morningstar)
| | | | | |
| --- | --- | --- | --- | --- |
| | Visa | Mastercard | American Express | Discover |
| Revenue | 12.65% | 11.88% | -1.26% | 6.89% |
| Earnings Per Share | 33.82% | 16.39% | -1.23% | 15.83% |
We can see that Visa and Mastercard have grown revenues at rates superior to that of AMEX and Discover. Visa has the strongest top and bottom line growth of the peer group. As the market leader, Visa shows the fastest growth despite having the most share of the market.
To analyze the operational metrics of the group, we will begin by looking at net profit margins and free cash flow conversion rates. We want to see where each company stands in regards to maintaining consistent profitability, and how efficiently each company converts revenues into free cash flow.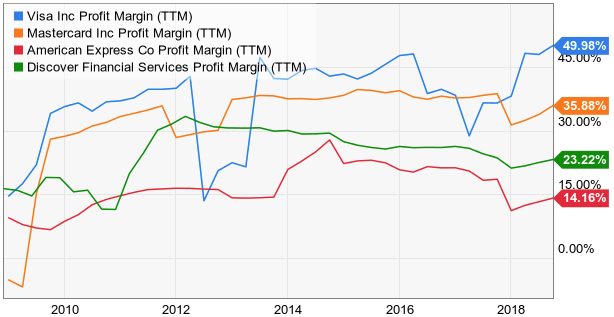 source: Ycharts
All four companies operate at fairly consistent profit margins. Special items have occasionally impacted net margins over the years, but each company is pretty consistent over a 10 year period. Margins for Visa and Mastercard have slightly trended upward, while AMEX and Discover have ended the decade at right about the same margin level that they began with. As a virtual oligopoly, there isn't much of a threat to the business' profits, other than competition with each other.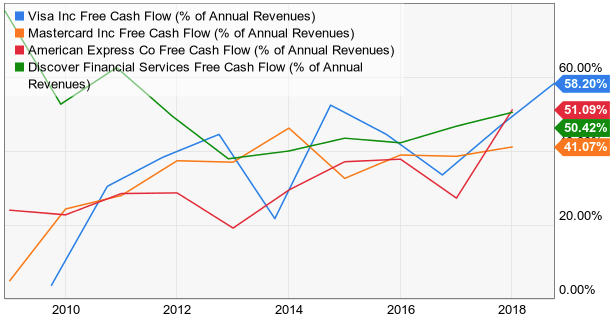 source: Ycharts
Perhaps the most obvious means of illustrating the effectiveness of the business model is the free cash flow conversion rate. The payment services industry is very high margin, yet asset light. This results in extremely high portions of revenues being converted into free cash flow. As a reference, I typically look for a company to convert at least 10 cents of every revenue dollar into FCF. In this case, Mastercard is the laggard of the group - yet still quadruples this benchmark.
Up next, we look at the cash rate of return on invested capital. This is a useful metric that gauges how effective management is at utilizing a company's resources/capital to generate cash flows. It's also a baseline indicator of the strength of a company's competitive "moat". A company with a strong CROCI percentage (typically in the low teens or higher) is usually a company that is well run, profitable, and not overly capital intensive.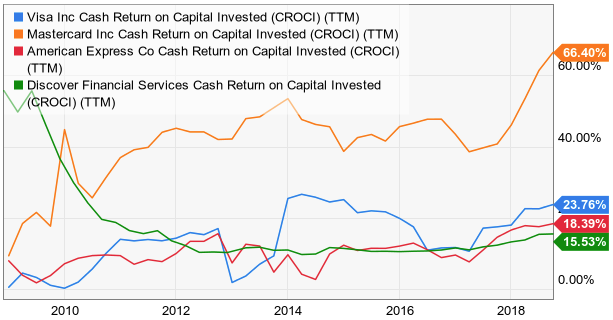 source: Ycharts
The peer group as a whole performs well, with all CROCI percentages clearing our benchmark (low-teens). Mastercard drastically outperforms the group and has throughout the testing period of 10 years. This is a nod to the company's management team, as Visa runs a very similar business, yet doesn't come close to this type of sustained performance. AMEX and Discover operate a similar business to one another, with AMEX having a slight advantage in recent years.
Dividend Analysis
All four companies currently pay a dividend. While neither company has an extensive growth streak (Visa's streak goes back to its IPO), each company has exhibited strong growth. Each growth rate well exceeds historical inflation rates.
| | | | | |
| --- | --- | --- | --- | --- |
| | Visa | Mastercard | American Express | Discover |
| Yield | 0.72% | 0.51% | 1.40% | 2.25% |
| Annual Dividend | $1.00 | $1.00 | $1.56 | $1.60 |
| 5yr. CAGR | 22.76% | 52.99% | 10.93% | 26.58% |
| Growth Streak (yr.) | 11 | 7 | 7 | 8 |
From a pure dividend perspective, Discover currently offers the best combination of income and growth. The dividend yields 2.25% on its current stock price, yet has grown at a robust 26.58% CAGR over the past five years. Visa and Mastercard both yield less than 1% on their stock, so they are ineffective from a pure income generation standpoint.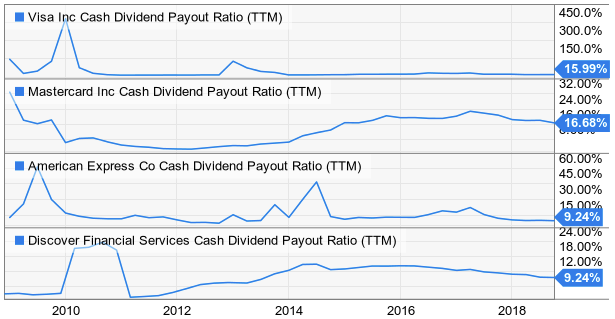 source: Ycharts
Long term investors are poised to continue seeing strong dividend growth, no matter which company they hold in their portfolio. Cash flow payout ratios are less than 20% across the board. Despite having lower payout ratios, the fact that AMEX and Discover operate as lenders will likely mean that they will operate more financially conservatively. Visa and Mastercard operate on more financially "slim" business models so as time goes on, they should be able to afford a higher payout ratio.
Growth Opportunities & Risks
There are macro-level growth catalysts that will positively impact the entire peer group over time. We are moving further and further away from cash as a primary tool of business.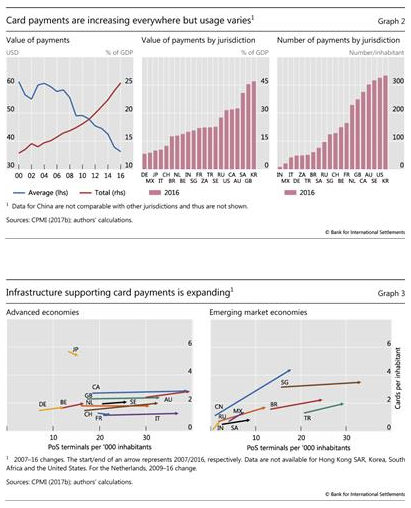 source: BIS
Despite this trend, cash remains very prominent on a global scale. This means that there is potential for decades of growth, as this is a massive scale trend that will take a long time to turn. Cash use is still very strong in emerging markets where much of the global population resides such as China, India, and Africa. As these economies modernize, this will only fuel growth for companies that can penetrate these markets.
Another big factor in the future prospects of payment network companies is the dramatic rise of e-commerce and digital/mobile payments. The growth rate of mobile payments is exploding, expecting to increase 10X from 2016 to 2021. However, I don't view this as a big threat to payment network companies.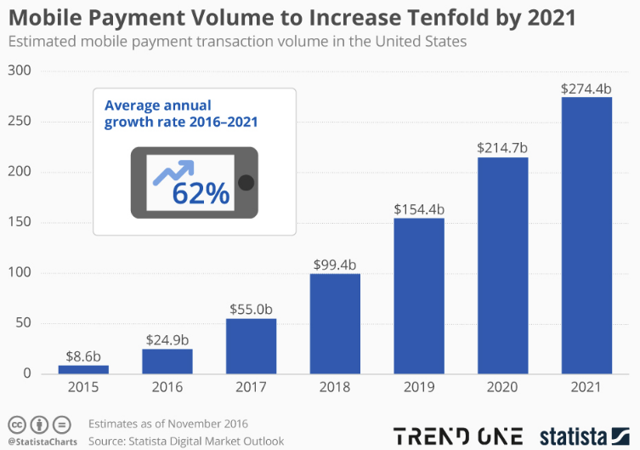 source: Statista
The degree of which this trend impacts this group, depends on the underlying logistics of these payments. Some of these payments are being made with non-card payment applications such as PayPal (PYPL). Other large contributors to mobile payment growth are still utilizing traditional payment networks. Most online shopping apps still charge to a traditional credit/debit card that has been stored on the app. Even digital wallets such as Apple Pay still utilize the networks of a Visa, or a Mastercard. Apple simply receives a small "finders fee" from the network provider because their touch and pay technology was used in the transaction.
While AMEX and Discover will still benefit from these trends, Visa and Mastercard will benefit more because of their massively higher share of the credit and debit card markets. They simply have much more exposure than AMEX and Discover.
As lenders, AMEX and Discover are exposed to the ups and downs of the economy. During times of high consumer spending (such as now), they will prosper because they are getting payment processing fees, as well as profiting off of consumers borrowing from them. On the other hand, this increases the risk exposure these companies face. In the event of a recession or other negative economic event, these companies will be exposed to greater losses if their customers default on their accounts.
Valuation
When valuing these companies, you cannot directly compare them to each other because of the differences in their business models. Being lenders, the additional risk exposure will cause AMEX and Discover to trade at lower earnings multiples than Visa and Mastercard.
What we can do is compare the current earnings multiple of each against there respective historical norms to get a gauge on value.
| | | | | |
| --- | --- | --- | --- | --- |
| | Visa | Mastercard | American Express | Discover |
| Share Price | $141.58 | $200.78 | $111.90 | $71.09 |
| Full Year Earnings Est. | $5.33 | $6.45 | $7.38 | $7.81 |
| Earnings Multiple | 26.56X | 31.12X | 15.16X | 9.10X |
| 10 Yr. Median | 29.98X | 27.26X | 14.23X | 10.59X |
| Difference % | -11.4% | +14.1% | +6.5% | -14.0% |
Comparing current year earnings estimates from analysts, and using the earnings multiple to compare against 10 year historical data, Visa and Discover are currently trading at discounts. Mastercard and American Express are currently trading at earnings multiple premiums.
To gain additional perspective on valuation, we will look at the yield on free cash flow. Cash flow is a great metric because its an organic means of generating shareholder returns. A cash flow rich company is profitable, and has more money to give to shareholders. You can put yourself in a position for strong returns on an investment by maximizing the FCF you receive per dollar invested, so it offers a good perspective on a stock's value.
I charted them in pairs because I wanted to illustrate the trend of each over the past five years. We can obviously see that Visa/Mastercard's explosive top line growth and premium earnings multiples they trade at result in a much lower cash flow yield than American Express and Discover.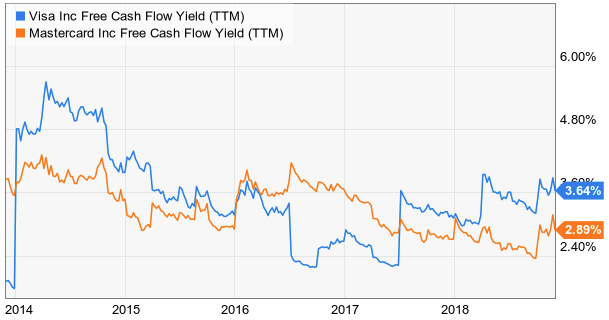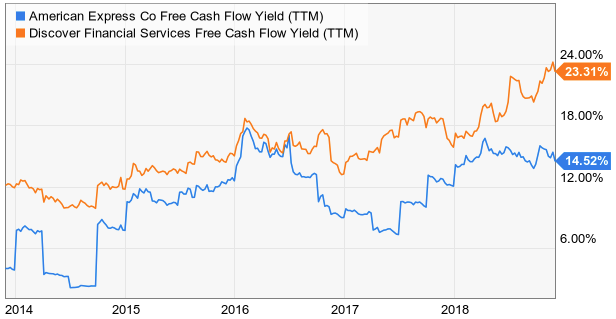 source: Ycharts
Visa's free cash flow yield of 3.64% doesn't seem impressive, but it's actually near multi-year highs. The recent pullback in the stock yielded the third best buying opportunity over the past five years, only early 2018 and throughout 2014 yielding more cash flow. Mastercard, on the other hand, is somewhere near the midpoint of its five year FCF yield range. This aligns with the premium earnings multiple in pointing towards the stock being overvalued at the current trading level.
The trends are much different for American Express and Discover, whose strong cash generation combined with risk induced lower trading ranges result in a much higher yield on cash flow. While American Express is near its highs, Discover is yielding a staggering 23.31% - setting a fresh five year peak.
Based on both the earnings multiples and cash flow yields, Discover currently represents the best value of the group relative to its historical norms. This would be followed by Visa.
Wrapping Up
After pouring through multiple aspects of each company, one can see how lucrative this industry is. These companies each compete in a controlled space that features high margins, limited competition, and robust growth trends. Each company could make a fine investment depending on your individual wants, needs, and risk tolerance as investors. The great Warren Buffett himself is a famous shareholder of American Express. However, from the data reviewed, I see two stocks that currently offer an attractive opportunity for entry/further consideration.
Best Short Term Value: Discover
Discover offers a nice blend of positive traits. The company offers solid revenue growth, while growing earnings at a strong double digit rate. While the company doesn't operate at a best in class level (see margin and CROCI), Discover is generating immense amounts of free cash flow. The company is giving this to shareholders in the form of a dividend that yields the most in the peer group, while still exhibiting a strong dividend growth rate. The company is also currently trading at the largest discount from both an earnings multiple and cash flow yield basis. All of these "ingredients" add up to an appealing short term investment scenario. My issue with Discover is as a long term holding (thinking multiple years). The company's lending nature gives me pause considering that it appears we are at the top of an economic cycle. The company also lacks market share compared to the larger players such as Mastercard and Visa.
Best Long Term Holding: Visa
My choice for long term investors is Visa. Visa is the leading market share holder of the group by a wide margin, and is still growing. Operationally, the company was tops in every metric except CROCI. Its explosive growth combined with leading profitability means that it will be able to drown shareholders in cash over the long term. The fact that the company isn't a lender - removing that degree of risk from the equation, solidifies its spot as the "best in show" among the group. The stock also happens to be trading at a discount to historical norms, making it an attractive choice in the market today.
My insight, analysis, and investment ideas are provided FREE to the Seeking Alpha community. You can receive immediate access to new content by clicking the FOLLOW button at the top of the page. Make sure to follow!
Author Disclaimer: Wealth Insights is an investor and investment author. His content is not geared to anyone's specific investment goals, time horizons, or risk tolerance. Content is for illustrative purposes only and is not intended to displace advice from a fee-based financial adviser. Accuracy of data is not guaranteed.
Disclosure: I am/we are long V. I wrote this article myself, and it expresses my own opinions. I am not receiving compensation for it (other than from Seeking Alpha). I have no business relationship with any company whose stock is mentioned in this article.